The Antsyness Around Spring
Much of the Northern Hemisphere eagerly awaits the spring, which officially commenced on Sunday - or at least our BMS Re Minnesota office certainly does. However, in general, the insurance industry is often antsy given March through June has historically been the most damaging period for severe storm perils for the insurance industry. Even though the early December severe weather of 2021 and recently the strong violent tornado outbreak into Iowa on March 5th were unusual out-of-season costly events, weather history points to the fact that we are now entering what can be a costly period for the insurance industry. In fact, we are just days removed from the anniversary of one of the most prolific tornado outbreaks in history that occurred on March 18th, 1925. This outbreak was dubbed the infamous Tri-State tornado that tore through Missouri, Illinois, and Indiana killing an estimated 695 people as several towns were almost completely leveled by an EF5 tornado. Given that almost every day now has some significant weather history that would highlight a devastating severe weather event in the Central to Southeastern U.S, it gives good reason for the insurance industry to be antsy about the arrival of spring.
First Quarter Thru March 20st
The insurance industry has already had several impactful natural catastrophes in the first quarter outside of the U.S., including the recent Japan Fukushima earthquake, Australia getting hammered by flooding rains, and parts of Europe having had several impactful windstorms. All of these events will all add up to be a costly first quarter for the insurance industry.
However, how as the U.S. faired? Last year, while much of the world had a relatively quiet first quarter, the emphasis was on the U.S. and its huge losses. This was mostly as a result of the February winter storm losses across Texas. So far this year there have been 3 winter storm insurance industry loss events according to the Property Claims Service. From 2010 to 2021 the average is 4 winter storm loss events. Clearly, last year's large losses throw off the average first-quarter winter storm loss, which before last year averaged about $2 billion. This year the industry is on track to have winter storm losses just below a billion dollars.
In regards to severe thunderstorm losses, it continues to be active with loss development still occurring through March 20th. There have been 6 severe weather insurance industry severe weather loss events that have accumulated to just over $1 billion. Since 2010 the average year-to-date average loss is $2.3 billion over 5 events; so while the rest of the world might be experiencing higher than average losses, the U.S. thus far is looking slightly below average. However, as mentioned, the severe weather season is just starting.


In fact, a classic springtime storm will trigger what could be the first major outbreak of severe thunderstorms and heavy rain in parts of the central and southern U.S. early this week. This also could possibly bring snow in the Rockies and adjacent High Plains. This weather pattern is not uncommon. Spring often brings a sharp southward plunge of the jet stream that often accompanies an area of low pressure aloft that tracks across the Southwest U.S into the central plains. As these types of storm systems move across the southern states it will tap into a supply of moisture from the Gulf of Mexico where sea surface temperatures are running above normal. The tapping of this moisture and the clash of warmer and cold air leads to the development of widespread rain and thunderstorms in the southern and central U.S. That is what will occur this week and analogs suggest Monday through Wednesday are looking like a classic example of a Dixie Alley severe weather event. All hazards are expected on both days, including tornadoes.

This event could be similar to the outbreak of severe weather event that occurred on March 17th last year, which caused $360 million worth of insured loss. Although still significant, it could have been a lot worse given most of the 61 tornadoes impacted very rural, forested areas resulting in very little amounts of structural damage to the insurance industry.

The U.S. on average (2005 – 2021) sees about 175 tornado occurrences year-to-date. Thus far this year the count is at 143, with Iowa experiencing the most with 35 tornadoes year-to-date. This is highly unusual and highlights the potency of the March 5 – 7th severe weather outbreak. Thunderstorm wind gust and wind damage reports are also slightly behind the average of 900 at 777 year-to-date; but what is more interesting is the extension of the last few years of below-normal hail events. This year is again well behind the average of 457 reports at only 125. Again these stats and trends could drastically change over the next few months, but if these current trends are a predictor of the future, the chances of a hyperactive severe weather season are dwindling.

Spring Severe Weather Outlook
The current teleconnection indices and long-range forecasts can also be used to get a better understanding of what to expect in terms of severe weather. The back half of March shows a somewhat less favorable pattern for severe weather after this week's active period. The long-range forecast will rely more on El Niño Southern Oscillation (ENSO) and other long-range indicators like the Atlantic Multidecadal Oscillation (AMO) and Pacific Decadal Oscillation (PDO). Coming off our second-straight La Niña winter, it seems we can expect similar events as last year that had a general storm track that favors wetter conditions in the Ohio and Tennessee Valleys. The typical La Niña pattern lines up fairly well with the overall pattern we have seen this winter so far. As you might know from reading the hurricane updates over the last several years, the AMO is currently positive, and this phase of the AMO can also impact the severe weather in the spring which tends to support warmer air and drier conditions across the Southern U.S. The PDO is in its negative phase, which helps create warmer conditions in the southern and eastern U.S., while creating cooler conditions along the West Coast. Cold PDO tends to have higher amounts of severe weather, but another factor is the snowpack. It is not deep in the Rockies or North Central Plains, so this likely will not have much influence in providing colder air further south. The biggest influence on this year's severe weather might be the drought conditions across much of the U.S. This can sometimes affect the overall weather pattern as well. These drought conditions might keep things keep warmer and drier and could lead to a less active severe weather season, at least in the Plains.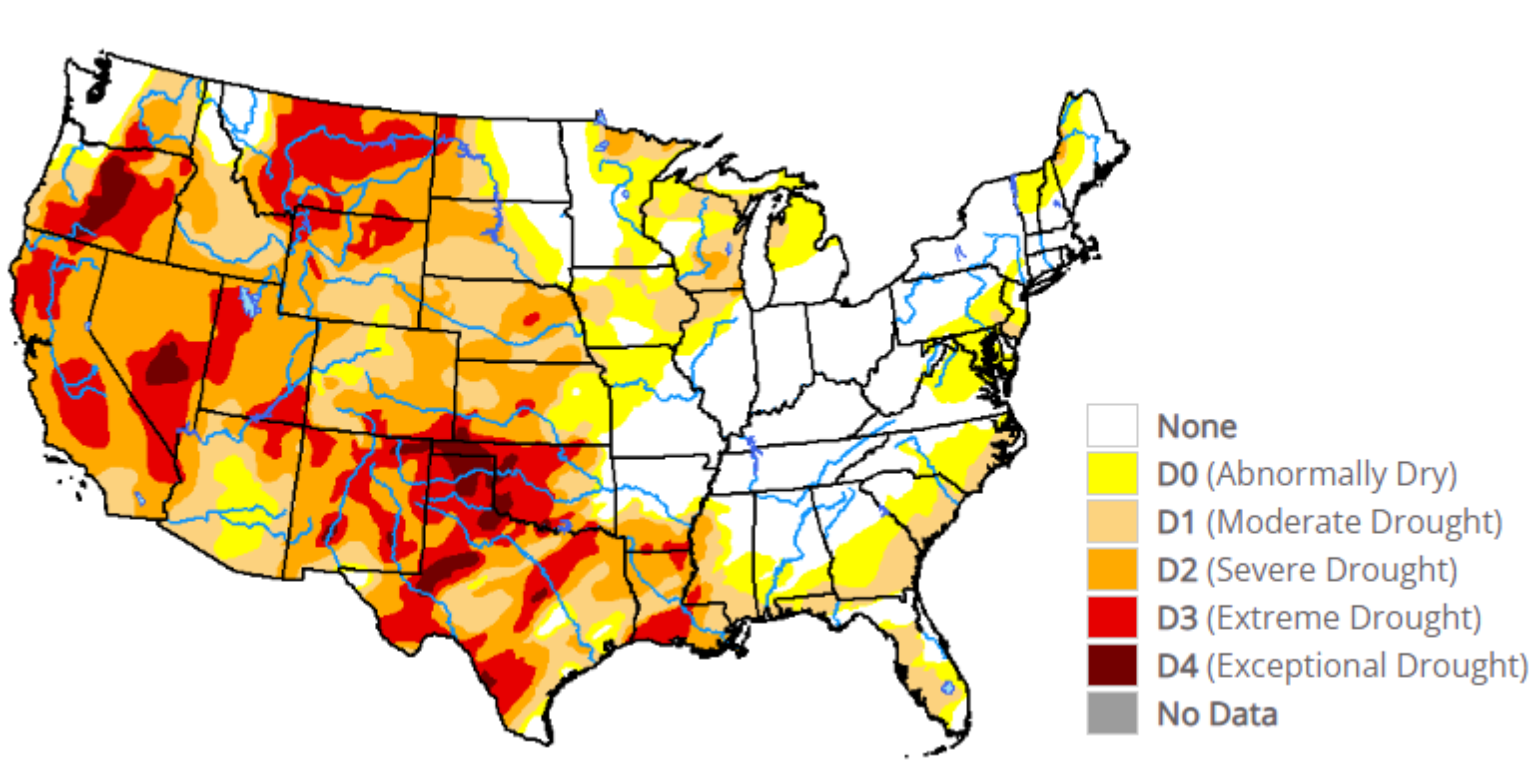 Overall it might appear to be a below-normal severe season on average, but for good reason. And even an average or below-average season can cause the insurance industry to be antsy since it only takes one or two big events to dive losses - as we have seen in years like 2020 with the Iowa derecho or last year with the last season surprise of the December severe weather outbreaks. Regardless BMS Pathlight AnalyticsTM is will be here to help the insurance industry via thought leadership of the events that happen as well as insights via our iVison platform providing detailed client level impacts using the Verisk Respond products and other in-house custom storm layers.