We are about four days from Hurricane Lee's impacts into New England and the Canadian Maritimes Providence. As a result, this BMS Tropical Update can start discussing possible details/outcomes for the insurance industry. As discussed in last week's update, Hurricane Lee would turn north towards Nova Scotia and New England as the season's first long-tracking hurricane. In its nine days of life, it has undergone a roller coaster of intensity changes, rocketing to a Category 5 hurricane before weakening to a Category 2 hurricane. Still, for three days, Hurricane Lee has been a Category 3, racking up the Atlantic Basin Accumulated Cyclone Energy (ACE) at 29.7 or 32% of the total ACE for the season.
Hurricane Lee is expected to slowly weaken as it starts to pick up speed and move over the cooler water that has been upwelled from the previous hurricanes, Idalia and Franklin, which tracked over the same area. Below is an overlay by Tomer Burg of the National Hurricane Center forecast cone of uncertainty and the current Sea Surface Temperatures (SST). Hurricanes and Named storms like to have water temperatures of at least 26C (80F), and in the plot, one can see that around 40 degrees north latitude, the water temperatures dramatically decrease.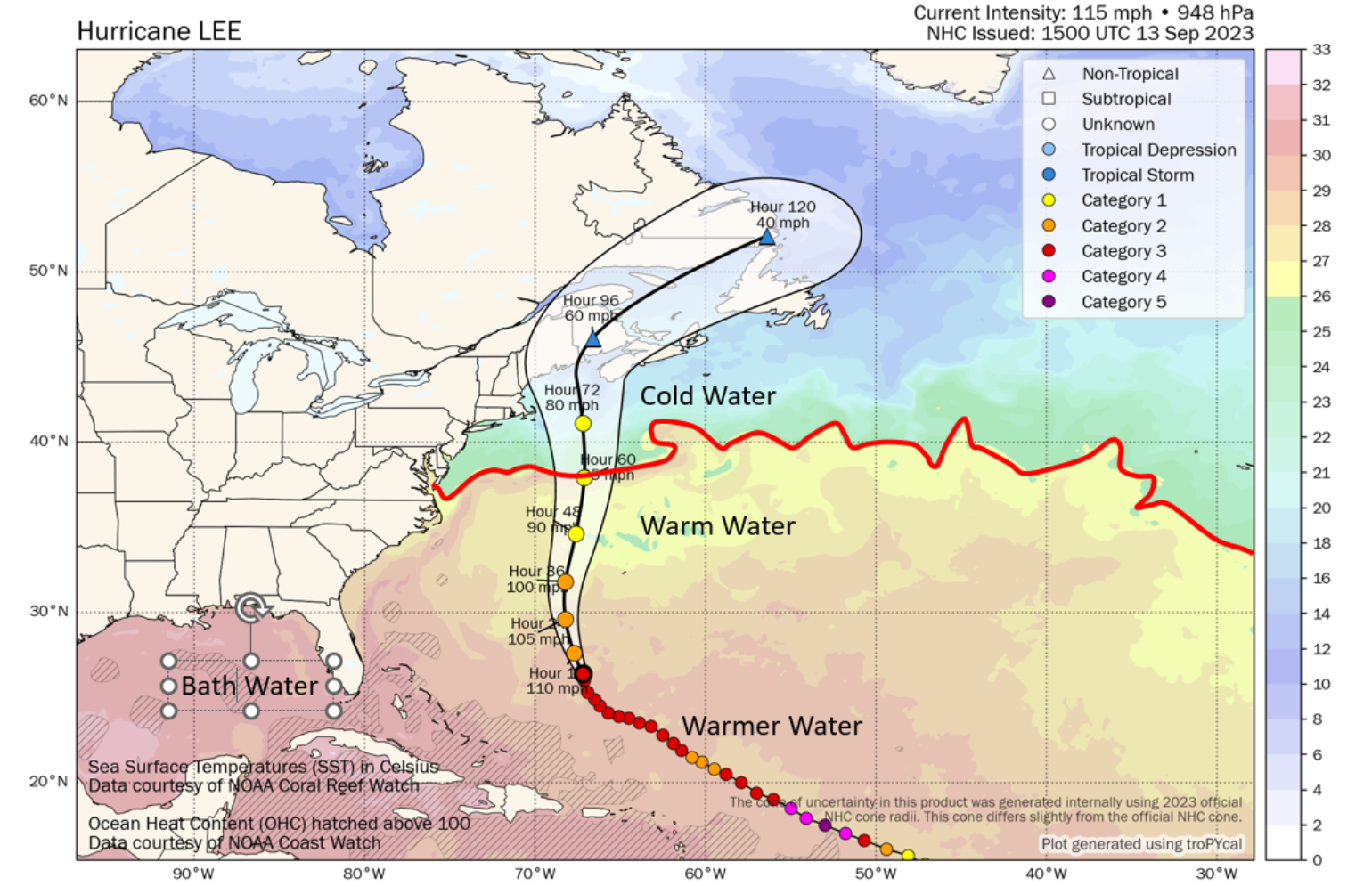 This morning, satellite images of Hurricane Lee show that some degrading is occurring as wind shear and dry air take hold of its intensity. Soon, the upwelling of colder water will continue to weaken Hurricane Lee. Over the next couple of days as Hurricane Lee tracks to the north past Bermuda, it will lose its tropical characteristics and become an extratropical storm, similar to a nor'easter. The National Hurricane Center (NHC) often labels this as a post-tropical storm. This will dimmish peak winds, but when storms go post-tropical, the wind fields will expand in size as Hurricane Lee interacts with the jet stream. So overall, this forecast has some positive aspects for the insurance industry. However, some aspects still pose concerns to the insurance industry. Post-tropical storms with a wind field can have far-reaching effects, so the cone of uncertainty by the NHC, which does not show impact but track uncertainty, does not show the far-reaching effect of Hurricane Lee as it tracks north, given the expected size of the wind field.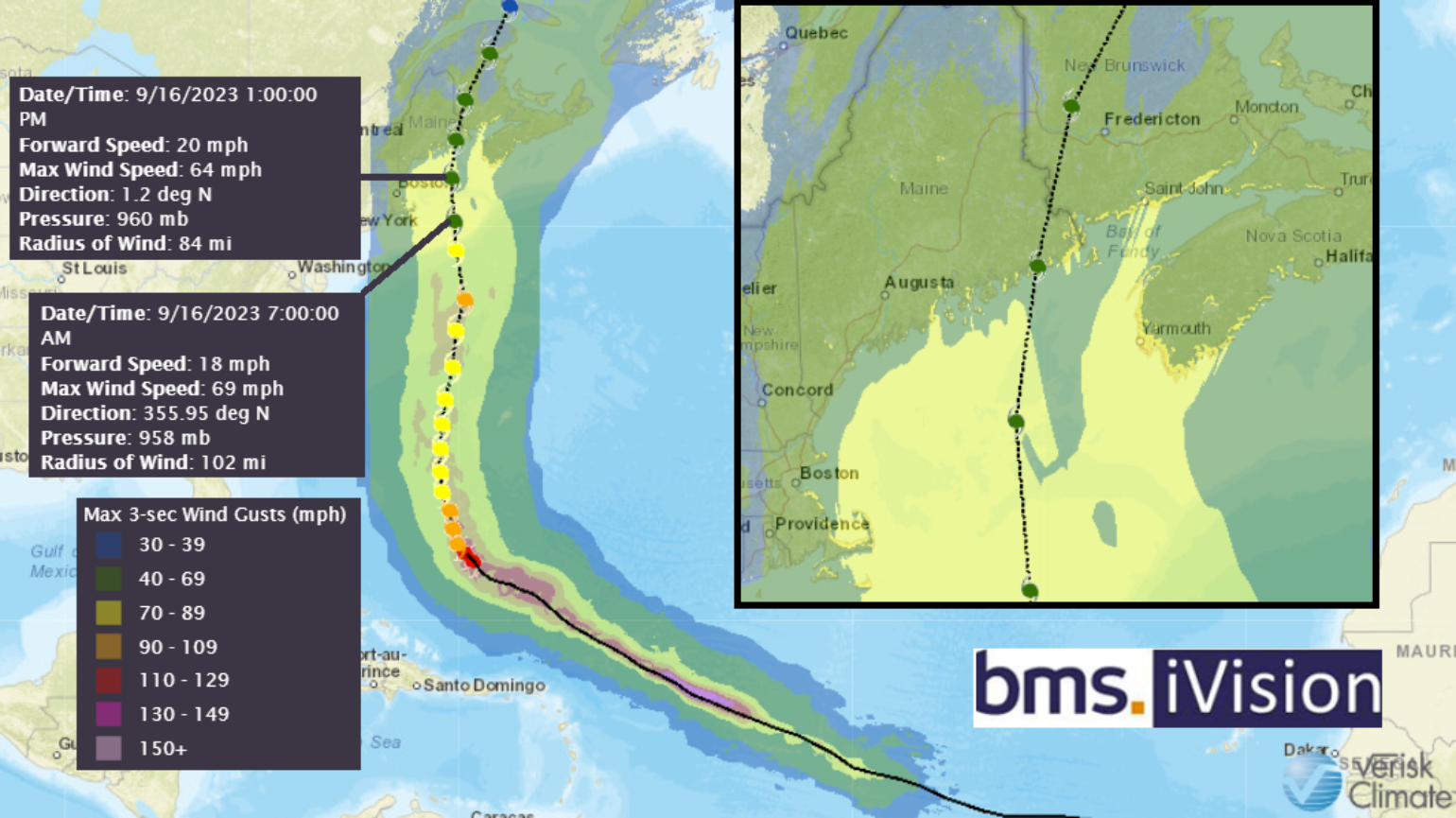 The other aspect of a post-tropical storm that interacts with the jet stream is it can be a prolific rain producer. Water is the number one killer, either storm surge or rainfall flooding. For many insurance policyholders, this might be a power outage/falling tree wind event, but for many more, it could be a widespread flood event, given how wet the region has been this past summer. The other water impact issue will be wind and waves. Given the large size the storm is expected to be as it tracks north, this will generate very large destructive waves and storm surges. The small bays and inlets are suitable for storm surges along Maine and Nova Scotia coastal sections. As a matter of fact, it is common to see some structures suffer damage from coastal Nor'easter out on Cape Cod, which could also be the case with Hurricane Lee.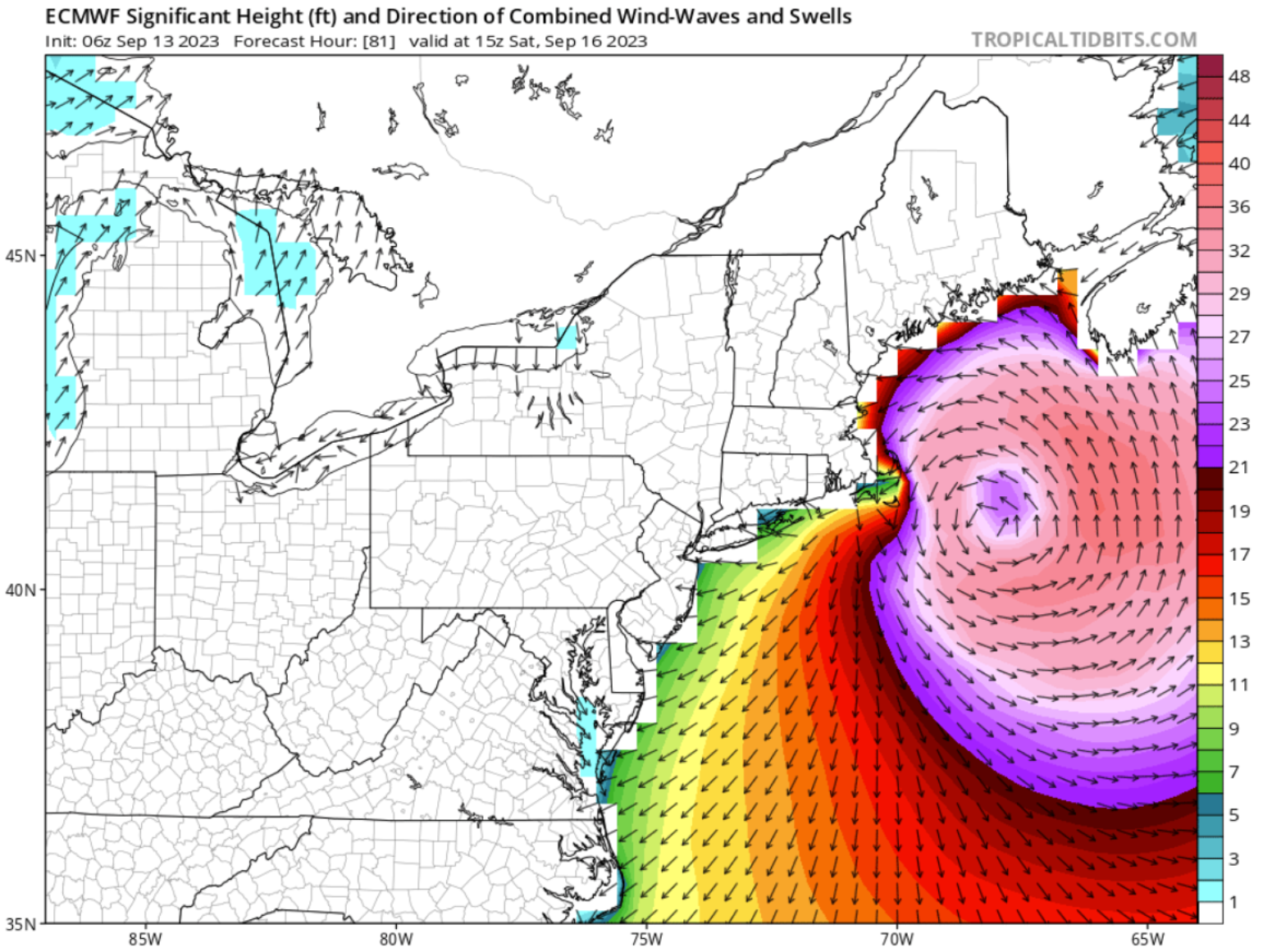 Of course, there is still some track uncertainty with Lee. There has been a westward shift over the last 24 hours with most of the modeling, so this could enhance the overall impacts on New England if the model guidance continues to shift the center track of Lee closer to New England with a Maine Landfall, given the expanded wind field. Remember, a large post-tropical storm can be just as damaging to the insurance industry as the central pressure and integrated kinetic energy often tell the story of potential hurricane damage rather than the maximum wind speed, so don't be fooled by Hurricane Lee's potential impacts. Hurricane Fiona last year and its impact on Cape Breton, NS, is a good example of how a low-pressure, large wind radii storm can have a significant impact on a large area geographic area. Hurricane Fiona caused about $600M USD in damage in Canada.
Hurricane Lee has Limited Analog
Since Hurricane Lee is not expected to be a hurricane as it tracks toward New England, the catastrophe risk modeling companies will not issue any loss guidance for such a storm. However, this does not mean that the storm will not have some loss impacts on the insurance industry. The industry must remember the last hurricane to make a New England landfall was Hurricane Bob back in 1991! Yes, 1991! It has been a long time. Recently, Hurricane Henri (2021) was tracking towards New England when it went poof and weakened right before landfall, but that storm still caused $343M in damage to the insurance industry. We know the coastal areas of Maine are sparsely populated, but given the extensive wind field, many regions of New England could see wind gusts that cause minor damage, with the most severe damage coming from tree fall. Due to the hurricane drought since 1991 in New England, there is not a lot of historical precedent or analogs, making understanding storm losses more difficult. Likely, the most significant modern-era hurricane that impacted New England was Hurricane Edna in 1954. However, Hurricane Lee will not even come close to that multi-billion dollar loss event for the insurance industry.

What is Next?
This tropical update does not want to downplay the potential impact post-tropical on New England and Nova Scotia. There will likely be some insured loss, but it does not appear significant to the insurance industry at this time.
The insurance industry might be asking now that the hurricane season is three days past the peak, what does the remaining season store for the insurance industry? The first areas to watch are areas of convection at 97L in the Central Tropical Atlantic. The next named is Nigel, and the (NHC) says there is an 80% chance of development. It does appear this will develop and likely become the next major hurricane as it moves into the Central Atlantic, probably East of Bermuda.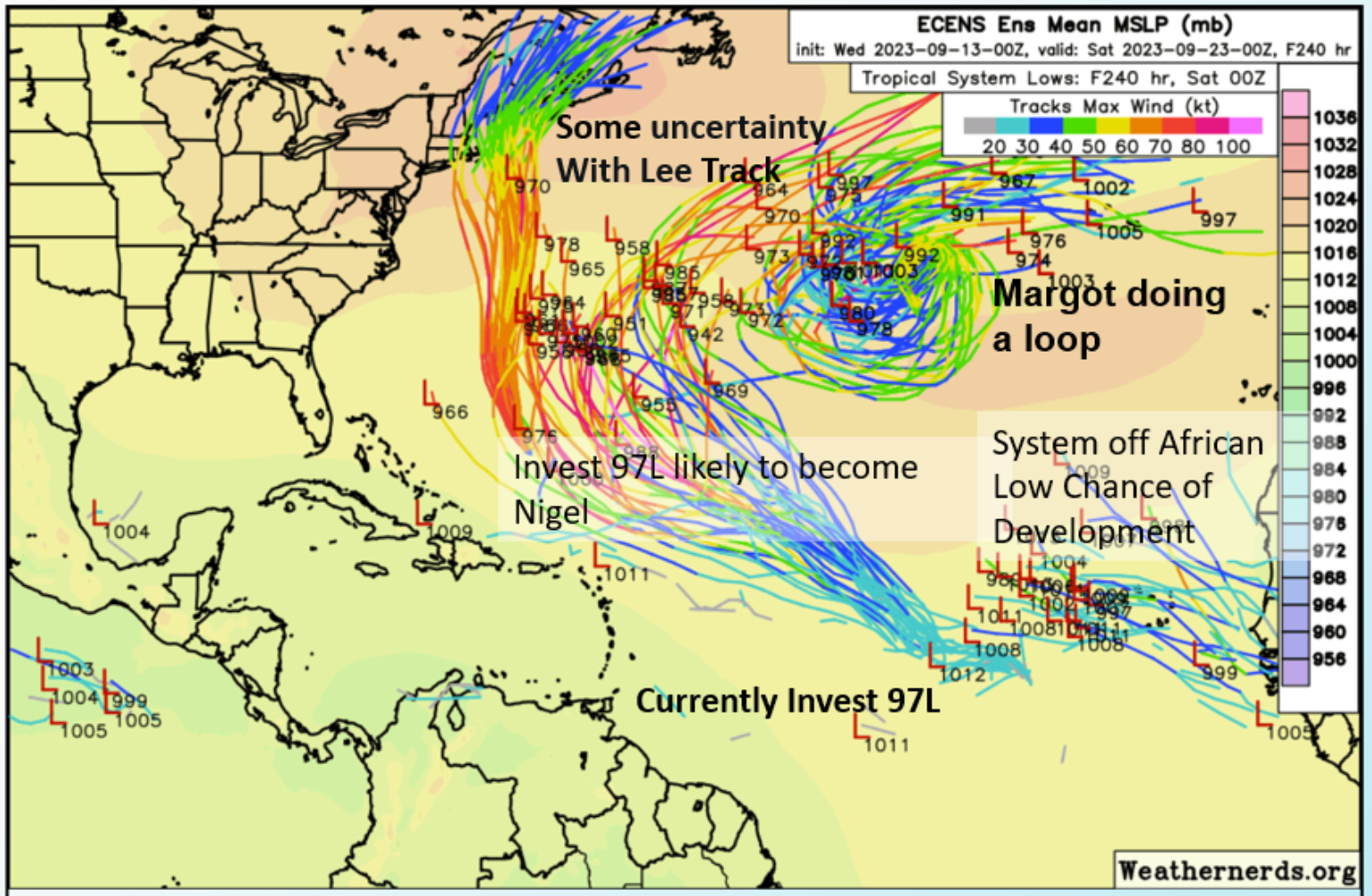 After that, there is a good chance that the Atlantic Basin might see minimal new activity for the remainder of September as upper atmosphere large-scale sinking are taking over the Atlantic Basin during the middle of next week. This could end African tropical waves developing into named storms for the remainder of the season, with attention to what seems to be a theme of recent years of late-season activity in the western Caribbean. Along with climatology, there is always a concern that a tropical disturbance could form in this region towards the end of the season. Given the continued warmth of the SST in this region and the Gulf of Mexico, the areas must be monitored for more development this season.