First Florida East Coast Landfalling Hurricane Since Katrina 2005
Last night at 3 am local time, Hurricane Nicole came ashore just south of Vero Beach with winds of 75 mph, a pressure of 981 mb, and a forward speed of 15 mph. This is the first time in 17 years that a hurricane has made landfall on the east coast of Florida. This is astonishing, considering the return period for such an event is every eight years. What is also interesting is that this occurred in November. In fact, Nicole is the 8th hurricane of the 2022 Atlantic hurricane season and the 3rd hurricane to form this month. Lisa and Martin are the other two, and with three hurricanes this month, 2022 ties 2001 for the most November Atlantic hurricane formations on record. And lastly, all this is on top of the zero-named storm that occurred during the month of August. The hopeful news is that this appears to be the last named storm of the 2022 season. At a later date, we will summarize the season and the lessons learned to decide if the season was a bust or not.
Nicole's Storm Surge Impacts
For now, however, Nicole is still leaving its mark across Florida. As expected, storm surge and beach erosion have been extensive, directly resulting from the overall integrated kinetic energy Nicole had due to its large wind field. In fact, to provide some idea of just how vast the coastal impacts are way up in Volusia County, "several dozens of buildings have been declared structurally unsafe," by the county sheriff department. There was a concern that several buildings could be ready to collapse. There are countless videos of street flooding along the coastline from Fort Lauderdale to St. Augustine Beach. Perhaps one of the saving graces is that Nicole appears to have come in during low tied over much of the east coast of Florida. This can always be a wildcard on storm surge impacts.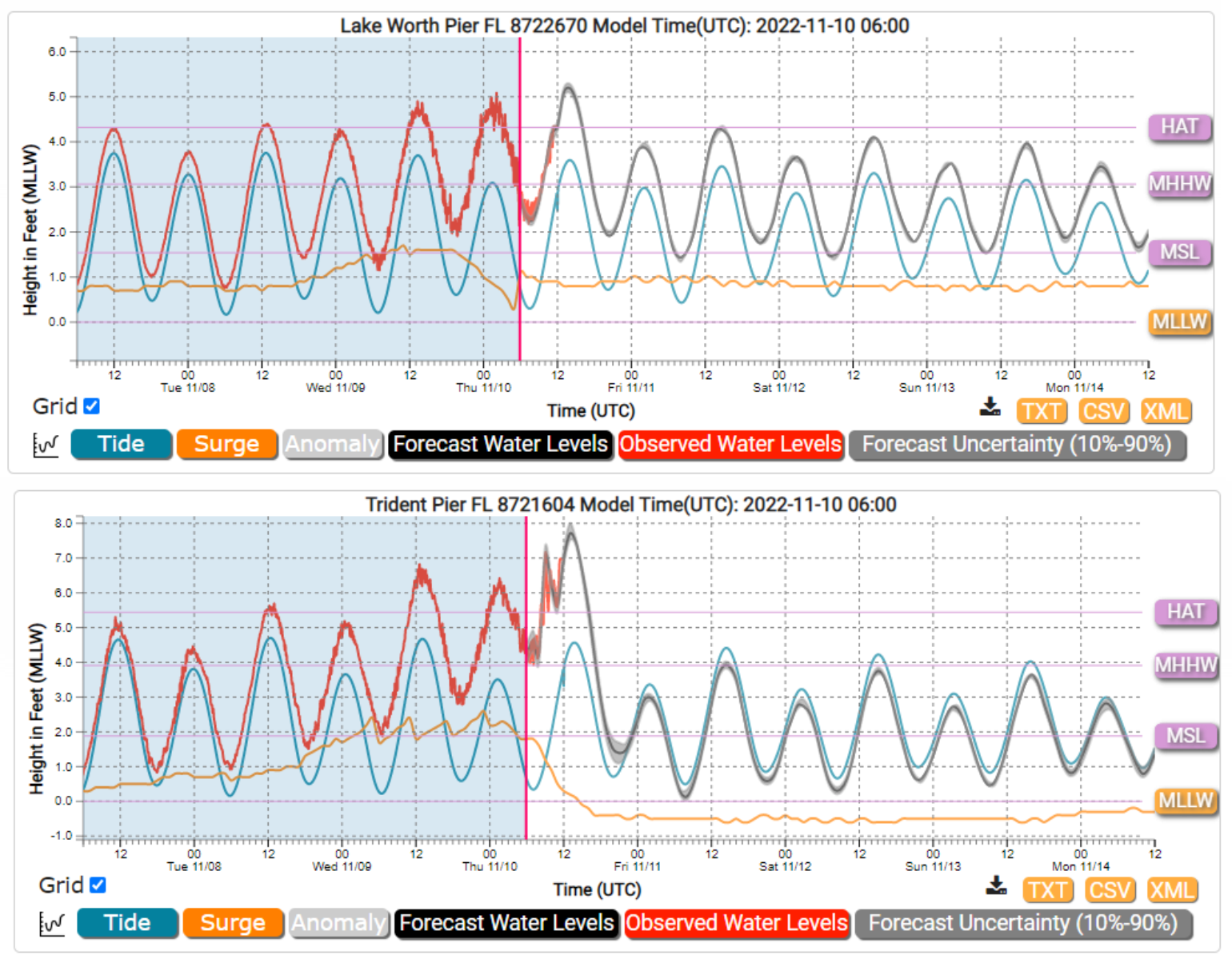 Nicole's Wind Impacts
Wind impacts seem to be pretty minimal when browsing social media this morning, but then again, maybe with Ian in recent memory, it is hard to have a realistic comparison. The first light might provide more details. Regardless, it is expected that much of the media attention will focus on coastline impacts and the wide-scale beach erosion that has occurred. This general observation of little wind damage does not mean insurance claims will result as the extent of tropical storm force winds is extensive. Last night before landfall, tropical storm force winds extended outwards up to 485 miles from the center of the Nicole. And although, as expected, Nicole made landfall as a hurricane, the core of hurricane-force winds is limited and harder to distinguish considering the overall large extent of tropical-storm-force winds.
The highest wind gust observed so far:
Playalinda Beach 73mph
Cape Canaveral SFS- 71mph
Melbourne- 70mph
Indialantic- 70mph
Stuart Beach – 68 mph
Patrick SFS- 67mph
Cap Canaveral – 6 mph
New Smyrna Beach- 60mph
Sebastian Inlet - 66mph
Dayton Beach – 64 mph
Vero Beach- 58mph
Orlando – 55 mph
Here is a good source of wind observations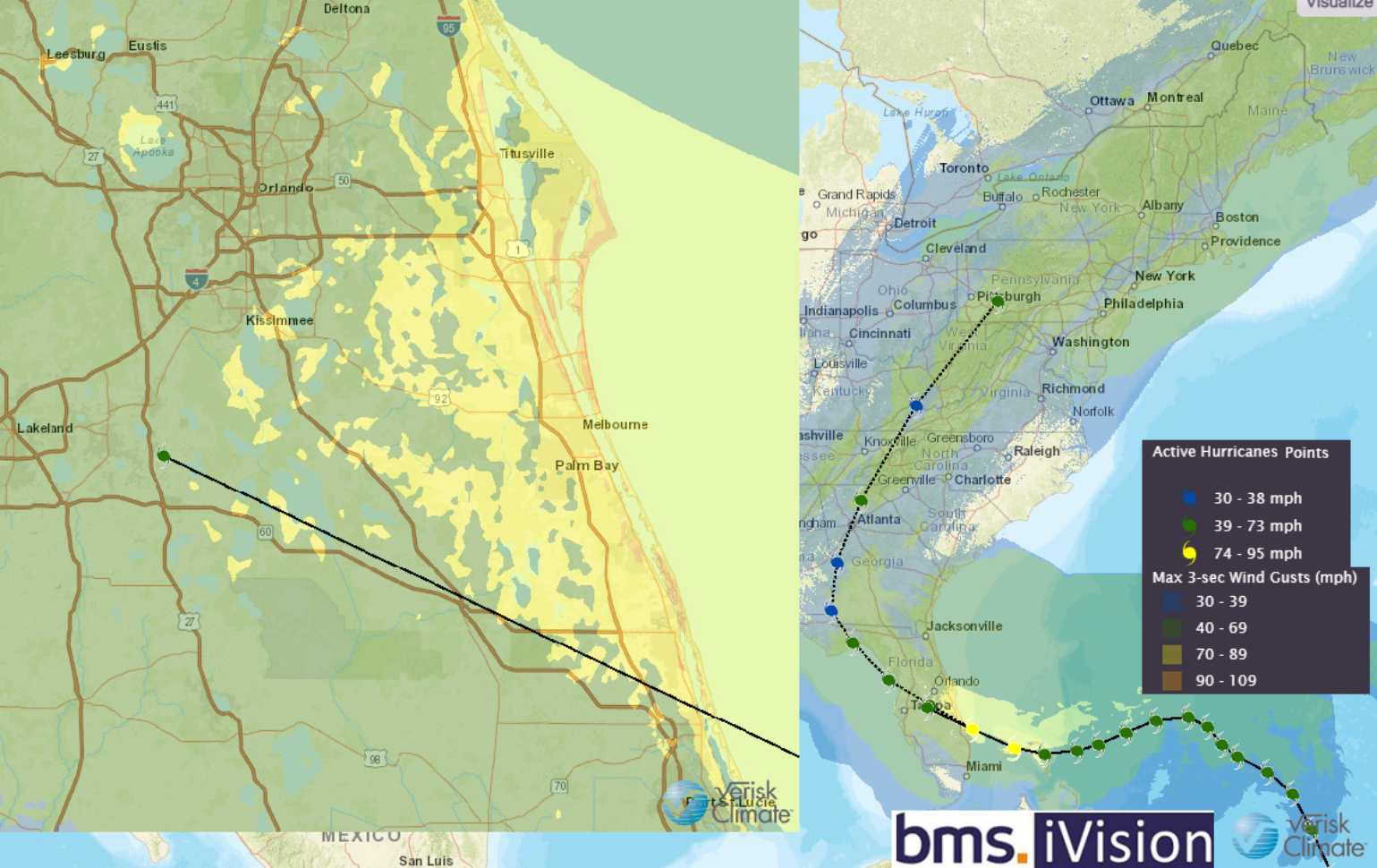 Power outages can often be an indicator of how severe impacts might be; and the good news is that this morning as of 10 am CST, only 330,000 customers are without power, with most of those outages being reported in the counties of Indian River, Brevard, and Volusia. This number will likely grow as Nicole tracks up the Florida Peninsula, but the winds will weaken, limiting power outages and damage. So overall, this is another positive sign for limited losses. When you add in other factors, such as higher-named windstorm deductibles requiring a higher degree of damage, claims may be limited. Still, as these BMS Tropical Updates have been discussing, even with Ian, claims were occurring far away from the landfall location in areas that experienced relatively minor wind gusts.
What might be one of the more interesting losses is the U.S. Space program. NASA took the gamble to leave the Artemis SLS Moon rocket on the launch pad LC-39B at Cape Canaveral. NASA has spent an estimated $40B on this program so far, with a single launch costing $4.1B. The SLS is designed to withstand 85 mph wind at the 60-foot level. However, at the sensor of the launch pad that is 200 feet above sea level, the winds had gusted to 100 mph. Other sensors at a lower-level show winds guest of 60 – 70 mph. Regardless, this could have gotten expensive for the U.S. taxpayers if Nicole had suddenly strengthened. But a lesson for the insurance industry is to have and follow design loads. Thankfully, our hurricane forecasting is getting better to understand the limits of these design loads as precautions can be made before landfall.
Nicole's Impacts on GA/NC/SC
Nicole will now track inland, and as the primary fuel source of warm ocean water is cut off, the pressure will rise, and the wind field will collapse, meaning impacts will be less than what occurred across Florida. Rain bands should be expected to be locally heavy and produce isolated floodings in the usual places. There is still also a chance for an isolated weak tornado. More info on these impacts can be found in the NHC Key Messages.
Nicole's Impact on the Insurance Industry
As mentioned previously, estimating the insurance industry loss from Nicole will be a bit more complicated given the large extent of tropical-storm-force winds. If Hurricane Erin, which made landfall in 1995 in Vero Beach and tracked across the Florida Peninsula, happened today, it would cause about $1.1B dollars in insurance industry loss. So, the question remains today, would a much larger wind field lead to higher losses? Will higher deductibles limit claims activity? Better yet, over the years, stronger hurricanes impacting a similar area like Frances and Jeanne in 2004 or Matthew in 2016 tracking up the entire East coast of the state, could the rebuilding efforts after these storms offer hope that losses would be more limited? The selection of stochastic modeling events here will likely be challenging given the large extent of the wind field from Nicole. Still, this should be a retained event for carriers that provide coverage across the state with total industry losses over $500M but likely less than $1.1B.
Nicole is yet another event to learn from and refine catastrophe models. In fact, the Insurance Institute for Business and Home Safety (IBHS) and the University of Florida took the opportunity to deploy the first-of-a-kind tower system to understand wind-driven rain and rain droplet size distribution. This is one of the most significant foundational gaps in understanding wind-driven rain and how design levels for standardized testing are reflected in a real event. This data can help refine the testing done at the IBHS lab and refine our future building codes.
In the end, one might think mother nature is winning; but with time, science, and resiliency, the insurance industry will overcome most of what mother nature throws at society.