By Andrew Siffert – Vice President / Senior Meteorologist
2020 Name Storm Wind Gust History
A total of 12 named storms have had some type of wind impact on the U.S. coastline. Almost every section has experienced some kind of named storm wind gusts over 30 mph from these storms. The map below shows an aggregated summary of these winds across the 12 named storms from our BMS iVision geospatial product showing the Verisk Respond 3-second wind gust. It clearly indicates almost every section of Louisiana has experienced wind gusts of at least 50 mph this year with all the named storm activity that the state has suffered. The map also shows how lucky Florida has been with sections of the state not experiencing any named storm winds over 30 mph this season. Although Sally impacted South Florida and the Western Panhandle and Bertha and Isaias provided some wind gusts to parts of the East Coast, overall, most of the state has been relatively named storm wind-free this hurricane season. Will this change with Eta?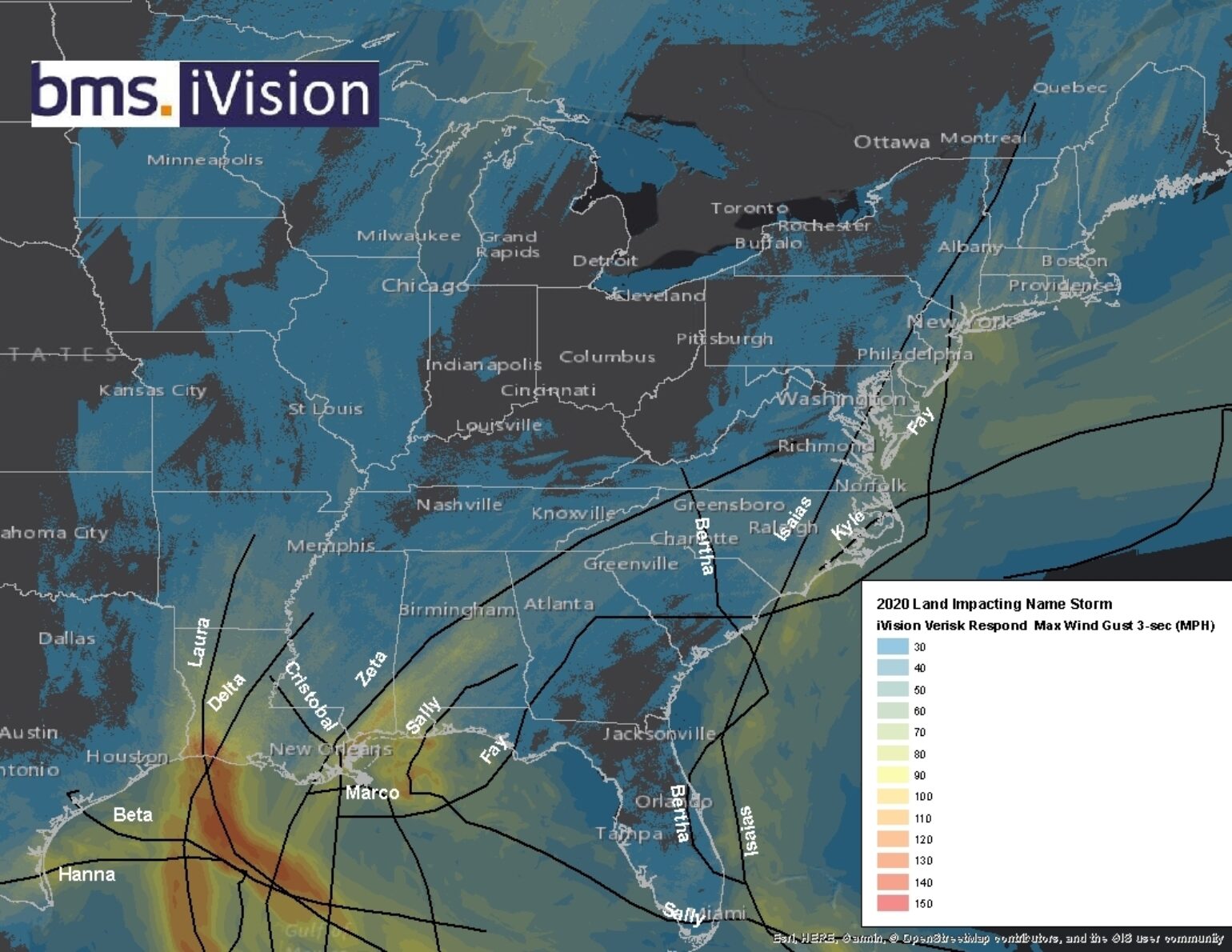 Eta's History
The last Tropical Update posted one week ago mentioned two possible scenarios of what could happen to Eta.
New named storm formation slowly stalls and moves slowly inland to one of the Central American countries of Nicaragua, Honduras, or Belize.
Similar to where Gama, Delta, and Zeta all formed, the new named storm formation would track north towards the Cayman Islands and Cuba and could impact southern Florida or the Bahamas.
In keeping with all things 2020, there's a good chance that both of these scenarios will play out with Eta. Unfortunately, this week Eta grew into a powerful Category 4 hurricane with 140 mph winds as it made a rare landfall on the Nicaraguan coastline 15 miles south of Puerto Cabezas. Although the overall east coast of Nicaraguan has a low population density, most certainly, the town of Puerto Cabezas population of 66K in 2005 was severely impacted. Eta was also a slow-moving hurricane at landfall with a forward speed of 5 mph, which only compounded the impacts of wind and flooding rains that always seem to significantly affect the mountainous regions of Nicaragua and Honduras. Thirty-six hours after Eta made landfall, it is still producing heavy rain with significant flooding to portions of Central America as a tropical depression.
Eta Future
Looking at the tropical Atlantic forecast, there doesn't seem to be a clear end in sight yet for the Atlantic hurricane season. As mentioned above, the long-range weather models last week hinted that Eta could also track towards the Cayman Islands and Cuba. It would appear now that Eta will make a u-turn tonight as it moves across Honduras and emerges over the Gulf of Honduras by Friday morning. With the Western Caribbean sea still quite warm and plenty of upper-level rising motion associated with the current Madden Julian Oscillation (MJO) and low wind shear, it looks like Eta will restrengthen back into a tropical storm in the Western Caribbean and track close to the Cayman Islands and over Central Cuba this weekend.
The track Eta is taking is not unheard of. We have several examples of late-season named storms impacting Central America, then tracking towards the U.S. Hurricane Mitch in 1998 devastated Central America and tracked over South Florida as a tropical storm. However, unlike Mitch, Eta will likely stick around a bit longer as it snakes its way north over the next 7 days. At this time, there is some uncertainty about where Eta will track and at what intensity.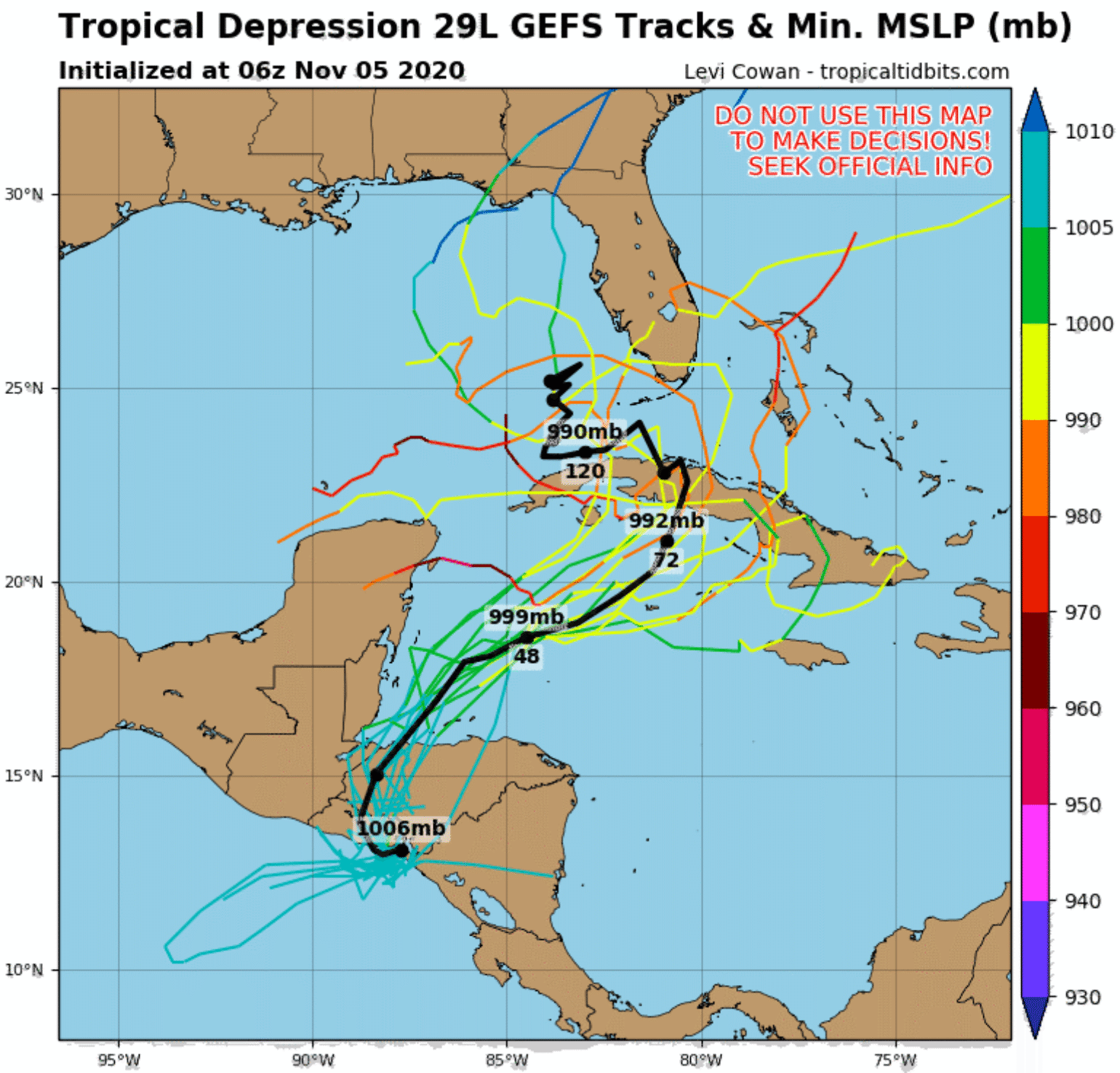 Eta will likely track over Cuba and close to the Florida Keys, but by Monday and Tuesday, it will be pulled back to the northwest by an upper-level trough over the Western Gulf of Mexico and into the coastal waters off Southwest Florida during the middle part of next week. There is also a chance it could just track into Central Florida during the middle part of next week. After that, there is even more uncertainty, but the likely scenario is that Eta will finally be pushed into the West Coast of Florida by a mid-latitude trough moving into the Central U.S. late next week; however, there is a chance that it misses the connection of the trough and stays in the Gulf of Mexico or over Florida. In terms of intensity, it would appear that Eta will maintain tropical storm status as it snakes its way North. However, this season has proven across many named storms, as shown above, including Eta, that surprises in intensity can happen even with little intensity guidance, suggesting Eta could become a hurricane again before it is over.
The expected impacts at this time to the insurance industry should be minimal, given all the forecast scenarios. Marginal wind gusts could occur across south Florida and possibly north Florida depending on Eta's final track, which would fill in the gap in named storm winds that have occurred over the state this year. Along with manageable winds, if Eta is a tropical storm, heavy rain would also result, all of which should still mean minimal impacts given the current forecast. However, South Florida has a very wet summer, and Lake Okeechobee has been over 16 feet since early October. With more heavy rains forecasted, this could complicate any planned discharges into the St. Lucie and Caloosahatchee River, increasing the area's flooding risk. Another update on Eta will be provided if the impact on the insurance industry appears to be more significant.