By Andrew Siffert – Vice President / Senior Meteorologist
Zeta Damage
Hurricane Zeta made landfall in Louisiana with 110 mph sustained winds yesterday evening as a powerful Category 2 hurricane. Frankly, I would not be surprised in the post-storm analysis by the National Hurricane Center (NHC) if the storm is upgraded to a major Category 3 hurricane at landfall. This was without a doubt once again against all model guidance and even the expert guidance at the NHC. Social Media shows plenty of minor to significant roof damage in New Orleans, with the eastern suburbs experiencing the highest wind speeds. The coastal towns of Bay St. Louis, Gulfport, and Biloxi were also hit very hard by Zeta's fast-moving winds. Below is the latest BMS iVision Verisk Respond 3-second wind swath product that BMS clients can use better to understand winds impacts on their portfolio of risks.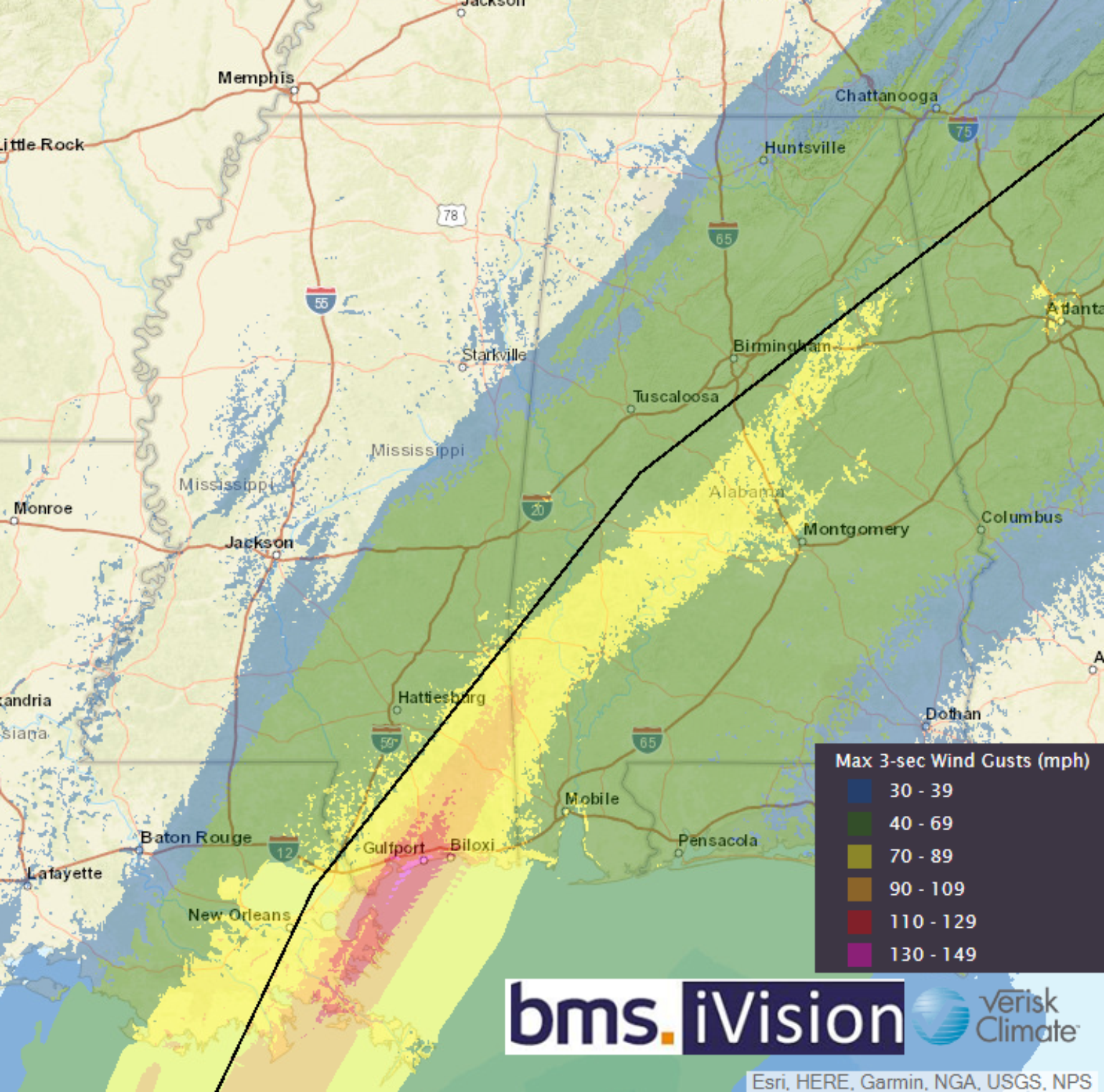 As I have written before, Social Media is a great tool to get a sense of the damage that is occurring and is showing that damage extends well inland. This is also verified by the broad swath of power outages into the central Appalachian Mountains. It would also appear the Atlanta metro area was hit particularly hard with damaging winds that have caused a large number of power outages. Once again, this is an excellent example of how tree fall can amplify damages from high wind events. In this case, tree fall seems to be a significant cause of loss due to the already saturated soil and the fact that the Atlanta metro area is one of the most tree-filled urban areas in the U.S.
What is Next
Zeta is now the record-setting fifth named storm to impact Louisiana. The state has had tropical-storm-force winds hit every state section this season. A tiring year for the region, which is why I want to focus on what is next, as the insurance industry is on edge with the high frequency of landfalling events this year.
Unfortunately, a robust signal for new tropical cyclone development in the Caribbean continues on overnight ensemble guidance from the American GFS and the European ECMWF. The NHC development odds in the next 5 days, which yesterday was at 20% are now up to 60%.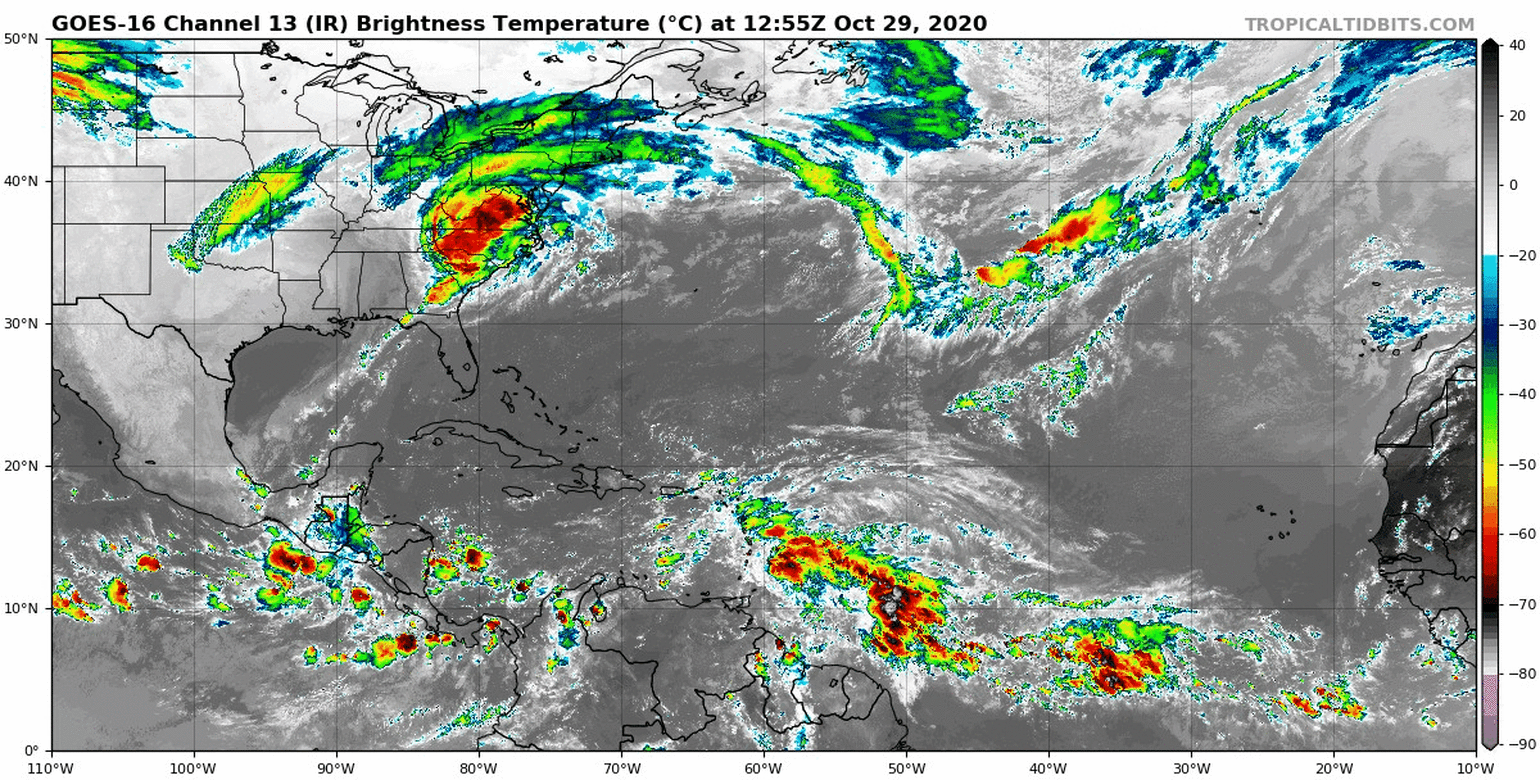 When you also account for the fact that there is plenty of convective activity and upper-level outflow east of the Lesser Antilles this morning, which will be moving towards the western Caribbean over the next several days, it would appear the next Greek name Eta is likely to form. Eta would be the 28th named storm tying the Atlantic single-season record of 28 named storm set in 2005.
The water in the Western Caribbean is still very warm, and there appears to be a robust upper-level rising motion that would aid in tropical development for at least the first week and half of November. Also, overall climatology would suggest this is one of the most likely new named storm formations that would occur this late in the Atlantic Hurricane Season. So with the insurance industry on edge of any other tropical troubles, where might Eta track? Right now, Eta is NOT expected to threaten the U.S. However, last Thursday, the same could have been said for Zeta, and look what happened.
There are currently two possible thoughts of what could happen.
New named storm formation slowly stalls and moves slowly inland to one of the Central American countries of Nicaragua, Honduras, or Belize.
Similar to where Gama, Delta, and Zeta all formed, the new named storm formation would track north towards the Cayman Islands and Cuba and could impact southern Florida or Bahamas.
I have created a short Vlog on these scenarios, so be sure to check this out for more interactive detail on the possible options area.
There is model support for both of these scenarios, and I think there is a higher than 60% chance another tropical cyclone is in the Caribbean early next week. Understandably we are all sick of this season, but we still have another month to go. It seems at this point we will surely break the 28 named storm record, so we need to stay alert even though we are all fatigued.