By Andrew Siffert – Vice President / Senior Meteorologist

Both Laura and Marco are still tropical storms as of early Sunday morning Central Daylight Time. However, this could change as Marco is only 5 miles per hour away from becoming classified as a category 1 hurricane and is now heading north toward Louisiana. Laura is now crossing over Hispaniola en route to Cuba by tonight. Unfortunately, Laura is roughly headed for the same area on the Gulf of Mexico coastline later this week. This is truly an extraordinary coincidence, Marco is forecasted to make landfall in Louisiana as a hurricane on Monday afternoon, then, Laura is forecast to make landfall in Louisiana or Texas as a hurricane on Wednesday night. Depending on the overall final track, this means that some locations could experience two rounds of hurricane-force wind gusts, two rounds of heavy rain, and two rounds of storm surge. Both of these events could be mingled together leaving little time for the preparations, clean up, power restoration, etc.
The double landfalls in the same general area will undoubtedly create flooding problems, not only from three days of storm surge coming and going but from excessive rainfall. The 3-day rainfall forecast is shown below. The flooding will not be limited to the coastal areas when you add in the rainfall that is expected over the next 7 days.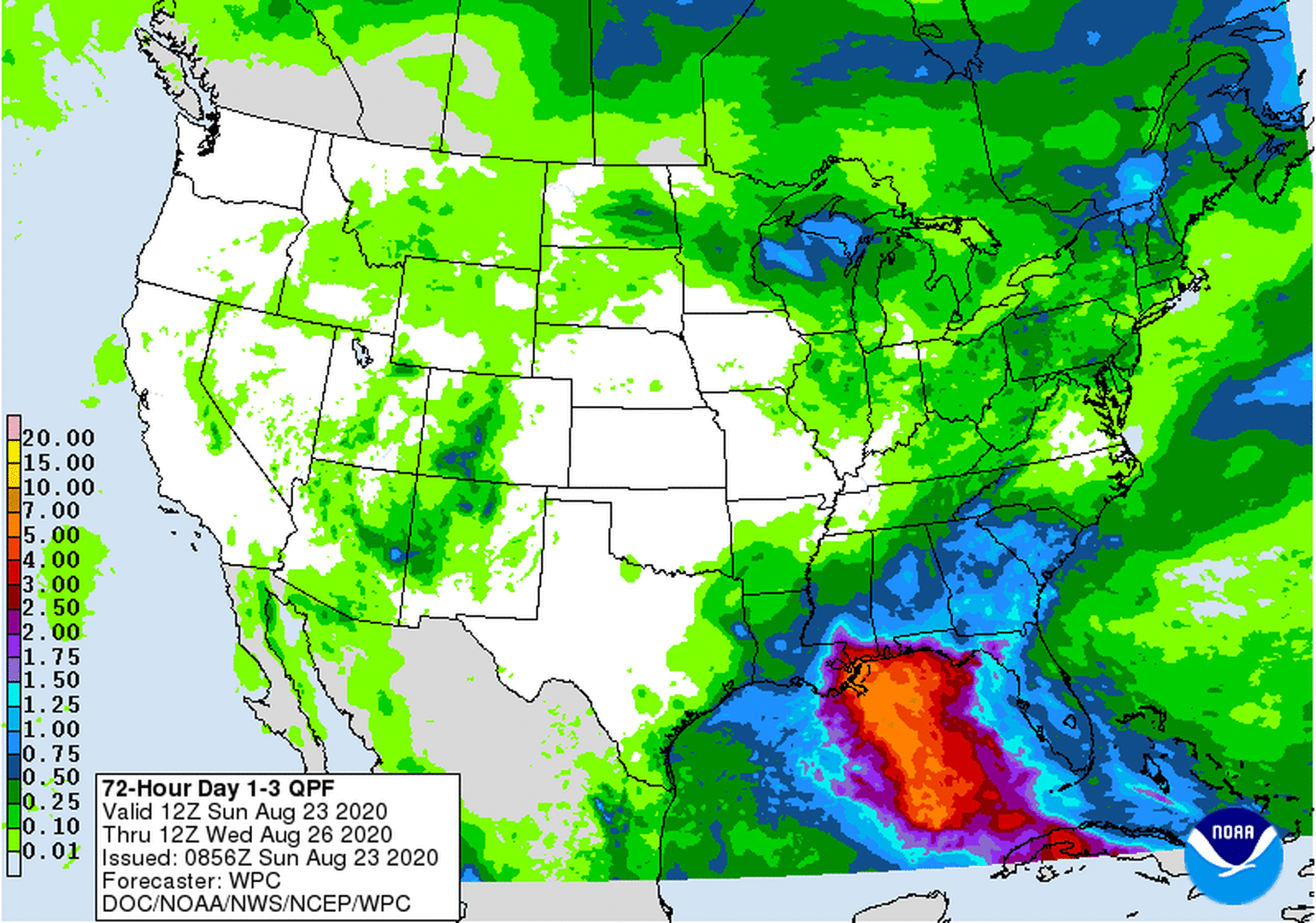 Marco Forecast and Impacts
Marco has been battling a bit of wind shear over the last 24 hours, which is likely one of the main reasons why it has not become a hurricane yet. This wind shear will likely stay with Marco until just before landfall somewhere along the Louisiana coastline as a high-end tropical storm or minimal hurricane. Since Marco will be a bit sheared, do not focus on the center track as the right side could likely have the heaviest weather. Even if Marco makes landfall in Louisiana parts of Mississippi and Alabama could still feel some impacts. This happened with tropical storm Cristobal already this year which caused about $150 million in insurance damage, most of which came from Florida whereas the least came from the landfall state of Louisiana. Marco will be stronger but perhaps smaller in size so this might limit impacts in Florida. However, this will increase the impacts on Louisiana. All of this still depends on the overall strength of Marco as the final track will be determined in large part by its intensity tonight and tomorrow. The stronger Marco gets, the more it will track north rather than northwest. If it were to intensify into a hurricane, that means landfall in southeast Louisiana, Mississippi, or Alabama. If it were to remain a moderate to strong tropical storm, that means landfall would likely be in west or central Louisiana. If it were to weaken into a weak tropical storm or tropical depression, that means landfall would likely be farther west near the Texas-Louisiana border.
Given the small size of Marco, I expect a narrow swath of strong winds with potentially hurricane force and a much wider swath of more manageable winds as it makes landfall. Either way, as the system weakens due to land interaction it will turn to the west after landfall and should end up dissipating near the Texas Louisiana border by Tuesday night.
As far as rainfall goes, the forecast shown above from the NOAA Weather Prediction Center shows heavy rainfall concentrated east of the storm's center, which is likely due to the wind shear pushing Marco's thunderstorm activity to the east of the system. This is also where the strongest winds will end up. Louisiana is no stranger to rain -making named storms and it looks like from a flooding perspective, Marco will be relatively fast-moving, so overall rainfall totals should be manageable compared to some past named storm events. However, expect the typical low-lying areas to see water. It does not appear widespread flooding issues will occur at this time.
Storm surge will depend on intensity and landfall locations, which are a bit uncertain at this time. The NHC is expecting 3 – 5 feet of storm surge mostly to the east of its point of the landfall location. Much like the system's rain, this surge will cause issues in the usual spots and outside the levee system but should not be extreme enough to cause widespread problems or impact any of the levee systems in the area.
Laura Forecast
Laura looks to be a real problem for the insurance industry. Laura still has some considerable land interaction ahead as it tracks over Hispaniola today and part of Cuba tomorrow; however it is tracking fairly fast for a tropical storm. This speed is allowing it to maintain itself, but uncertainty remains high, and the latest forecast models show Laura is likely to track just along the southern coastline of Cuba which would give Laura more time in an extremely favorable environment in the Gulf of Mexico. As a result, many of the reliable forecast models indicate a stronger hurricane along the western Gulf of Mexico coastline during the middle of this week.
The bottom-line is the longer Laura has over open water the stronger it will be when it reaches the U.S. If you remember back to my tropical update on August 20th, 2020 the models were showing a possible south Florida landfall as a hurricane. Now the storm is tracking potentially south of Cuba and with a landfall in Louisiana or Texas, which is why I mention the forecast models have been anything but impressive this year.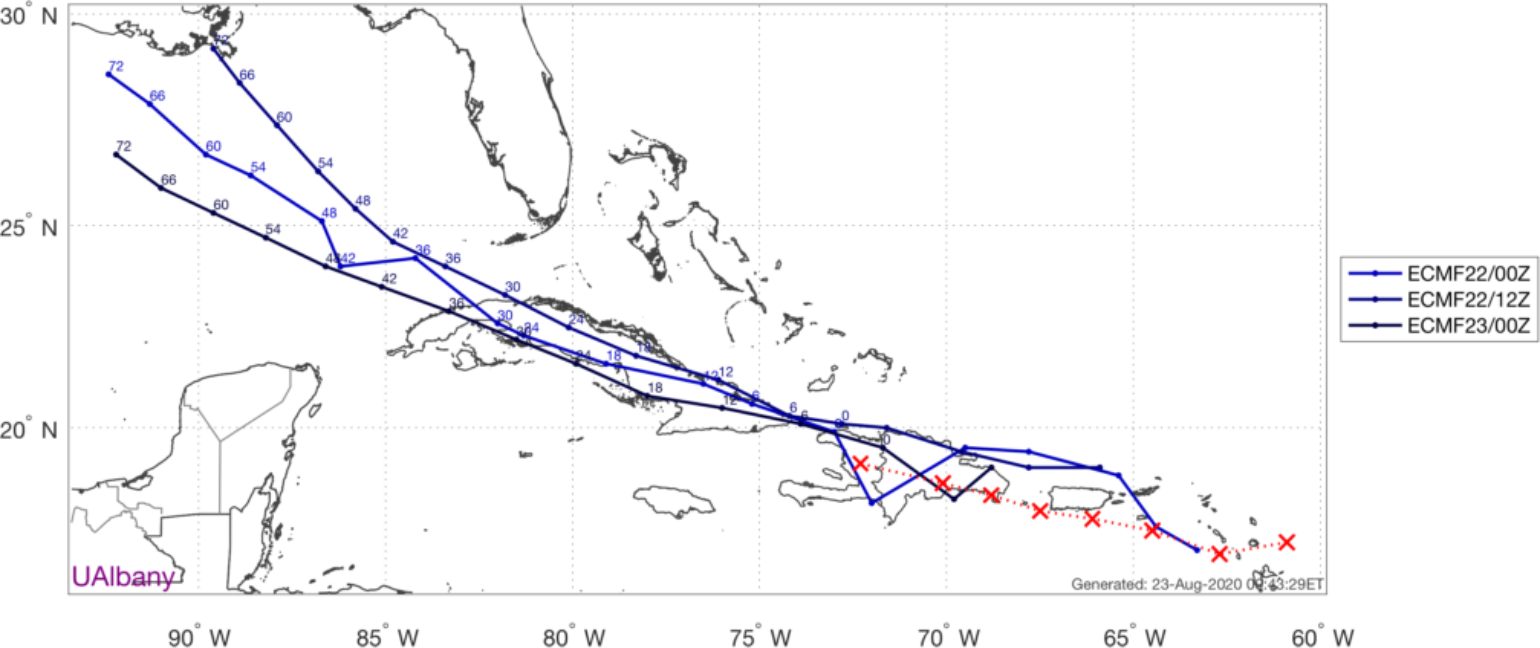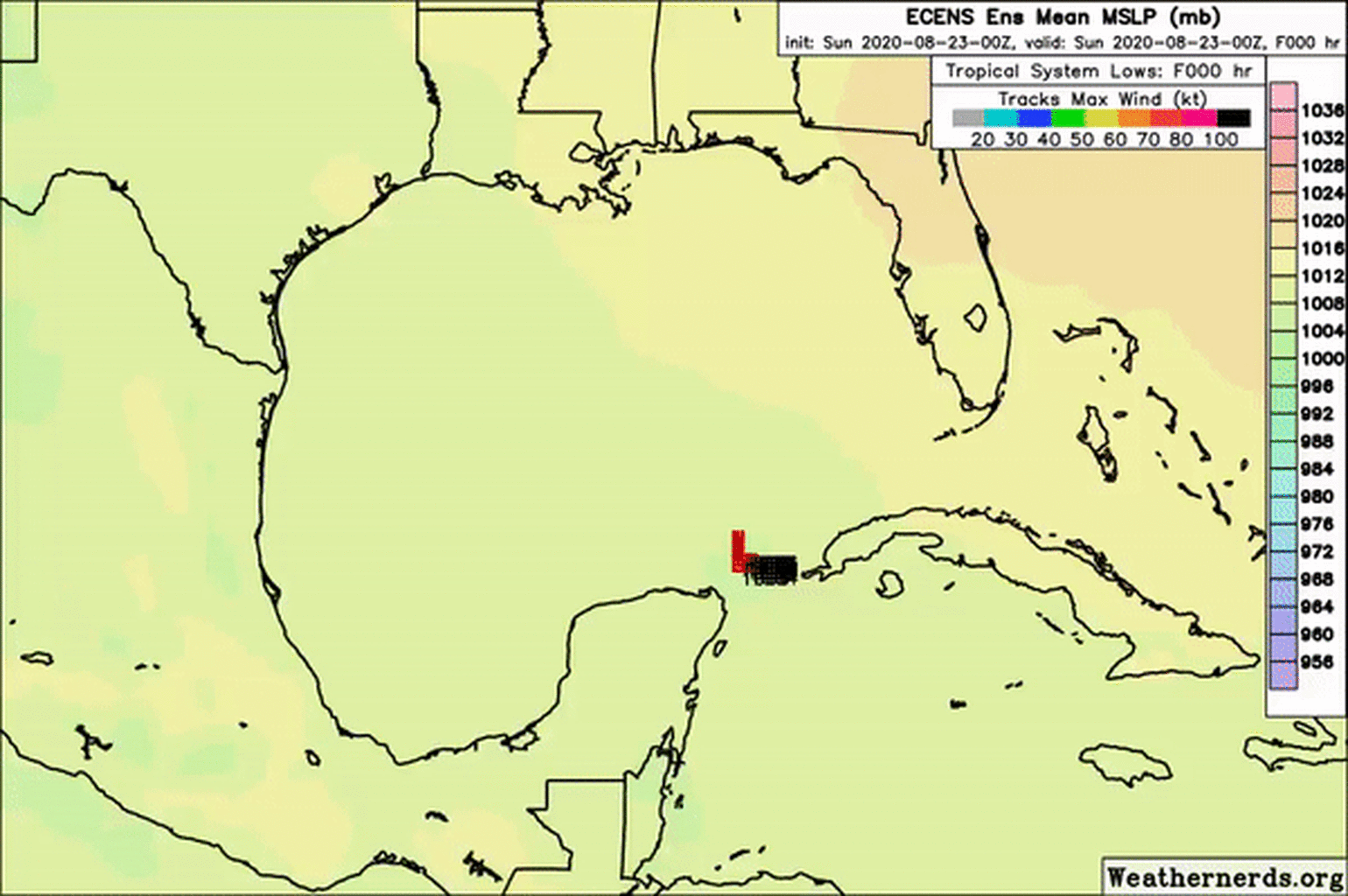 Regardless of what happens with Laura's land interaction in the next two days, it has a track over some of the warmest water in the world and this will help Laura intensify into a hurricane. The Central Gulf could be very favorable for intensification so I would not be surprised to see a major hurricane especially if the track is more westward than currently indicated. It is very possible to just look at the history book. Galveston, TX 1900 hurricane had a similar track or even more recently Hurricane Ike in 2008. With that being said, there is uncertainty in the track which seems to be trending to the west.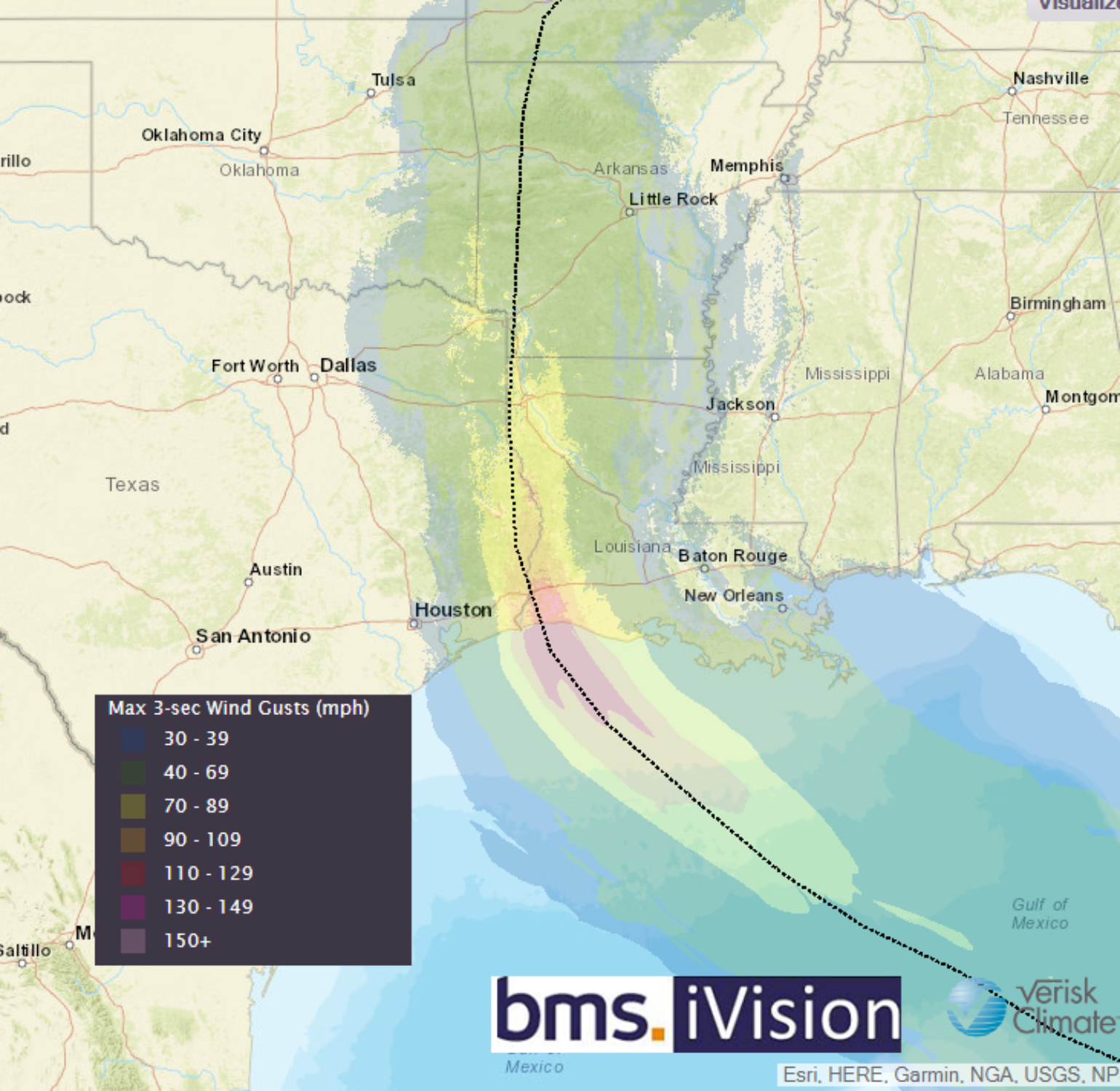 Other things to think about
As far as I know, there are no historical events where two hurricanes made landfall within 48 hours over the same general area. I mentioned in the blog yesterday that 1933 is the shortest time between two U.S. landfalls at 23 hours, but these were in completely different areas of the U.S. coastline. The shortest time between two Louisiana landfalls was in 1860. There were 17 days between Hurricane 4 and Hurricane 6. Frances and Jeanne 2004 Florida impacts were 20 days, and if you remember there ended up being some problems with events and claims from those two events. So if Marco and Laura make landfall in the same general area, which is still uncertain, there are some things the insurance industry needs to think about when it comes to various named storm and hours clauses, event definitions, and deductible options. Even with event definition clarity, there will not be enough time for adjusters between events.
There might also be questions as to which event caused the loss. Some loss adjusting flexibility surely could be applied given some of the scenarios as it might be hard to determine which storm caused what damage. If there is a clear border between the areas of damage, then that should not be much of an issue. Marco and Laura could bring the insurance industry into some new uncharted territory as this is complicated due to the adjusting resources that are already very tight.