By Andrew Siffert – Vice President / Senior Meteorologist
If you have seen the National Hurricane Center (NHC) forecast you might notice that there is a chance of two hurricanes, Marco and Laura, making landfall at roughly the same time along the U.S. Gulf Coast. Given this is 2020 anything is possible, but it should be noted this is not unprecedented.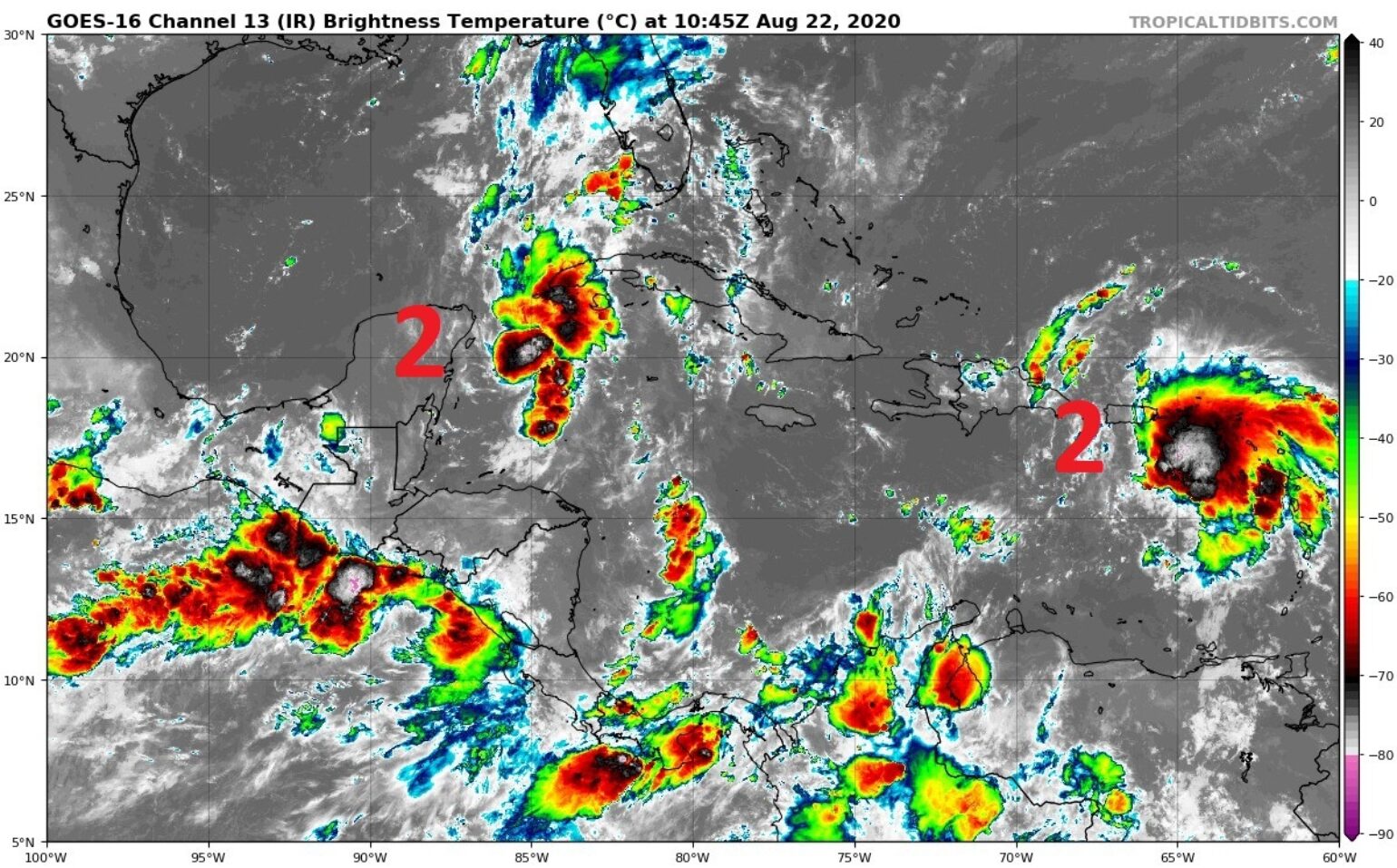 Most recently on September 6th, 2002 the Gulf of Mexico had Tropical Depression Edouard and Tropical Storm Fay; however, the only two cases where two named storms that were both at least of tropical storm strength in the Gulf of Mexico were on September 5th, 1933 and June 18th, 1959. There is still a large amount of uncertainty as to the likely path and intensity of Marco and Laura and, given the current forecast, it is highly unlikely they will make landfall on the U.S. coastline on the same day. Below briefly discusses both storms, which will not merge into a megastore or dance around due to the Fujiwhara Effect, in case you have read that anywhere.
Marco Thoughts
Marco is leading the parade to the U.S. Coastline and is out ahead of Laura by a solid two days, which will allow it to enjoy its own environment without influencing the Yucatan Peninsula or any outflow from a stronger Laura, which is currently much further to the East over the higher topography of Puerto Rico. There is general model support for some intensification of Marco over the next few days; however, currently, the NHC does not develop Marco into a hurricane before a U.S. landfall. The various intensity forecast models do show there is still plenty of model support for a stronger Marco when it is in the Central Gulf of Mexico in 48 hours. In fact, Marco could already be a hurricane. Remember forecasting intensity of named storms is hard and we have seen that already this year with Hana and Isaias leading up to landfall.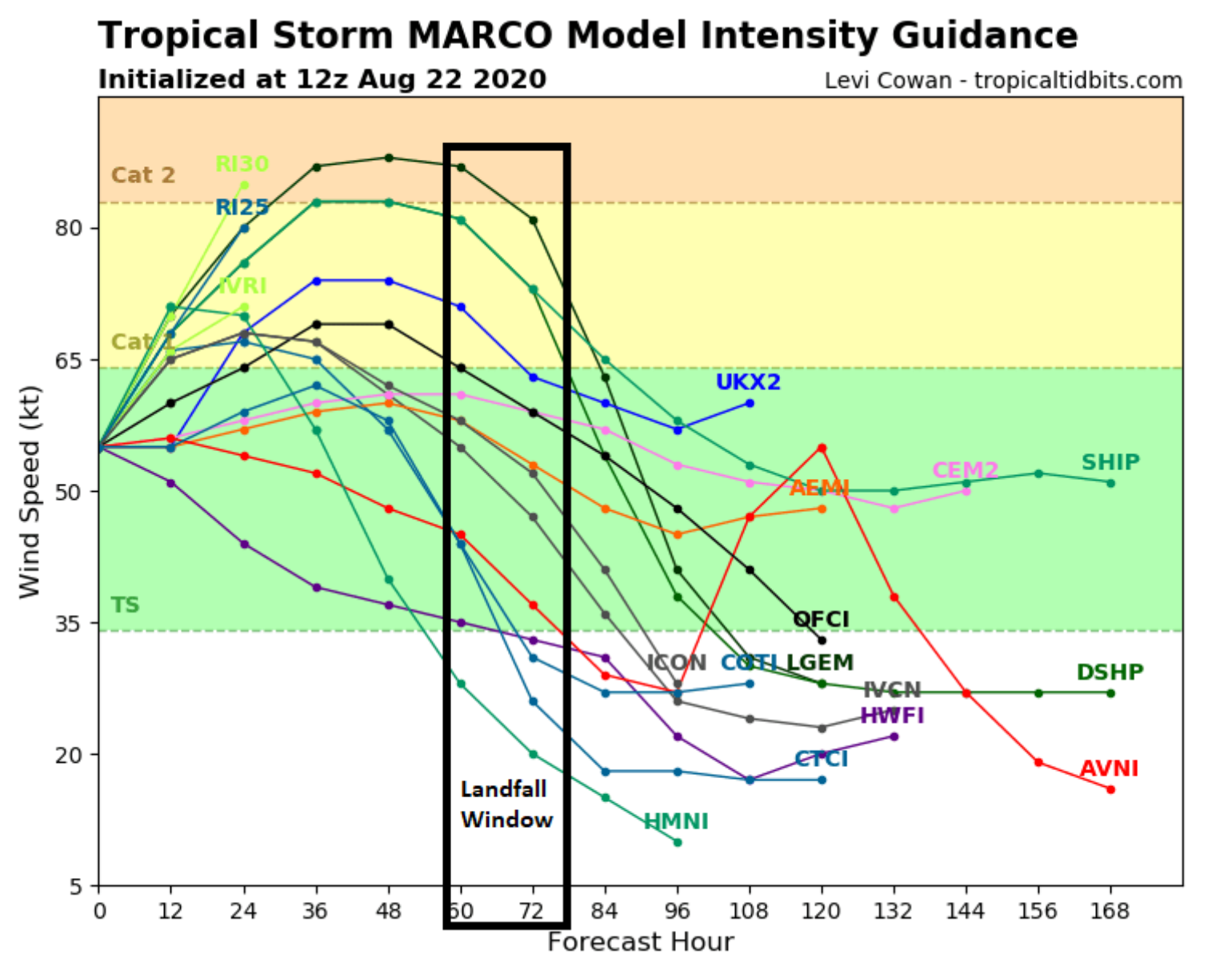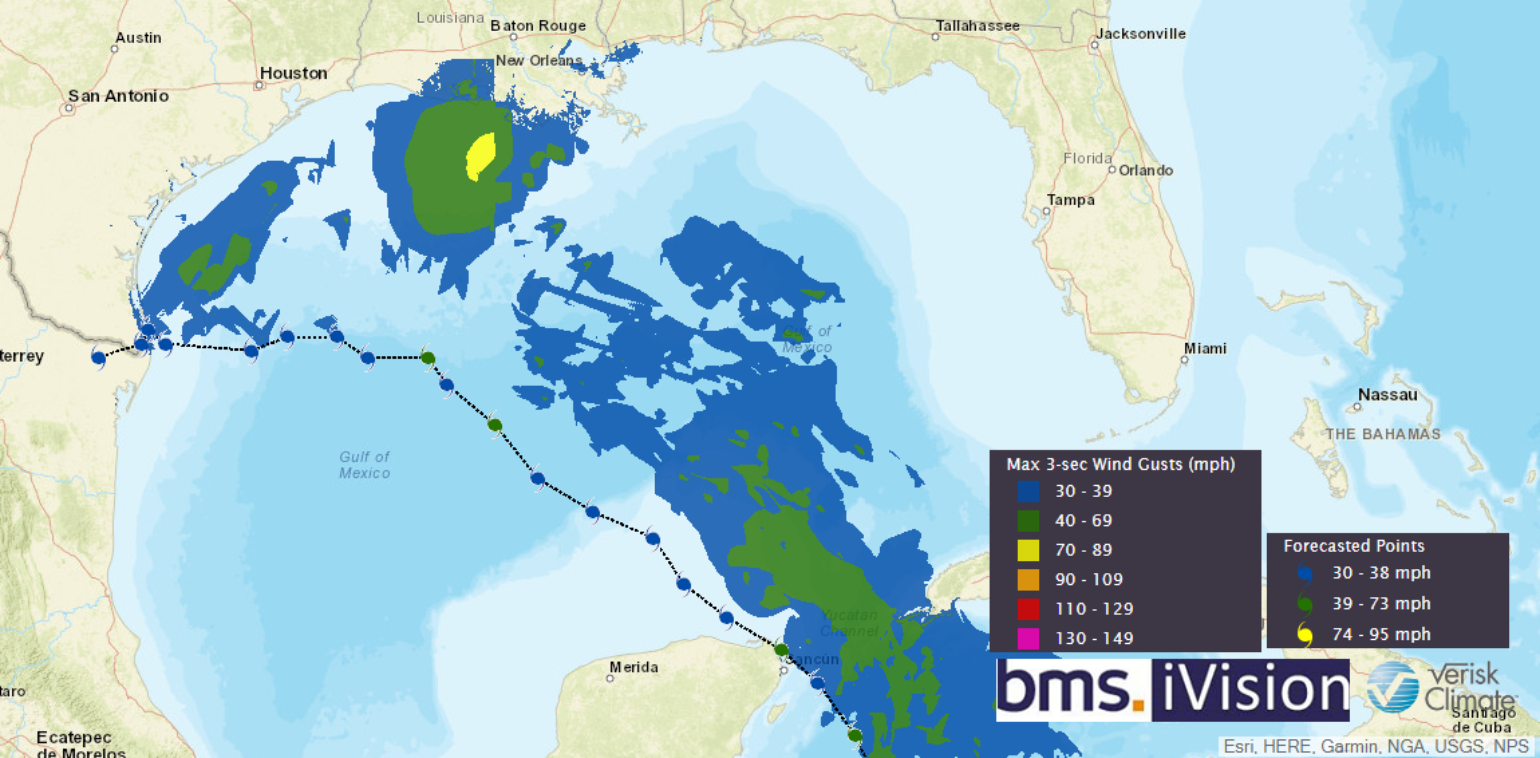 Laura Thoughts
The good news since my last update is that Florida no longer looks like it will be impacted by tropical storm force winds. Laura continues to remain weak as it interacts with the higher terrain of the northern Caribbean islands. The model guidance continues to trend to the southwest which keeps Laura closer over Hispaniola and Cuba and away from any warm water which is the main source of energy in a named storm. This will cause Laura to struggle to gain additional intensity, causing it to remain a weak tropical storm. However, this could change Monday afternoon when Laura emerges out over the northwest coast of Cuba. This is when things could get interesting, as a lot will depend on what is going on with Marco at this time. Marco should be out ahead of Laura as a much stronger storm; however, Laura has a better path over some of the warmest waters in the world, and, at this time, both Marco and Laura will be free of large scale wind shear. The only wind shear that could weaken Laura is if it interacts with the larger stronger Hurricane Marco that could be in the Northern Gulf of Mexico. This is not forecasted, so the strongest storm in the Gulf of Mexico looks like it could be Laura early next week.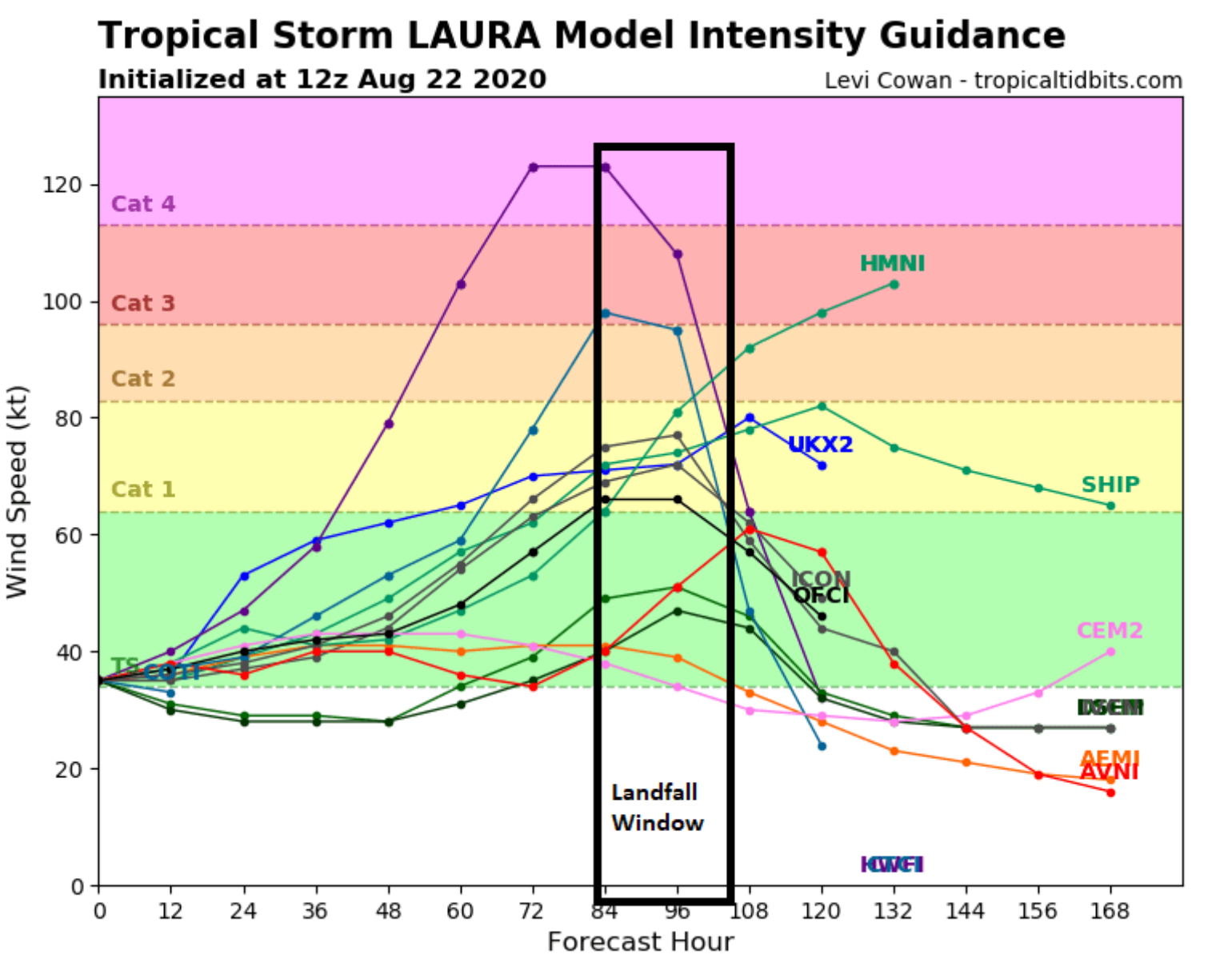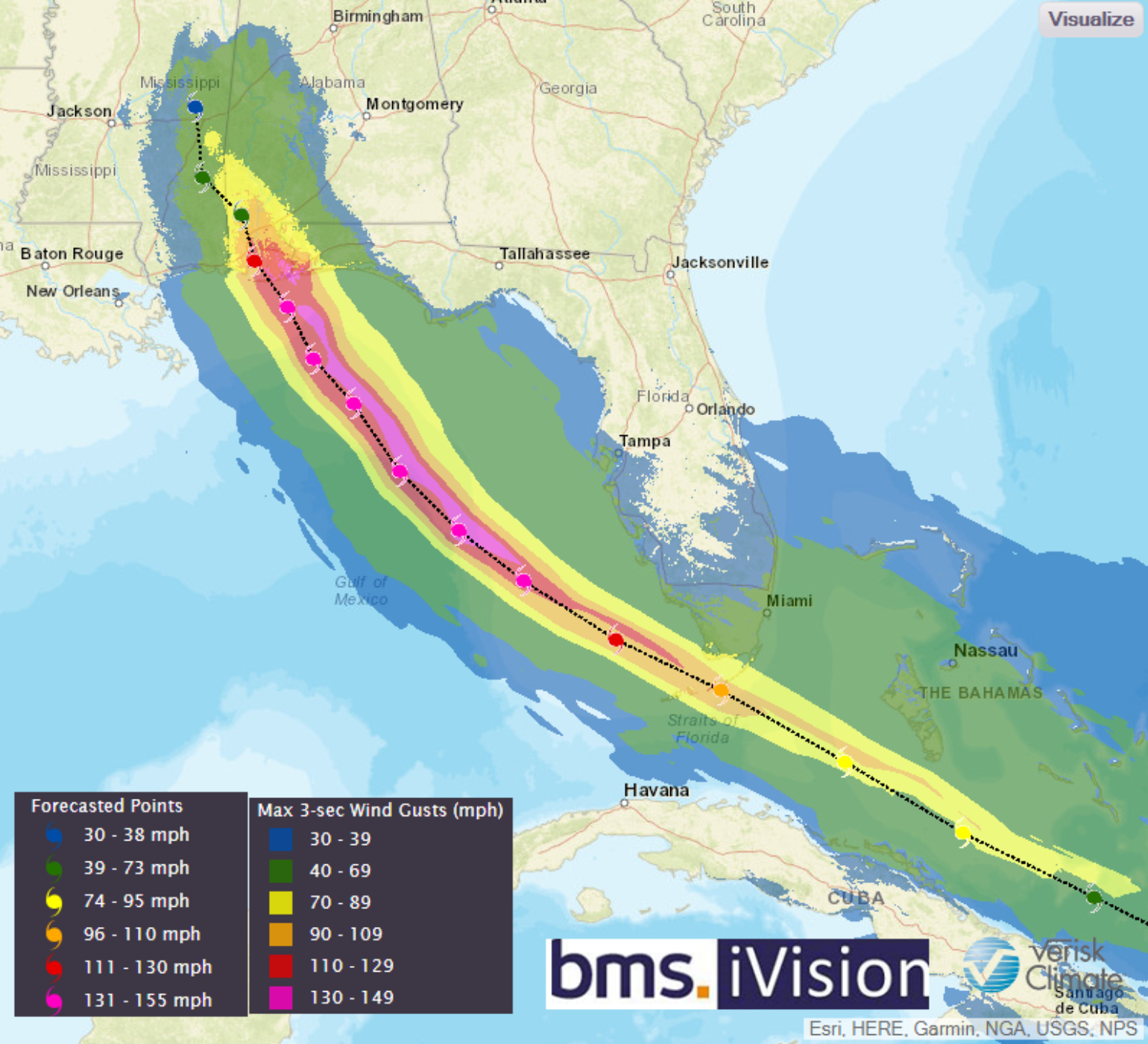 Timing

While Marco will have an impact on the Central Texas coastline, the insurance industry should be most concerned about Laura in the Gulf where it could have a chance to significantly strengthen depending on what shape it is in upon entering the Gulf of Mexico on Monday. The northern Texas or Louisiana coastline could see the impacts of a much stronger hurricane as the forecast continues to trend to the west over the last few days which puts less risk on the Florida Panhandle, Mississippi, and Alabama coastline. The BMS iVision Verisk Respond product track of Laura shown above will likely shift to the west over the coming days.
Below is the timeline of how the forecast is playing out and why there will not be a merger of a mega-storm or Fujiwhara interaction between the two storms.
On Monday Night: Marco will be in the Gulf Of Mexico as a stronger Tropical Storm and Laura will be over Cuba as a weaker tropical storm.
On Tuesday Night: Marco will be near landfall along the Central Texas coastline as a strong tropical storm or maybe a weak hurricane. Lots of Uncertainty here on track and intensity expect this to change. Laura will be moving into the Central Gulf of Mexico just north of Marco's Gulf of Mexico track as a strengthening tropical storm with the possibility of a rapid intensifying named storm.
On Wednesday Night: Marco is inland over Texas, weakening, and causing flooding rains and strong wind gusts. Laura will be near landfall at the Texas-Louisiana border as a much stronger system than what Marco was at landfall. Could Laura will be a major hurricane? The option is on the table. The probability is low with most guidance calling for a stronger category 1 or weaker category 2 hurricane at landfall.
Things to think about:
The fact that two named storms will be making landfall so close together and in similar geographic area might bring into question claims handling resources that are already limited due to COVID-19. The resource problem is also amplified because the industry is already responding to several widespread loss events in the U.S., notably Hurricane Isaias and the August 10th derecho which hit several Midwest states. There is also a huge number of wildfires burning in southwestern states as well. One has to wonder with such a large area of coastline potentially impacted by two named storms, if adjusting resources will be further stretched. This could put added pressure on the cost of rebuilding depending on the type of damage from two stronger named storm landfall so close together in time.
Longer Range Tropical Troubles:
Looks like our next tropical cyclone Nana will be developing over the central Main Development Region around the end of August. Models show that this storm will track towards the U.S. eastern seaboard in early September with another on its heels. Peak hurricane season is upon us as the parade continues.