This morning at 7 am EDT the National Hurricane Center downgraded Hurricane Henri down to a tropical storm about 50 miles southeast of Montauk Point, New York. Further weakening has occurred as Henri has now made landfall along the Rhode Island coastline.

This means one of the most populated areas of the U.S., with some of the most expensive property values, will continue to experience the unprecedented hurricane landfall drought for the New England region with no landfall in the last 30 years and only three hurricane landfall since 1961.
As discussed in the last two BMS tropical updates, Henri's expected landfall wind impacts to the insurance industry would be a direct relation to how strong Henri could be before it reached the colder waters south of New England - which is only in the low 70's degrees Fahrenheit range. Typically named storms cannot support further tropical cyclone strengthening in these cooler temperatures. The NHC OFCL intensity forecast shows the bias of a stronger storm that just did not materialize.
This is good news for the insurance industry. The overall lower winds will result in less overall tree fall and property damage. There will still be tree damage to some areas as discussed in prior updates as the soil is wet and will cause even higher damage than if the ground was dry. But overall a weaker storm will result in less overall impact. At this time, it would be expected that tree failure and power outages will be below what was experienced in Hurricane Isaias last year. However, it should be noted, areas in Rhode Island and western Massachusetts could see larger impacts than from Isaias; but overall, in terms of damage from wind that could result in tree fall and power outages, it appears Henri will be below Isaias.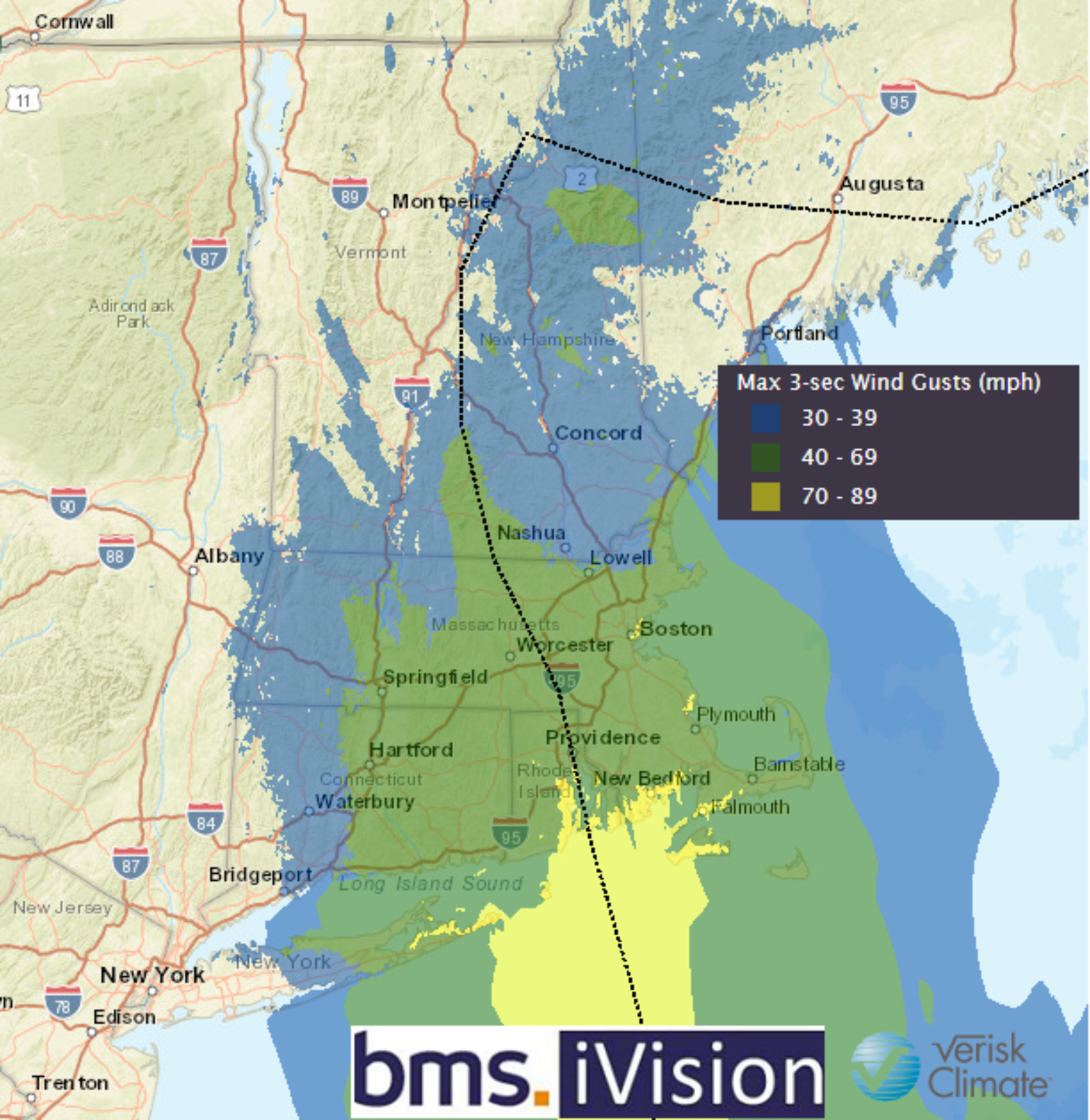 Besides the intensity being a bit lower than predicted, the landfall is also a bit further to the East than forecasted 24 hours ago. As discussed on the BMS Tropical Update on 8/20, a weaker storm would trend track to the East more and this is exactly what has happened. This means that wind impacts on Long Island and into Connecticut will be far less, but wind impacts into western Massachusetts and Rhode Island are likely similar to if Henri would have been a stronger hurricane at landfall.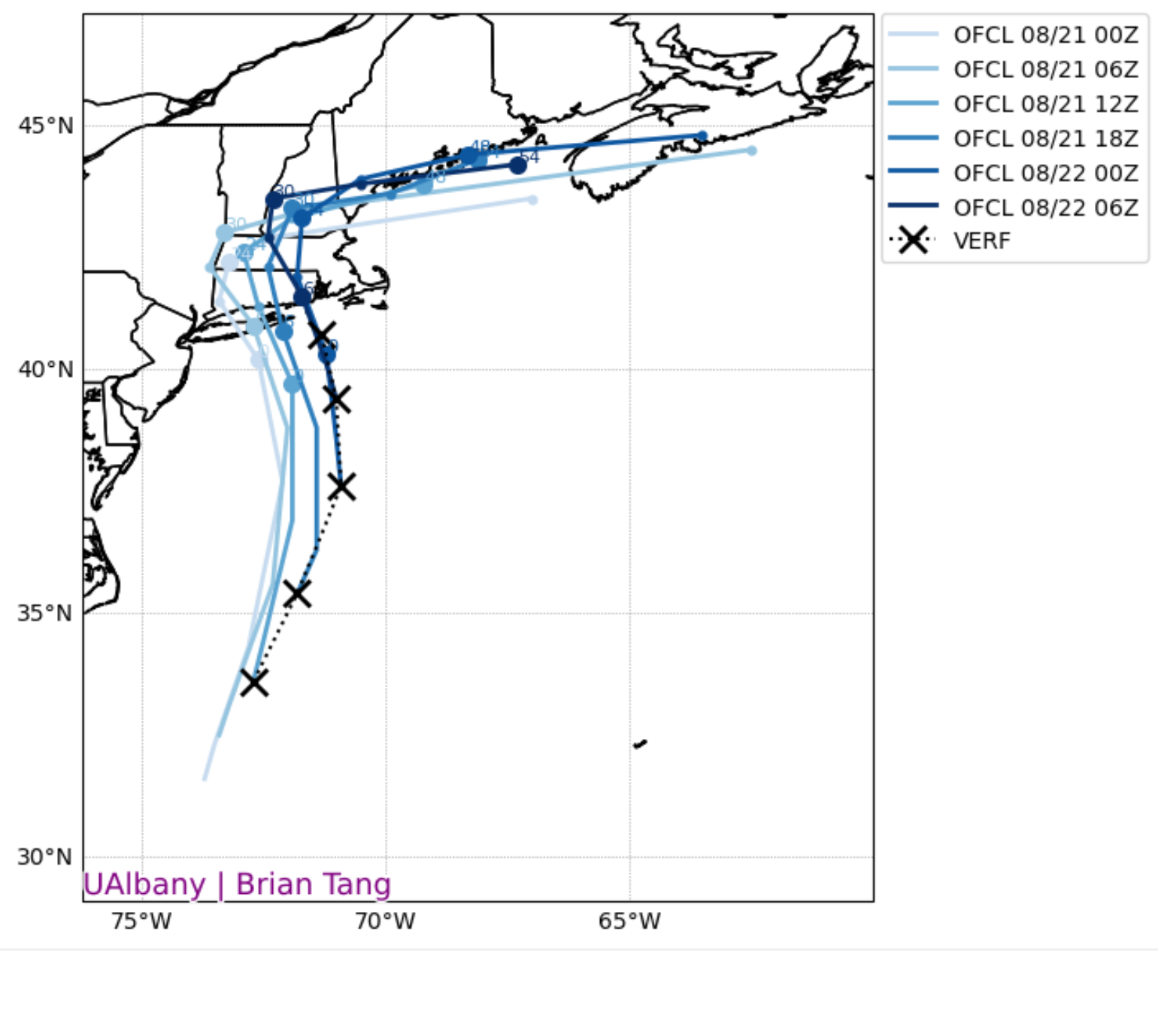 Overall the biggest impact that has not changed with Henri is the flooding rains, which have already been impacting much of the area. It is often suggested not to focus on the exact path of the storm as impacts could be far-reaching and Henri is no different. Henri had set up a textbook predecessor rain band about 100 miles west of the center of the storm yesterday evening. There are dozens of reports of flooding in New Jersey and New York. In Fact, Central Park had 1.91" rain between 11 pm and midnight. In the 152 years of weather history for this station, it was the rainiest hour ever in its history.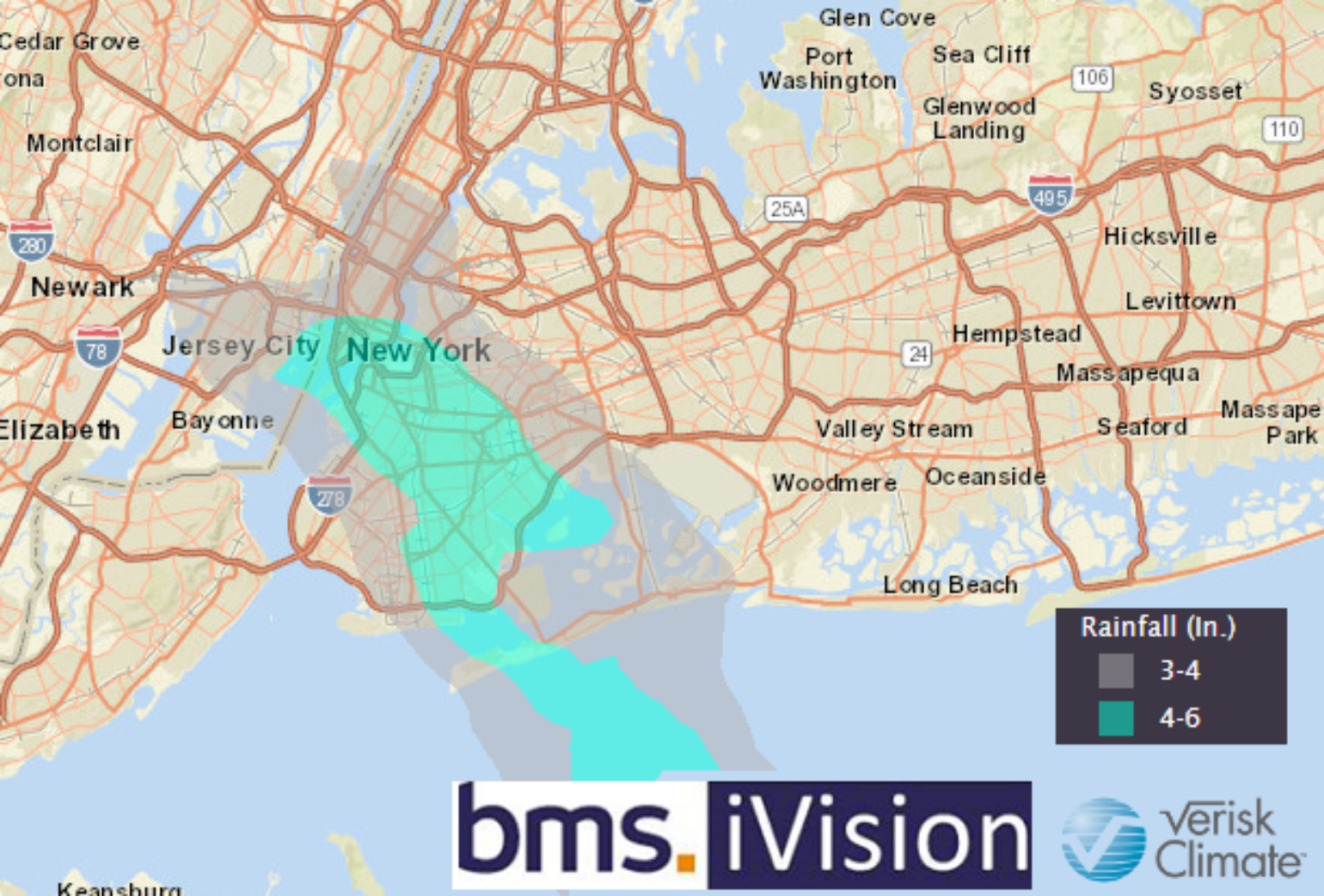 The rain and flooding are not done. The serious flooding situation for some areas will continue as Henri slows to a near stall over eastern New York later tonight.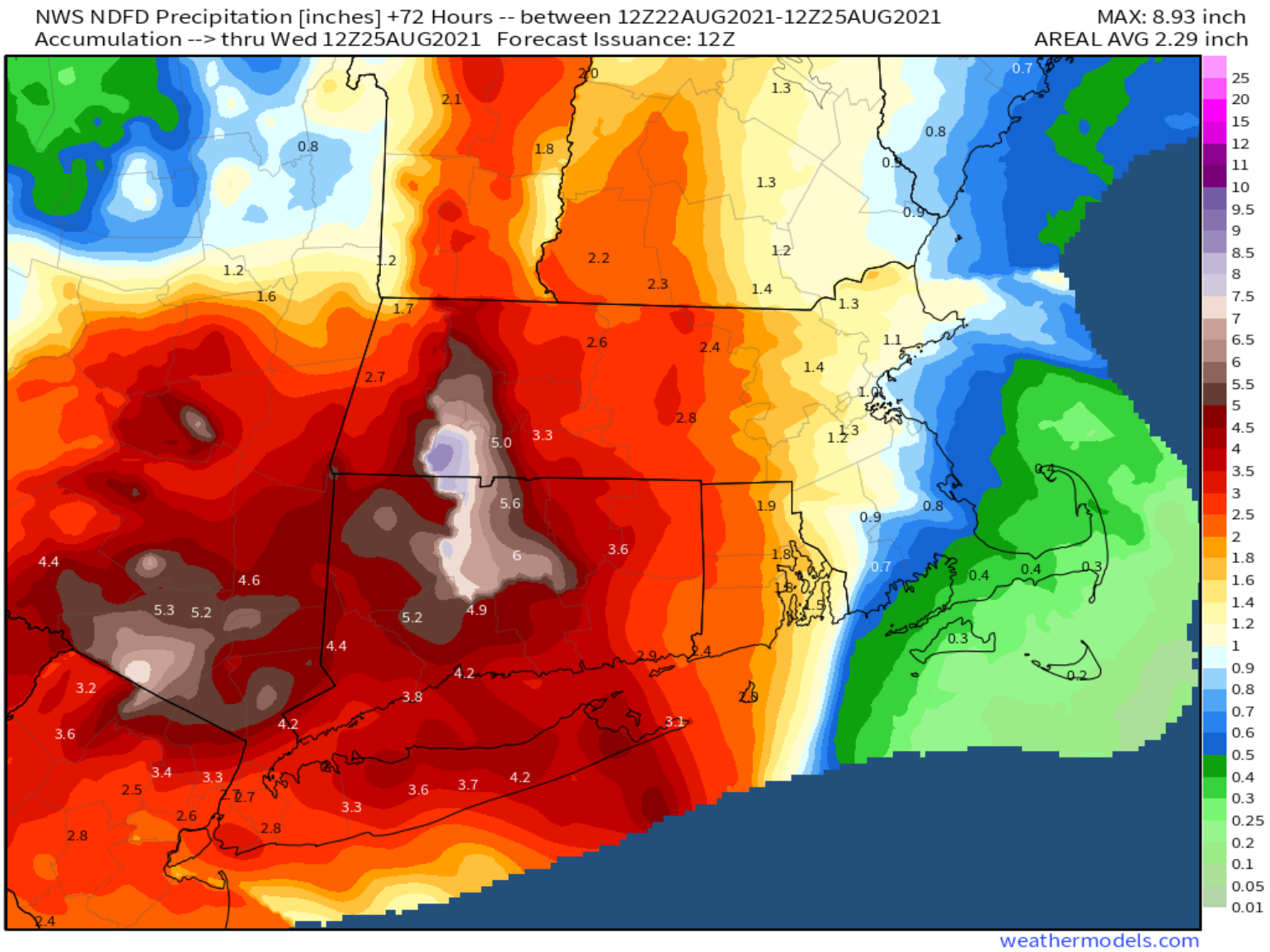 The good news might be the trough of low pressure that drove Henri North is robbing Henri of deep tropical moisture. This does not mean there will not be flooding, but the flooding will not be as bad as it could have been since the deep tropical moisture will slowly be cut off from the center of circulation. The biggest flood concern will be to the West of the center of circulation. This is often the case as storms transition to extratropical. The complex topography of Catskills and southern Adirondacks and parts of eastern Pennsylvania and northern New Jersey will see major flooding in some areas.
So overall no surprise here that Henri was downgraded before landfall to a tropical storm as it passes over cooler water losing energy and as its weakening leading to a track scenario to the east. This will still be a multi-million dollar insurance industry loss event, but the billion-dollar loss event is now off the table and this does not look to be a big reinsurance event for carriers. Tree fall with the wet soil will still drive some personal property claims with power losses causing some commercial losses. Flooding will cause basement flooding and sewer backup issues for many properties. The flooding that has already occurred in New York City last night could also result in some commercial flood losses.
Beyond Henri, the main area to watch will be the western Caribbean/Gulf by late week into the following week. Models show development there with Mexico and maybe Texas areas that need to watch that. Deep Atlantic waves, for now, look to stay out at sea not impacting the U.S. However, overall the suppressed phase in the upper atmospheric is starting to move back over the tropical Atlantic this week. It is going to look dry and unfavorable for development out over the MDR, but it is temporary. The active phase of positive upper air motion is likely to come in early September, likely boosting hurricane activity. It has been a busy season so far with more action to come and we will be here to provide useful insight along the way.