All eyes continue to be focused on Hurricane Henri even though Hurricane Grace is saying "hey look at me! I rapidly intensified into the first major hurricane of the 2021 Atlantic hurricane season and made landfall north of Veracruz Mexico last night." However, Henri has all the reason to be the talk of the insurance industry at the moment, because the very populated Northeast U.S. is in the path of the storm as Henri is still forecasted to be a strong tropical storm or weak hurricane upon landfall on Sunday afternoon along the eastern tip of Long Island, NY. The overall intensity is the main forecast pain point going forward as most of the forecast guidance has now been agreeing that landfall should be on Long Island, NY.
Intensity forecast Challenge
The intensity forecast challenge is a direct result of the current structure of Henri. The forecast models continue to suggest that the overall upper and mid-level atmospheric environment will improve later today allowing for Henri to strengthen. As of this morning, Henri is not winning any beauty contest as the convection is mostly east of the system center, which indicates that Henri is sheared. This means the structure of the center of the storm is tilted. Until the overall system is vertically aligned it will have a hard time strengthening. The wind shear is expected to weaken today allowing for better alignment. At the same time, Henri will be traveling over the warm waters of the gulf stream. In fact, a NOAA buoy along the track of Henri is observing a water temperature of 83F this morning. This is plenty warm to support increase strengthening.
Starting tomorrow morning Henri will start to travel over cooler waters below 78F, which as a rule of thumb limit any tropical cyclones strengthening - so weakening of Henri is expected. Especially since the water temperatures off Long Island are in the low 70's. The question of how much weakening can occur before landfall will depend on how strong Henri becomes over the next 12 hours. The good news is the historical forecasts have been over estimating the intensity of Henri. The NHC OFCL 24 hours ago had Henri as a hurricane at this time, but this morning Henri was still a tropical storm until just recently. This also means that Henri has not grown in size that was previously forecasted. This could also help in any future weakening. As Henri tracks to the north towards Long Island over the next 48 hours it should upwell even colder water which could cause weakening as well.
Again the question is how fast can this weakening occur. Edouard in 1996 entered cooler water off Cape Cod and rapidly weakened in 12 hours and Edouard had the advantage of a classic intense deep classic looking hurricane. Yesterday it was discussed that hurricane Bob in 1991 was the last hurricane to impact New England and even Hurricane Bob came from the deep tropics and was well defined by the time it was off the North Carolina coastline. Henri so far has not shown any characteristics of being a well-defined strong tropical cyclone, so the next 12 hours of intensity will be critical to how fast Henri will weaken before landfall once it starts tracking over the cooler waters South of Long Island, NY.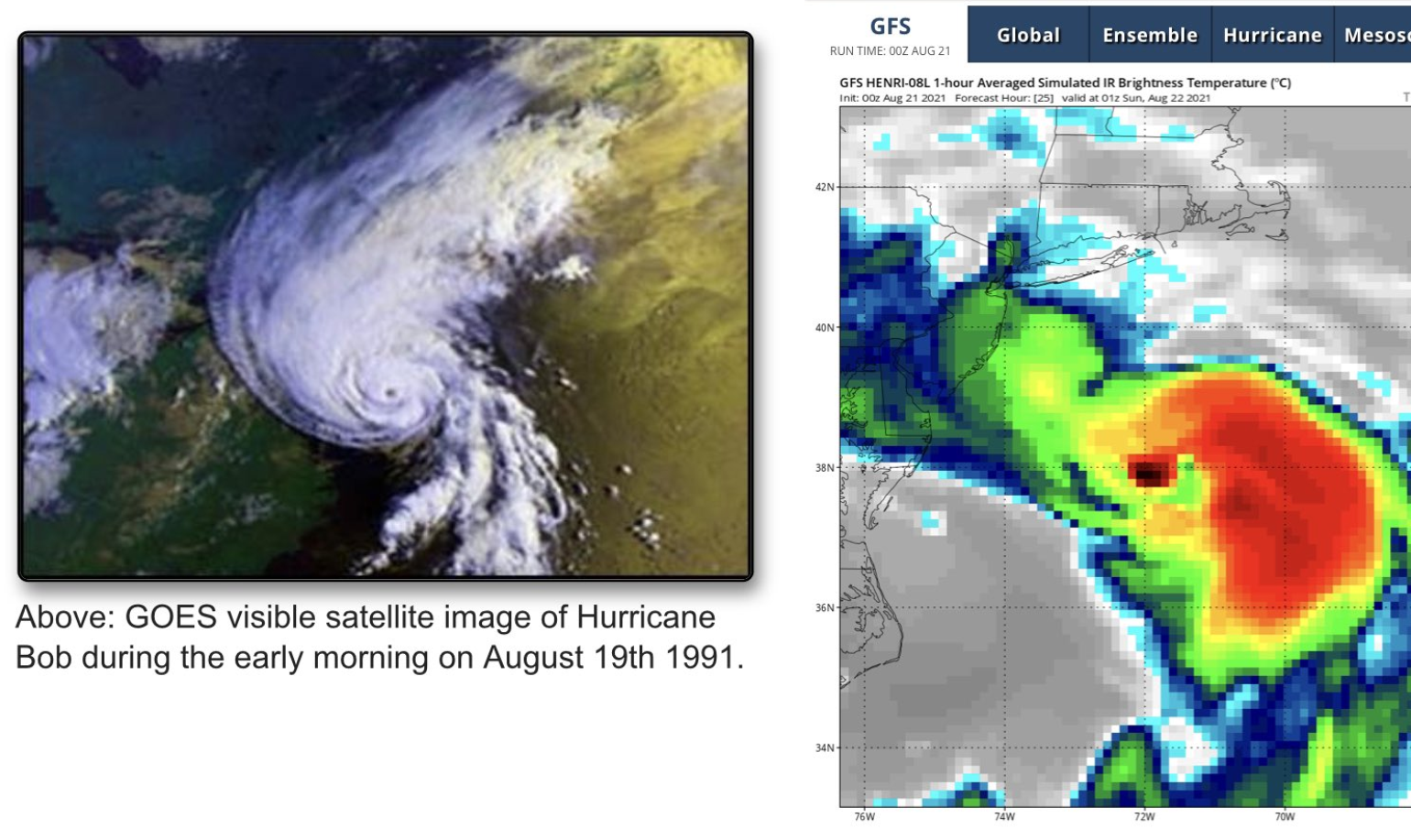 Catastrophe Model Challenges
Yesterday the insurance industry started to get its first glimpse at some of the catastrophe modeling guidance for Henri. Going forward this guidance will be very challenged for several reasons outlined below.
Not an ideal track selection - Historical storms impacting Long Island, NY track from the Southwest to the Northeast. Since the stochastic catalog used for loss prediction is based on historical storms most of these simulated tracks follow suit. Henri will be tracking North or even have a northwest direction, which does not fit many of the historical samples here. The 1938 Long Island Express hurricane being the exception, but it should be noted that Henri is not an analog to this storm. Not even close. Do not use any comparison to this storm.
Forward speed - Many of the historical storms are fast moving into the Long Island, NY. Some of these storms move at 20 mph or faster. Henri will not be moving this fast. It is expected that Henri could be one of the slowest storms to ever hit Long Island. This complicates how the wind field will be represented. This is will not be a textbook wind field as simulated tracks represent and the slower forward speed will allow for faster inland decay of winds speeds. This could limit inland tree fall impacts as talked about in the next point.
Wet Ground and Tree Failure – This non-textbook wind field, which will ultimately depend on the intensity at landfall, complicated the tree fall risk due to the wet ground that was discussed in yesterday's tropical update. Deciduous trees that are fully leafed in the Northeast are not used to seeing a storm come from this direction. This combined with an already poor understanding of wind impacts on fully leafed trees will compound the poor fit of the vulnerability curves in the catastrophe models as the winds relate to property damage. Trees or other structures really cannot tell the difference between a 70 mph tropical storm and a 75 mph hurricane. The impacts at this strength will be similar. But clearly, if the winds are much lower due to a weaker storm, tree failure will not be as big of a problem. The Northeast is largely a populated area and everyone loves shade trees. Although Isaias gave many parts of the Northeast a good natural tree cleaning last year that wind was from a different direction. Additionally, the track record of power failures is high and prolonged from past storms like last year's Isaias or 2011 Irene, which can lead to prolong commercial losses due to business interruption.
Surge and Flooding – The forward speed will likely cause issues with any surge events that are selected. Keep in mind the full moon will peak tomorrow at 8 pm, so right now the peak surge will be more during outgoing low tide which is good news for peak storm surge impacts. However, they still could be 3-5 feet above normal tide levels. We know the models poorly handle inland flooding aspects, which will continue to be a big issue as Henri is expected to slow and given the urban development and hilly topography of the area, combined with already wet soil flooding will be a big issue which will include sewer backups and basement flooding. Flooding in the Catskills and Southern Adirondacks will also be a major problem.
Again the extent of the wind and surge-related risks all have to do with the overall intensity of Henri at landfall. If Henri is rapidly weakening the impacts may be very minimal. But, as discussed, this will be determined in the next 12 hours as to how strong Henri becomes today. The flooding rain will come regardless of the overall intensity and the insurance industry continue to see many tropical storms and hurricanes result in water-related losses which seems to be the new wind in many cases recently.
Some of the best tools might be real-time analytics such as BMS iVision, which offer real-time forecast from Verisk Respond product suite that represents what is forecasted. BMS clients get updates four times a day so they can get a constant view of how the forecast is changing in respect to the wind impacts and after the event other storm attributes such as rainfall will be added for additional guidance to aid in impact analysis.
Beyond Grace and Henri, we may have two new storms to monitor over the next two weeks per the latest models; however, confidence is really low on any tracking, timing, and intensity before actual storm development. We are now in the peak of the 2021 Atlantic storm season. As of this morning, the Accumulated Cyclone Energy (ACE) is 172 percent of average and the first major hurricane is the books. So far the season has been active; however, the question that remains is what type of insurance industry loss will Henri cause going forward over the next few days. The catastrophe modeling guidance will likely be poor due to many different factors, so use caution in using modeled loss estimates as there is uncertainty not only in the forecast of intensity and landfall but also in how these landfall variables correlate with the events that are represented in catastrophe models.