By Andrew Siffert – Vice President / Senior Meteorologist
Hurricane Hanna
As expected Tropical Storm Hanna (TD8) would strengthen right up until landfall and is now the Atlantic basin's first hurricane of the 2020 season as it tracks towards the sparsely populated Kenedy County, Texas. There is a small chance that Hanna could be as strong as a Category 2 at landfall, but the overall probability of this is low at 10%. It should be noted the average date of the first Atlantic hurricane is August 10th.
The last 72 hours has shown the insurance industry once again that intensity forecasting of named storms is extremely difficult. Gonzalo never reached hurricane status as forecasted by the National Hurricane Center (NHC) and will be an open tropical wave as it transects the southern Caribbean over the next couple of days. On the other hand, there was very little weather model support for Hanna to become a hurricane before landfall 72 hours ago, but yet here we see Hanna will be a hurricane at landfall.

As mentioned in my last tropical update nothing was stopping Hanna from strengthening besides time over warm open water and since the track guidance has been moving toward a Southern Texas landfall versus a Central Texas landfall this has provided the time for Hanna to strengthen into a hurricane. If Hanna can close off an eyewall just before landfall the upper bound of reasonably possible outcomes is a very low-end category two hurricanes (max winds roughly 100 mph), but at this point, with landfall later this afternoon, it would appear a maximum intensity at landfall of a Category 1 would be the most likely outcome.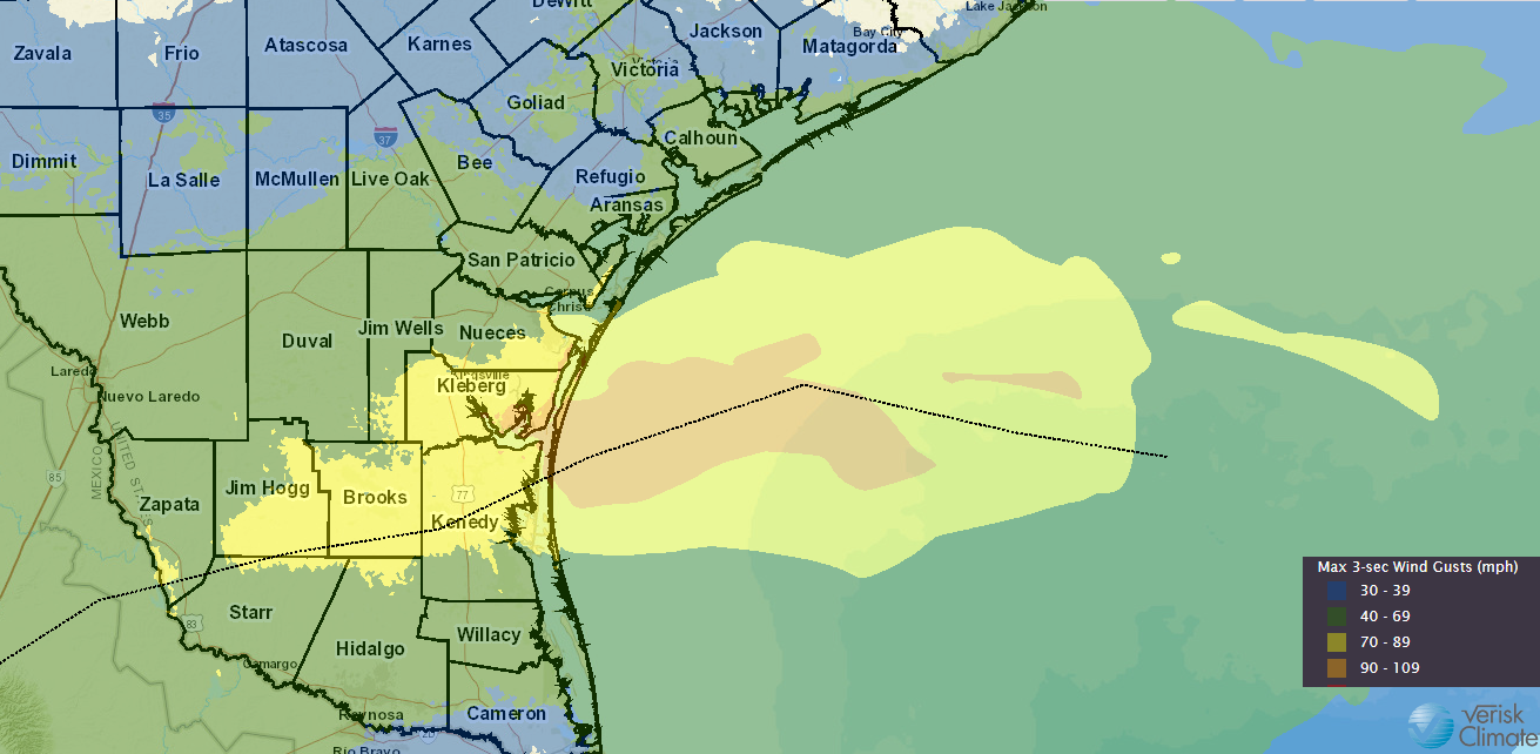 The area of expected landfall is no stranger to stronger hurricane landfalls recently. More recently Hurricane Dolly (2008) made landfall on more populated South Padre Island near Port Mansfield as a category 1 hurricane which caused an estimated $600 million of insurance industry loss. Hanna is expected to make landfall in a more rural area of Texas similar to where major category 3 Hurricane Bret made landfall in 1999 which in 2019 dollars would result in an insurance industry loss of just $50 million. So this is a great example of the overall importance of landfall location and risks exposed. It is looking like Hanna will have a limited impact on the insurance industry due to landfall location between Port Mansfield and Mustang Island. This should keep the strongest winds that are on the right side of the storm just south of the more populated area of Corpus Christi and the much weaker winds on the south side of the circulation north of more populated South Padre Island to the south.

Another thing the insurance industry needs to consider with a hurricane landfall impact to losses is the overall strength of the building codes of the area. The Insurance Institute for Business & Home Saftey (IBHS) provides some great insight into the adoption of modern building codes and standards. Their report on Texas has consistently scored Texas in the bottom 25% of their state rating guide, so again thankfully there is likely limited building stock in the landfall location if the forecast holds to a landfall location south of Corpus Christi.
Without offering too much additional commentary on the landfall forecast intensity, areas north and east of the center (between Corpus Christi and Houston) will experience Hanna's outer bands. In these bands, expect showery weather along with breezy winds but nothing that should cause high insured loss, localized flash flooding where individual cells train, and tornadoes are possible away from the center of the storm.
Storm surge will also be possible along the Texas coastline. The highest storm surge amounts will be possible in Baffin Bay, Corpus Christi Bay, Capano Bay, Aransas Bay, San Antonio Bay, and Matagorda Bay. There is expected to be about 3-5 ft. of storm surge in these locations.
As Hanna tracks inland, heavy rain will become the biggest threat from Hanna. Parts of far southern Texas will exceed a foot of rain as Hanna passes through. This will cause serious flooding issues not just in the usual small streams/poor drainage areas but also along some of the larger rivers. Some areas that don't usually flood in smaller heavy events will see high water this weekend.
Hurricane Douglas Tracks Towards Hawaii
The other issue for the insurance industry is Hurricane Douglas which has weakened from a category 4 hurricane down to a category 2 hurricane. It weakened fairly fast and is expected to be a category 1 hurricane as it tracks north of the Big Island tomorrow morning. Unlike Hanna, Douglas will be a weakening system as it makes landfall which means it could be only a tropical storm as it tracks across or north of Oahu Sunday Night. This also means the strongest winds, which are on the right side of the storm, will be offshore.

The overall trend of the forecast model guidance is a track that is more north of the state so there is a chance the hurricane misses the state altogether and with the weakest winds to the southern part of the storm and overall fewer population on the west and north side of the islands, means the overall insurance industry impact should be on the lower side of possible outcomes. Storms that are typically weakening as they track across Hawaii tend to have limited insurance impacts with Oliva 2018 being the most recent analog example of this; this storm did not cause an insured loss over $25 million.
Not that Hawaii doesn't have enough to worry about, but there's also an increased wildfire threat from extremely dry, downsloping winds as Douglas passes the islands to the north. Places like Lahaina on Maui & Waikoloa on Hawaii should be on high alert for this risk as wildfire was a problem on Maui in 2018 as Hurricane Lane tracked by the state.