By Andrew Siffert - Vice President / Senior Meteorologist
First Main Development Region Storm of the Year - Gonzalo
Thirteen days ago I posted how the Atlantic would enter into a quiet period, which at the time I thought would last about three weeks, but as this Atlantic hurricane season has already shown there is no quiet period. 2020 has beaten the 2005 Atlantic hurricane season in early storm formations, and now continues with Gonzalo which has formed in the Main Development Region (MDR) of the Atlantic Ocean and is the earliest 7th Atlantic named storm formation on record. The prior record was Gert on July 24th, 2005. However, 2020 still can't be compared to 2005 in terms of the strength of the activity, since, by this time in 2005, 3 hurricanes, two of which were major, including Dennis which made landfall near Pensacola, Florida as a Category 3 hurricane in 2005.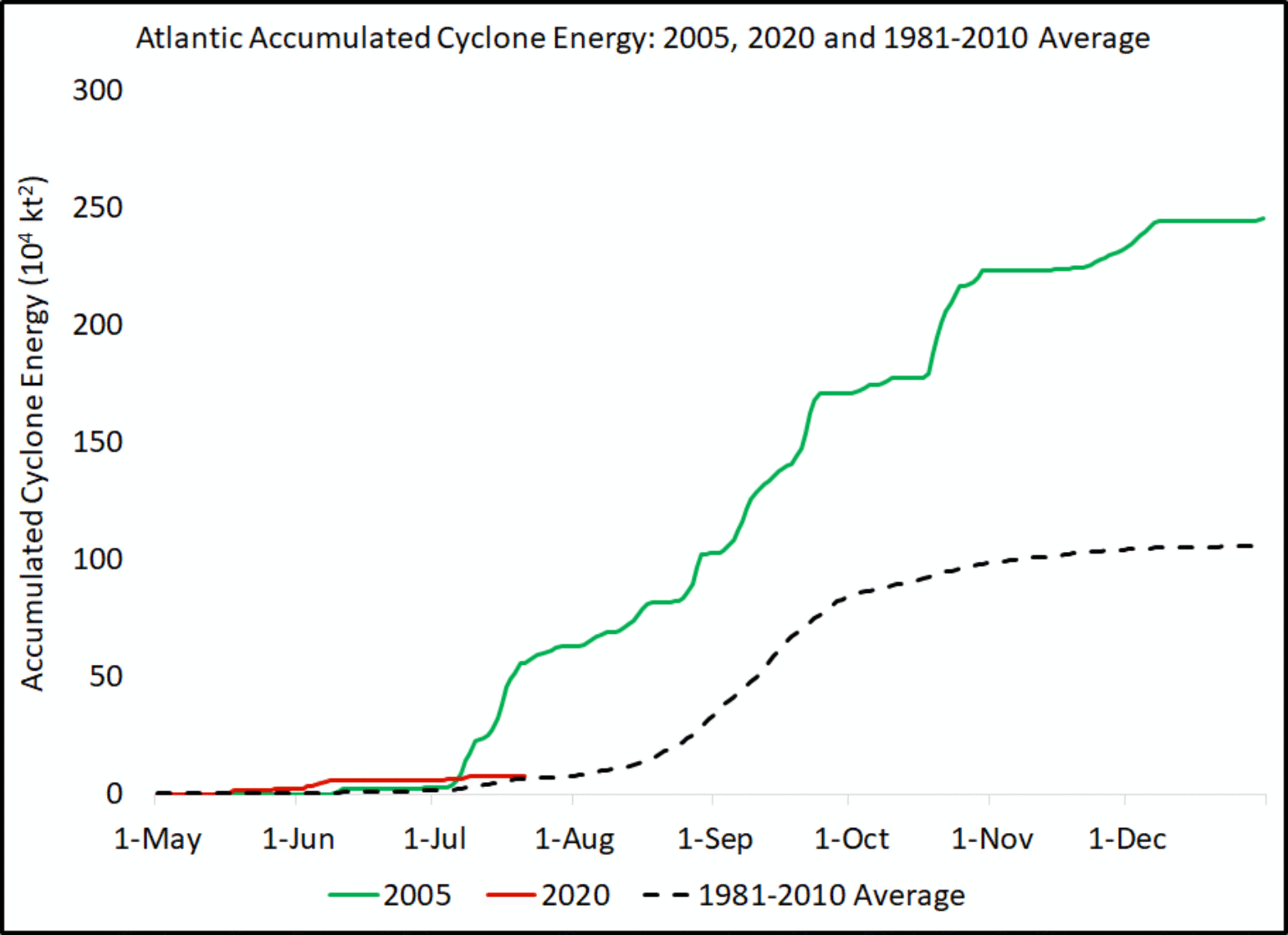 The future of Gonzalo is still unclear after it impacts the Lesser Antilles as a hurricane Saturday afternoon. There is a good chance that Gonzalo could become the seasons' first hurricane as indicated by the National Hurricane Center (NHC) Forecast, but the two global models ECMWF/GFS are not too enthused about strength as it moves through the Caribbean later next week. However, the hit or miss hurricane specific weather models are painting a different picture with a much stronger storm at the end of the forecast as Gonzalo enters the Caribbean.
The other interesting tidbit about Gonzalo is that it is currently a relatively small storm overall with a fairly quick translation speed. Because of this, it can feed off the warm sea surface temperatures as it rapidly moves to the west. This could be helping Gonzalo fight off the dry dusty air that is to the north, which could lead to weakening if Gonzalo grows in size and can bring some of that drier air into the center of the circulation. However, if we remember to last year, even small storms surrounded by dry air have a fighting chance, as this was the case with Dorian last year when it was moving across the MDR.
If Gonzalo is a stronger storm it is more resilient to hostile environmental conditions. Therefore, if Gonzalo ends up becoming a hurricane before it arrives in the Caribbean islands, it could hold its own against the surge of dry air, and remain a coherent entity as it enters the Caribbean. Given that such long-term forecasts are so sensitive to the near-term intensity forecast (which is quite uncertain), Gonzalo's long-term future at the moment is also uncertain and the early morning information for Gonzalo looks to be struggling with dry air, but these small systems can bounce back quickly in a short amount of time so strengthening is still forecasted to occur over the next 72 hours.
As pointed out in the last BMS Tropical Update, the early season dust storms that tracked across the Caribbean and into Texas show the general expected track storms should take this season, and the future path of Gonzalo looks to be following along this same trajectory if it does not fall apart. If Gonzalo were to remain a coherent entity as it moves through the Caribbean, it would arrive near the Yucatan in about 10 days. What happens after? That is anyone's guess. But at the moment, the plausible scenarios with US impacts from Gonzalo are far outnumbered by those where this is nothing to worry about outside the Caribbean islands.
Tropical Depression Eight
While most of the attention seems to be on Gonzalo, last night Tropical Depression Eight (TD8) formed in the Gulf of Mexico. Unlike Gonzalo, there is virtually no dry air to speak of in the vicinity of TD8 as it moves through the Gulf of Mexico over the next 36 hours. With a nearly unlimited supply of warm water, TD8 will be limited primarily by its disorganization and lack of time over water. However with that being said, meteorologically it is in the perfect environment for rapid intensification. The system is expected to strengthen into the 8th named storm of the 2020 season (Hanna) which would be the earliest formation of the 8th storm by a full 10 days. TD8 is tracking towards the central Texas coastline with expected landfall Saturday morning or afternoon. Very few forecast models strengthen TD8 into a hurricane before landfall with the majority having a solid tropical storm before landfall. The biggest threat from this system is heavy rain, so insurance carriers should not be too worried about strong winds from TD8 even if there is some strengthening.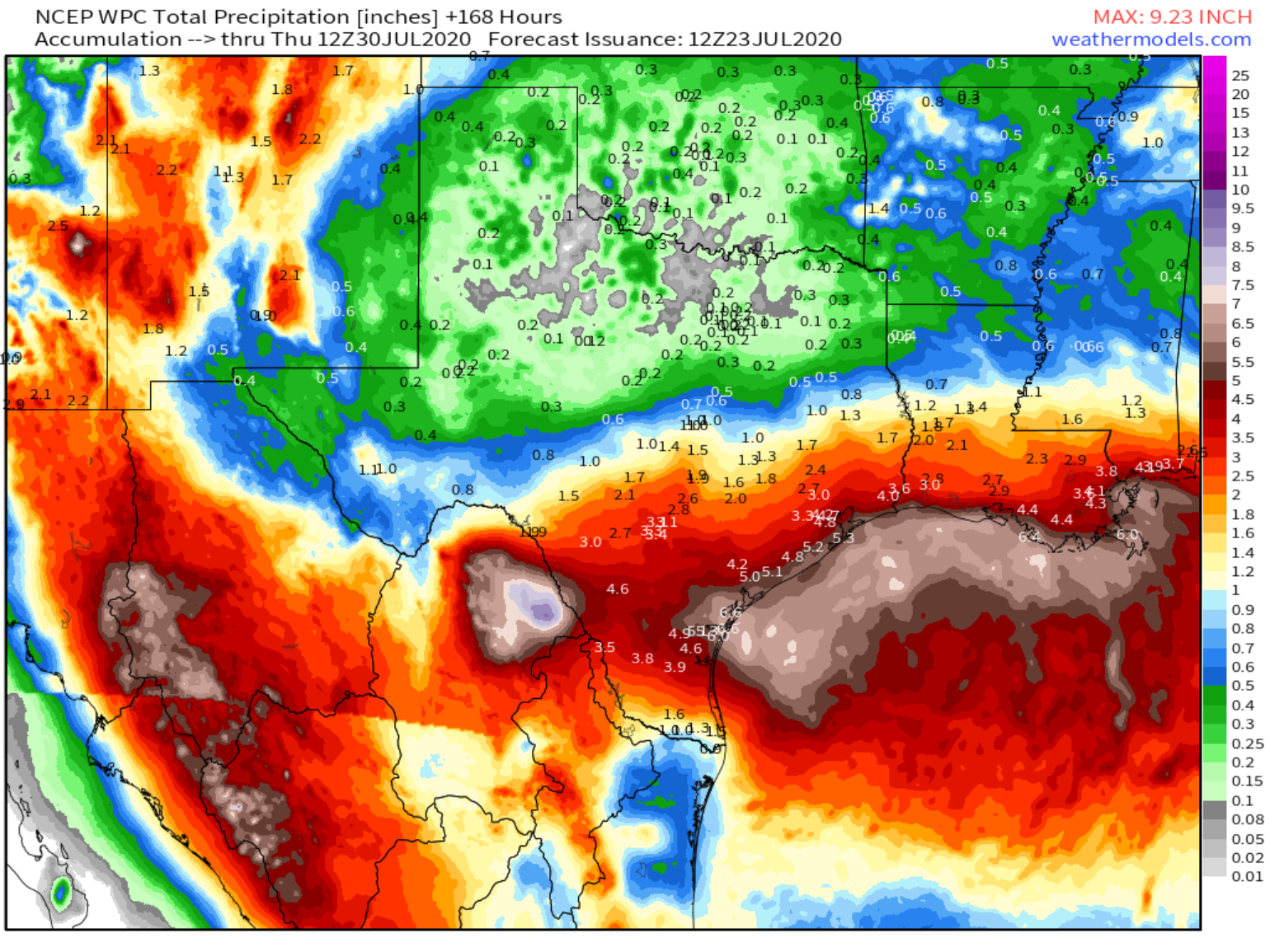 The NOAA WPC guidance above suggests widespread 2-4″ rainfall totals from coastal Louisiana into interior southern Texas. Some towns will have higher totals (6″+) where individual thunderstorm cells linger for a prolonged time. The usual low-lying/poor-drainage spots will be most at-risk. At the moment, major river flooding is not expected, though smaller streams will likely approach or burst their banks. If anything, TD8 will provide welcome rain for parts of Texas and a brief reprive from the Texas heat for some.
Douglas Eyes Hawaii in Central Pacific
In the East and Central Pacific Ocean, the first Hurricane of the season for that basin, which has been very quiet so far this season, has been named. In fact, Hurricane Douglas is now a major hurricane (Category 3) and has its eyes on Hawaii, which has been no stranger to threatening storms over the last several years. Hurricane Douglas is predicted to stay at a Category 2 or Category 3 strength over the next couple of days as it travels over warm water of around 82°F. Douglas will eventually reach cooler waters in a couple of days. Wind shear is expected to remain light, which may allow any weakening to be gradual. Models suggest that Douglas could affect Hawaii this Sunday while still a tropical storm, albeit a weakening one.
Right now the best recent analog might be how Oliva in 2018 or maybe Darby in 2016 impacted the state, but at this time it will depend on how much Douglas interacts with this harsher environment. There is a chance it could be just a remnant tropical system like so many storms of the past.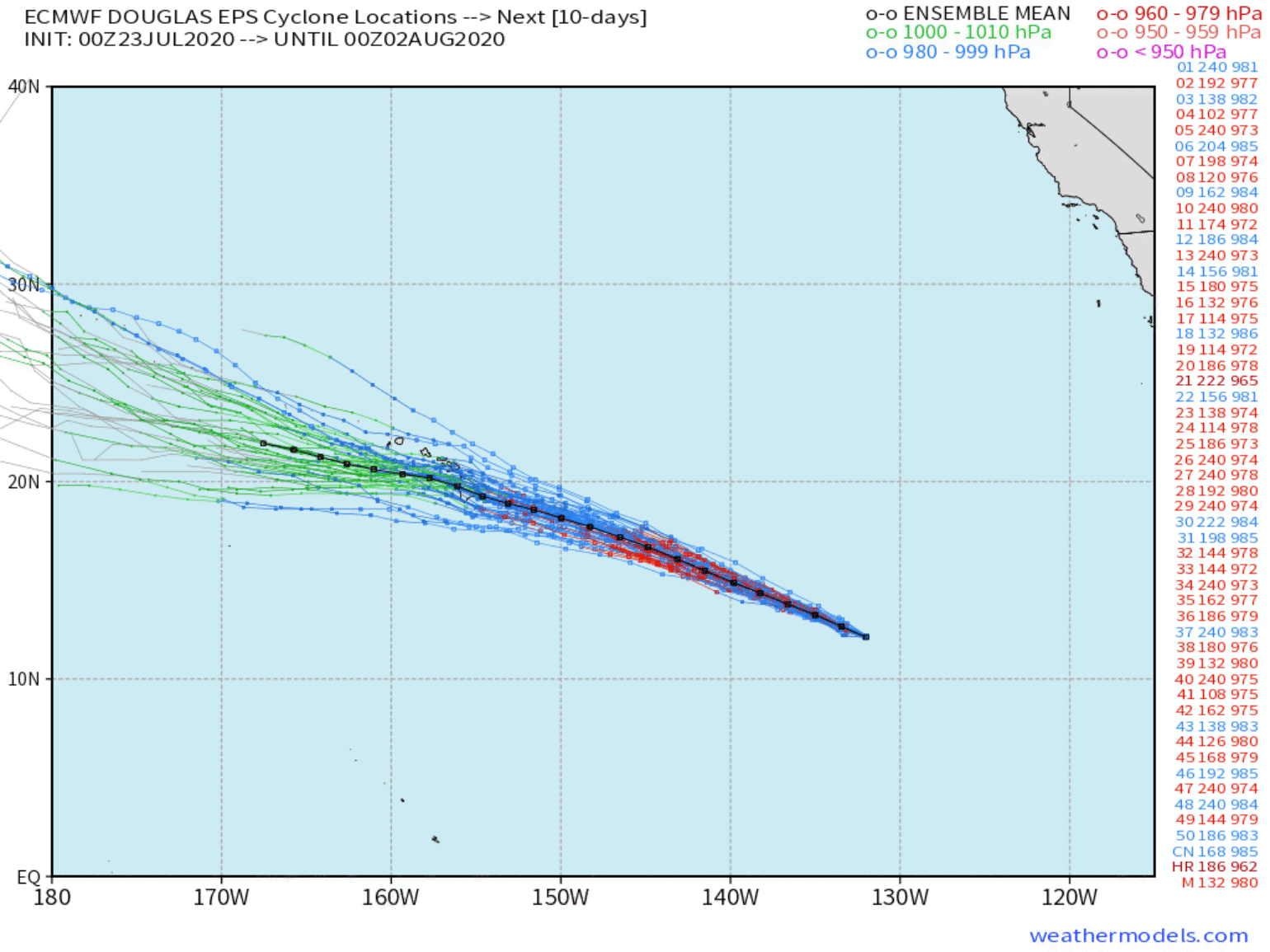 What is next after 91L and Gonzalo in the Atlantic Ocean?
The next tropical wave to watch will emerge off the African coastline on Friday and will be moving through the middle of the Atlantic by Sunday. This is the tropical system that might get the most attention over the next two weeks. As pointed out above, the biggest obstruction to tropical systems developing in the MDR this time of year is dry air streaming off of Africa. The forecasted wave this Friday seems likely to be timed perfectly between surges of dry air. If it is able to remain within this envelope of moisture, it will have a much easier time developing than Gonzalo. There is plenty of warm water and, according to Phil Klotzbach from Colorado State University, the current sea surface temperature anomaly pattern over the North Atlantic looks very much like the July sea surface temperature pattern that has historically correlated with active Atlantic hurricane seasons.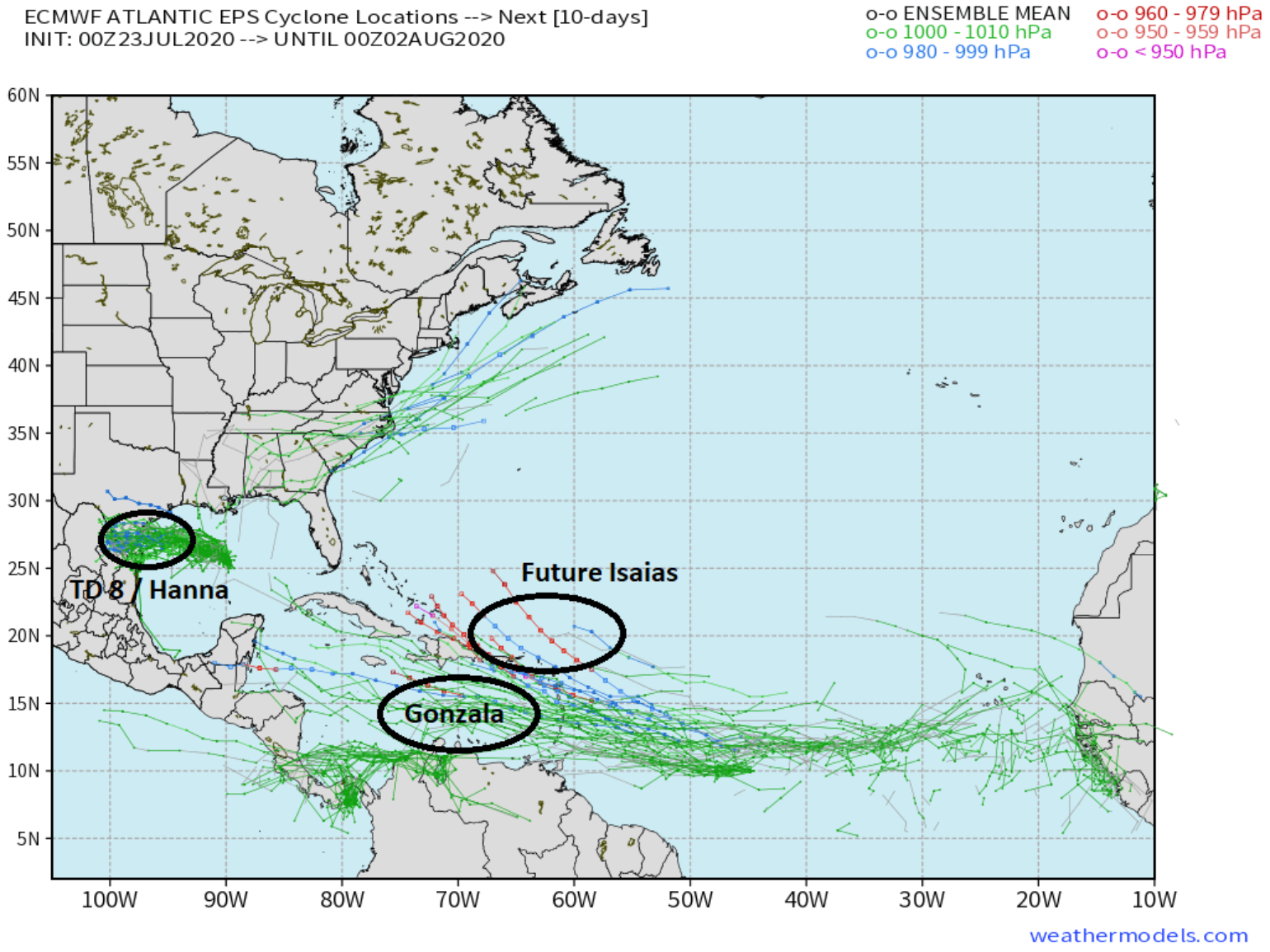 The long-range forecast guidance ensembles through 15-days, shown above, is seeing many long-track hurricanes which should start to send alarm bells for more favorable conditions for development in the MDR.
Between Gonzala and possible Hanna and/or Isaias developing over the next week there is plenty for the insurance industry to watch in the next two weeks; and with this type of naming, the greek alphabet names are in a range in what looks to be a hyperactive period over the next two months with an overall track of storms pointing towards higher U.S. impacts.