The history of Elsa is turning out to be much like the Disney Frozen movies with so many exciting twists and turns (if you're a kid), but if you are a parent you just want the movie to be over. As mentioned in yesterday's tropical update, although the forecast at the time suggested Elsa would stay a tropical storm, convective outbursts would have to be watched to see if Elsa would once again become a hurricane. Yesterday afternoon a vigorous group of thunderstorms formed on the eastern side of Elsa's circulation resulting in the observations that warranted the National Hurricane Center to upgrade Elsa back to a minimal Category 1 hurricane from 8 pm EDT – 2 am EDT today (6 hours). This morning Elsa is still a tropical storm with 65 mph winds, but deep convection is once again starting to form on the eastern side of the storm circulation. At this time Elsa is not forecasted to be the first U.S. landfalling hurricane of the 2021 season. Landfall should occur within the next hour eastern Big Bend Region of the Florida coastline.
Over the last BMS, Tropical updates a comparison has been made to Eta of 2020 and so far it would appear Elsa will have lesser of an overall impact.
As mentioned in yesterday's update, the biggest impacts would be rainfall across much of the Florida Peninsula, as dry air and wind shear limit convection on the west side of the storm suggesting the Panhandle would likely see minimal impacts from Elsa. In comparison to Eta, which had a maximum rainfall of 20.74" recorded in Pembroke Pines, FL, so far the highest rainfall total from radar estimates is around 12 inches of rain near Port Charlotte, FL.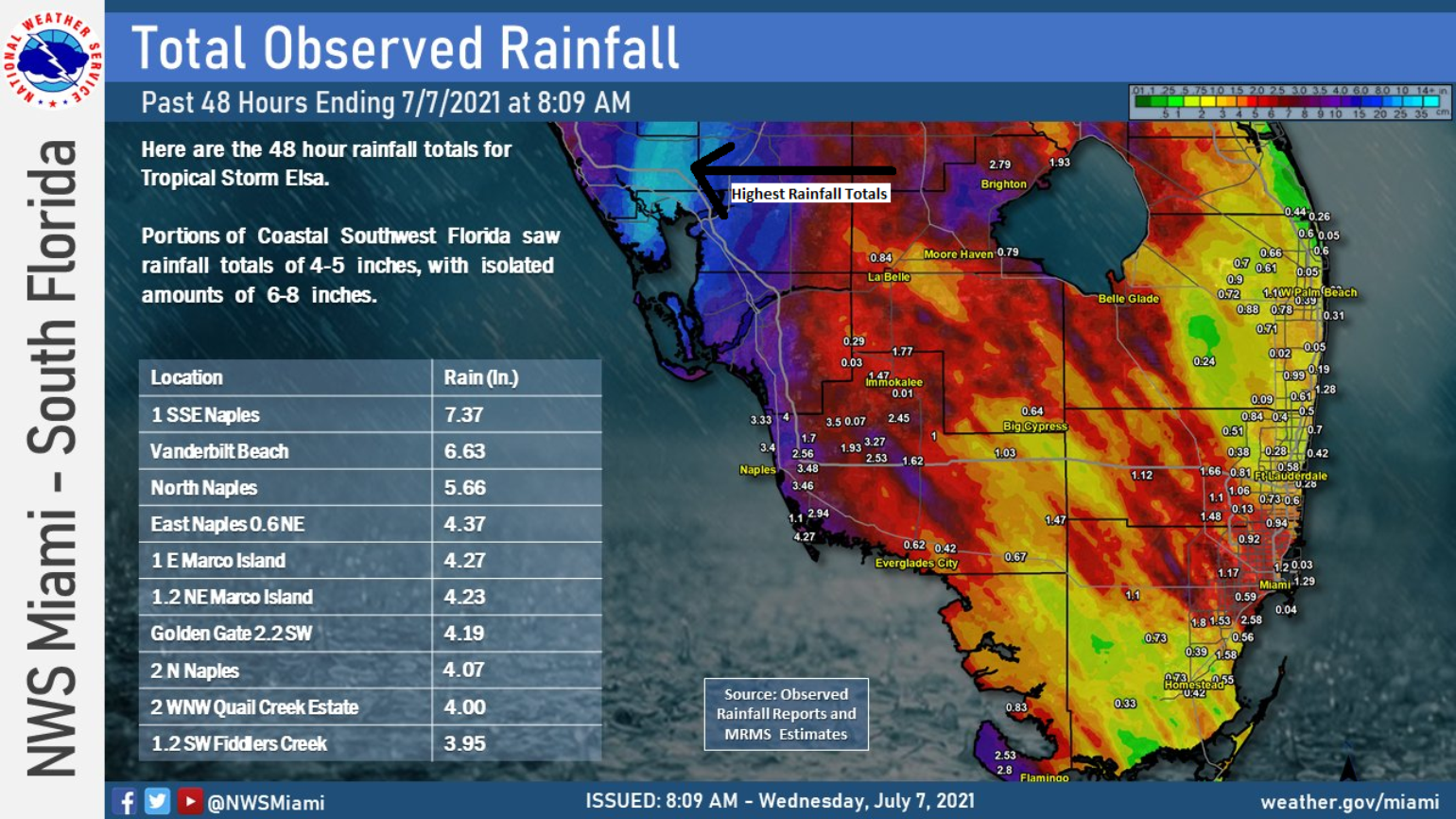 Storm surge observations in the Tampa Bay area seem to be only running one or two feet above normal tide levels. Storm surge inundation levels from Eta were generally 1 to 3 ft with some isolated areas between 3 and 4 ft.
Wind observations have also been below what was experienced in Eta so far.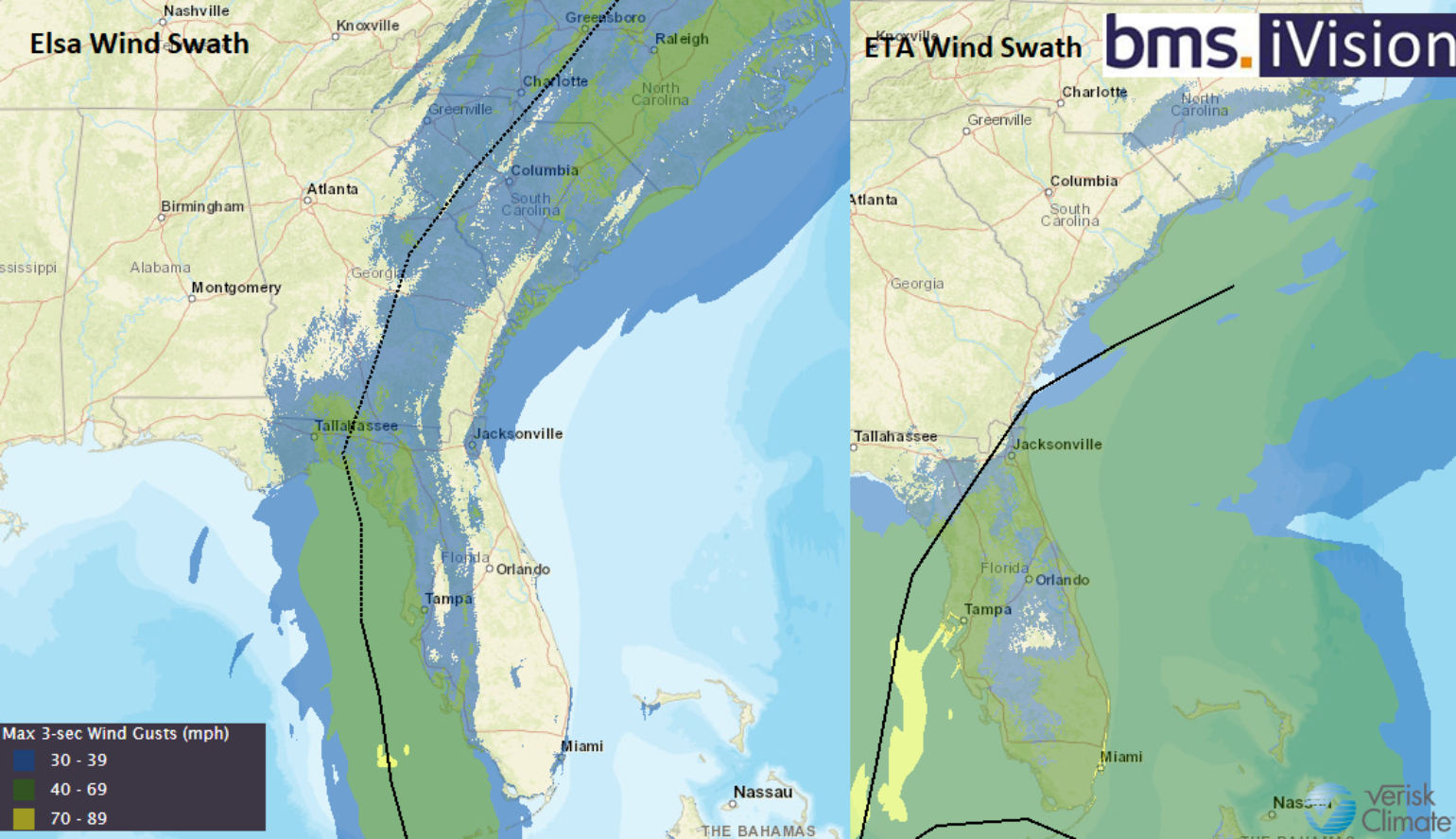 Above is the current iVision 3-second wind gust product providing details as to the areas that have experienced the highest winds speed. However, as another comparison to Eta the weather station that represents a large exposure area in and around the Tampa International Airport has so far recorded a wind gust of 30 mph. During Eta the airport recorded a gust of 39 mph and during Hurricane Irma a gust of 58 mph. Clearly, the impacts of the wind will be largely weaker than Eta for much of the state based on the swath data shown above from Eta and Elsa. This also shows up in the power outages, which as of this morning suggest only 10,000 or so power outages from Elsa across Florida. During Eta over 32,000 in Florida were without power.
After landfall Elsa is still expected to interact with a large-scale trough of low pressure, which could have a minor impact on the Carolinas and Mid Atlantic coastline. Some forecast models suggest some wind gusts of 40 – 50 mph could occur and even a few more tornadoes as Elsa races to the Northeast. Remember from Hurricane Isaias in 2020, storms that interact with a mid-latitude trough can have quite a punch. We will have to see if the atmospheric dynamics are in place to see if this occurs or not, but it is possible.
Elsa, Eta, Irma, and even hurricane Charley 2004 are all good reminders of the disaster awaiting the Tampa Bay region when a major hurricane does occur and hits this area. The Tampa Bay Regional Planning Council has a name for this type of storm which is Hurricane Phoenix. The Tampa Bay Times has a good summary of this simulation of a worst-case scenario that could happen one day. Of course, the insurance industry has several catastrophe model vendors to help understand worst-case scenarios like Hurricane Phoenix; so it should be no surprise in understanding what might happen to the insurance industry. This would be one of the largest insured losses to have ever occurred in modern times if it were to happen.
As pointed out in the last few tropical updates, Elsa sets the stage for what appears to be a busy Atlantic hurricane season. It likely will be an above-average season, but a busy season does not always mean large insurance industry impacts. Elsa provides an early hit at what the steering current could suggest later in the season, but for now, at least until the end of July, the Atlantic basin will be fairly quiet with limited storm activity which is likely to ramp back up after July 24 when the next large scale upper air pattern can support more tropical convection in the Atlantic Basin - much like the pattern we had towards the end of June that helped create Bill, Claudette and Danny, and Elsa