A December To Remember
Five days after an out-of-season historic severe weather outbreak tore up parts of Arkansas, Tennessee, Missouri, Illinois, and Kentucky with long tracking tornadoes, another explosive cyclogenesis event has occurred across the Upper Midwest. In fact, the rapidly developing system could be classified as a bomb cyclone given the rapid deepening that has occurred. The pressure dropped from a 1003 mb low pressure over the Rockies to a 977 mb low in the Upper Midwest in less than 24 hours. For reference, Hurricane Ida came ashore with a pressure of 930 mb.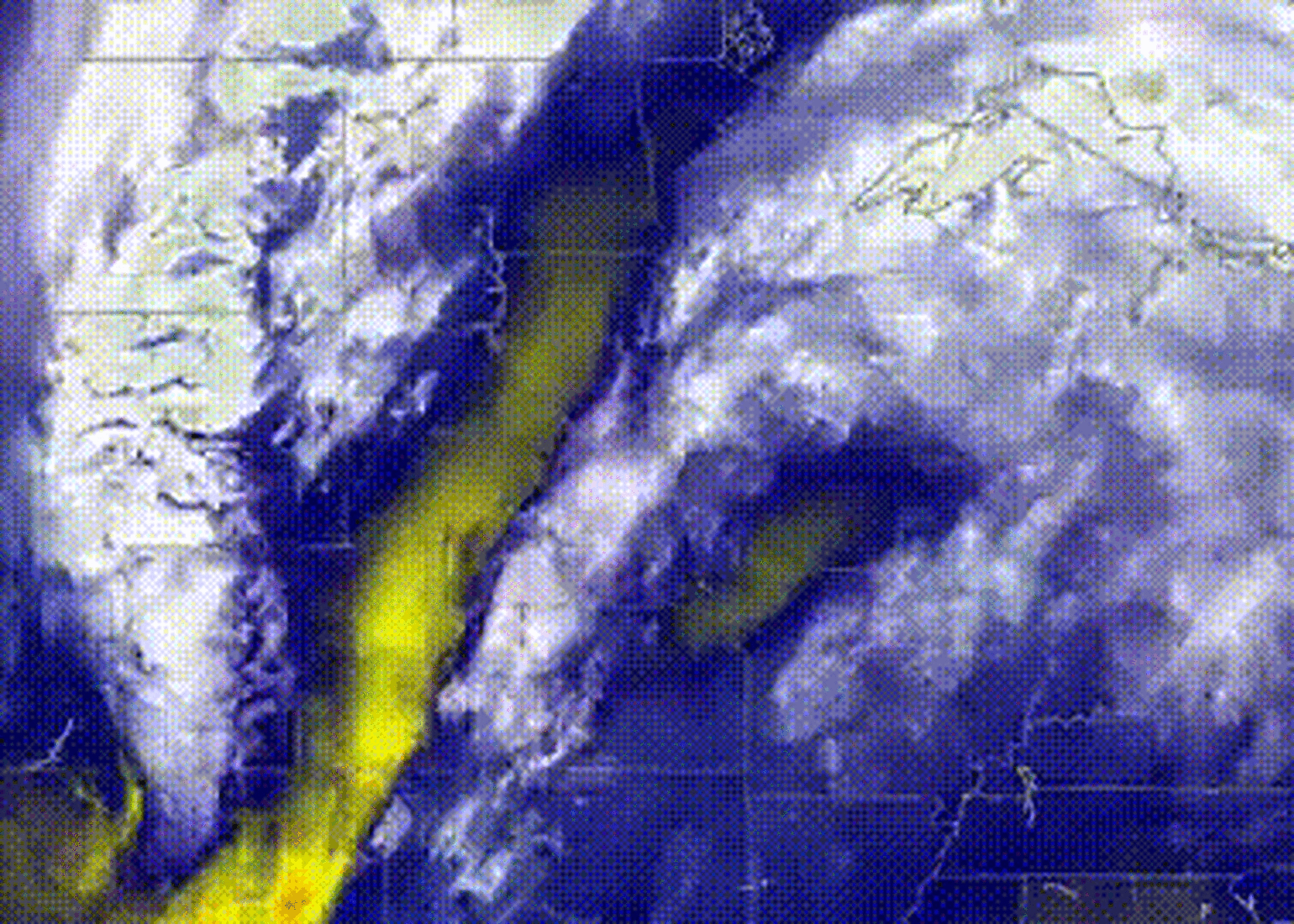 The result of this rapidly deepening mid-latitude cyclone has been a rare intense line of severe weather into the Central Plains. This also was accompanied by what is known as a sting jet. A sting jet is a meteorological phenomenon that tends to be more common in developing, Nor'easter or Mid-latitude cyclones that impact Europe. The sting jet is a result of rapidly descending colder dense air from higher attitudes inside a deep extratropical cyclone down to the surface. It is not uncommon to see wind speeds reach over 100 mph and this is exactly what has been observed. The highest wind gust that has been observed so far was a wind gust of 107 mph observed in Lamar, Colorado. On the front range of the Rockies, a 100 mph wind gust was measured at the U.S. Air Force Academy near Colorado Springs, in addition to a lot of 80 – 90 mph wind gust readings across the area. There was even a 100 mph wind gust in Russell, KS. In the Midwest, there is are dozens of wind gusts from 60 – 90 mph behind the initial line of convective storms. A 74 mph wind gust reported at the Des Moines Airport was the highest non-convective wind gust since 1970. When you combine the sting jet with the intense line of a thunderstorm that also produces a wide swath of strong winds, it would appear the criteria for a derecho was also met: damaging winds extending for 250 mph or more, wind gust of at least 58 mph along the length with separated gusts of 75 mph.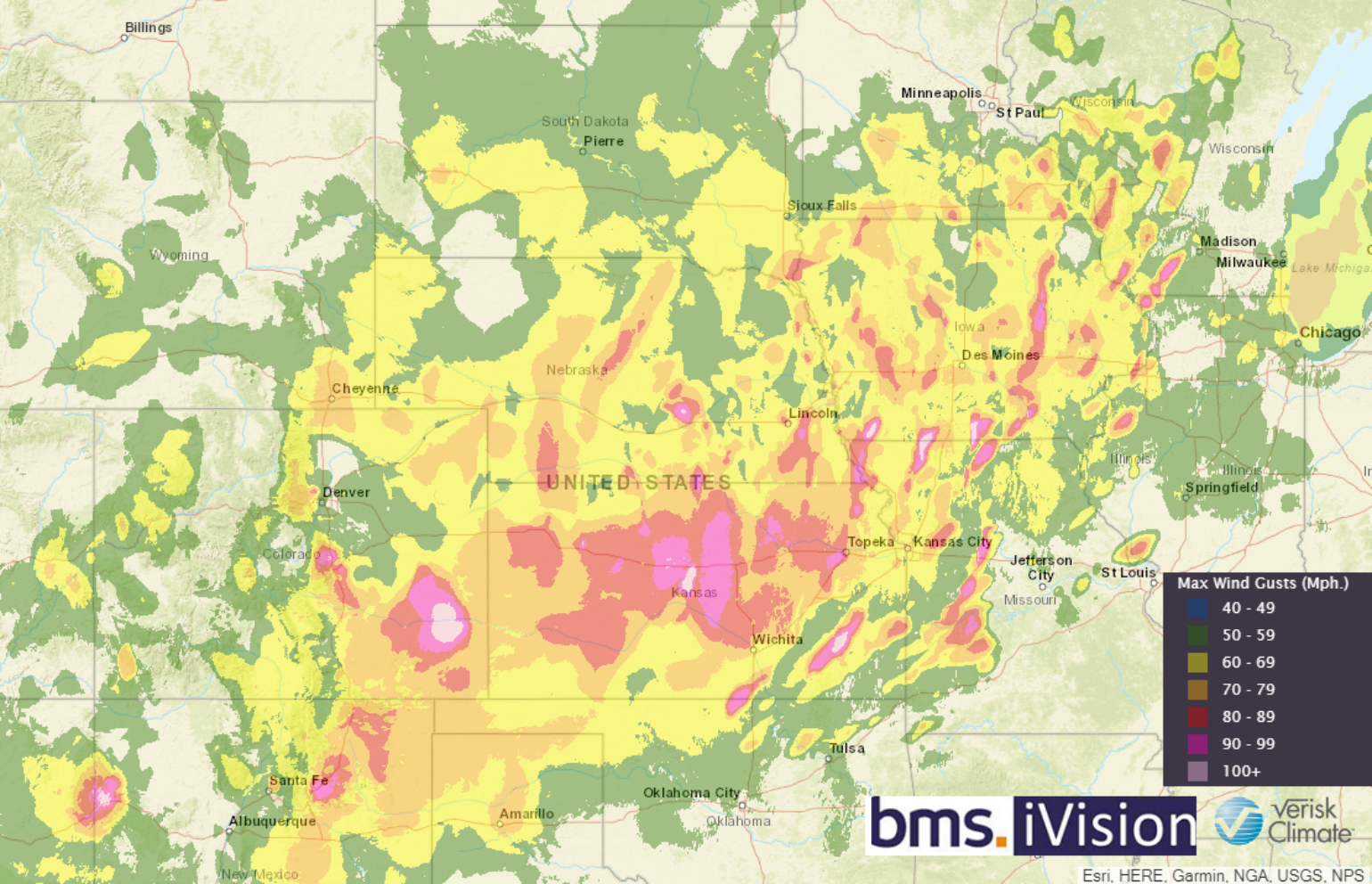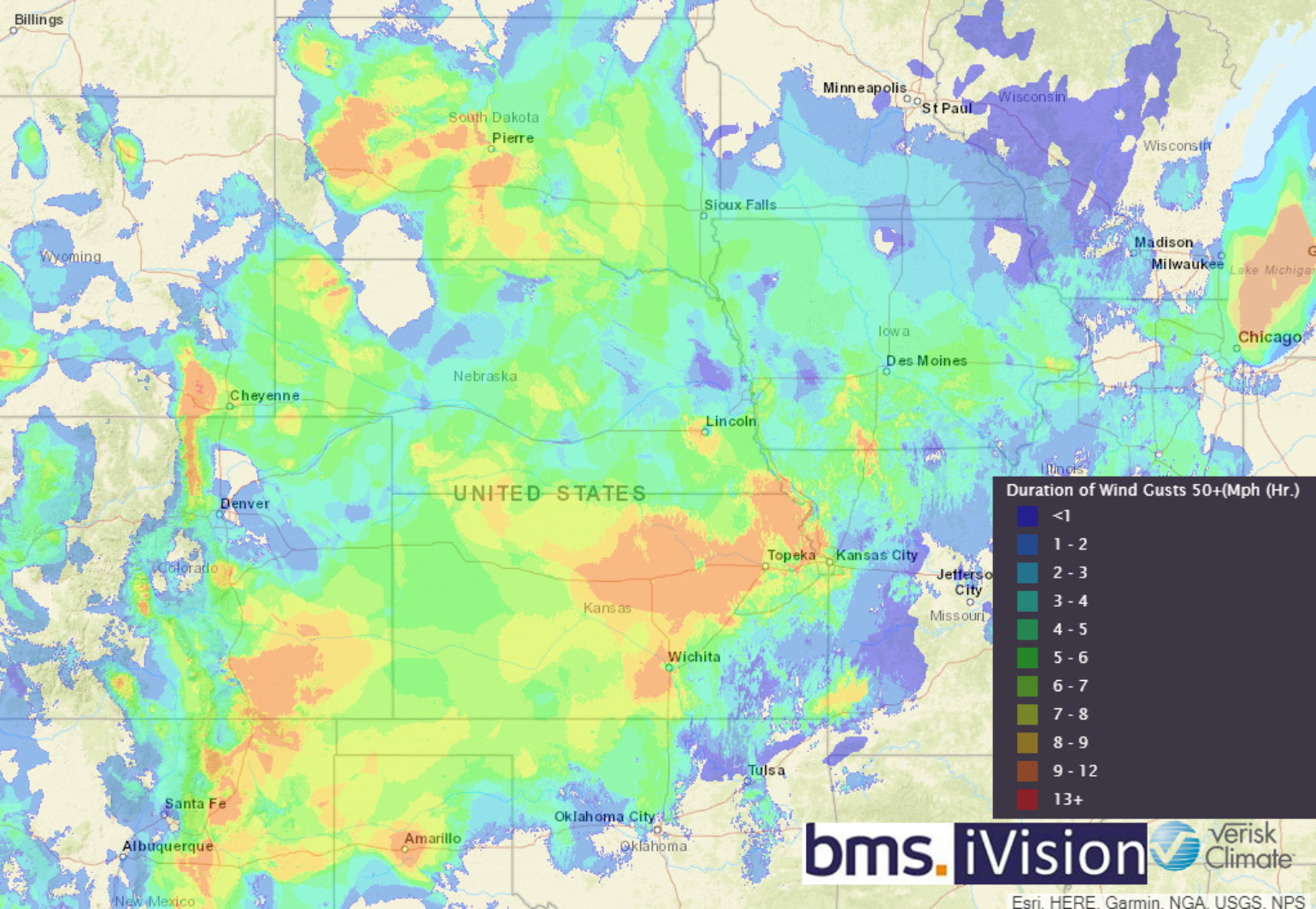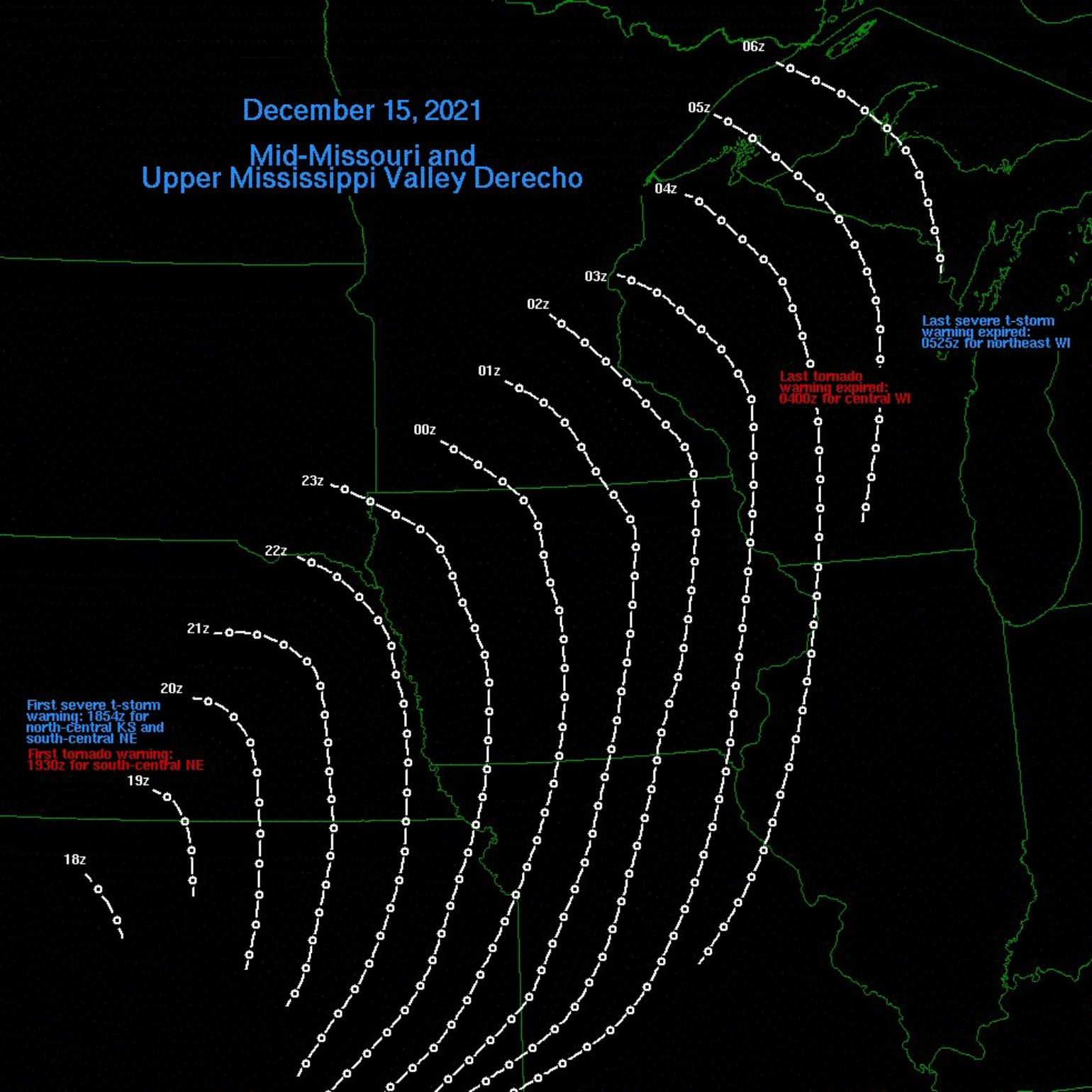 According to the NOAA Severe Local Storm reports, this storm system officially has broken the record for the most 75 mph severe wind reports in a day since 2004. With 55 such reports, this event surpasses the Iowa derecho which had 53 severe wind reports on August 10th, 2020. and was a costly insurance loss event.
Indications of Insured Loss
Frankly, the list of records from this storm is lengthy and almost unthinkable at any time of year, let alone December. For the first time, a tornado was observed in Minnesota in December (Near Heartland, MN) with numerous tornado warnings and severe thunderstorm warnings when it is more typical to have winter storm warnings and blizzard warnings. The severe weather and strong winds behind the system have caused widespread wind damage across several states so the obvious question is, what type of loss can the insurance industry expect here? Will the damage amount to more than the Iowa Derecho of 2020 or the recent Quad State Tornadoes?
One thing that has to be considered is, winter trees do not experience the same type of stress in high wind events as they would during the summer with full foliage. This will make a large difference in insurance-related losses due to treefall, which is the leading cause of loss in normal derecho or high wind speed events. Yes, trees did topple, but given the winds experienced here the magnitude of tree fall or broken limbs should not add up to be similar to summertime wind events. There are reports of roof damage from the high winds, but this will depend on the orientation of the roof and the frictional effect around structures that could have enhanced shingle uplift and/or damage. Once again, hail like we saw this past weekend was not a large factor with the severe storms that developed, which again should limit losses that might be more typical from severe thunderstorm events. The wildfires that developed along with the strong winds seem to be in rural areas with a few structures being lost near Paradise, KS. However, at this time it does not appear that the fires moved into any larger populated areas, which is always a concern during these extreme fire conditions.
The areas impacted by this bomb cyclone are immense compared to the tornado swaths of the recent Quad State Tornadoes. In fact, recently CoreLogic had come out and estimated the reconstruction value along the tornado was $3.7B. Yesterday the National Weather Service mentioned that the portion of the long-track tornado from Fulton County to Muhlenberg County in Western Kentucky was given a preliminary damage rating of EF4. Further review is to come, but this is the strongest tornado in the U.S. since the Rochelle, IL 2015 tornado. We also know that not all properties along the tornado paths require full reconstruction as there are still the eerie images of one structure completely gone while just next door a structure appears relatively untouched. As a result, a total loss should be a fraction of the estimated $3.7B estimated by Corelogic.
The amount of exposure to damaging winds from this bomb cyclone significantly more compared to the narrow tornado swaths from the Quad State tornadoes. We know building codes are in place to prevent complete failure of a building at 70 – 90 mph, so catastrophic damage should not occur compared to the recent tornadoes. This doesn't mean barns and other older structures cannot fail, or that trees cannot cause damage. Without the widespread hail and the foliage on the trees, damage should be lesser than if this was a true summertime wind event. The other key to insured loss impacts might be in the power outages which tend to correlate well with insured loss. As of last night, about 450K customers were without power across the Central Plains compared to 750K from the Quad State Tornadoes. During the Iowa derecho on August 10th, 2020 about 409K customers were without power in Iowa compared to only 136K last night. Lastly, past late-season strong extratropical cyclones can also possibly provide a clue on expected loss. Back on October 26 and 27th of 2010, an extratropical cyclone of rare intensity impacted the north-central plain states. This cyclone also had high winds across the northern plains and widespread severe weather that produced broad wind damage from Pennsylvania and West Virginia. When adjusted for inflation the insured loss today would be about half a billion dollars. The area impacted by this bomb cyclone is large and the wind speeds are impressive, but at this time the insured losses shouldn't top the catastrophic Quad State tornadoes. However, this December to remember is supposed to be quiet as the industry focuses on its prime renewal season. The events of last week could surely complicate or at least slow this process.
Typhoon Rai
Lastly, it would be wrong if this update did not make mention of Typhoon Rai (OdetePH). This could be a humanitarian disaster as a very powerful typhoon that has undergone explosive rapid intensification made landfall near Siargao Islands in the Philippines as a category 5 hurricane. Due to the rapid intensification, it is unlikely that enough time was provided to get a large population out of harm's way. So keep in mind we are in the season of giving and whether it is in the U.S. or overseas in the Philippines, there are plenty of people that need help, and if they are lucky enough to have insurance that sometimes only goes so far.