BMS's team of catastrophe analysis professionals provide deep insights into issues that can affect your capital, helping you to make more informed decisions.
We deliver deep risk insights through our proprietary BMS iVision™ application. BMS iVision™ helps you to improve underwriting profitability, reduce claims expenses, manage your portfolio and model a wide range of scenarios so that you can have a comprehensive view of your portfolio risk.
"iVision provides the tools for underwriting profitability, claims expense reduction and portfolio risk management, specifically developed to meet client needs. iVision's innovative and customized features have led to awards and commendations from CIR, ESRI, Worldwide Reinsurance and London Markets."
Julie Serakos
Executive Vice President
Our services include:
Catastrophe forecast/response – overlays the most damaging areas of a hurricane or severe storm on your policy locations.
Storm Reporter – automatic notification of events impacting your policyholders
BMS HiRES Accumulator™ – measures accumulations of risk in your portfolio.
BMS HiRES Tornado and Hail™ – takes Accumulator a step further by using tornado and hail swaths to fine-tune your accumulation risk to these perils.
Growth outlook – analyzes where best to grow your portfolio, while managing risk levels.
Portfolio optimization – helps you protect your capital through careful risk selection.
Scenario View™ – allows you to design peril scenarios that might put your capital at risk.
Risk Reveal™ – helps you understand the individual location risk and catastrophe cost before you bind a policy.
Track of 2017 Atlantic Hurricanes as shown in BMS iVision using Verisk Climate Respond® data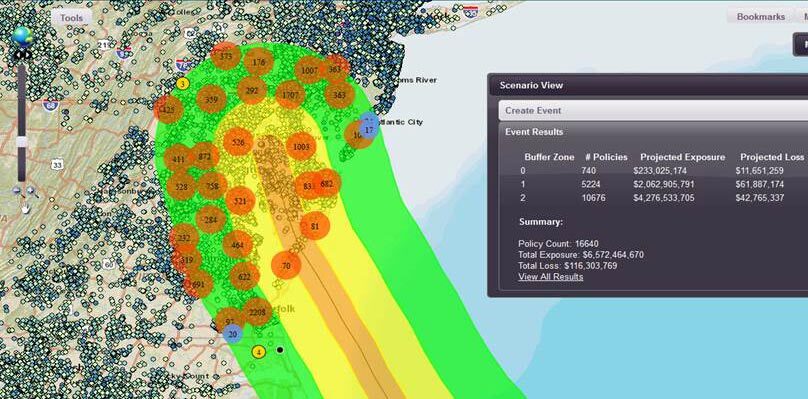 Scenario View hurricane event in New Jersey with projected loss of $116M


Key
Contact
Julie Serakos
Executive Vice President
Office Contact
BMS Re
7650 Edinborough Way,
Suite 600, Edina,
MN 55435-6003, USA
T: +1 952-224-0200
Personal Contact
T: +1 952-229-8876
Email Me