On March 4th I was invited to be part of a PAMIC Spring Conference Panel discussion on insurance fraud. This is a very important topic for our industry because the FBI estimates that the total cost of insurance fraud, excluding health insurance, is more than 40 billion dollars per year. To put this in a better perspective, this is roughly four hurricane Michael events per year to the insurance industry, yet, historically fraud has been a background thought to the insurance industry. However, that is changing as insurance companies arm themselves with tools and knowledge to limit insurance fraud.
The panel discussion featured Joel Hopkin, Partner at Saul Ewing Arnstein & Lehr and John McCall, who is a special agent at the National Insurance Crime Bureau, and myself. With my background in meteorology and catastrophe response, it was a well-rounded discussion on the topic of weather-related fraud, storm chasers, catastrophe response tools, and the legal aspects that should be at the forefront of any property insurance entity.
Often insurance fraud starts with a weather event and the first line of defense in weather-related fraud is weather observations. Since hail is one of the most common severe weather perils, it is a large focus of collaboration with academic partners, government, and the insurance industry in helping collect and build tools to help improve observations, detection, and forecasting for hail. This effort is allowing for better observations of the size of hailstones across a given storm area that can lead to large losses. Additionally, this also helps improve loss prediction modeling and better inform claims adjusters about the type of damage to expect and where to match adjuster experience level with the possible hail event, which will help prevent fraudulent damages claims.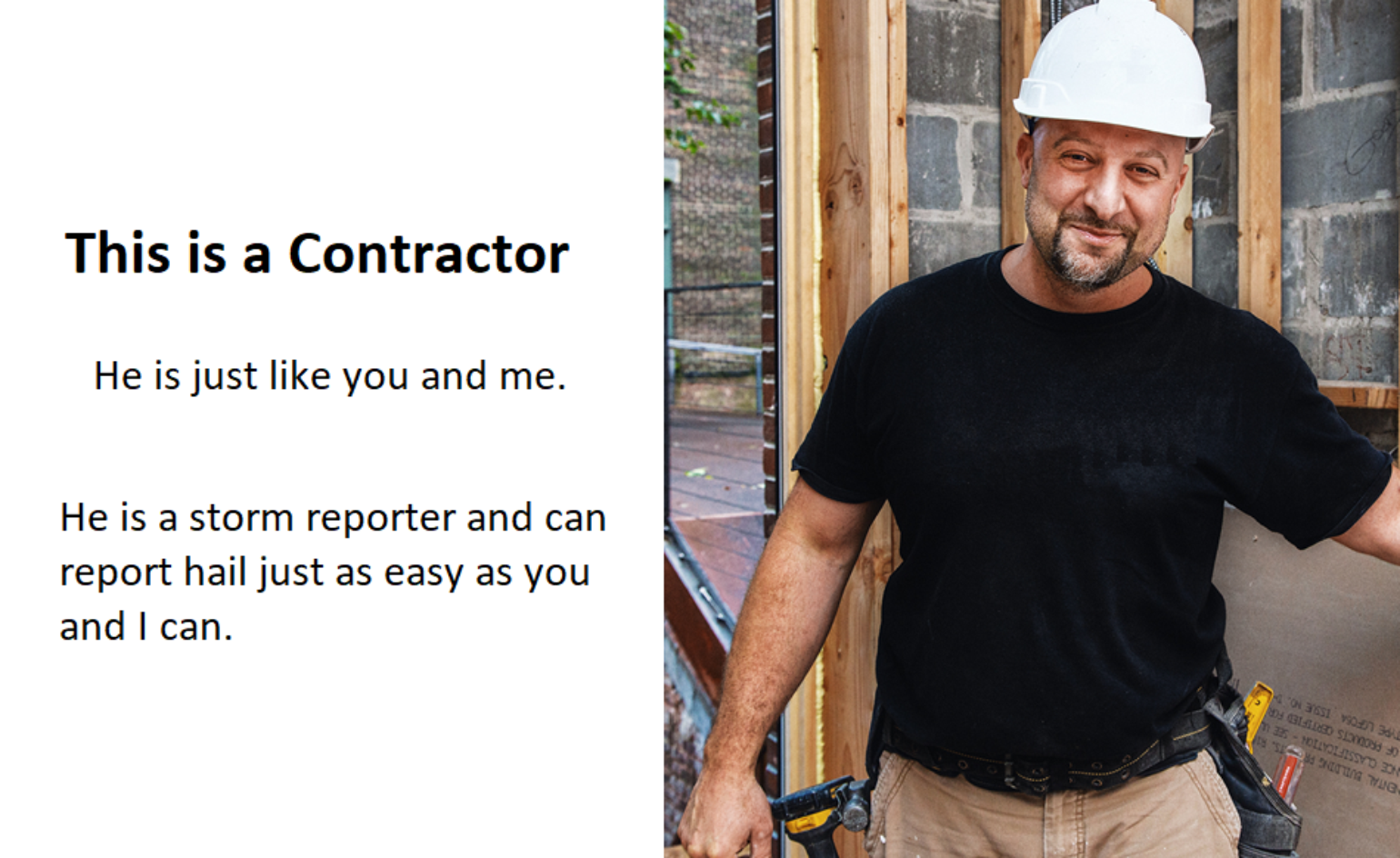 However, be careful. The Insurance Institute for Business and Home Safety (IBHS) has anecdotal information that some hail reports are inflated by as much as 1 inch by roofing contractors. This is a bit scary since so many insurance companies rely on hail observations to pay claims; but this really should not be too big of a surprise given the diverse range of educational and training backgrounds (random person to trained spotters) required to report such hail reports. This results in major inconsistencies in the reporting methodology from hail events.
There are also other issues with hail reports that need to be considered. One of these issues is a significant number of spotter reports have geolocation errors. Very few weather reports come with the exact address, and many come with just the town name so they are placed in the center of a town. Some might come with an incorrect location because of how they are reported. "4 miles NW of ". (Where is this exactly?) Along with the geolocations error, there are all sorts of intensity and size estimates issues, as very few are officially measured, and many are guesses based on what they think an object size might be. For example: hail may be indicated to be golf ball sized, but often never shows a golf ball near the observed stone for comparison. In some cases, hail size is underestimated due to various melting periods before collections and the amount of time spent looking for the largest stone.
In cases where hail observation might throw doubt on the occurrence of a particular weather event, such as hail, there are some indicators of fraud that an insurance carrier can look for.
Some of the leading indicators might be:
Initial damage report and claim from storm/event appears to have been significantly delayed;
Unusually familiar with insurance terms or procedures such as - claim handling procedures and laws, vehicle repair terminology, coverage, and special limits;
Overly pushy, aggressive or demanding for a quick, and sometimes reduced settlement (possibly to avoid providing additional documentation);
Accept an inordinately small settlement rather than document all claim losses;
The agent is contacted to verify coverage or extent of coverage or to increase coverage just prior to loss date;
History of prior claims (often of similar type losses); and
Documentation confirming prior damage has been repaired cannot be provided by the owner.
Some Indicators of Fraud Concerning the Damage
No other or very few homes, businesses or vehicles/vessels were damaged or destroyed in the affected area;
Size of dents inconsistent with the reported size of hail;
Paint oxidation, coloration, and age at the bottom of the dents are consistent with the undamaged areas;
Dented surfaces did not face the oncoming storm;
Storm causing damage was random and/or unreported;
Dents are the same size and depth (real hail dents vary in size) or all have similar markings at the deepest part of the dent;
Dents look like hammer marks and/or are cuts rather than hail created dings; and
Dents are deeper than wider.
Weather losses to the insurance industry fluctuate year to year, and there will always be several entities that want to take advantage of the insurance industry. The above is just a small amount of information that insurance carriers need to arm themselves with, and recently the IBHS, which BMS is a proud member of, has partnered with the National Insurance Crime Bureau (NICB) to educate homeowners on what actions to take if they suspect they have property damage caused by severe weather, like hail, and to how to avoid hiring a fraudulent roofing contractor.
Ultimately the best way to prevent weather-related insurance fraud would be to build resiliency against extreme weather. Insurance companies need to ensure quality underwriting of properties, such as: is the roof in good condition before the risk is underwritten. They might want to check the IBHS impact rating results and understand that roof complexity and angles might also have a large impact on future loss. Other factors, like fiber cement siding, might be more resilient to damage. The carriers also can provide a guide to policyholders with actionable tips to empower them to make a properties more resilient against different types of severe weather. It is also important they know how to file a claim before a contractor might approach the policyholder.
With the height of the severe thunderstorm and hurricane season fast approaching, now is the time to build resiliency to prevent insurance fraud.