No matter how quiet or active a hurricane season is, it only takes one storm in the wrong place to create a memorable catastrophe. We are not near to closing the books on Ian, but as we said well over a week ago, the "I" storm is the most retired, and Ian will likely follow suit. In this case, it might be just time to retire the letter "I."
There is no doubt that Ian will be a major catastrophe and have a severe impact that will spread far and wide across the insurance industry. Even without a significant disaster, Florida was already facing many challenges. Given the litigation amplification that is occurring across the state, it could take a few years for the loss to fully develop, which is also when you hear loss numbers being used. It is essential that you know what goes into the number. It is often the estimate accounts for the wind damage only, and there is a considerable amount of non-modeled loss that is still insurable and, of course, a wealth of things that are not insurable.
This morning as North America woke up to get the latest on Ian, its intensity continued to increase with winds of 155 mph, which is 2 mph from a Category 5 hurricane. Hence, there is still a shot that the hurricane hunters could find data that suggest further strengthening. It is doubtful now that Ian will weaken much before landfall. This storm strength was not forecasted yesterday by any model, which again, shows you how much uncertainty there can be in intensity forecasting of named storms. This is very important now with these forecasted winds. The damage factory is several times worse than what was expected yesterday, with winds originally predicted as only 130 mph at landfall.


Tropical storm conditions are occurring this morning across southern Florida, and hurricane conditions are expected to begin later this morning as Ian approaches the coast. Below is the BMS iVision, which uses the Verisk Respond product that shows a landfall near Englewood, Florida later today and a second landfall on Friday near the Georgia and South Carolina border. It should be noted that this is slightly north of the NHC landfall location of Port Charlotte, but this will have little difference in impact as strong 100+ mph wind gusts will be possible along the coastline in areas impacted by the eyewall. 70+ mph wind gusts will be possible from the Tampa area to the south of the Cape Coral / Fort Myers area and as far inland as Lakeland. Strong 70+ mph wind gusts will also be possible along the northeast coast of Florida as well as the coastal regions of Georgia.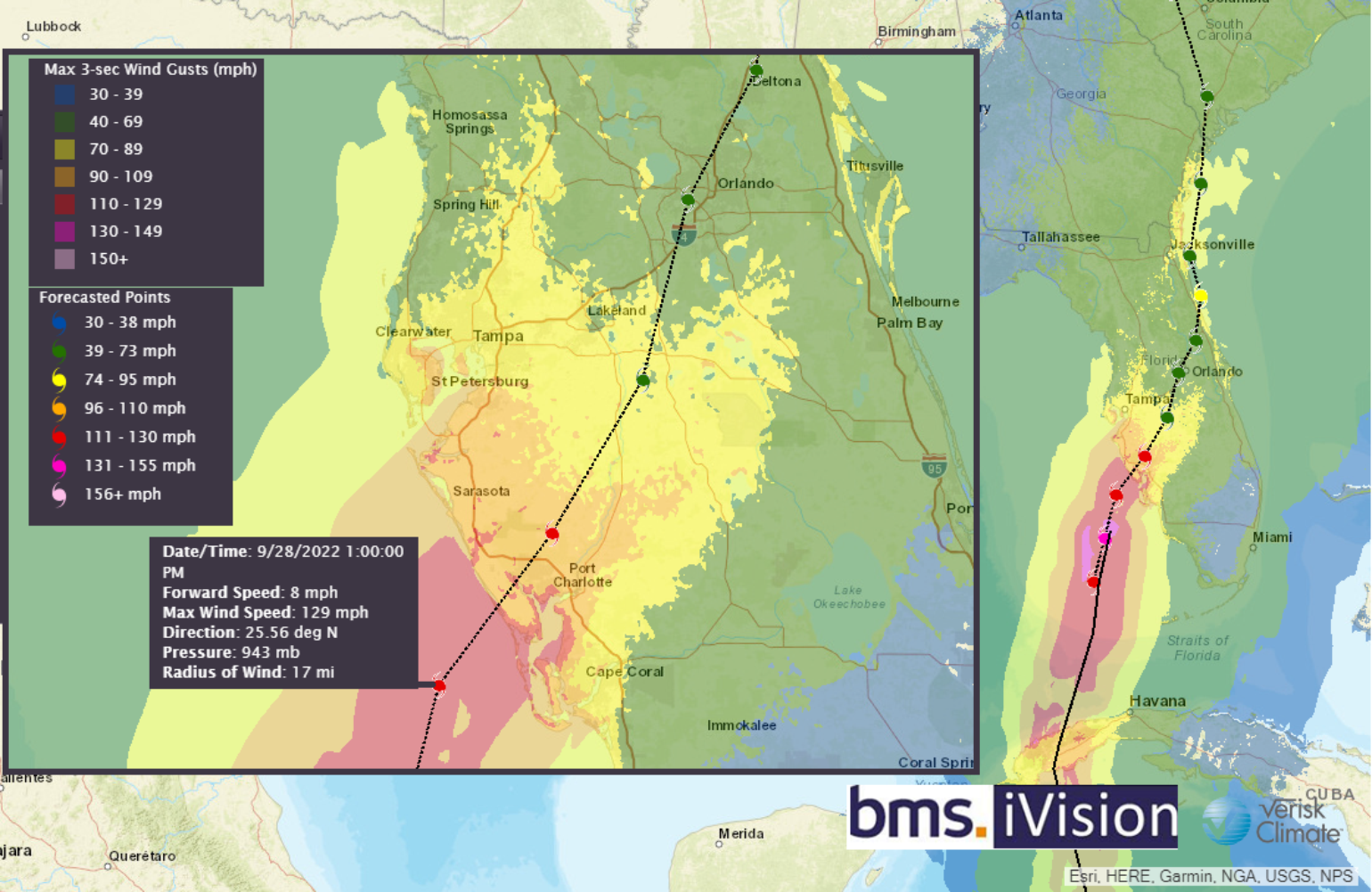 As discussed in the tropical update, these winds at landfall are near the building design loads across the area, and many buildings were not constructed to these modern building codes. However, Irma (2017) and Charley (2004) may have caused some to be repaired or strengthened to a more current standard. Still, these modern standards are in jeopardy of being breached, and these new roofs and updated buildings only account for a fraction of the built environment.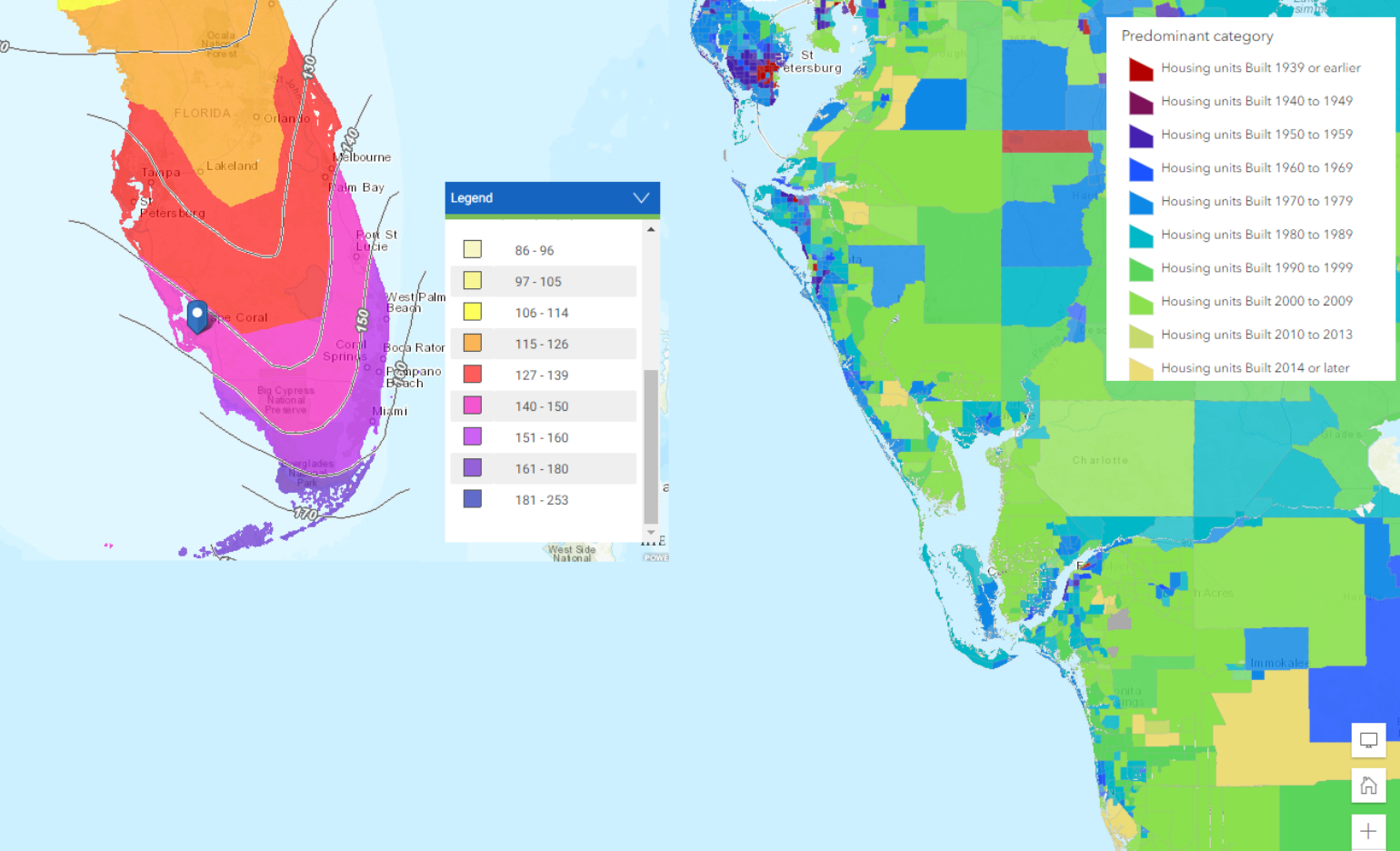 Overall performance of any structure and the damage will likely be highly variable, with plenty of severe damage from wind and storm surge to buildings at the lowest elevations along the coastline. As discussed in yesterday's update, the 25% roof replacement code will likely mean that on many roofs, the majority of damage will be to the roof covering of all construction eras, given the projected landfall speed.
Estimating the damage from Ian will be difficult and a time-consuming process. The storm surge will no doubt complicate factors. Recently, Irma caused over $30B in insured losses to the state of Florida. There is minimal historical precedent for a storm of this magnitude, even considering the October storm of 1944, which today would run $35B in insurance industry loss. This storm tracked up over the heavily populated I-4 corridor between Tampa and Orlando. Ian is expected to track just south of this line with the strongest winds inland over a more rural area, but the 1944 track is still within the NHC cone of uncertainty. The storms of September 1894 and October 1873 impacted the area, but there is greater uncertainty in understanding those impacts. Given the increase in intensity at landfall projected yesterday, there is a good chance that the insurance industry is once again staring at an industry loss greater than $20B. This does not count litigation amplification that could result.

Ian Is Not Charley
Given the forecasted track of Ian's landfall near Port Charlotte, the media and insurance publications are comparing the impacts of Hurricane Charley in 2004. The bottom line is this will not be remotely close to Charley, which caused $10 – 15B in insurance industry loss today. Sure, Charley was a 145 mph high-end Category 4 hurricane, but it was fast-moving at 20 mph; Ian is expected to be moving at 8 – 10 mph at landfall. This will prolong the damage from winds from Ian vs Charley. The other significant difference was that Charley's radius of maximum winds was estimated at 7 miles. Ian's radius of maximum winds is currently 20 miles, and the wind field is much different, with hurricane-force winds extending 60 miles out from the center of the storm. This is a more average-sized hurricane for its intensity.
https://twitter.com/BMcNoldy/s...
Charley was a small storm, meaning the storm surge was much less. The storm surge was 7 feet or less for only a tiny part of the southwest Florida coastline. Ian storm surge is expected to be 12 feet or higher; frankly, no one alive in the landfall areas has ever seen a storm surge of this magnitude.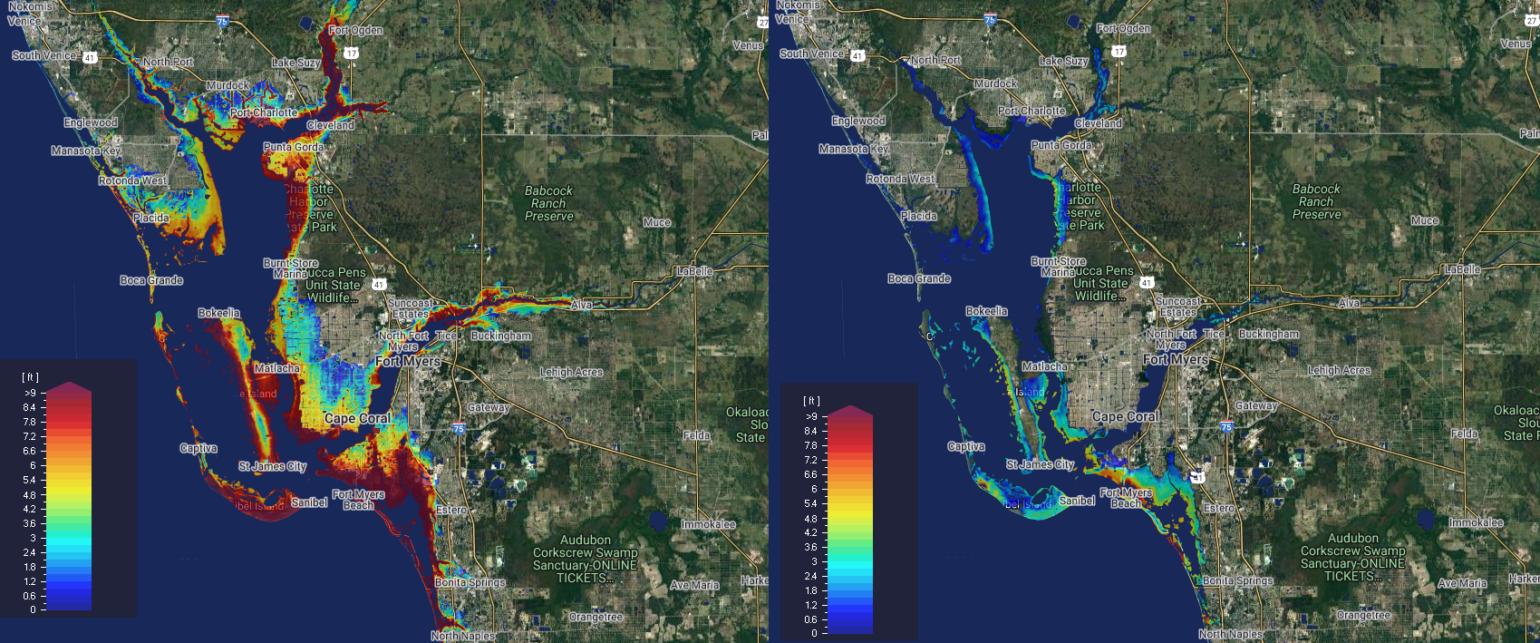 Given the overall size difference and slower moving movement, Ian will not be in much hurry to cross the state like Charley did. This means that impacts will be prolonged compared to the quick blast from Charley. And although the wind gust is what causes the direct damage to a building, prolonged winds of tropical storm force can also increase damage and increase power outages and tree damage.
Florida is a textbook for disaster by design.
The image below is a historical photo of Cape Coral on March 1959. In 1957, the foundation of the Gulf American Land Corporation started to sell its estates north of the Caloosahatchee River into an authentic Venice of Florida. Cape Coral developed a system with water channels, lakes, and roads in the whole area. At the end of the '50s, the construction of the first houses started. Today, Cape Coral has a vast network of water canals over 370 miles long. Many canals also have direct access to the Gulf of Mexico; a true paradise for people who love boats and water.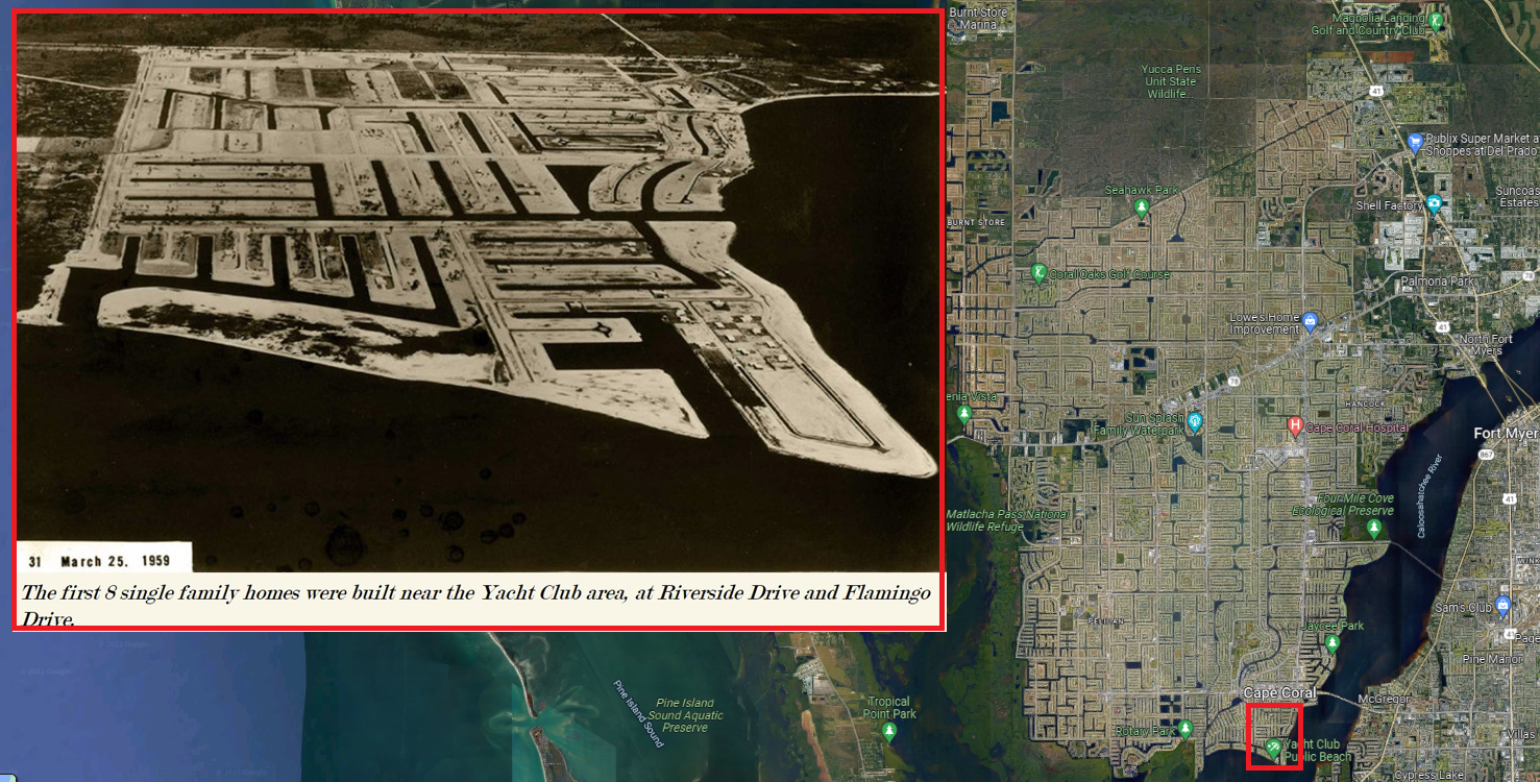 The problem, however, is that the buyers of these properties knew little about the disaster by design. Or maybe they did, but the appearance of water access and closeness to the beach outweighed the risk. Overall, this is a classic example of building in an environment and making the situation worse by forcing water inland via a series of canals. This demand for water access has only increased the value over time and has undoubtedly compounded the overall disaster impacts of a storm like Ian. Given Ian's size and expected storm surge, sadly, these homes will genuinely turn into the Venice of south Florida for a few days.
With the overall storm surge tides, the high and low tide is one thing to consider. Every inch higher is just that much more repair that might be required in homes. According to FEMA, every inch is a multiple of damage.
The other factor to consider is that many of these homes are owned by snowbirds. How many homes were able to make easy storm preparation to limit the loss? The IBHS says even the most minor things can make a huge difference. Sometimes residents might place items higher up on counters or stack things. They cannot do this if they are not home, increasing content loss.


Forecast for East Coast Insurance Industry Impacts
With all the attention on Ian's Florida landfall and it's potential impacts, which are outlined well by the NHC, and include rainfall, storm surge, wind impacts, and tornado effect, one thing that should not be overlooked is the effects that could occur to parts of the east coast of Florida. There is increasing concern that Ian will reemerge off the east coast of Florida. This will likely cause an increase in storm surge risk up into the St. John River and wind and beach erosion along the coastline from Flager Beach to points north. A few forecast models predicted Ian to regain hurricane strength over the warm waters of the gulf stream and have a secondary landfall between Tybee Island, GA, and Charleston.
Bottomline
Ian will be a historic event for the insurance industry.
This was a disaster waiting to happen due to disaster by design.
The wind impacts will be far and wide as this is not even close to the impacts Charley of 2004 had.
Inland flooding from heavy rainfall and the storm surge will compound losses.
Watch the southeast coast for future impacts from Ian.