Ian went from a high-end Category 2 hurricane with winds of 110 mph at 2 am to a high-end Category 3 hurricane with winds of 125 mph at 5 am, with an official landfall southwest of Pinar Del Rio, Cuba. Even over land, Ian has not weakened. The forecast is for Ian to continue to intensify today once it tracks back over the southern Gulf of Mexico. All of this was expected as these BMS tropical updates have mentioned how a hurricane tracking over western Cuba would have little to no impact on the overall intensity.
What is better known today is the landfall implications. Until yesterday afternoon, there was a lot of uncertainty in the forecast track of Ian. Today, there is a much higher degree of confidence that the scenario discussed in these updates of a major hurricane making landfall near or south of Tampa is locked in.
There is now a wealth of information flowing from all sorts of sources, but the hope is that these BMS Re tropical updates can target the insurance industry and provide information you might not get elsewhere. This BMS tropical update will start to look at specific impacts and implications that need to be considered in estimating the insured loss. No cut and paste content here.
As discussed with Ian taking a more eastward track, Ian will come into Florida stronger as the wind shear and dry air will not have as much of an impact compared to if Ian would have tracked north to the Apalachee Bay, which seems to now be unlikely. This track will give Ian less time to weaken from this peak intensity reached later today as it approaches the Florida coastline.
This is a major bust for the GFS model, adding unnecessary uncertainty when other models like the UKMet and ECMWF have been locked in on the west coast landfall scenario. The overall reason for the bust in the GFS and the shift of a scenario to the west coast of Florida is that a deeper trough is digging into the eastern U.S, which is picking up Ian and bringing it along or over the west coast of Florida as a strong hurricane.

Impacts
There have been four Category 4 hurricanes or greater that have hit the sunshine state over the past 50 years (Andrew (1992) Charley (2004), Irma (2017), Michael (2018)). If the wind shear and dry air can influence Ian, it will likely weaken into a Category 3 before making landfall tomorrow during local early evening time.
Wind
The exact track will have a large influence on the overall impact on the insurance industry. It is still undetermined what the radius of maximum winds will be. Currently, they are 20 miles, so it is likely that this will lead to an increase with the expected strengthening. Despite the uncertainty of Ian's exact track and intensity when the storm makes landfall later this week, Ian will bring a significant risk of damaging winds across portions of Florida. The strongest wind impacts will be on the right side of the storm near the radius of maximum winds. BMS iVision can provide guidance to the details of wind impacts and wind swath size along with the radius of maximum winds along the track.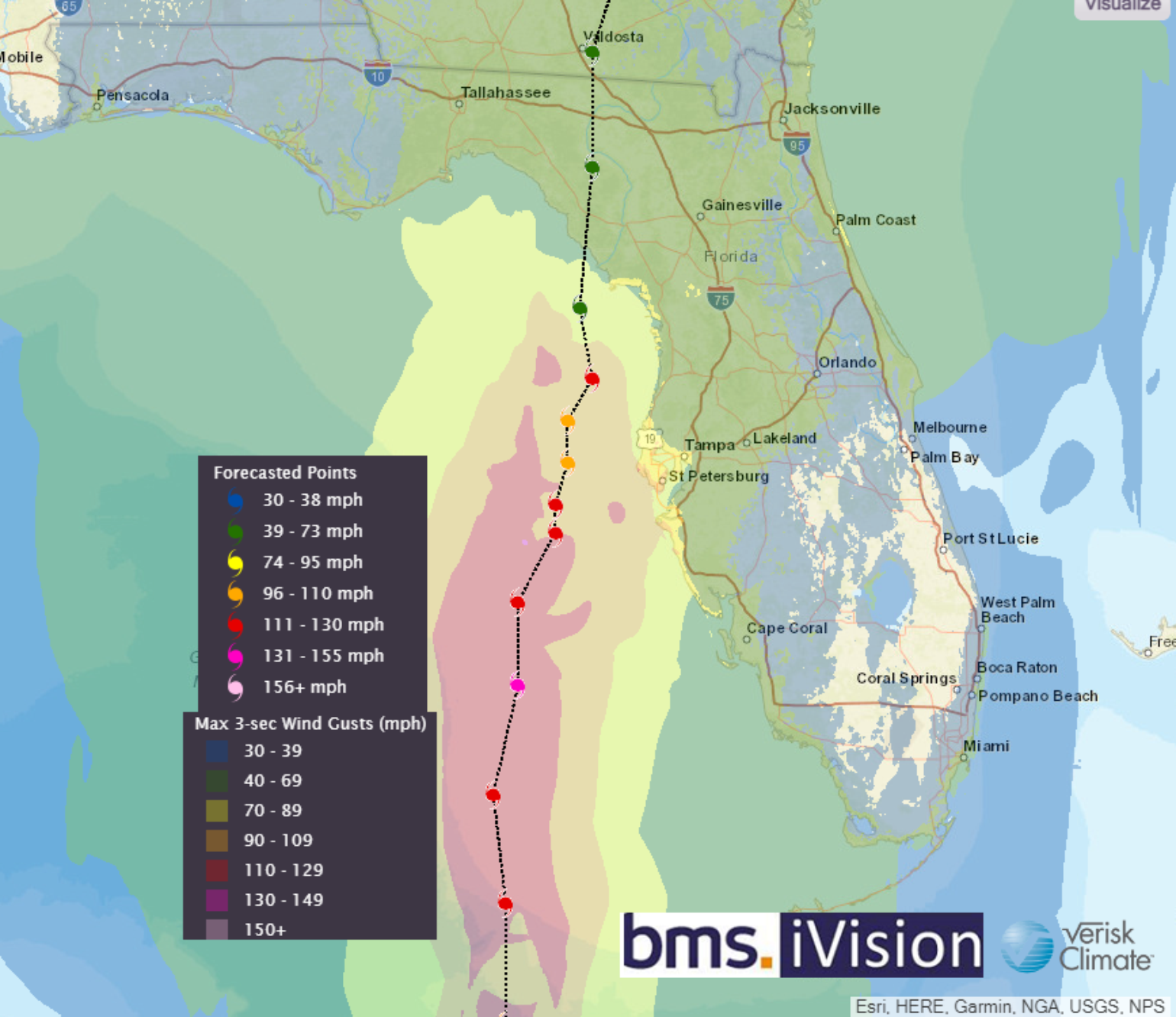 Storm Surge
Ian will bring a risk of a significant storm surge along the right side of its track. As mentioned yesterday, a landfall south of Tampa could result in record low water levels as the water gets sucked out of Tampa Bay. The optimal storm surge for Tampa Bay would be a track that takes Ian just north with landfall near Clearwater, FL, similar to the BMS iVision scenario. You might have seen the below analysis by CoreLogic with some pretty crazy numbers.
"1,044,412 single-family and multifamily homes along the Florida Gulf Coast with a reconstruction cost value (RCV) of approximately $258.3 billion are at potential risk of storm surge damage from Hurricane Ian. These figures assume Hurricane Ian makes landfall as a Category 4 hurricane and are based on the Sept. 26, 2022, National Hurricane Center 11 a.m. E.T. forecast."
This is far from the worst-case scenario for Tampa Bay. This is also like the Lloyds RDS scenario that has also been shared in the insurance media which is a far worse event. Just like the wind impacts, track of Ian will determine the storm surge. The worst of the storm surge will be to the right side of the track. The current prediction is that this will likely occur from Tampa Bay to Naples - with the highest storm surge impacts being up the Peace River near Charlotte Harbor, Punta Gorda, with coastal areas seeing a storm surge of approximately 9 feet. However, the core logic analysis shows that the gulf coast is generally very susceptible to storm surge, and the best guidance is to follow the NHC active storm surge forecast.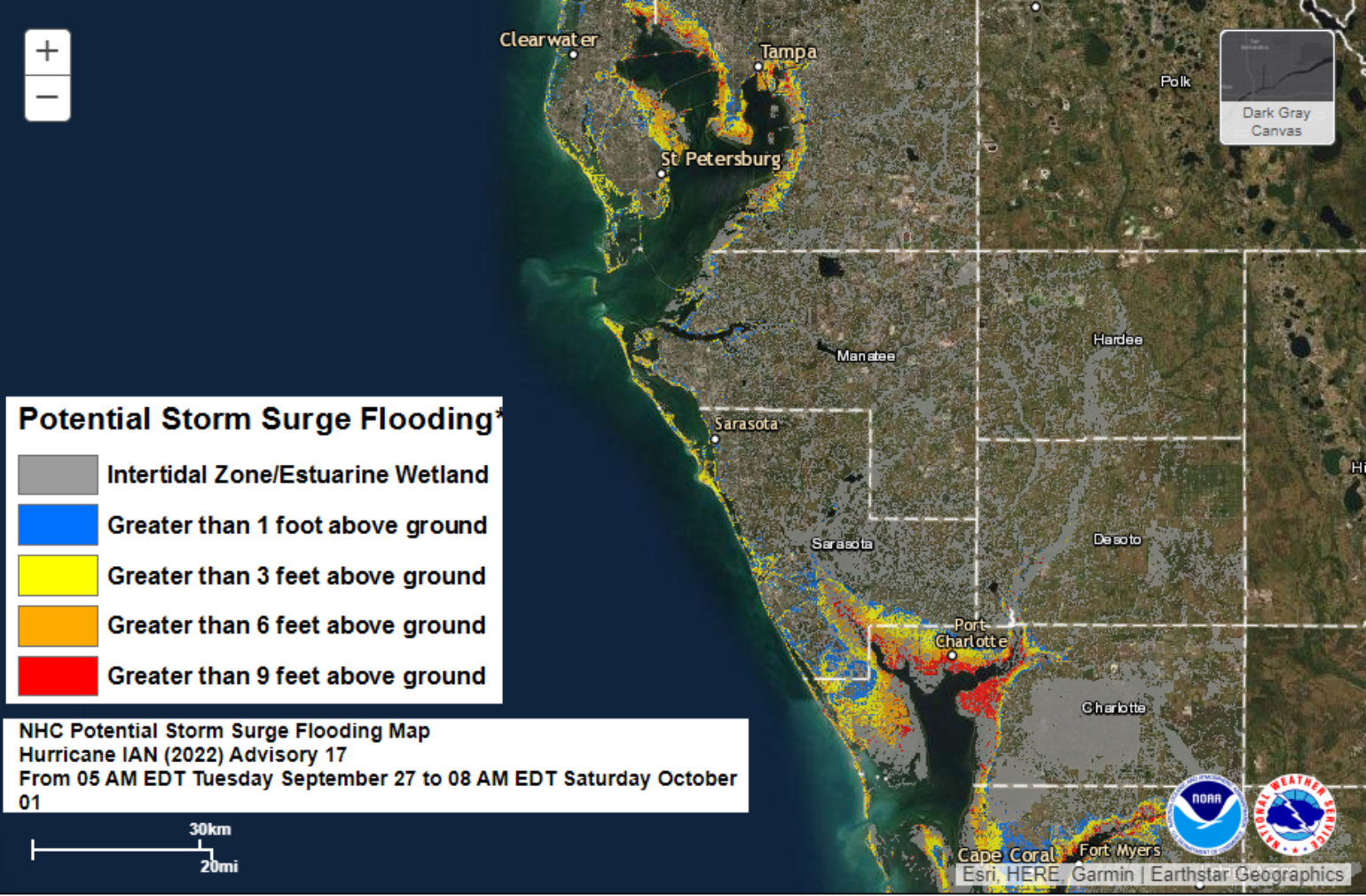 Rainfall
Ian will take 48 hours to cross Florida before it tracks up into Georgia. Not only will this slow movement impact the storm surge and wind impacts, but the rainfall will also be a real issue. With 1 to 2 feet of rain stretching from near Tampa to Daytona Beach, the risk of inland flooding is also a significant impact. While the exact impacts will also depend on the track, current model guidance suggests that the heaviest precipitation will be focused along a portion of Florida's coastline stretching from Tampa to Cedar Key. This is based largely on Ian's forecast track turning northward shortly before landfall. This region could see 8 – 12 inches of rainfall, with higher totals of up to 16 inches, where Ian ultimately makes landfall.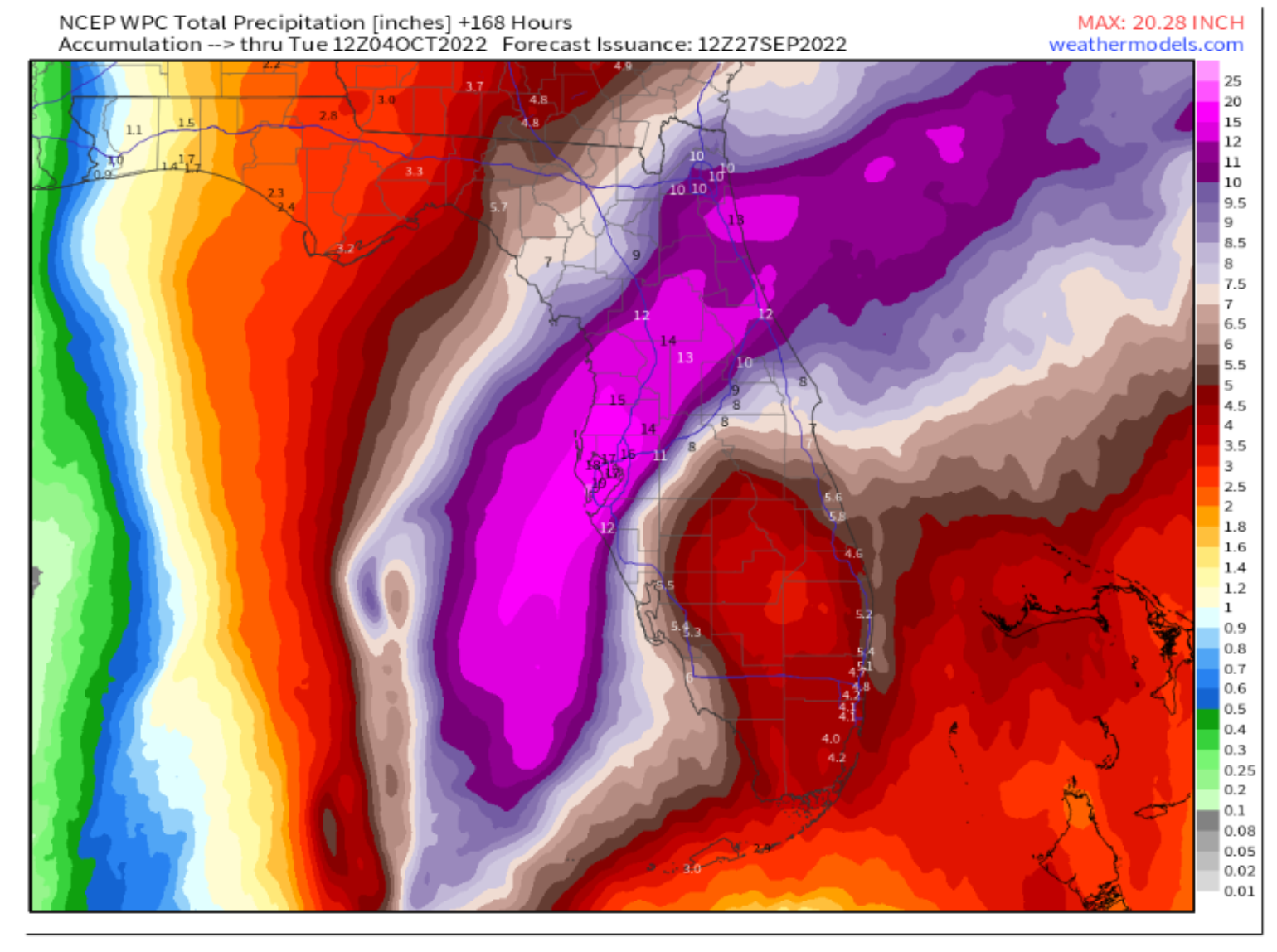 Tornado
Over the next few days, the possibility for tornadoes exists across the Florida Keys and southern Florida as tropical conditions develop ahead of the approaching hurricane. This tornado threat may extend into central and northern Florida in the days ahead and the favorable front right quadrant of the system.
Expected Damage & Building Codes
Florida is no stranger to damaging hurricanes. However, a few things need to be considered. The west coast of Florida, particularly the area around Tampa to Venice beach, has been very fortunate to have minimal hurricane impacts in the last several decades, with the previous major impact being the bypassing Labor Day hurricane of 1935 that paralleled the coastline and the 13th named storm of the 1944 hurricane season (1944 – Cuba Florida Hurricane). These updates have already made mention of the Tarpon Spring 1921 hurricane and its impacts.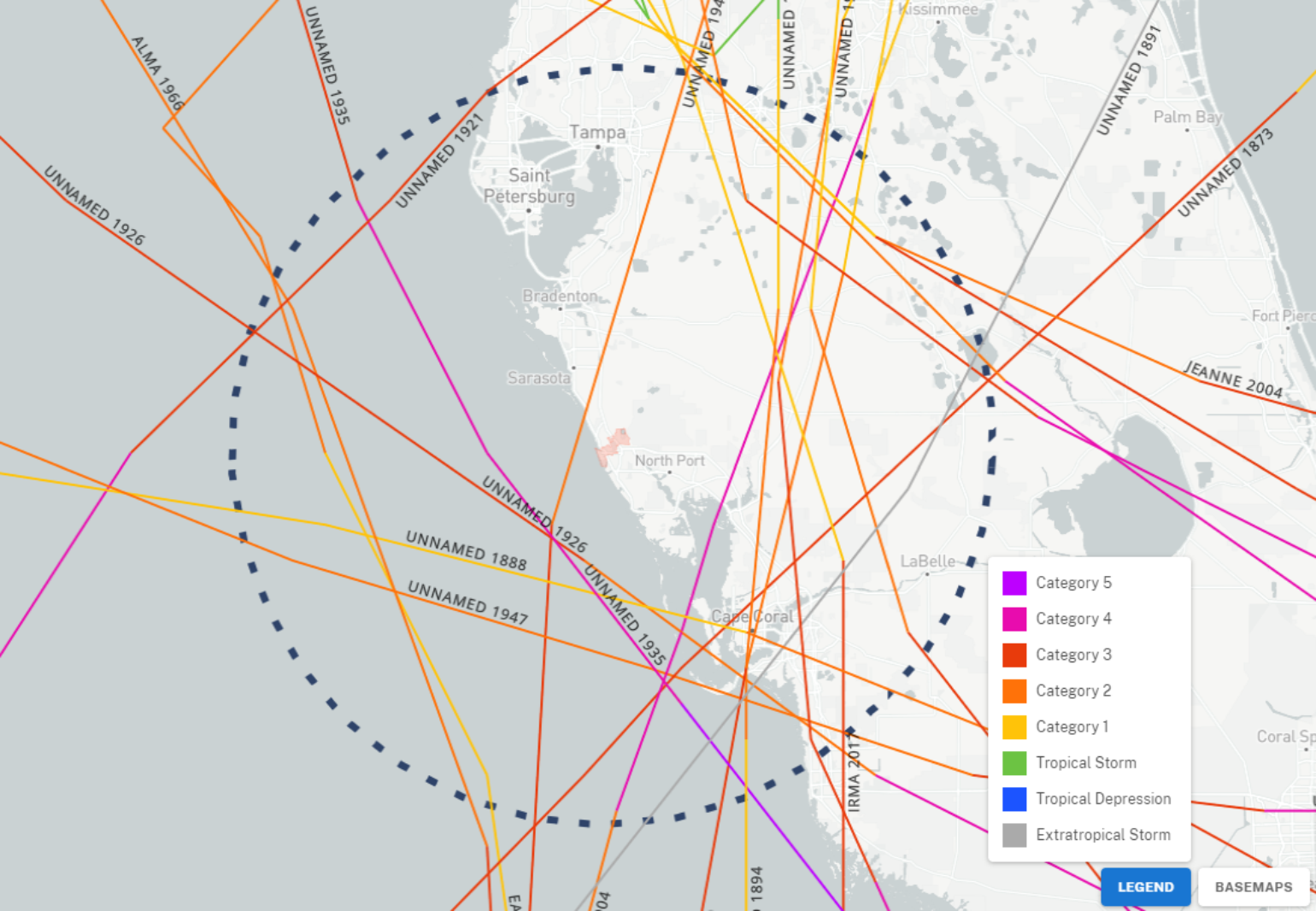 So, given the lack of historical activity, there are very few analog events to help understand losses. Also, without an intense hurricane, Mother Nature's way of cleansing itself, trees and buildings have yet to be tested. As a result, the overall uncertainty is additive on top of already general forecast uncertainty. The Insurance Institute for Business and Home Safety (IBHS) has shown in their Rating the States Report that Florida has the highest rating of the hurricane states. Florida continuously updates building codes, and the current Florida building codes meet the IBHS Gold Fortified Gold standard for: Open Protection and Sealed Roof Deck and Continuous Path loads. This is all good news for newer homes, and as Ian tracks further south, the building codes are generally stricter than in the Tampa area. Therefore, less damage could likely result regardless of the built environment for wind impacts.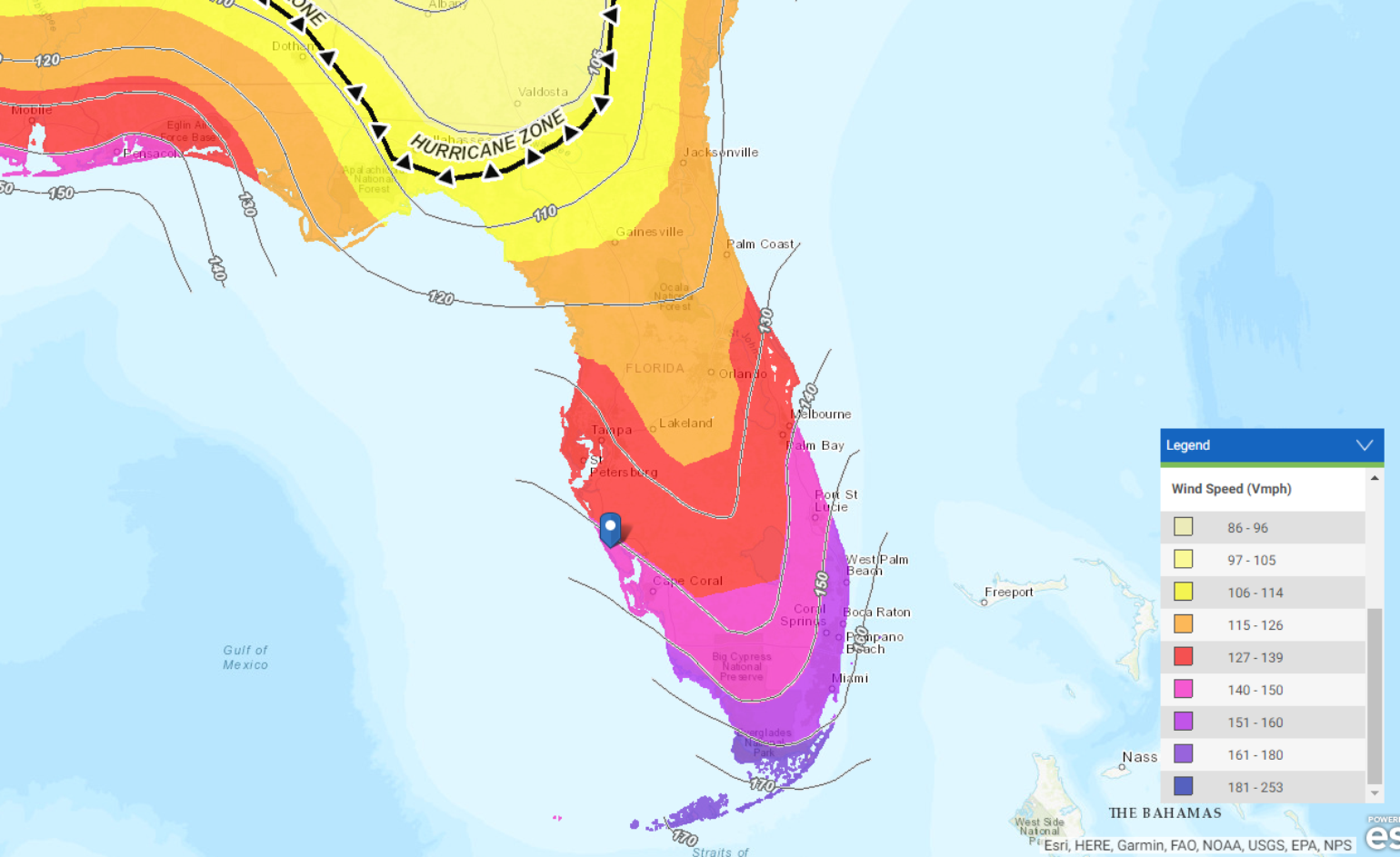 With the constant code changes in Florida comes some possible headaches for the insurance industry when it comes to roof damage. The current code reads as follows: "Not more than 25% of the total roof area or roof section of any existing building or structure shall be repaired, replaced or recovered in any 12 months unless the entire existing roofing system or roof section is replaced to conform to requirements of this code."
Why is this important? Because the IBHS just did a study for Laura that showed that the age of an asphalt shingle roof is likely the most critical variable in wind damage. Asphalt shingles—regardless of their wind rating—have a high probability of damage once they eclipse 10 years of age when subjected to wind gusts typical of a Category 2 or stronger hurricane on the Saffir-Simpson Hurricane Wind Scale. As asphalt shingle roofs age, the potential for damage increases regardless of roof shape and configuration (i.e., gable, hip, complex, slope, number of stories). By the time the roof reaches 10 years of age, its probability for greater than 25% shingle cover damage is near 100% in winds over 120 mph.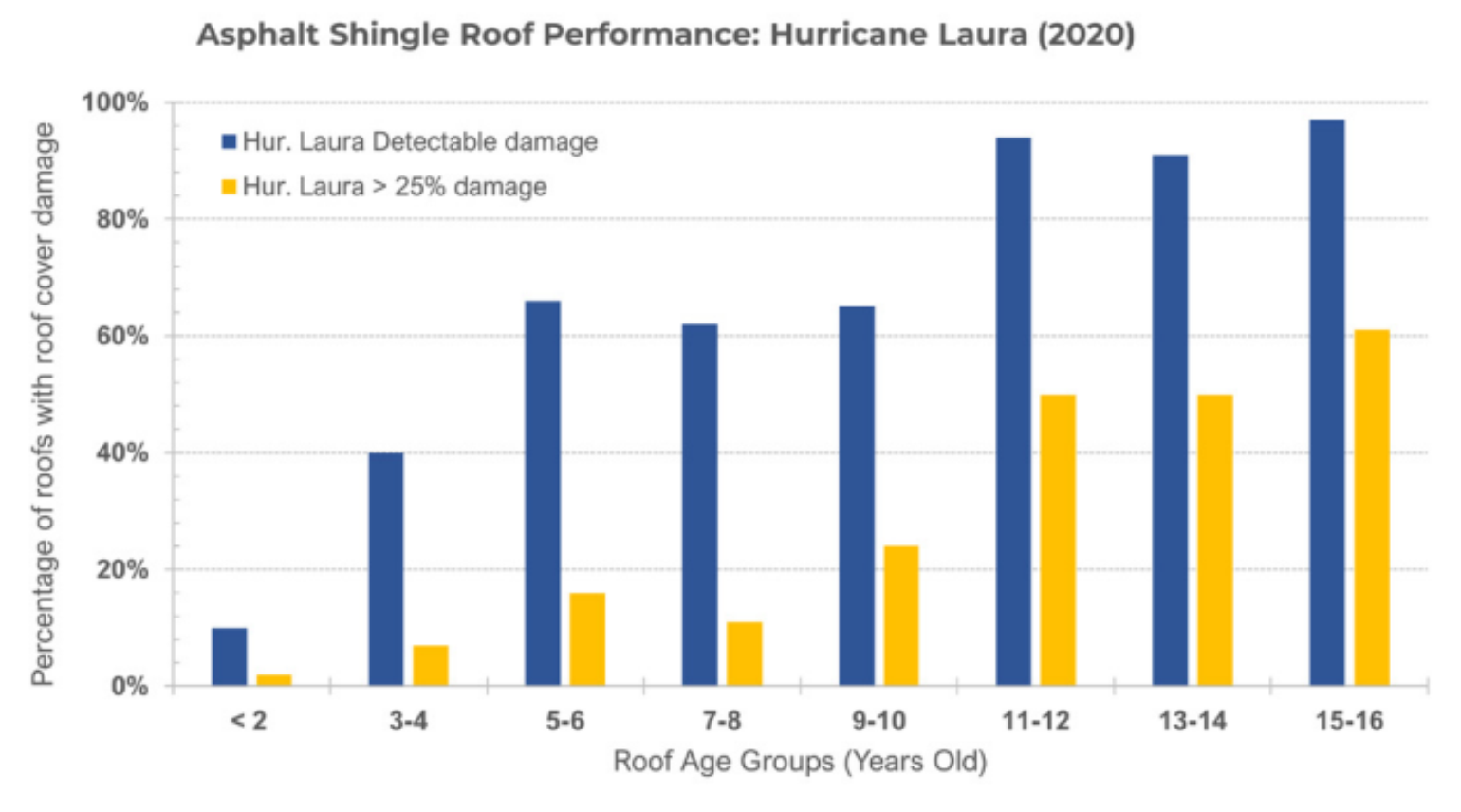 Overall, we know many roofs in Florida have undergone some replacement over the years, but the other thing to consider is the general building stock. The U.S. Census data shows us that the building stock is much older in Pinellas County with much newer stores in Hillsborough and Manatee Counties, which should conform to better overall codes and less damage as better building codes pre-Andrew can reduce loss by 72%.

https://twitter.com/StephenMSt...
Today the catastrophe risk modeling companies will be issuing model guidance going forward. Given the track uncertainty, a wide range of losses is expected from these results. However, given the various possible scenarios, a loss of over $10B dollars given the current forecast is almost a guarantee to the insurance industry. Further, this could include much higher losses if Ian comes into Tampa Bay as a Category 4 hurricane, which is not the forecast at this time. The current forecast remains that Ian will make landfall south of Tampa as a Category 3 hurricane.
Bottom-line:
There is more track certainty with an impact on Florida's west coast with a continued trend to the south and east with expected landfall between Tampa and Venice Beach, Florida.
As Ian becomes a major hurricane with some slight weakening before landfall, the overall energy transfer to the ocean will be significant, resulting in storm surge values that are higher than the general category of the hurricane at landfall.
Ian's wind damage will be a function of the track, building stock, and roof age. The IBHS data suggests that newer roofs will perform better, but the cut-off seems to be about 10 years.
Rainfall and tornado impacts should not be overlooked.
Expect a wide range of insurance industry losses that will likely end up being above $10B.