Mother Nature was active this past weekend as she provided various catastrophes impacting the insurance industry from Asia to North America. This BMS Re weather insight will look at a few of these events and give some views of what tropical troubles might pop up after Fiona starts to exist in the North Atlantic later this week.
Asia Impacts
On Friday last week, Super Typhoon Nanmadol was tracking toward eventual landfall in Southern Japan as one of the strongest typhoons in recent years. It had an observed landfall pressure in Kagoshima City, Japan, of 937.5 mb. This would put the typhoon in the top 5 regarding the lowest pressure at landfall (statistics since 1951). The strongest typhoon in terms of pressure is Nancy, which occurred in September 1961.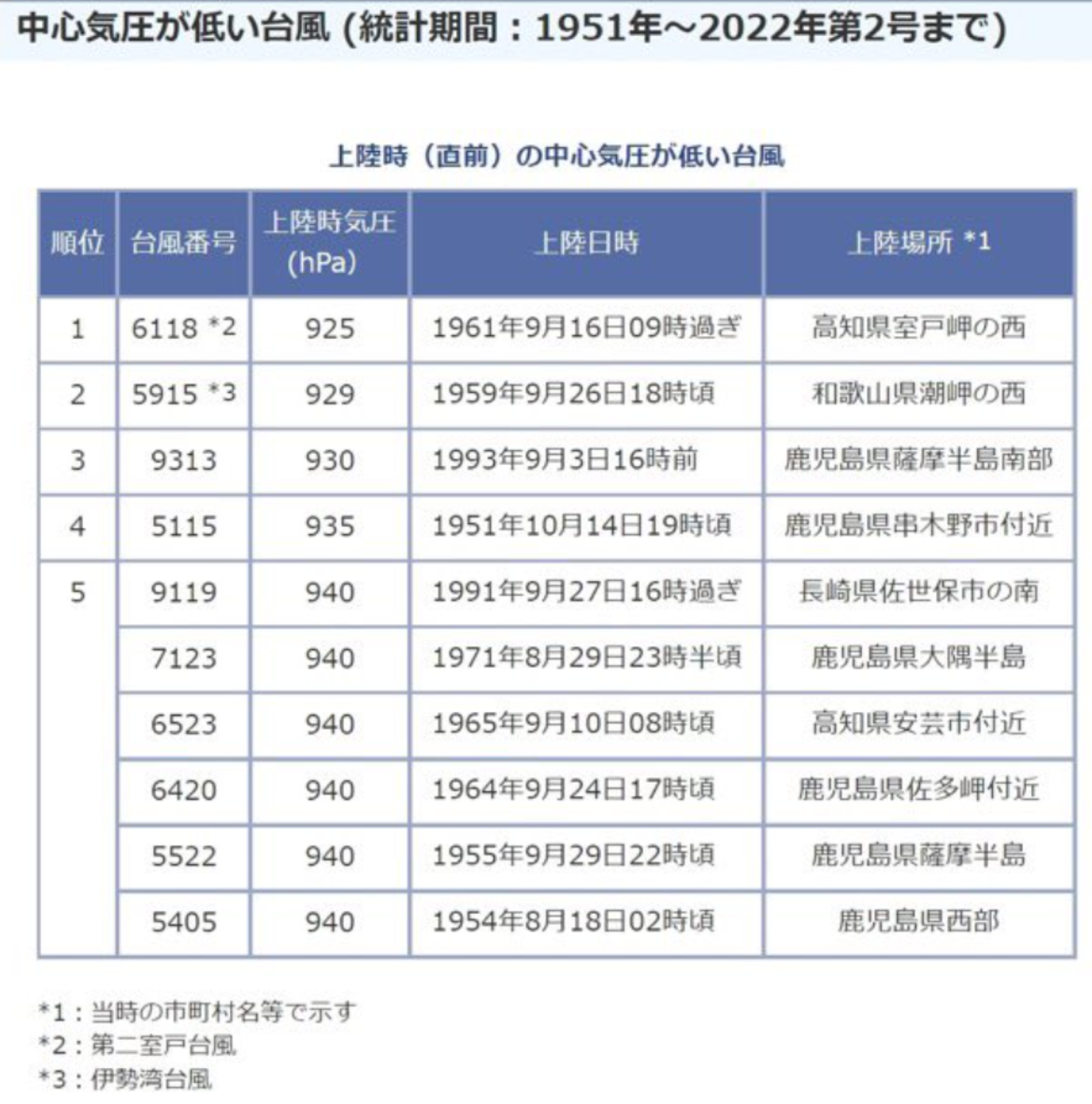 Impacts are still being assessed, but overall wind impacts might be minimal given the track of Nanmadol tracked over Kumamoto, which has a fairly sparsely populated coastline that includes a large Natural Park. We cannot forget that Japan's overall infrastructure and buildings are reinforced to withstand earthquakes that frequent the region. Although wind impacts might be minimal, the rainfall impacts could be far and wide as Nanmadol seems to be tracking much slower than forecasted. It has already dropped rainfall totals of over 726 mm (28 inches) in Miyazaki Prefecture and flooding and landslides are also expected increase as it is forecasted to track along much of the nation. All of this could add up the overall expected insured losses. Still, at this time, it does not appear that losses will be as high as recent typhoons such as Jebi (2018) (12+B USD) and Hagibis (2019)(8B USD), which hit more populated areas of Japan, causing significant disruption to the insurance and reinsurance industry.
Earthquake And Storms
As mentioned, Japan is built to withstand earthquakes. At the same time Nanmadol was making landfall a powerful 6.9 earthquakes struck 50 miles Southeast of Lugu, Taiwan, a more minor 4.5 magnitude earthquake struck central Alaska, and the remnants of Typhoon Merbok turned into a powerful extratropical mid-latitude cyclone and impacted Alaska's West Coast. This coastal storm was likely the most powerful storm to impact the region since the 2011 Bering Sea Superstorm. Observations show that many coastal towns have had their worst coastal flooding in 50 years, with many high-water level records broken across the region. With water and waves causing a lot of the damage, peak wind gusts from this storm were also significant - with wind gusts reaching 91 mph in Cape Romanzof, AK and further North in Nome, AK seeing a gust of 56 mph.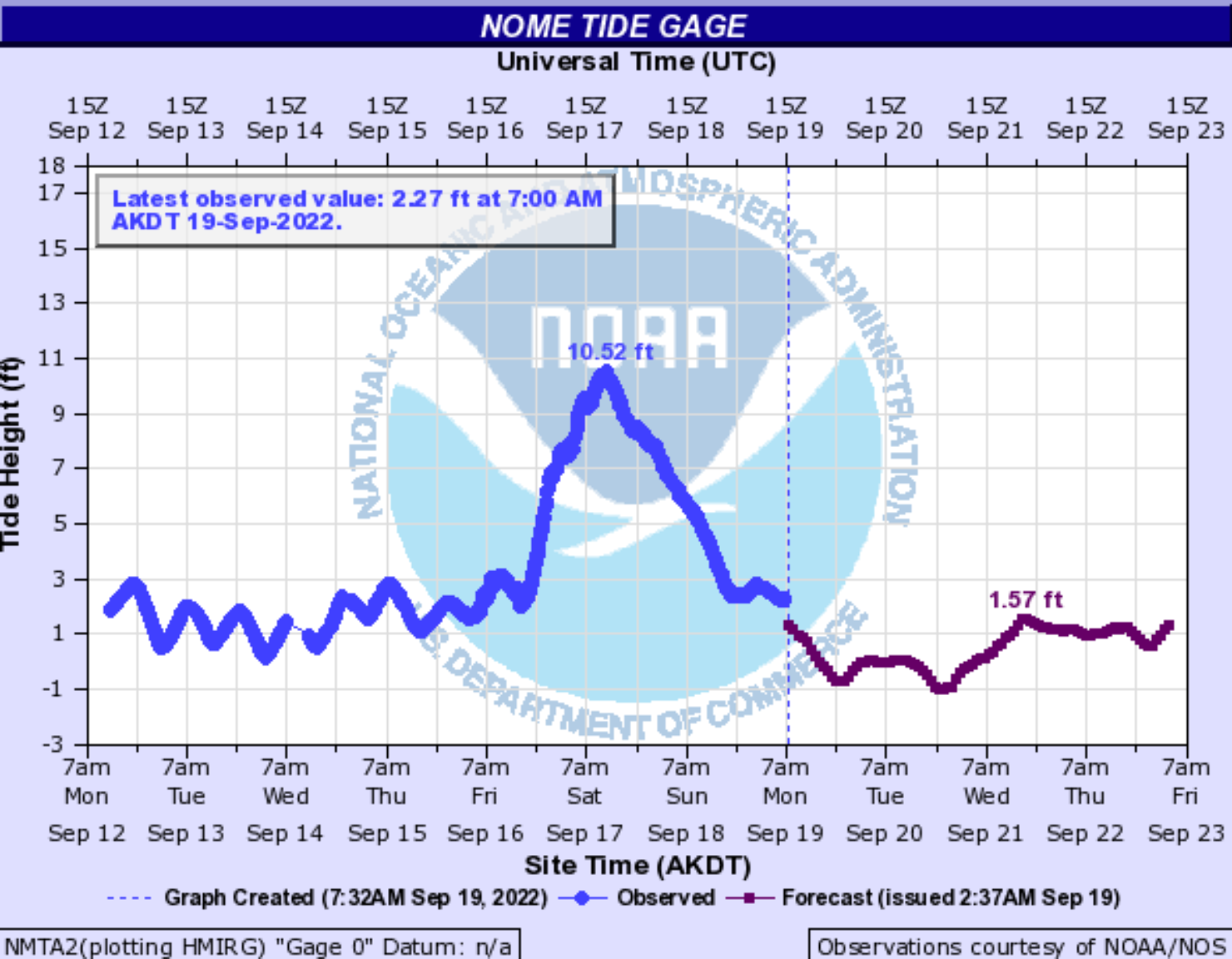 One of the difficulties in understanding this major storm's overall impacts in western Alaska is the lack of real-time tidal observations. About 1,000 miles separate the observations from Nome to Port Heiden, AK. There are dozens of small isolated communities that have been impacted by high water. Based on the readings at Nome, which topped out at 10.52 feet, the water level along much of the coastline likely exceeded both the Superstorm in 2011 and another storm in 2004. The highest water in the modern era was approximately 12' from a significant storm in 1974. Social media and reports have verified that considerable impacts have occurred to many coastal communities that will have significant clean-up and a very short time to get resupplied in time before dark, cold winter is fast approaching.
North American Impacts
Not much media attention has mentioned the much-needed rain that had soaked parts of California this weekend. This will only temporarily relieve some of the firefighting efforts and record warm departures the region has seen. However, this has also triggered flash flood watches over recent burns scars like the Mosquito Fire. This rain is welcome, no doubt, but the wildfire season out west is still ongoing, and the rain will likely only be temporary and could increase fine fuels like fine grasses in the months ahead. The insurance industry knows all too well that the Santa Ana wind is just getting started. As evidence of this, 13 of the top 20 most destructive California wildfires occurred in the months of September through December, with the majority of these coming in October.
While spring is the most active time for severe thunderstorms across the United States, autumn brings another heightened risk of severe weather, particularly across the Southeast. This second peak of the severe season happens in the fall because the jet stream starts to shift southward in response to the Northern Hemisphere cooling off. Severe thunderstorms during the fall can be just as violent as those in the spring, bringing the threat of tornadoes, damaging winds, and flooding downpours. We are a bit early yet to see the severe weather season in the southeast, but parts of the Upper Midwest this weekend were active with hail and wind reports.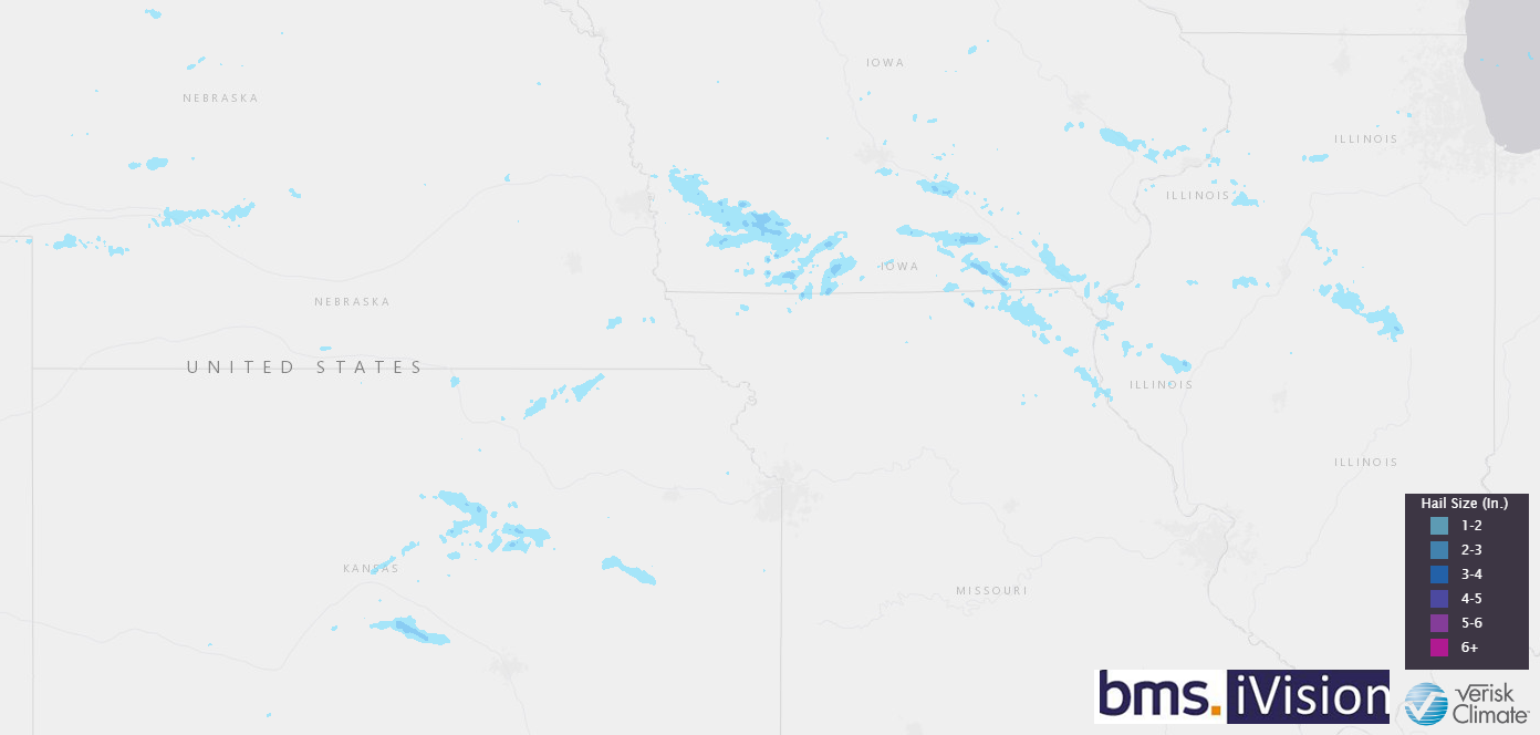 BMS iVision uses Verisk Respond Severe weather attributes to help insurance clients understand the impacts of hail and high winds from severe weather events. Above is Verisk Respond hail size swath showing the area likely impacted by large damaging hail.
As of the end of August, severe weather losses are running about 139% percent above the normal 10-year average but are nowhere near the high loss years of 2011 and 2020. However, the concern is that with a La Niña in full swing in the Central Pacific, fall severe weather tends to be more active with an active jet stream. This could indeed be another factor to impact the insurance industry as the year closes out.
Fiona Insurance Industry Impacts
While Fiona seems to be getting most of the media attention out of all Mother Nature rath this weekend, it is for a good reason. Fiona is yet again a reminder that the storm category does not tell you what damage could be. The geography and vulnerabilities of the communities are critical in determining impacts. Just like Hurricane Harvey (2017) and Hurricane Ida (2021), rainfall and flash flooding are often undervalued risks from named tropical storms, especially weaker storms. Rainfall amounts observed across Puerto Rico and the U.S. Virgin Islands have been impressive, with several areas in very mountainous terrain receiving 18 – 25" rain. This amount of rainfall has caused impressive high-water records for areas of rivers, and there are already numerous reports of landslides across the country.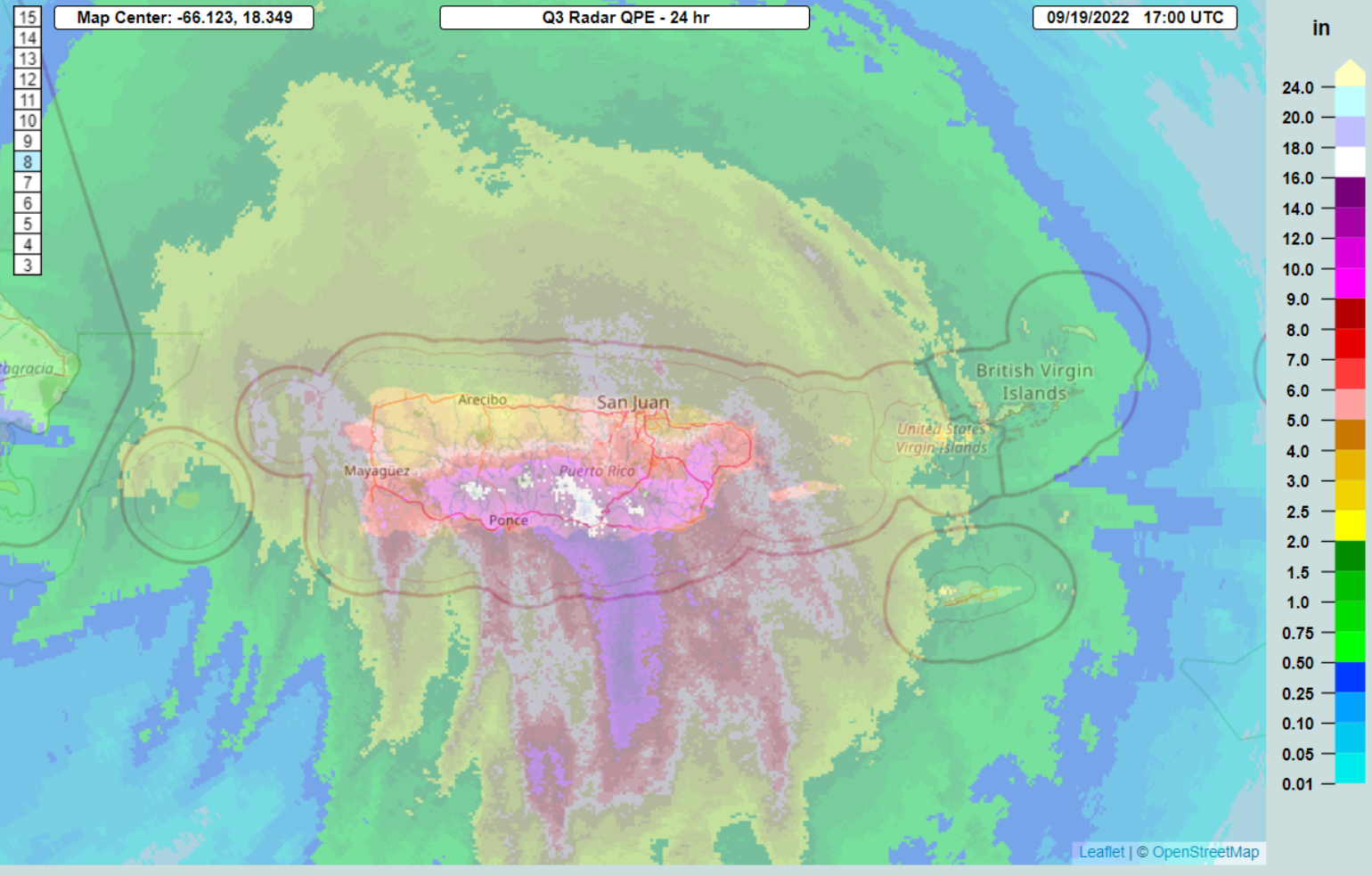 The best analog to the Fiona impact could be Hortense in 1996, which took a similar track to Fiona and had a similar look to satellite imagery and category of winds along with similar wind impacts. In today's dollars, Hortense would result in an insured loss of over roughly $240M.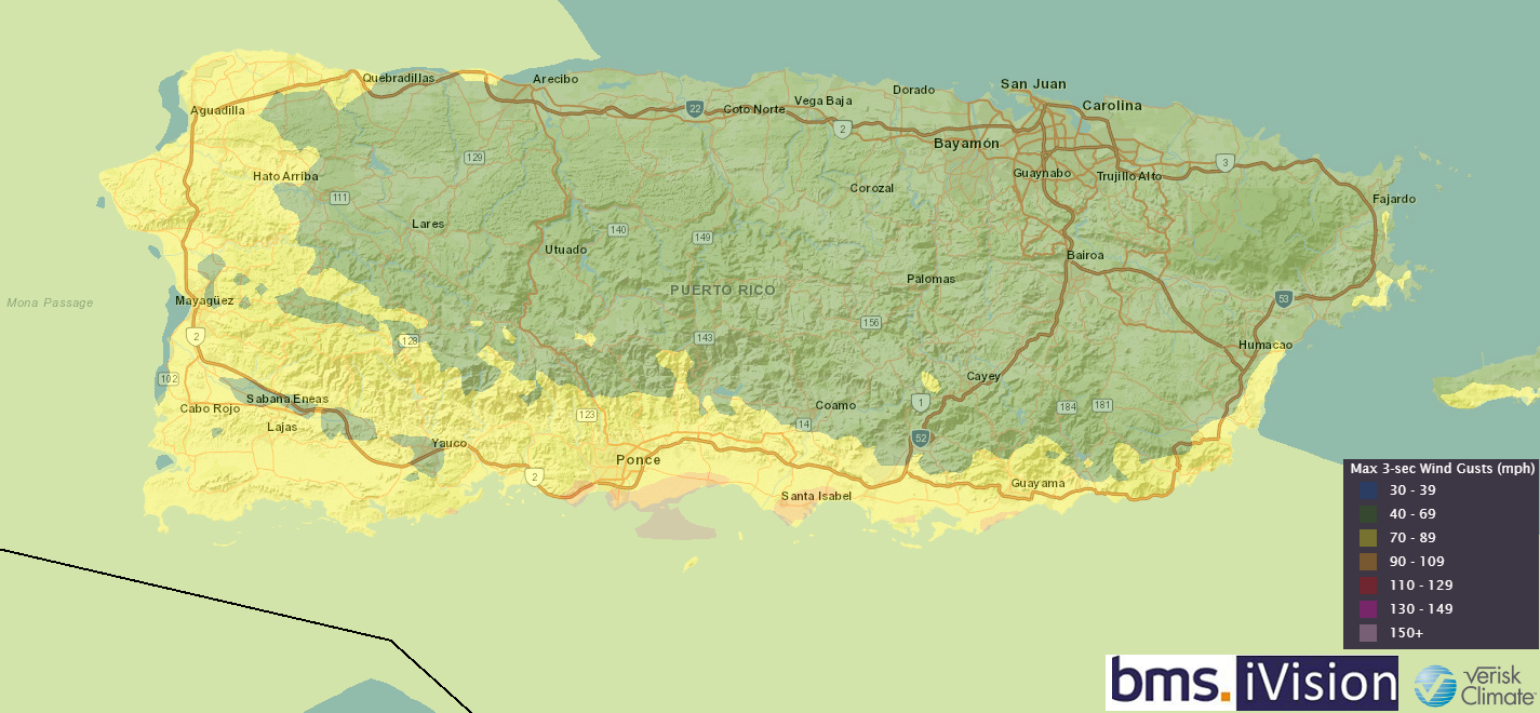 Above is the BMS iVision 3-second wind swath that allows BMS clients to get high-resolution wind impacts on their portfolio of risks. The wind swath shows that the coastal sections and populated town of Ponce, Puerto Rico, along the south-central coastline, had the highest wind gusts as Fiona took a left turn along the southern coast. Much of Puerto Rico is without power, but it should be noted that the overall power system was very fragile before Fiona's impact. Still, these outages will raise concerns about Fiona's widespread effects on the insurance industry.
Overall, wind impacts seem fairly minimal once again; some of these structures are built to withstand earthquakes which is a reminder that as recently as 2020, southwest Puerto Rico was rocked by several major earthquakes. There might be questions as to if these earthquakes provided preexisting damage or weakened structures or if there was enough time between the earthquake sequence and Fiona's landfall to provide more structural integrity to structures. But in general, Category 1 winds in Puerto Rico nation are not enough to cause considerable structural damage. Regardless, the overall power outage situation, which was already very fragile ahead of Fiona's impact, is a big question mark. After hurricane Marina (2017), there was a significant overhaul from Puerto Rico Electric Power Authority ("PREPA") to LUMA energy, however, there have been continuous and countless problems. This morning, 1.3 million customers are without power out of 1.4 million. In fact, at one point yesterday, the entire island was without power. So clearly, the overall large-scale lack of power will further complicate the insured impacts and raise the question as to how overall insurance industry losses will develop from Fiona.
Fiona unexpectedly tracked over the western section of the Dominican Republic overnight. Unlike parts of Puerto Rico and central Hispaniola, the eastern part of the island is relatively flat, so Fiona is not expected to weaken much. Once Fiona starts tracking towards the Turks and Caicos, rapid intensification is possible. Fiona will likely reaching a solid Category 3 or even Category 4 as it approaches Bermuda. This could be critical as it would appear Fiona will track to the western side of the island, putting the strongest wind in the island's path depending on how close Fiona tracks to the island. Hopefully, the unexpected jog overnight further west has bought the island nation more room with a track further west. This storm track will be closely watched in the coming days, and although the island is very well built, this could still cause severe destruction to the island, which is home to many of the world's reinsurance capital.
What are the Next Tropical Troubles?
After Fiona exits the North Atlantic as a powerful extratropical storm, possibly impacting Newfoundland, Canada, the next area of tropical trouble is currently in hostile condition in the Main Development Region near 45 degrees west. It certainly is not much to look at right now, and the NHC does not even have it highlighted as an area of concern. Still, some long-range forecast ensemble models suggest it could be a feature to watch in the Caribbean after it clears through an area of stronger wind shear from Hurricane Fiona. The next name storm on the list is Gaston, and hopefully, this name does not live up to the bad reputation of the fictional character from Beauty and the Beast. However, anything that tracks into the Western Caribbean must be watched, given the climatological peak landfall risk for parts of the Florida Panhandle and west coast of Florida is late September into early October. If something develops out of this tropical wave, it is still five days from entering the Caribbean sea and 10 – 12 day from any possible concern to points west and north.