Florence Event SummaryTropical Depression Florence is now transitioning to a non-tropical weather system, but it's still dumping rainfall over North Carolina and Virginia. As the historic rains and flooding slowly ease up along the North Carolina coast and the population is gradually let back into their communities, the insurance industry will now begin to get a better sense of the damage. It should be noted, however, that travel in this general area is still very limited, and it could be days before the first notice of loss is provided for some risks.
Radar loops have been finalized for #Florence, and include a 24-hour loop for landfall and a 104-hour loop to cover its slow trek through #NorthCarolina and #SouthCarolina. Please visit https://t.co/vWICHS7kHl @UMiamiRSMAS pic.twitter.com/8jixg0mR1C

— Brian McNoldy (@BMcNoldy) September 17, 2018
The National Geodetic Survey (NGS) has provided its first post-event aerial imagery, which can be found here. They still have yet to fly over the hardest hit areas, but it's expected that these images will be added over the coming days. Other high resolution images can be found here.For many, the weekend winds were not the problem as Florence moved slowly across the Carolinas. At this link provides some of the official top wind gusts observed across the multi-state region. The top observed wind speed was 112 mph gust from a Buoy 30 miles south east of Topsail, NC. Onshore the highest wind gust continues to be 105 mph as observed at Wilmington Int'l. Airport.The wind gusts, however, may only be half of the problem as the long duration of strong winds will likely increase insured losses. A low level wind event of long duration can inflict just as much damage as a shorter and stronger wind gust event. Another thing to consider is that many of our building design codes and vulnerabilities built into the catastrophe models are developed around the gust. This will result in a bit of uncertainty around the loss estimates within the catastrophe models.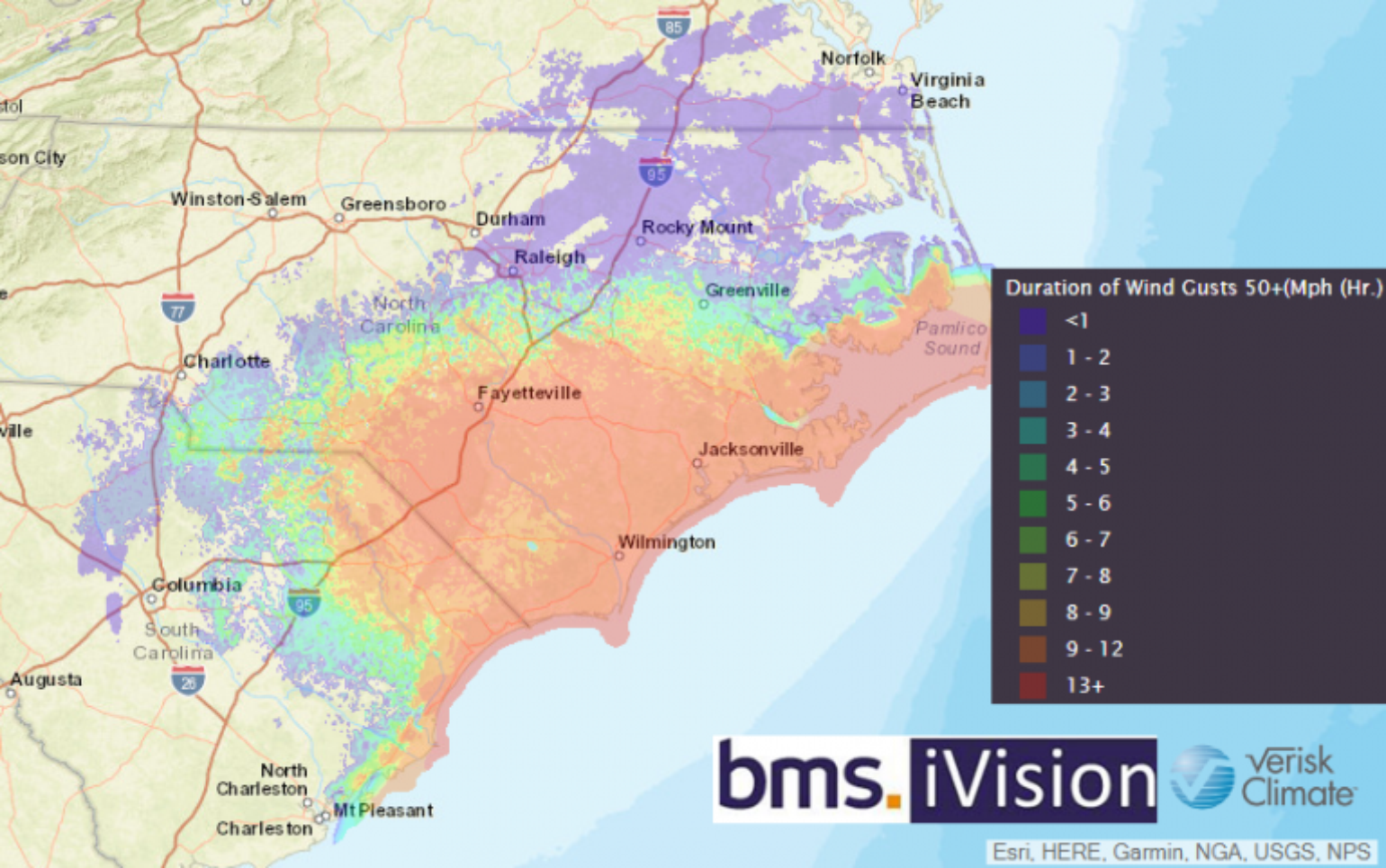 Broken Rainfall Records
Unfortunately, the rainfall forecast has played out as expected. Numerous locations in southeastern North Carolina have endured more than 20 inches of rain, with Onslow and Carteret counties being hit particularly hard. At least twelve locations appear to have broken the state record for tropical storm or hurricane rainfall, exceeding the 24.09 inches that fell near Wilmington during Hurricane Floyd in 1999.
Here is the selected preliminary storm total rainfall in inches from 2:00 p.m. EDT, Thursday, Sept. 13 to 10:00 a.m. EDT, Monday, Sept. 17. It should be noted that the Elizabethtown, NC total of 35.93 inches is the most for any tropical storm or hurricane along the East Coast north of Florida, and this represents a new 2-day and 3-day rainfall record for North Carolina. However, it does not appear at this time that the 24-hour rainfall record for the state was broken. It's still likely that higher observation totals could result, as reports are still rolling in. It wouldn't surprise me to see a total value of around 36 inches eventually being reported. Further south, the town of Loris, SC posted a preliminary total of 23.63 inches, which is a new rainfall record from a tropical system in South Carolina.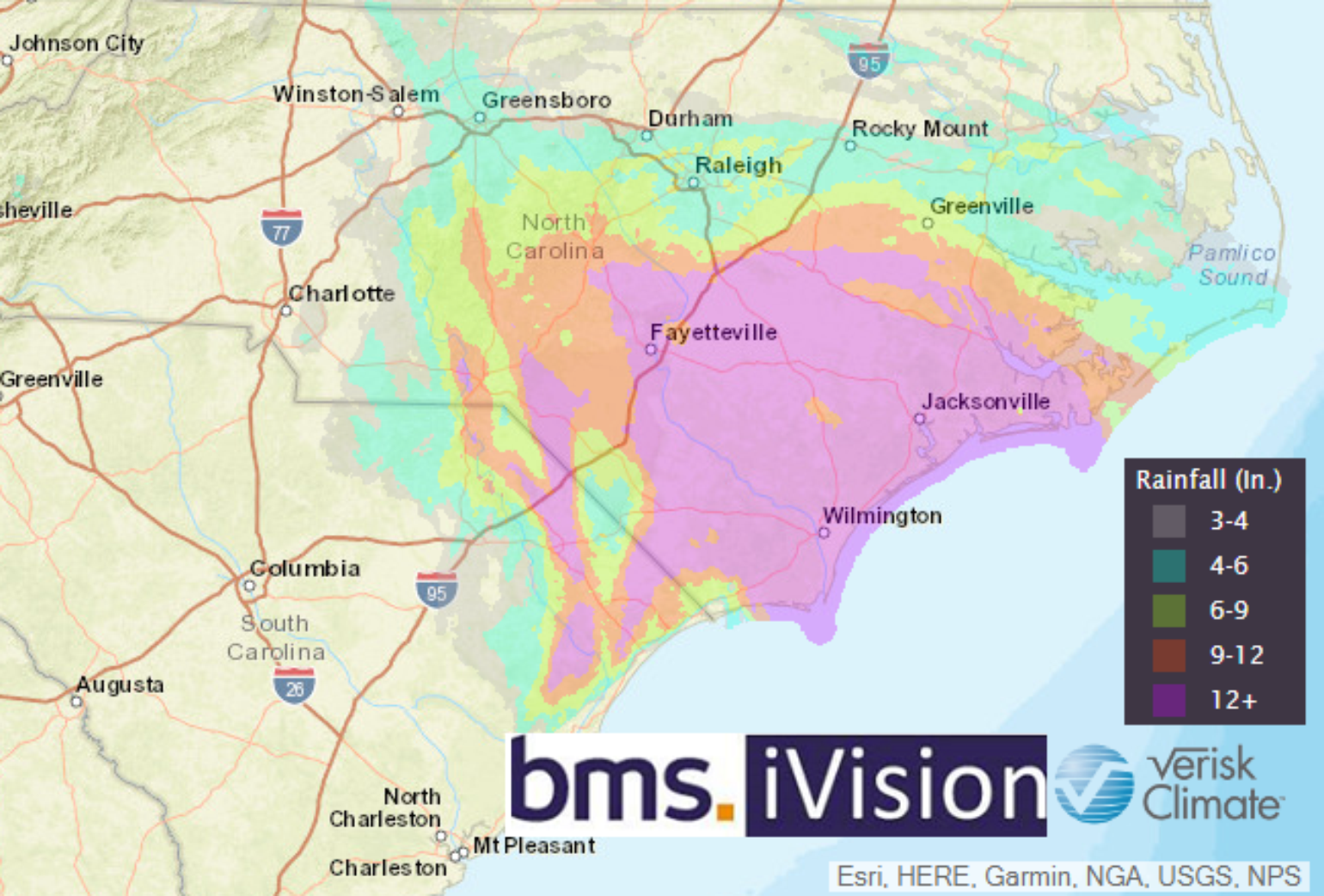 The river water is starting to recede in some areas, but some areas could see the water level continue to rise as the water moves toward the coast. For example, the Cape Fear River in Fayetteville, NC is already at flood stage and is forecasted to rise to 62.3 feet by Tuesday morning. Water levels along the Lambert River are also expected to rise.
River level information can be found at the National Weather Service site here. Some online maps, such as Google Maps, the NC DOT, provide road closure information which helps to illustrate the areas that are experiencing high water.
Insured loss
The National Flood Insurance Program (NFIP) will bear the lion's share of losses, and it's apparent that a large protection gap exists with the very low NFIP take-up rate that we have previously mentioned. It's still unclear if this level of flooding will have an impact on the catastrophe bond and reinsurance programs that help the NFIP with recoveries. The various insured loss estimates that have been publicly released from the modeling companies range from $2.5 billion to $5 billion in insured loss.
What Tropical Troubles Are Next?
A recap of the Atlantic basin tropical cyclone outbreak that occurred over the last two weeks via @NHC_Atlantic graphical outlooks. A total of 5 named storms, 3 hurricanes, and 1 major hurricane formed which brings seasonal totals to near average. pic.twitter.com/aKb2SABx7s

— Tyler Stanfield (@TylerJStanfield) September 16, 2018
I mentioned several times last week that, overall, the tropical troubles in the Atlantic Ocean would be shutting down this week. In fact, today is the first day since August 31 that the Atlantic Basin is not generating ACE (Accumulated Cyclone Energy), which means the basin should have a few quiet weeks ahead. The only area of concern for the insurance industry at this time is the remnants of Isaac, which are located just south of Jamaica. Overall, the chances for formation are very low as the system moves toward the Yucatan Peninsula. Tropical Depression Joyce in the far eastern Atlantic continues to lose organization and should dissipate in a few days.
Although the Atlantic will be quiet for the next few weeks, I don't think the season is done quite yet. A burst of upward motion could come back into the tropical Atlantic during the first week of October. This would correspond climatologically with typical development originating in the western Caribbean Sea this time of year instead of coming off the coast of Africa.