The content below is the same as what was sent in the e-mail.
According to the National Hurricane Center, at 7:15 a.m. EDT today, Hurricane Florence made landfall at Wrightsville Beach, NC, just east of Wilmington, NC, the largest city in the area with a population of just over 117,000. Florence came ashore with winds of 90 mph and a central pressure of 958 MB. However, as many in the media have communicated, the storm surge impacts are likely to be similar to a major hurricane at landfall.
Wind Observations
Many areas along the coastline have experienced tropical storm-force winds for over 24 hours now, and by the time Florence moves inland, some areas will have had well over 24 hours of hurricane-force winds. There are numerous reports of wind gusts over 80 mph and a handful over 90 mph. The highest wind gust I have seen reported is 105 mph at the Wilmington, NC airport, which is the second-strongest wind measured at that location in 60 years. The strongest ever recorded was 135 mph during Hurricane Helene in 1958. It should be noted that there could be even higher wind gusts, as all observations at this point are preliminary.
Below is the BMS iVision wind swath provided by Verisk Weather Solutions, which shows the extent of the three-second wind gusts along the coast and how far inland hurricane-force gusts could be observed.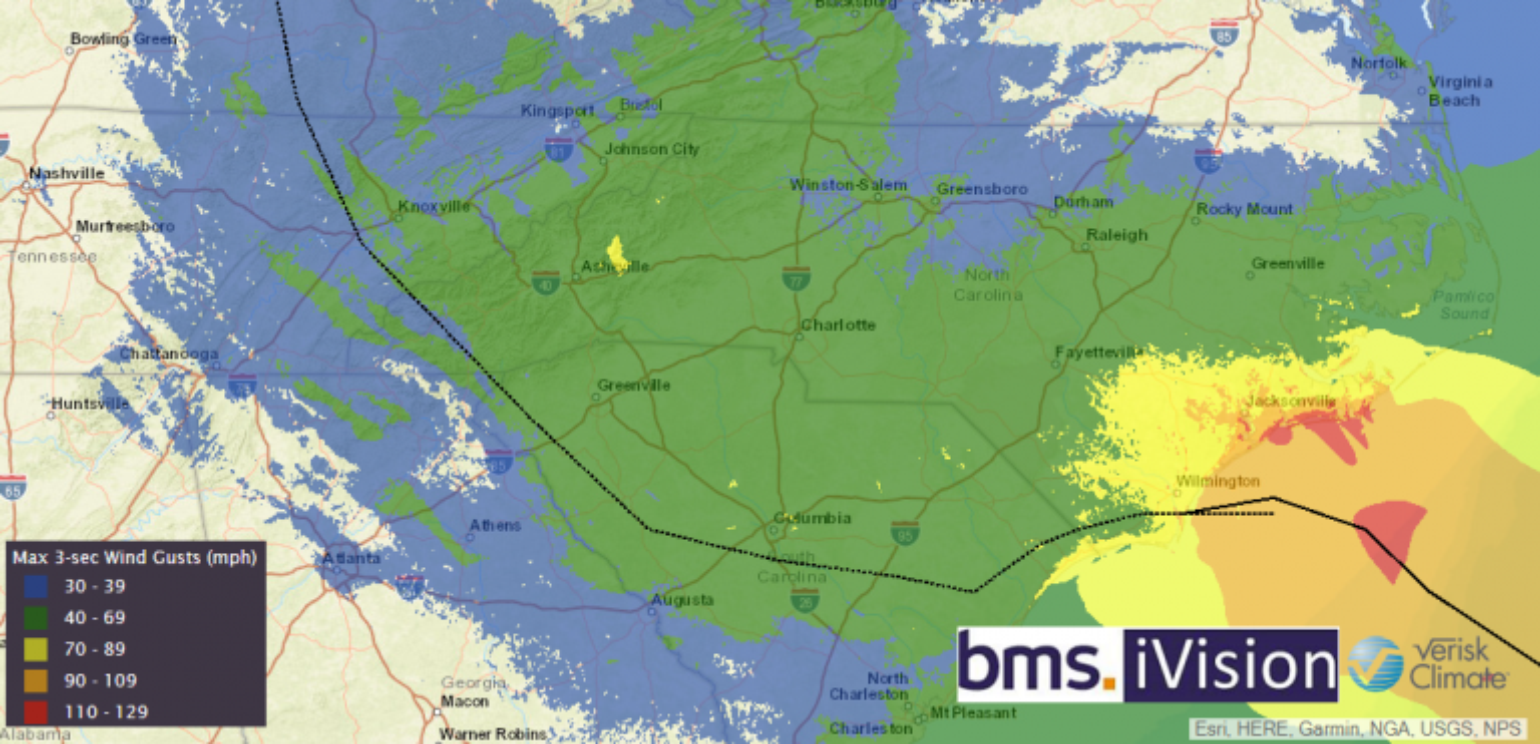 BMS iVision additionally has other severe storm attributes, such as rainfall and wind duration over 50 mph.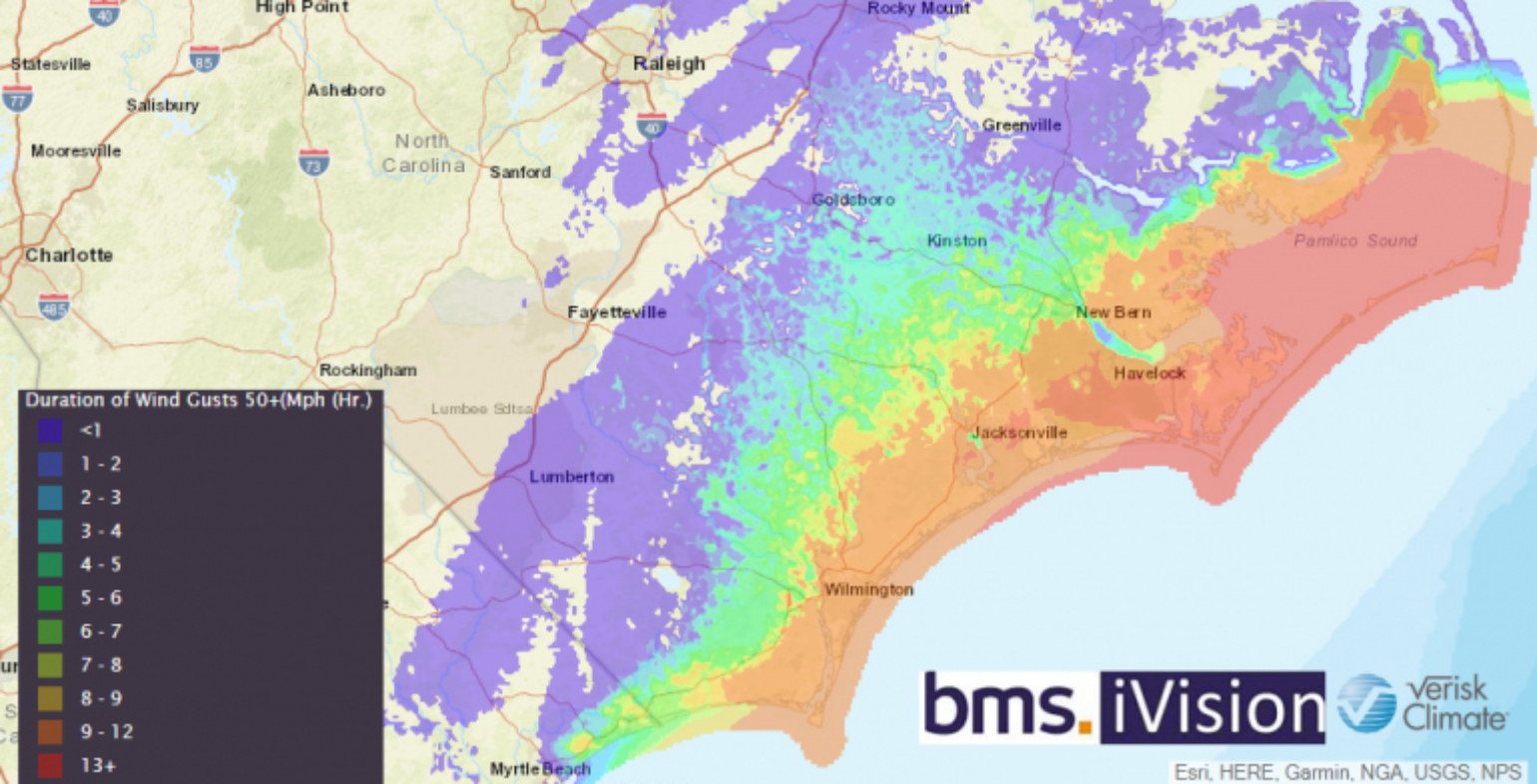 At this point, according to poweroutage.us, there are approximately 575,00 power outages reported across North Carolina and South Carolina with the number growing each hour.
Tornadoes
So far, the Storm Prediction Center has only received one report of a tornado. However, as Florence tracks inland, it is expected that tornadoes will become increasingly likely today in the northeastern part of the hurricane. A tornado watch remains in effect for portions of eastern North Carolina.
Surge Observations
Storm surge was expected to be a major problem along coastal areas, as Florence's slow motion and overall large size allowed for the constant piling up of water along coastal and inland waterways. Although observations of storm surge are preliminary, reports of six feet have been observed in New Bern, NC, which is 30 miles inland along the Neuse River. If the observations are correct, this is approximately two feet higher than the observation during Hurricane Irene in 2011, according to the National Weather Service in Morehead City. Observations of storm surge along the coastal section could be higher, as observations are limited at this time. However, since the worst of Florence came ashore as the overnight high tide was receding, overall maximum water heights may have been reduced.
Rainfall
The rainfall story continues to evolve with the highest observation coming from Atlantic Beach, NC, where 30.68 inches of rain have been witnessed over the last 24 hours. If validated, this would wipe out the previous state 24-hour rainfall record. However, some reports suggest this reading could be in error. There have been other reports of 12-18 inches in the last 24 hours, and this will undoubtedly create localized flooding issues. Since the storm just made landfall, expect much higher amounts by the time Florence finally moves inland, which might not be until Sunday morning.https://nc.water.usgs.gov/realtime/rainfall.php
Insured losses
Overall damage seems to be aligned with the wind speeds that have occurred, such as the occasional gas station awning being damaged, and siding and asphalt shingles being torn off residential structures. The damage could be higher than normal due to the long duration of hurricane-force winds. Along the coastal barrier islands, many structures have first floor flooding. But, keep in mind, many of the coastal structures are designed to flood and are typically only temporary living spaces or used for storage. Thankfully, the overall insured loss estimates are many times less than what was predicted earlier this week. Only a few catastrophe modeling companies have publicly provided loss estimates at this time, which range from $2B to $5B for wind and surge. It should be noted, however, that any loss estimates provided are preliminary, and the insurance industry is accustomed to loss estimates creeping up over time.
Looking Ahead for Tropical Troubles
Florence will slowly track westward into eastern Tennessee by Sunday night. By Monday morning, Florence is expected to be caught up in a trough of low pressure and should quickly move across the Northeast states during the middle of next week, resulting in a swath of 2 to 4 inches of rain along the Appalachian Mountains.
Isaac is currently a tropical depression and will likely be reclassified as an open wave. Currently, there is a 25% probability that Isaac comes back to life over Cuba, and if this occurs, it could have an influence on Florida or the Gulf Coast states later next week.
Overall, there has been a fair amount of activity lately. Keep in mind, however, that we are still four days from the actual peak of the hurricane season. It is all downhill from here. As I mentioned at the start of the week, the tropical Atlantic should begin to shut down any new activity in the coming days, but any activity that has already developed will need to be watched closely. The next expected uptick in activity should be the first or second week of October.