By Andrew Siffert – Vice President / Senior Meteorologist
Today's U.S. weather map has just about every type of weather possible. Summertime temperatures are along the East Coast and West Coast, leading to extremely critical extreme fire weather conditions in Southern California. The northern central plains have record-breaking cold with fire stomping snows in the central Rockies with a winter storm and a potentially damaging ice event across the southern plains.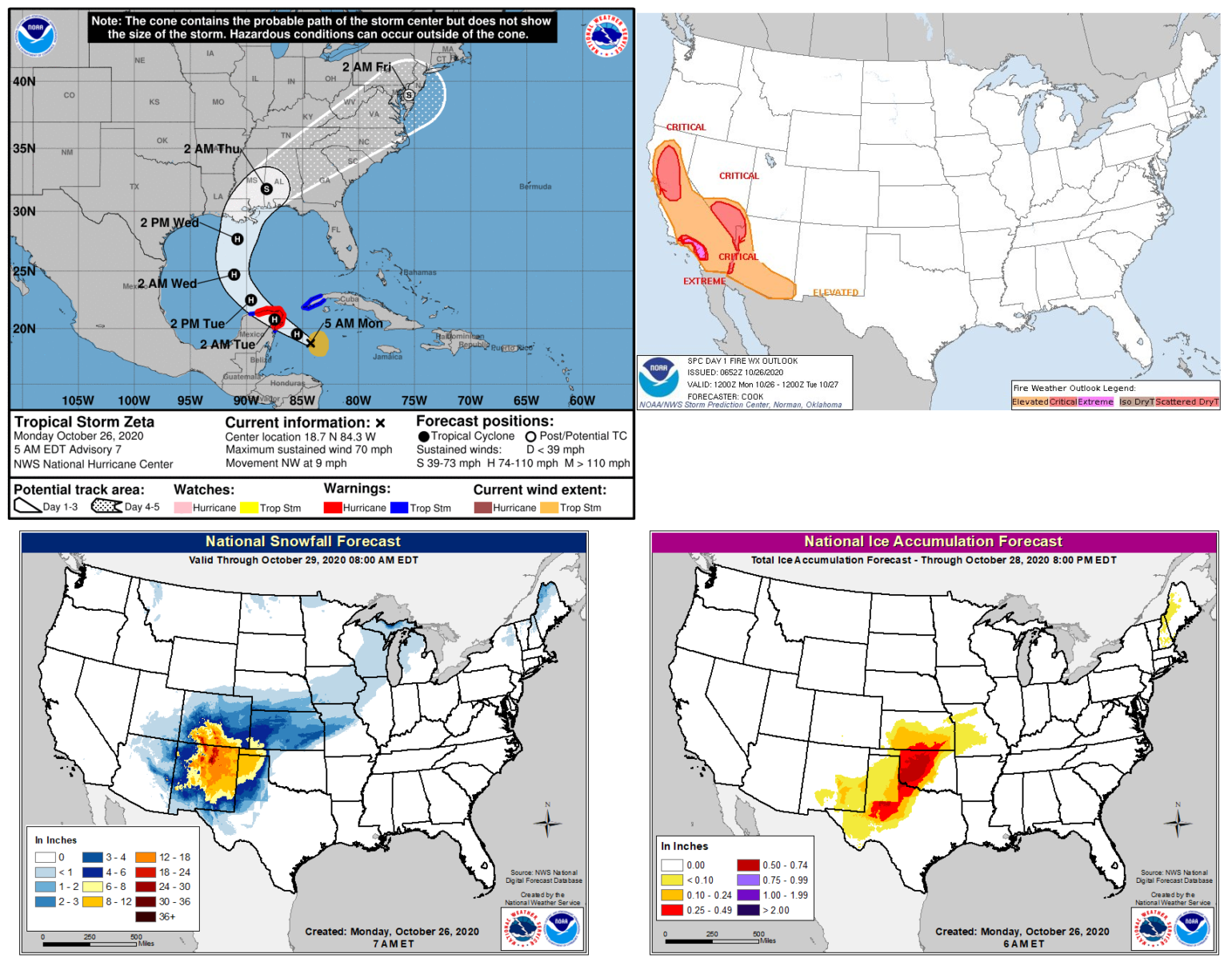 And of course, why not add a new hurricane into the weather pattern as the final month of the hurricane season approaches. While Hurricane Epsilon has tracked up past Newfoundland, Canada towards Iceland over the weekend, tropical troubles have been trying to get organized in the western Caribbean for the last week. This area is typically where tropical troubles would form this late in the season, so it should be no surprise that over the weekend Zeta has developed into a healthy tropical storm currently 175 miles southeast of Cozumel, Mexico. This is very similar to where Hurricane Delta ramped up to a Category 4 hurricane just a few weeks ago. The water in this area of the Caribbean is still very warm, and the wind shear is low providing the perfect conditions for named storm formation.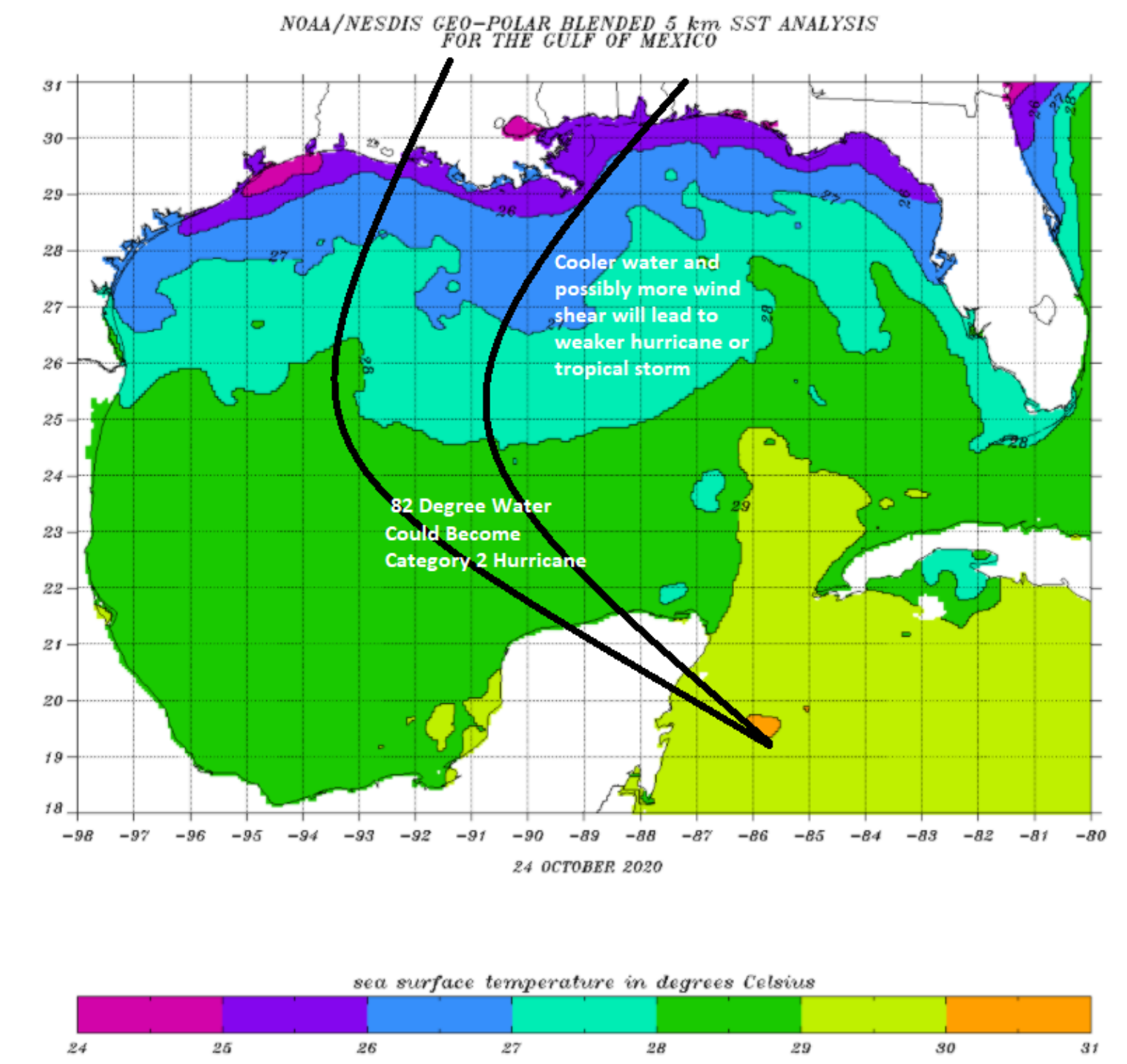 Zeta is strengthening this morning, and the model guidance suggests it will become a hurricane as it takes a very similar route that hurricane Delta did just a few weeks ago. However, unlike Delta, at this time Zeta should only be a Category 1 hurricane as it makes landfall south of Cancun, Mexico. This is still not good news for the heavily populated resort region of Mexico; however, Delta just 20 days ago showed that this area could handle a weak hurricane. However, it will still undoubtedly impact some of the resorts as auxiliary structures, trees, beaches which seem to take the most significant impacts from Category 1 winds. Long-term impacts on this region are not expected at this time.
The land interaction with the Yucatan will be crucial as to what happens to Zeta once it moves back into the southern Gulf of Mexico on Tuesday. Water temperatures along southern portions of the Gulf of Mexico can support a major hurricane, so similar strengthening to hurricane Delta should be expected; however, unlike Delta, it does not appear that Zeta will grow in size (radial extent) as Delta did. With Zeta being a much smaller-sized storm the maximum intensity will likely only be a Category 2 hurricane and the limited size could limit insurance industry loss impacts along the Gulf Coast, particularly storm surge impacts. Due to the uncertainty in the interaction with the Yucatan and the development of winter storm over the southern Great Plains, the model guidance has been shifting to the west over the last several days. On Friday, for example, the potential tracks had Zeta moving up toward the Panhandle of Florida, but the constant shift in tracks to the west seems to bring in the possibility that Delta could make another landfall in the already hard-hit state of Louisiana. In fact, the newest ECWMF ensemble model guidance from last night shows the real possibility that Zeta could make landfall within 10 - 20 miles of the same location as Hurricane Laura and Delta from this season. It should be noted the ECMWF has shown a leftward track shift several times this season that has not verified. For example, Laura had a shift into Houston, Texas, and Delta a shift into Port Arthur, Texas that did not verify. The National Hurricane Center forecast continues to offer a landfall over southeast Louisiana near New Orleans, which coincidentally has been one of the only areas of Louisiana that has not experienced the full effects of a named storm this season. This could indeed increase the insured losses given a large amount of exposure in the New Orleans and Baton Rouge area.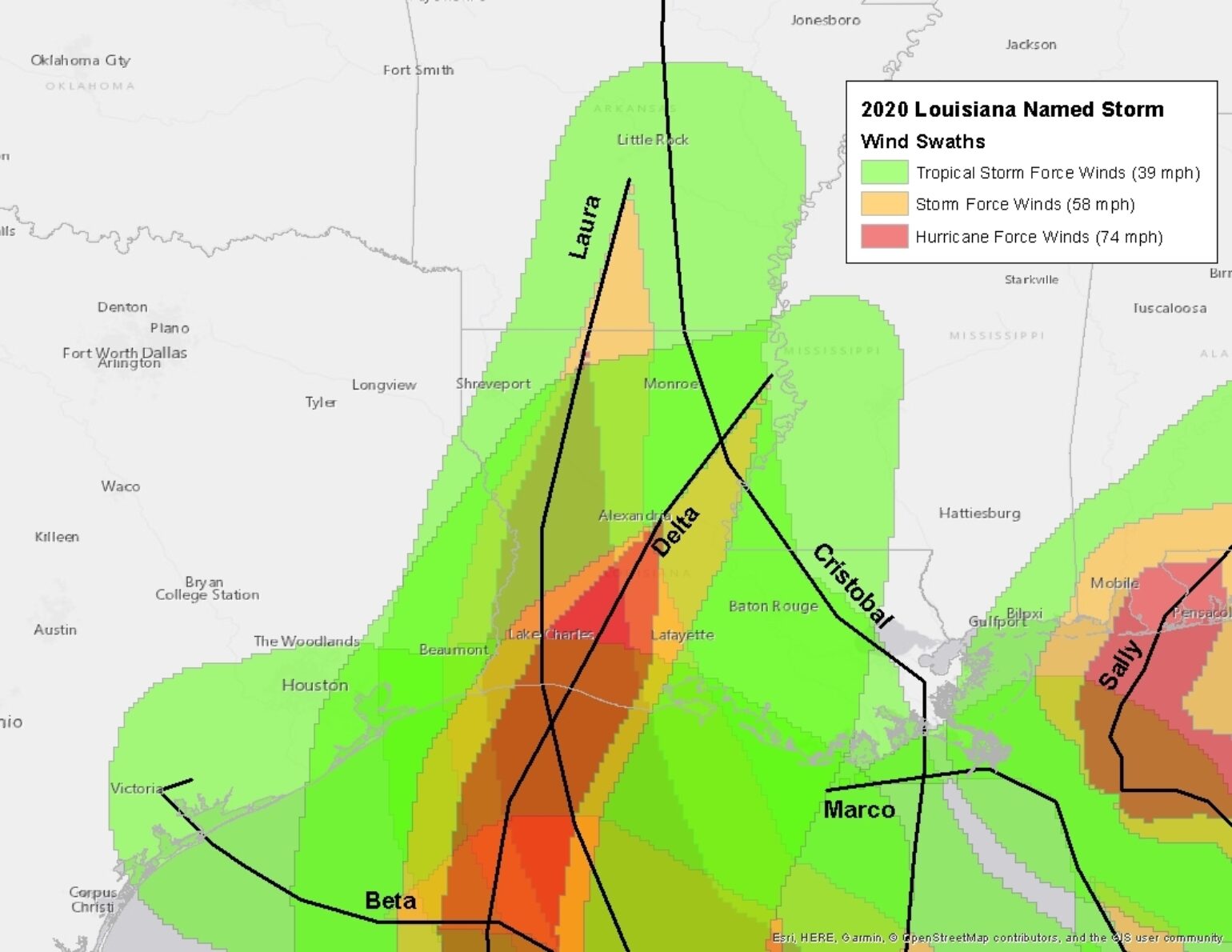 There is still some uncertainty in track and overall intensity, but provided that Zeta will be steered between an upper level low over the Texas Panhandle and a subtropical ridge over Florida, a strong tropical storm or Category 1 hurricane at landfall in Central and South Louisiana will occur this week. This would surely lead to more insurance industry losses to the area already recovering from several named storms this season. This would be the 8th landfalling storm on the Gulf Coast this season and the 11th landfall on the U.S. mainland this season. With one more month to go in the hurricane season, more storm formation will occur. In fact, there is a fair amount of long-range model guidance that suggests another 1 – 3 named storms could form in the Caribbean, as a very favorable upper air pattern stays in the Atlantic basin for at least the first part of November.