Hurricane Michael became the most intense hurricane on record to strike the Florida Panhandle when it made landfall at 1:00 p.m. CDT on Wednesday. It will also be among the most intense hurricanes to ever have hit the U.S. At landfall, the storm's 155 mph peak winds ranked fourth highest on record for a hurricane hitting the continental U.S., and the pressure was ranked as the third lowest (the lower the pressure, the stronger the storm), even below what was recorded during Hurricane Andrew in 1992.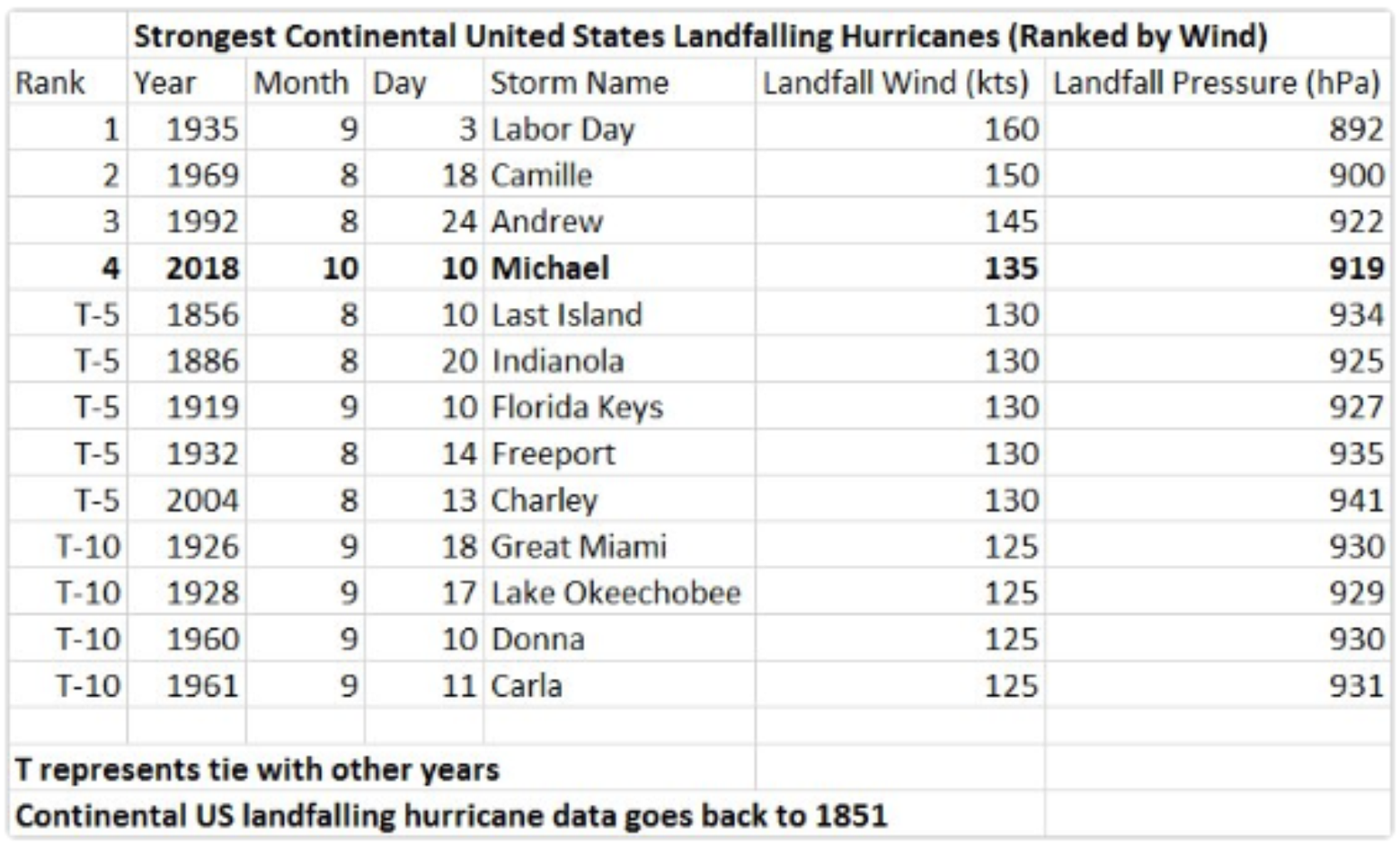 This is truly a historic event. As I mentioned yesterday, this storm was only a marginal threat six days ago when it first appeared on some of the long-range model guidance, which illustrates that the scientific community has a lot of work to do in terms of intensity forecasts. In fact, Michael's rapid deepening, which is defined as less than or equal to a pressure drop of 42 mb in 24 hours, is rare. Only 23 hurricanes in the last 38 years have done this, and Michael was the only hurricane to have this occur right at landfall.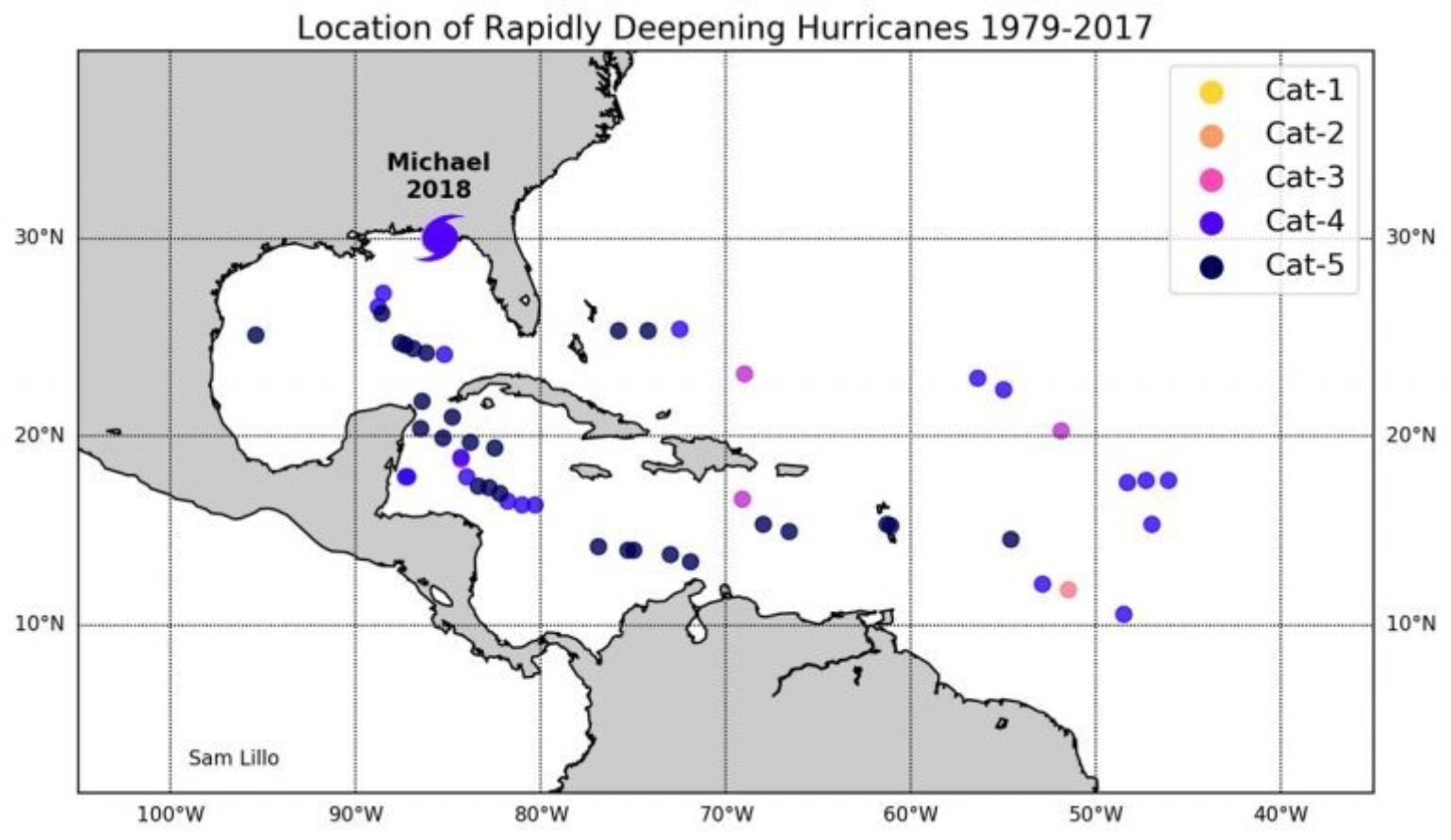 Hurricane Michael made landfall in Mexico Beach, FL, about 20 miles southeast of Panama City, as a high-end Category 4 hurricane, and I would not be surprised if it was upgraded to a Category 5 when the National Hurricane Center (NHC) conducts its final review of the data.
As the storm crashed ashore, winds gusted to as high as 129 mph along the coast from Panama City to Port St. Joe. The highest storm surge reading that has been observed so far was an inundated level of just over 8.57 feet in Apalachicola, FL - which is the 3rd highest on a new record. Other areas likely recorded their record highest.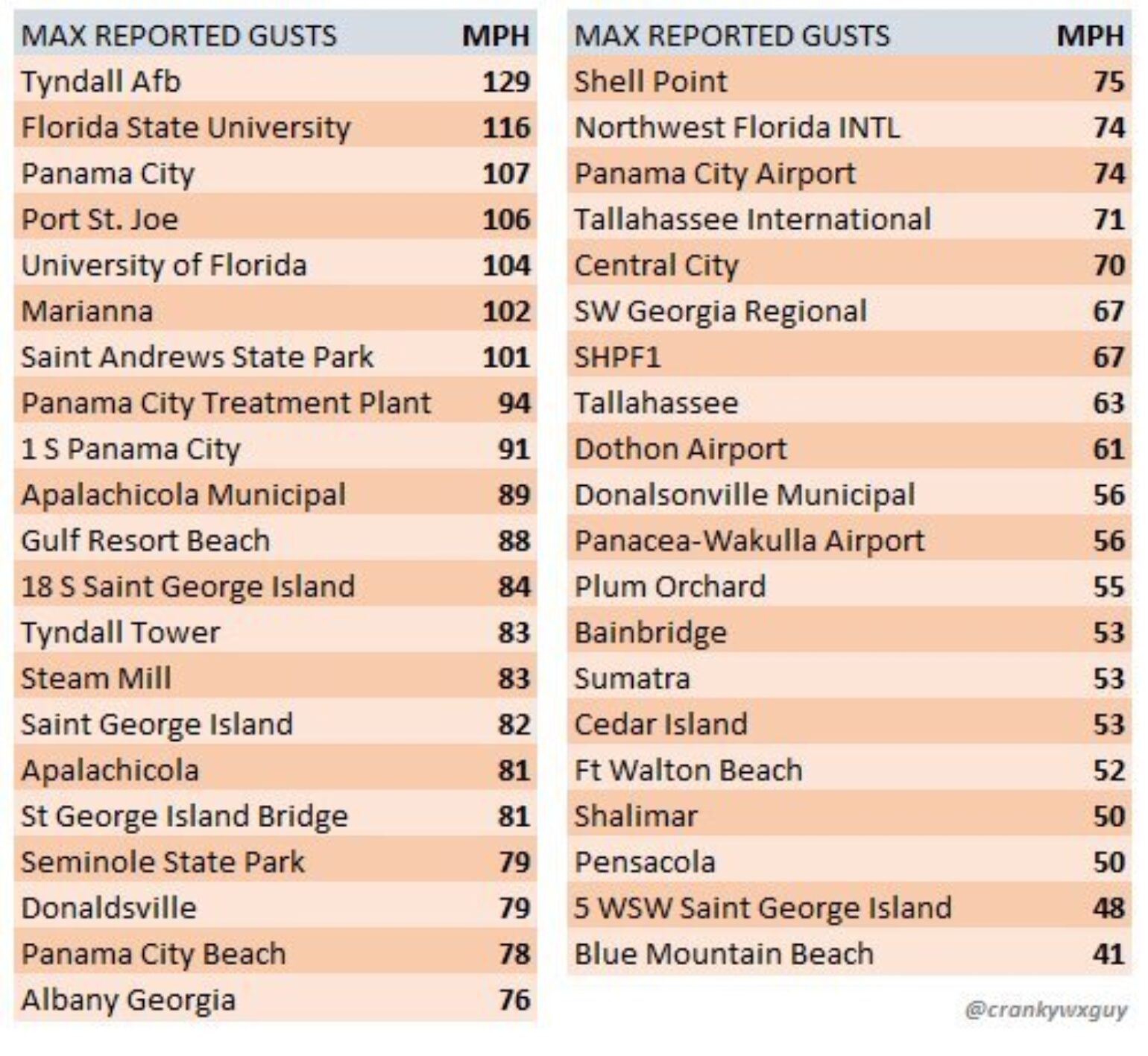 Much of the news coverage during landfall was in Panama City Beach, FL. However, the impact at this location was a picnic compared to what occurred just miles east and southeast down the coast where the eye of Michael made landfall. The heaviest damage appears to be in the towns of Callaway, Parker, Springfield, Mexico Beach, Port St. Joe and southeast Panama City, FL. This would suggest that the radius of maximum winds was relatively narrow at landfall (22 miles) and, thankfully, just inland from landfall, Michael tracked over a large sparsely populated area of mostly agricultural land and forest. However, that does not mean that some of the smaller towns or rural households did not see damage. For example, In Donaldsville, GA, which is 82 miles inland from Panama City, FL there was a recorded wind gust of 115 mph that still needs to be verified, but at least a 79 mph gust was reported . Blountstown, FL seems to have been hit particularly hard which is about 40 miles inland. The weather station in Albany, GA recorded a wind gust of 74 mph just before transmission failure occurred. In fact, to get an idea of where the worst of the damage might be, one just has to look at the lack of surface weather observations due to an absence of site reporting and power outages.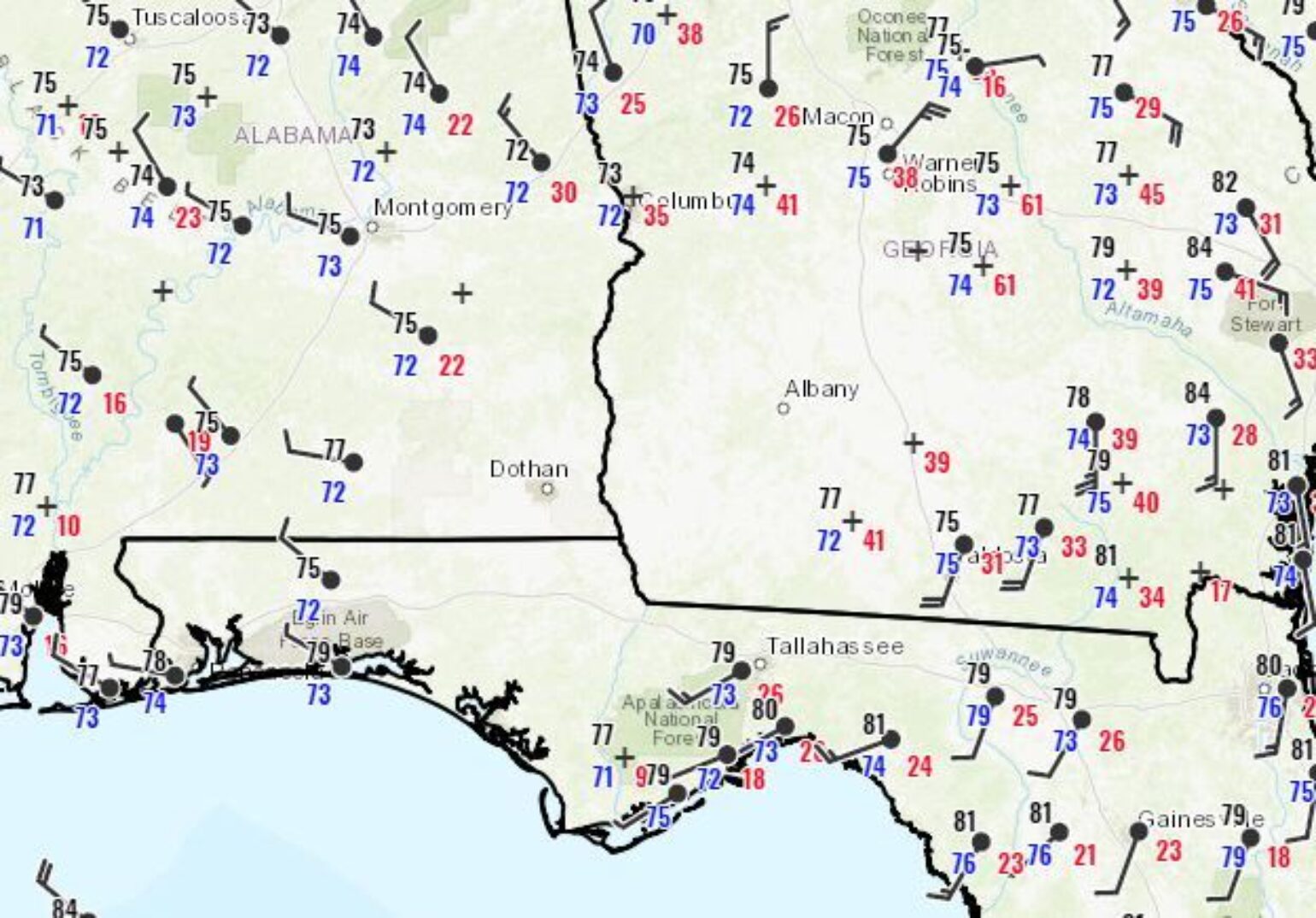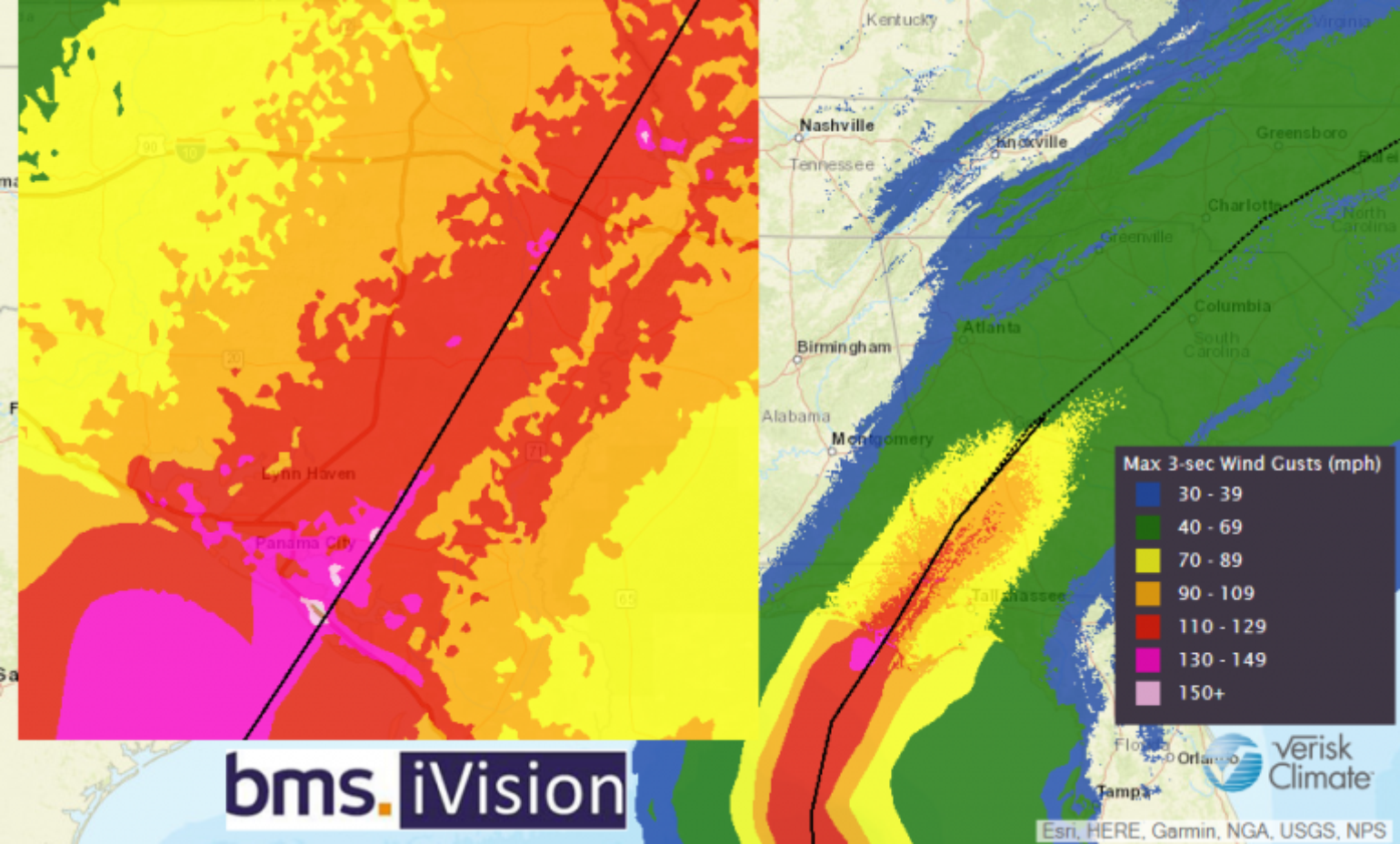 There are several reports of weather station anemometers breaking in the high winds, which is why it is possible that wind speeds of greater than 129 mph may have occurred near the landfall location. Given the data that has already been collected, it is plausible that Hurricane Michael will be a design-level event, especially at the immediate coastline and barrier islands along the Florida Panhandle.

One of our @weatherflow station losses (FCMP T3) with our partners at Univ of FL. This one was deployed to catch the eye information and was destroyed. Still got a pressure reading of 920mb's. The before pic is by our team. The after pic is by @hurricanetrack . Fyi @GregPostel pic.twitter.com/rmetoTo4g3

— Shea Gibson (@WeatherFlowCHAS) October 11, 2018
Based on an examination of the catastrophe modeling stochastic events that closely match Michael's landfall location and intensity, insurance industry losses should be in the single-digit billions of dollars. But, as we have seen with past events in Florida, there can be some loss creep, so how high remains uncertain. The big unknown in the modeling at this point is how much property damage occurred in the rural communities inland as Michael tracked into Georgia.
Storm Chaser Accounts
A good gauge of Hurricane Michael's severity is to get firsthand accounts from the storm chasers who travel the world into the heart of the strongest hurricanes, typhoons and cyclones. Their observations really tell the story of what the hardest hit areas are dealing with in the wake of Michael.
Hurricane storm chaser Josh Morgerman (icyclone) likely has the world record for experiencing the most intense hurricanes all over the world. Those who follow him know he is not prone to exaggeration. Here is his account of the situation in Callaway, FL, via Twitter: "It's hard to convey in words the scale of the catastrophe in Panama City. The whole city looks like a nuke was dropped on it. I'm literally shocked at the scale of the destruction."
Winds of 135 knots at landfall tie #MICHAEL with #MARIA as 5th-strongest #hurricane in US history—and who knows what they'll find in postanalysis? Definitely one of the most violent I've been in. This radar shot was at 12:49 pm, as W edge of eye passed over us in Callaway. pic.twitter.com/ZAUxe3bV2c

— Josh Morgerman (@iCyclone) October 11, 2018
Mark Sudduth, another experienced storm chaser, tweeted similar thoughts: "Drove from Panama City almost to Mexico Beach and I can tell you this is the worst damage from wind that I have ever seen! Absolutely catastrophic! You will not believe your eyes when you see it."
Michael's End Game
Hurricane Michael is far from over. Heavy rain and strong winds are still forecasted to sweep through the Carolinas today before exiting the Mid-Atlantic coast Friday morning. Currently 35 miles south southeast of Charlotte, NC, tornado risk is now the biggest threat with local wind gusts capable of bringing down tree limbs.
As we look into next week, we begin to move past this early October period of enhanced Atlantic Basin activity. We can't entirely rule out new named storm development next week, but, the very good news is that the risk for tropical storms and hurricanes in the Atlantic Ocean is expected to decrease sharply over the coming weeks as a hybrid El Niño winter pattern begins to take hold.