By Andrew Siffert – Vice President / Senior Meteorologist
Historical Landfalls
With the landfall of Hurricane Delta as a Category 2 storm with winds of 100 mph near Creole, LA at about 6 pm on Friday, October 9th, Delta sets a few records. First, 2020 has now featured 10 named storm landfalls along the U.S. coastline. This is the most on record since 1850. The previous record was held to 1916, which had 9 landfalls. Additionally, 5 hurricanes have made landfall in the U.S., the most since 2005, but this is not a record. The record here is 6 U.S. landfalling hurricanes that occurred in 1886 and 1985. Additionally, Louisiana has now received 4 named storm landfalls in a single season, Laura and Delta on the western side and Cristobal and Marco on the eastern side. This is the most named storm landfalls in Louisiana in a single season on record.
Hopefully, if Delta is the last landfalling hurricane of the 2020 Atlantic hurricane season, what does the U.S. landfalling hurricane trend look like? Dr. Roger Pielke Jr. has updated some research recently published in the Bulletin of the American Meteorological Society "Continental U.S. Hurricane Landfall Frequency and Associated Damage: Observations and Future Risks."
https://twitter.com/RogerPielk...
After a long period from 2005 - 2017 with relatively few hurricane landfalls and the longest period in between major hurricane in U.S. history, the revision to the mean landfall rate has been substantial since 2017, but despite the heavy activity of events this year the trend is for decreasing landfills over the long term.

Insurance industry Impacts
As expected, Delta weakened from a major hurricane down to a weaker Category 2 hurricane at landfall due to the dry air, higher wind shear, and cooler sea surface temperatures, as discussed in the past several tropical updates. In doing so, the broad wind field expanded and provided for some unique observations. The impacts on the insurance industry will also be complicated due to the fact that hurricane Laura made landfall about 12 miles west of Delta's landfall location about six weeks ago. It looks like the hardest hit areas were Lake Arthur, LA, which had a wind gust that reached 96 mph as Delta made landfall. The storm surge reached 8 feet east of Cameron, LA. The water level at the Freshwater Canal Locks tide gauge near Pecan Island, LA, got up to 10.41 feet before it stopped reporting, which is the highest ever recorded at this location. The surge values could be much higher along the rural sections of the Louisiana coastline, but with the lack of real-time observations, it will be several days before the storm surge's full extent is understood. Rainfall was heaviest before Delta made landfall, with dry air limiting the rainfall impacts on the storm's backside after landfall.
Given the wide wind swath from Delta as it weakened, as of 7 am CDT, about 595,000 power outages were reported by poweroutage.us website. The storm's left side also seemed more potent than expected, which provided an extra blow to Lake Charles, LA, already hard-hit from Hurricane Laura. About 30 miles inland from where Delta made landfall, rain pelted the tarp-covered roofs of buildings that Hurricane Laura damaged. It had been estimated that Laura damaged about 95% of the homes and buildings in Lake Charles. This will be a significant issue for the insurance industry that will lead to complicated claims. Claim adjusters will have to determine what new damage has occurred due to Delta's winds that did not happen from Laura's more robust winds. There could also be complex water damage claims regarding how much water damage occurs inside a building due to Delta verse Laura wind-driven rain. All these complex claims will add up for the insurance companies in the area.
https://twitter.com/CharlesPee...
https://twitter.com/iCyclone/s...
It appears at this time the larger population centers to the east, Baton Rouge and New Orleans only sustained minor wind impacts and seem to have escaped Delta's worst. But tree fall and power outages, as well as tropical-storm-force winds, have been noted on social media. The city of Lafayette looks like it might have been just on the edge of the western eyewall of Delta, so damage has been noted in parts of the city on social media, which could add up and be worse than what the area experienced from Hurricane Laura.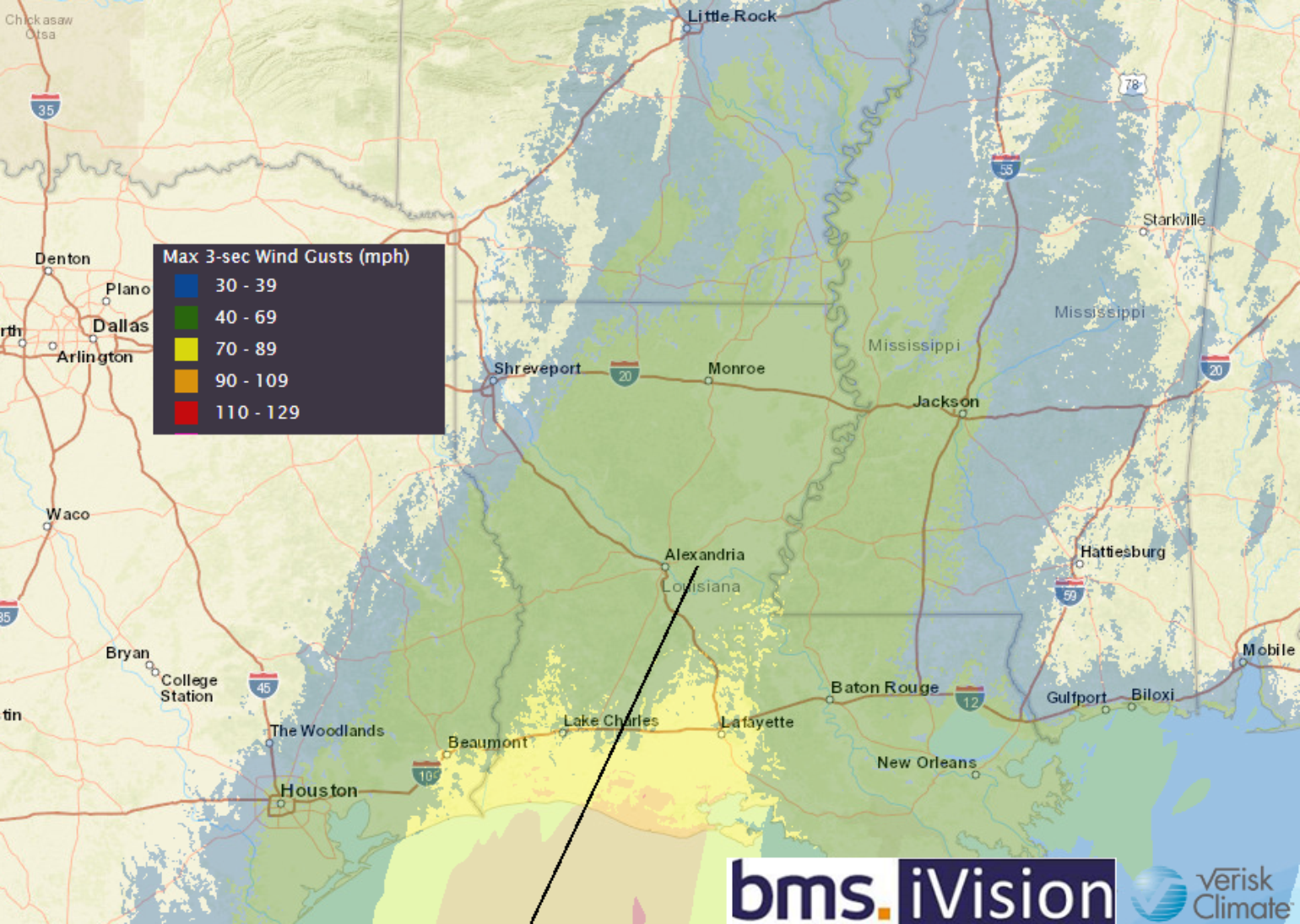 Delta is now a Tropical Storm and is expected to weaken rapidly overland with a projected path moving into northern Mississippi today and then into the Tennessee Valley as a tropical depression.
We Need to Learn from These Events
With the 10th landfalling named storm in the books, there is plenty to learn from the 2020 Atlantic hurricane season. Each event was unique and will offer great lessons for the insurance industry. Teams of scientists and engineers have been all season collecting data from special observational equipment to understand these named storm impacts better. The array of sensors that have been deployed before the landfalls will provide the insurance industry and catastrophe modeling companies better, more dense data to better understand how strong winds impact a building in terms of damage. Also, the number of claims and overall losses can be gathered from insurance companies and used with products like the BMS Storm Reporter to help develop a ratio that will better inform early loss estimates of future landfalling hurricane events. If the industry can better understand the impacts of events like Laura and Delta in such a close time frame, maybe engineering improvements can be made to homes and businesses limiting future losses. This will ultimately lower the overall risk of damage and loss for the insurance industry and should lower cost making it much cheaper for all policyholders.