By Andrew Siffert – Vice President / Senior Meteorologist
Since the last tropical update yesterday, a lot has changed with Tropical Storm Gamma and Delta. Gamma has dissipated and primed the atmosphere to make way for an intensifying hurricane; whereas, Delta, although currently a strong Category two hurricane, is well on its way to becoming a Category 4 or maybe even weak Category 5 over the next 72 hours. Hurricane Delta is a relatively tiny storm with hurricane-force winds only 25 miles from the center of one small eye. However, a small hurricane can quickly gain strength, and that is exactly what is likely to happen given Delta is tracking over some of the warmest waters in the Atlantic Ocean. Wind shear will basically be zero over the next several days allowing for intensification.
Yucatan Impacts
It is possible that Delta will be a Category 4 hurricane as it impacts the Yucatan Peninsula. This is not a good forecast for the Yucatan Peninsula of Mexico, one of the world's most popular tourist destinations. I got married on a beach in Cozumel in 2011 and have had the opportunity to holiday in the Cancun area several times over the last two decades. If you are a frequent tourist to the area, it is hard not to notice the profound changes that have occurred along the coastline with more and more hotels and tourist-focused amenities being built every year. And there is more residential housing for the employees needed to support the growing tourist demand. The Cancun area is no stranger to named storm activity, but significant hurricane impacts are rare. Wilma 2005 was the last major hurricane to hit the area with devastating damage. When you think of the development that has occurred in the area since 2005, there is a great reason to believe that as Delta brings a devastating blow to the area, there will likely be a significant catastrophe to many of its untested new structures. Many of the tourist hotels and residential homes are built reasonably well with reinforced concrete compared to the wood frame construction, which is more common in the U.S. However, just read Wilma's impacts to understand the damage that is about to occur to the area. Even if the buildings are built well, the damage to structures in terms of broken glass, broken roof tiles, and other aesthetics like outdoor theaters at a resort will take months to rebuild. Wave and surge damage will also be a significant factor to much of the coastline. If there is any good news, it is that the strongest winds might stay north of much of the new development down the Riviera Maya coastline near Playa del Carmen and Tulum areas. There is still a chance that Delta tracks just north of Cancun, but if the area takes a direct hit the impacts will likely be far-reaching in time. Mexico is still open to U.S. holiday travel, and this could result in COVID weary travelers to surely second guess any travel plans to the area during the busy winter season. This would indeed have a lasting impact on Delta's economic impacts.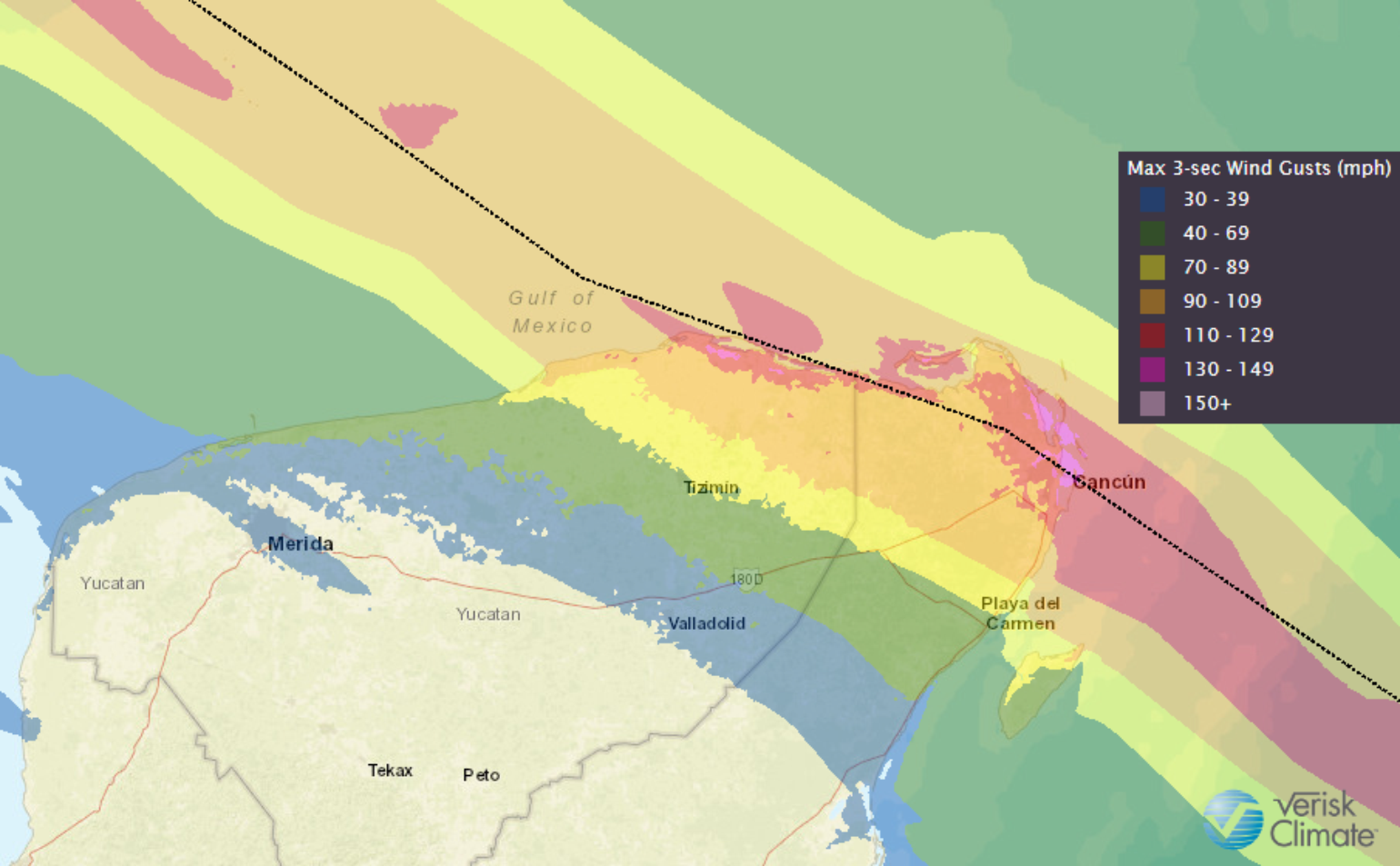 Central Gulf Coast Impacts
After a devastating blow to the Yucatan Peninsula, Delta is predicted to reorganize into a much larger major hurricane with sustained winds of 130 mph. Sea Surface Temperatures (SST) in the southern Gulf of Mexico is still very warm, and Delta will be tracking with basically zero wind shear up until 12 hours before landfall. At this time, the overall signal for a major Category 4 in the Gulf of Mexico is bullish. The overall question is how much weakening can occur just before landfall with colder SST and increased wind shear. Is 8 hours enough time to dismantle a major hurricane? Hurricane Lili of 2002 is a possible analog, which was also a major Category 4 hurricane in the Gulf of Mexico in the first week of October and weakened drastically just before landfall in Louisiana, causing just about $1 billion in damage to the insurance industry. The significant factor with Lili was the decreasing ocean heat content closer to the coast. This is where the forecasted track of Delta could play a role in the overall intensity at landfall. If Delta tracks farther west, it could track over warmer water that has not cooled as much from Marco, Laura, and Sally this year. The other factor that is a bit unknown will be the increasing wind shear and dry air. The upper air pattern was different in Lili than what is currently forecasted to exist for Delta. Delta is forecast to be somewhat aligned with the right entrance region of the primary synoptic upper-level jet max over the mid-Atlantic as it approaches the coast. This could help provide support for Delta even though shear will be increasing.

At this time, the insurance industry should expect at least a Category 2 hurricane at landfall along the central Gulf Coast where again, as we have seen, this season track will be critical. We're still several days away, and climatology would suggest that Delta should reach peak intensity over the Gulf and be somewhat weaker by landfall. However, Delta will be tracking much faster, and its fast forward motion will mean for much larger impacts inland away from the coastline.
What Happens If A Hurricane Named After A Greek Letter Needs To Be Retired?
Given the forecast for Delta's impact on Cancun without knowing the effects on the U.S., it is looking very likely that Delta should be retried; however, unlike a normal hurricane name, there are no written rules on how to retire a Greek letter named storm. Typically the World Meteorological Organization (WMO) provides a list of 21 named storms that is rotated every five years. If a storm has a historical significance, it is retried and is replaced by a new name. If all 21 names are used in a given season, the fallback is to use the Greek Alphabet, which was first used in 2005 and again here in the 2020 season.
The WMO announced in a blog post on September 21 that the agency will not retire a Greek letter if the situation warrants. If a storm named after a Greek letter would typically qualify for retirement, the system will be noted in the official list of retired names. Still, that particular Greek-letter would be reused in the future if needed.
There is no doubt this creates an uncomfortable situation. The WMO settling on the practice of reusing Greek letters regardless of potential implications, simply because it is rare to use Greek letters to name storms, arguably defeats the purpose of retiring storm names at all. Think if Delta happened again during another hyperactive hurricane season. Is it fair to other retried named storms, the people that have been impacted, or those who might be impacted by a future storm Delta? While storm names are mostly an administrative issue—they exist to make it easier to track and talk about storms. The entire practice of naming storms is deeply embedded in the insurance industry for significant loss events. How confusing it would be to have two major Katrina or Harvey loss events in your data set. Maybe the WMO will have a change of mind, but regardless, once again, 2020 is offering up some uncharted territory for the insurance industry.