Just think of going to bed knowing that Tropical Storm Sally was forecasted to impact the New Orleans area as a strong tropical storm or weak hurricane, but then at 4:30 AM getting woken up by a text alert saying Tropical Storm Sally is now forecasted to be solid Category 2 hurricane and that immediate precautions should be taken and in some cases, you should leave. This is exactly what has happened this morning to some in the path of Sally as the city of New Orleans has ordered a mandatory evacuation outside of the levee protection in Venetian Isles, Lake Catherine, and Irish Bayou.
As we have seen already in 2020 with many of U.S. landfalling storms, intensity forecasting in the long-range has been hideous. Hanna, Isaias, and Laura all over intensified their 48 – 72-hour intensity forecast and it looks like Sally will follow that trend. The NHC is now calling for a strong Category 1 hurricane at landfall. This changes the impacts on the insurance industry greatly and was not seen by many forecast models even 24 hours ago. It should be noted, however, some of the forecast models this morning have backed off the intensity so a lower Category 1 hurricane might be more likely once again.
The Peak of the Season
Sally has crushed the previous record for the earliest "S" storm set by Stan back on October 2nd, 2005. In fact, overnight Tropical Depression 20 has formed, which means we are only three names way from going into the Greek alphabet. This also occurred in 2005, and frankly, the way this season is going one has to wonder if that alphabet has enough letters. Below is a good look as to why September 10th is the peak of the Atlantic Hurricane Season with 6 active tropical systems in the Atlantic basin.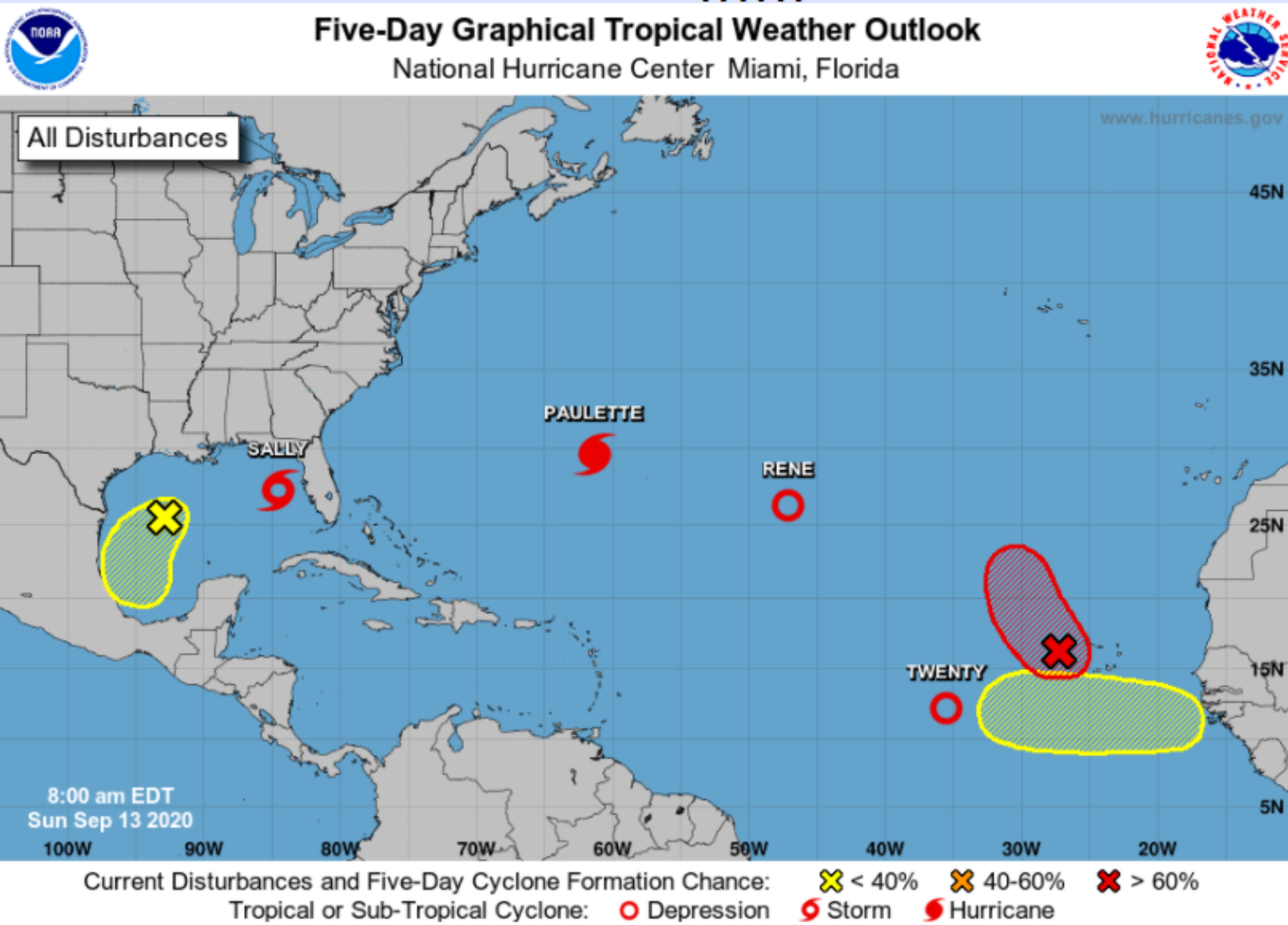 Sally Impacts
Sally is dealing with some northwest shear this morning and the deep convection is removed from the low-level center. However, the shear is expected to decrease later today and Sally will be moving into a very favorable environment for further strengthening on Sunday and Monday as it tracks towards the southeast Louisiana coastline.
Any cooling of the Gulf of Mexico water from Marco and Laura has now warmed, and once again the water is a very warm (87 °F) in the Gulf of Mexico. This will support fuel for explosive storms associated with Sally. A faster rate of intensification is forecasted to begin on Sunday, and potentially increase further on Monday into Tuesday when the systems will be approaching the Gulf Coast.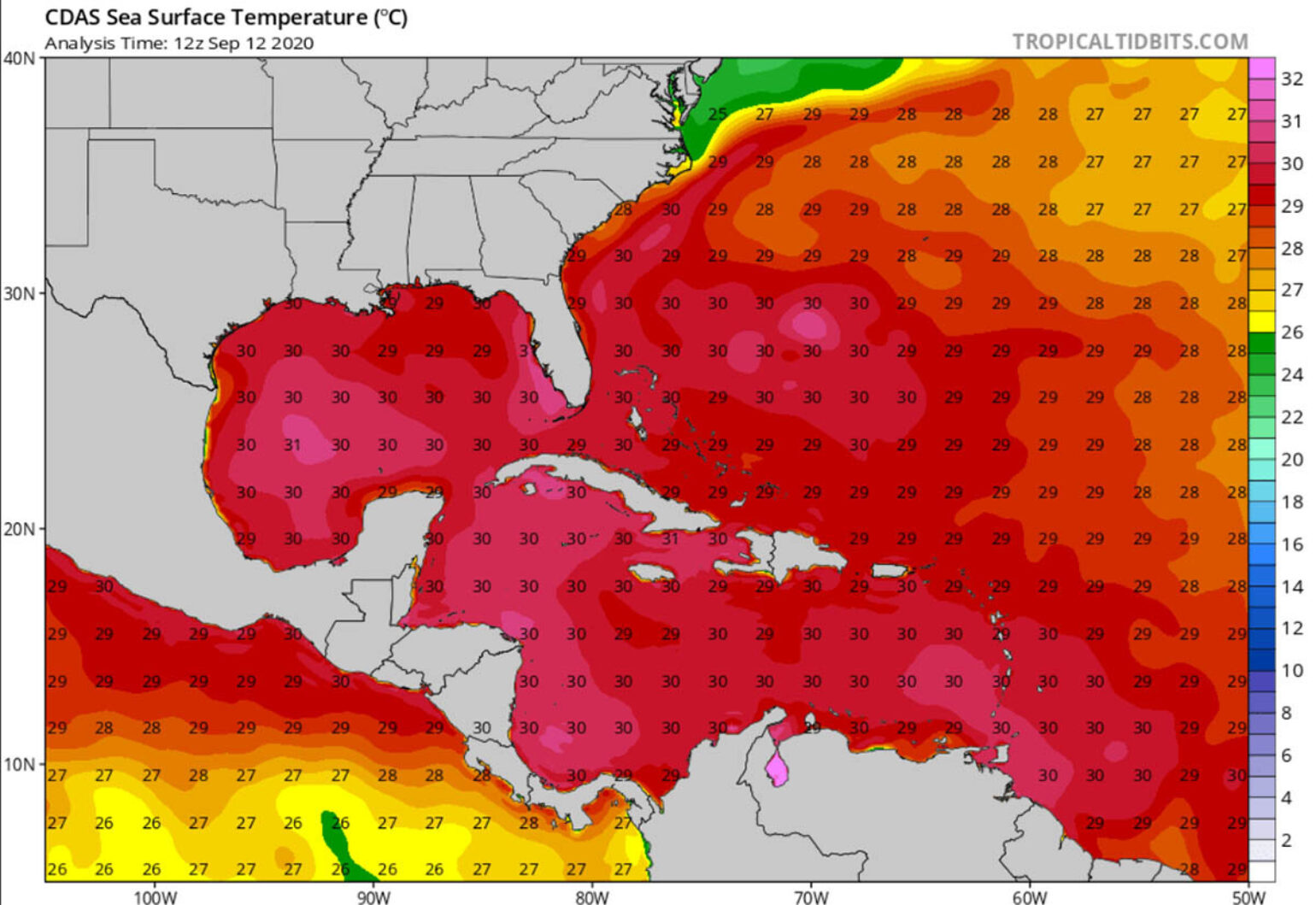 Weather models are hinting Sally will become a hurricane by Monday afternoon while moving towards the Gulf Coast. The landfall is likely somewhere between New Orleans, Louisiana and Panama City, Florida with a trend in forecasts that points to the west. BMS iVision and the Verisk Respond hurricane product provides one view of the expected wind and track of Sally as it moves towards the northern Gulf Coast. It should be noted here that the overall track is very important to the overall insurance industry impacts.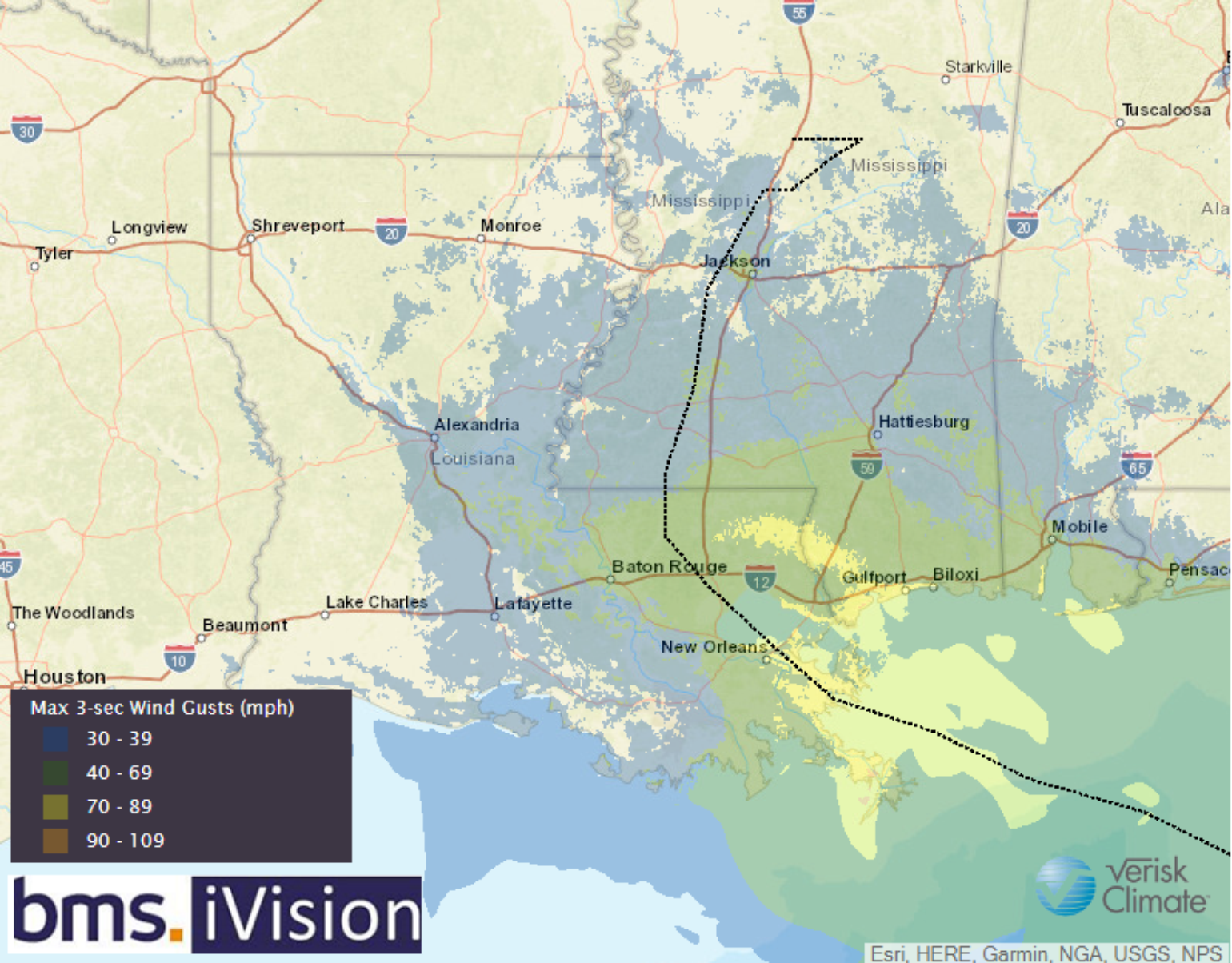 As a shift in the current track guidance, east or west could greatly impact the storm surge and wind forecasts for the highly populated New Orleans area as the highest storm surge and wind impacts will be on the northeast side of the track at landfall. Clearly, if Category 1 winds go into the major metro area of New Orleans this will yet again be another billion-dollar loss event for the insurance industry this year, which has already totaled over an estimated 12 billion dollars of loss. Most of this loss is in Louisiana from Hurricane Laura and Tropical Storm Cristobal. However, Hanna, Fay, and Isaias have provided other parts of the U.S. coastline with some type of named storm insurance industry losses so far this season.
Sally is expected to bring tropical-storm-force winds as early as Monday afternoon along with flooding rains. Various models are hinting there will be an enormous amount of rain over the next 5 days. More than 10 inches is expected which will surely complicate the flooding in very susceptible areas. This will likely be a decent test for the pumps in New Orleans. At this time the levee system should withstand the forecasted storm surge of 6-9 feet, but again this needs to be watched, as clearly we have seen levee failures time and time again in flood and storm surge events.
In fact, it might be a bit early to look at analog impacts to the insurance industry, but in reviewing some storms that have had similar tracks the 1947 Fort Lauderdale hurricane has a similar track, which had a second act in New Orleans, Louisiana with an angle of approach that looks somewhat similar to Sally. The important point here is that the 1947 storm was larger in size, as it had already been a Category 4 impacting Florida. However, as this storm crossed the Gulf of Mexico as Category 2 it surely had an impact on New Orleans. This storm was the reason why additional levees were constructed around the city. It is also my understanding of the 1947 storm caused some breeches, but not to the extent of Katrina or Betsy.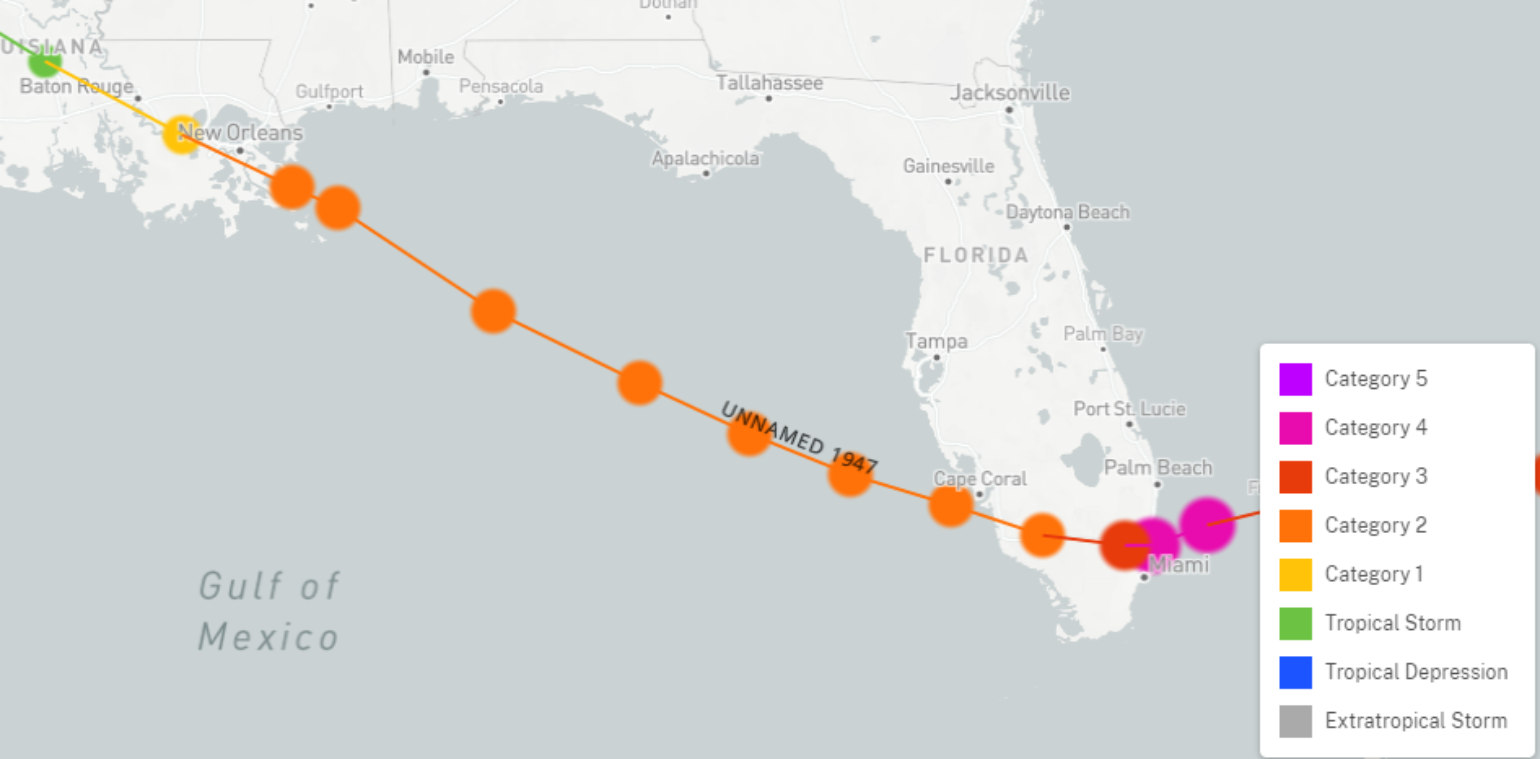 Bottom-line
The insurance industry should not take Sally lightly. It is never ideal to have an intensifying named storm approaching the coastline. This intensification will likely occur right up to landfall which puts a bit of a cap on how strong Sally can get; but, as we have seen this year, intensity forecasting has not been great and is a challenge when you have such a wide range of outcomes for the 12-18 hour period right before landfall.
The angle at which Sally will impact Louisiana and Mississippi will maximize both storm surge and rainfall. Sally is forecasted to be a 90 mph storm. Moving at 5 mph, it will only traverse 150 miles in 48 hrs. New Orleans' levee systems will be challenged. The angle at which the storm is tracking along the coast and the shallow waters in the area will funnel and raise water levels quickly as Sally ramps up in intensity. Currently, the storm surge is likely to be below 9 feet, but there is a chance that the forecast could change as Sally become better organized and surge values of 10 ft or more are possible. The slow movement also means large rainfall amounts will be observed, but the heaviest rain looks like it will stay to the east of the areas impacted by Laura which is good for any properties that have been tarped as the winds in this area will likely be below tropical storm force.