By Andrew Siffert – Vice President / Senior Meteorologist
Historical Landfall
At 1 AM CDT Hurricane Laura made landfall in Cameron, Louisiana, which is about 30 miles southwest of Lake Charles and 40 miles east of Port Arthur, Texas. According to the National Hurricane Center, Laura had an intensity of 150 mph as a top-end Category 4 hurricane. This was just 7 mph below the criteria for the classification of a Category 5 hurricane. This makes Laura the strongest hurricane to make landfall in Louisiana since the Last Island Hurricane of 1856, which also had winds of 150 mph. In terms of pressure at landfall, Laura had the 4th lowest pressure at landfall at 938 mb. This trails Katrina (2005, 920mb), Last Island (1856, 934mb), and Rita (2005, 937mb). In general, a lower pressure is equal to a stronger hurricane and higher wind speeds. Lastly, Laura is the 7th named storm to make landfall in the U.S. for this season. This breaks the old record of six named storms making U.S. landfall by end of August (set in 1886 & in 1916). It has been a very busy season for the insurance industry already and we are still 14 days from the peak.
Wind Speed Impacts
With a landfall in Cameron, Louisiana, the storm's center was more than 130 miles away from Houston, and because these areas are to the west of Beaumont and Port Arthur, TX it would appear these areas have only experienced minor damage and thankfully the Houston metro will see no damage. In fact, there is not even a power outage being reported in the area. This also means the strongest winds look to have mostly missed the Houston refining and chemical manufacturing area's biggest hub near Port Arthur and Beaumont, Texas. Lake Charles, Louisiana has extensive petrochemical plants and it looks like they might not have seen the expected storm surge that was forecasted for the area, so the potential for a large environmental disaster seems to be limited with just one major problem occurring with a fire at one of of the plants.
https://twitter.com/WeatherNation/status/1299000237105664006
There have been a hand full of wind gusts over 90 mph, which include a few Weatherflow stations that are used to help settle parametric insurance transactions. The highest reading seems to be a gust of 132mph at a Weatherflow tower near Lake Charles. The Lake Charles Airport looks to have also recorded a 132mph gust as well before that weather station went offline. The Lake Charles radar went offline around 1:26 AM CDT, and at that time the velocity readings were just above the surface suggested winds of 160 mph.
https://twitter.com/AlaStormTracker/status/1298992015405805570
As mentioned in yesterday's tropical update the landfall area is relatively rural with Lake Charles, Louisiana's population of 78,000 being the largest city in the highest wind speed zone. Otherwise, most of the highest winds occurred in a very low housing unit per hectare area, where it is mostly wetlands and ranches. The strongest winds right along the coastline likely only impacted very few structures, and, of those structures, most are secondary homes, since most of the area along the coastline is wildlife refuges and state swamplands.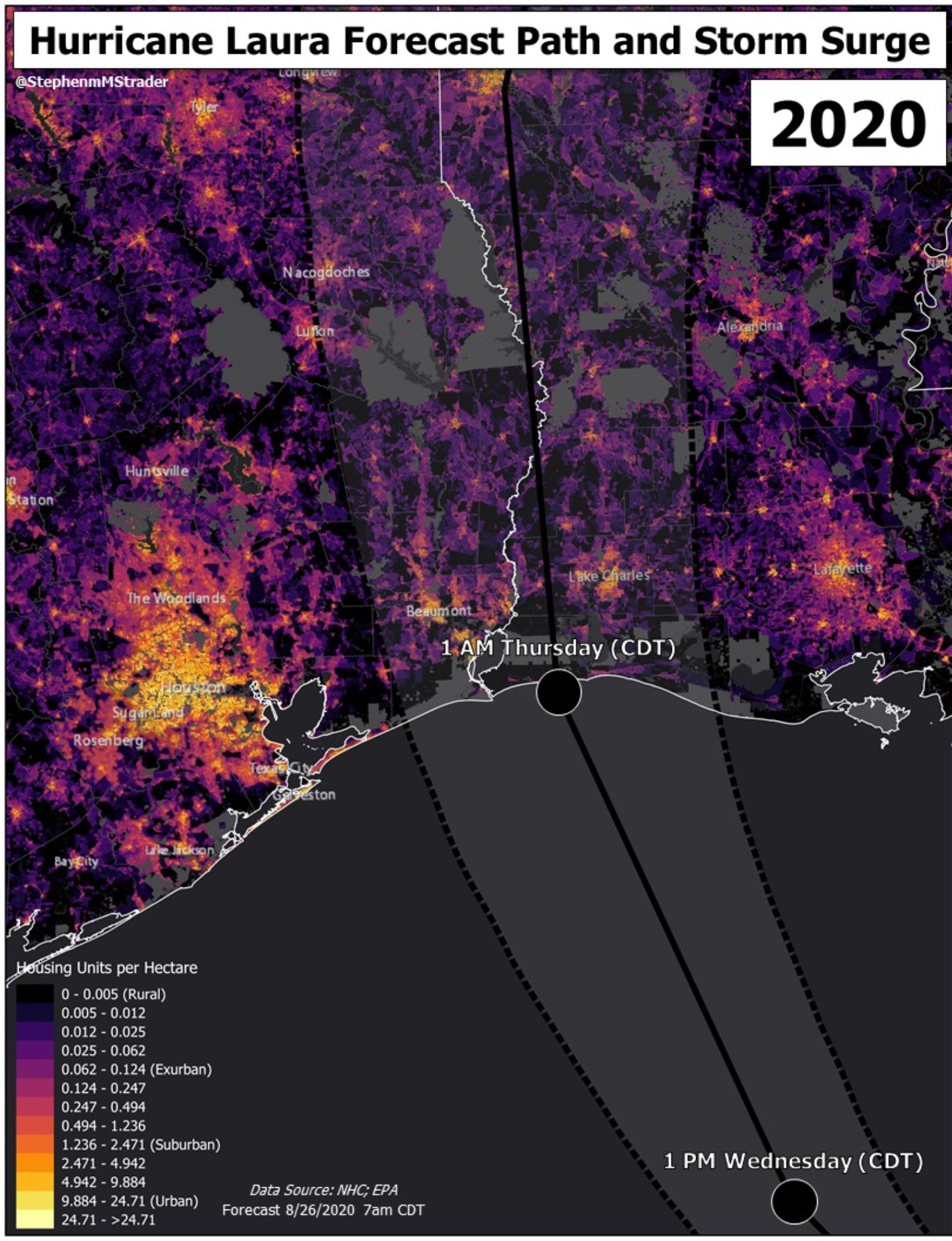 The Verisk Respond product in BMS iVision shown over the last several days will now start to incorporate some of the surface observations of Laura's winds. This now allows BMS clients to use the fine details of the wind swath to determine what type of wind speed has occurred at a particular location. As the 3-second wind gust shows (below) the strongest wind gust over 130 mph occurred just east of Port Arthur on the west side of the storm. The stronger east side of the storm had winds hit much of the rural area described above and weakened slightly down to 90-110 mph in the more populated area of Lake Charles. This is well below the design threshold for buildings in this area. So what type of damage has occurred in the more populated areas? This is where it might be best to turn off the TV and use social media.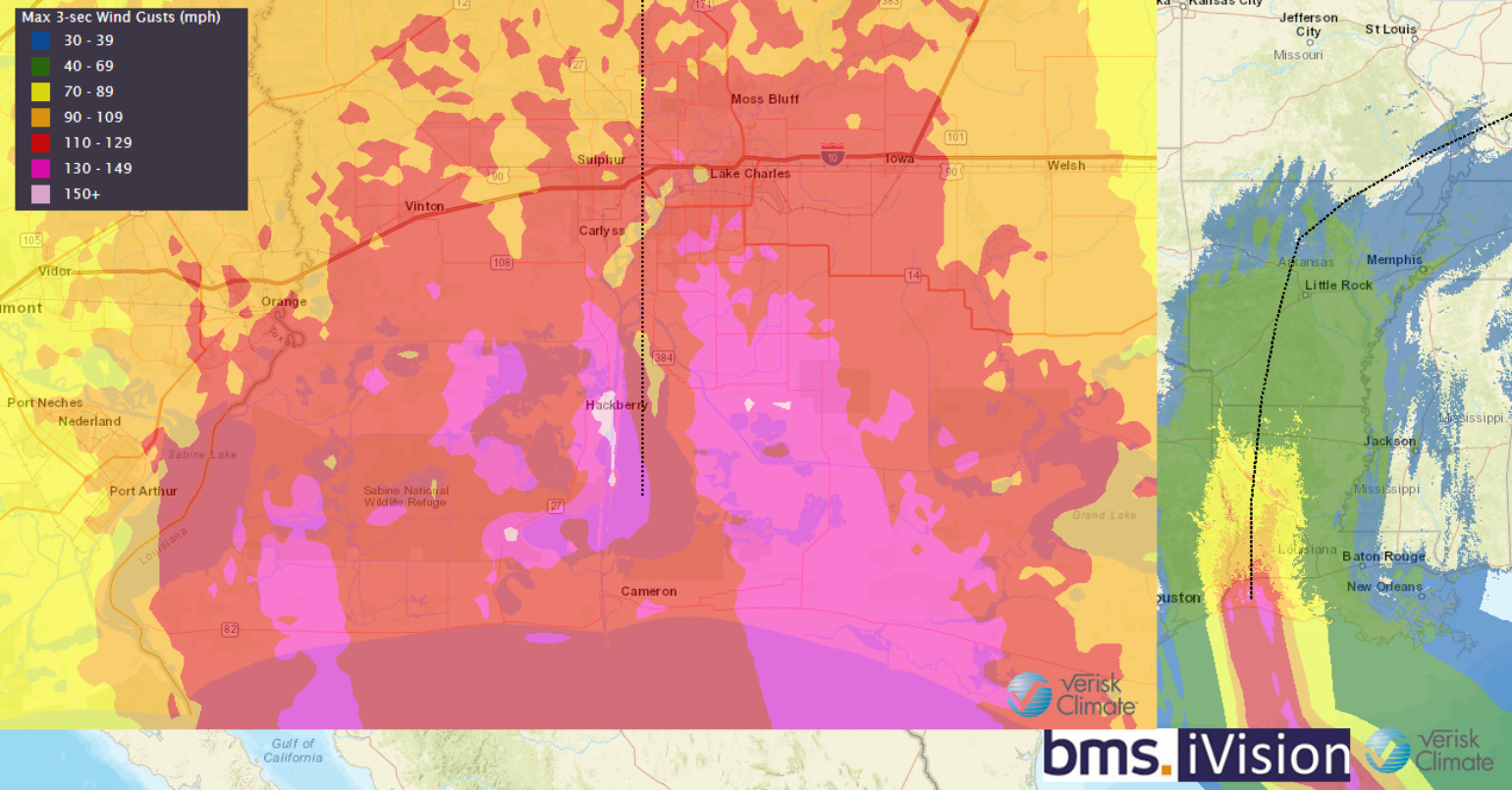 Use of Social Media in Laura
I have done several talks now on how the insurance industry can use social media in catastrophe response to get a good read on the overall damage. This is often better than the over sensationalized journalism that takes place from the major media networks. These outlets will also converge on the worse of the damage. How many are showing the window damage of the Capital One Tower verses neighborhood damage? Following social media allows for the gathering of personal stories of the impacts, which often detail what has occurred at their individual property or business. This is the story they want to share with their friends and loved ones. Due to debris or powerlines on the roads some media outlets cannot even get to these areas to even know if there is damage.
The general idea of using social media is to also look beyond the main focal point of what is being shown. Look at other buildings and trees in the background, as a lot of information can be taken from this type of content. Also, when you take a wider look at social media and what is being shared, you can get a sense of what general areas might have experienced the worst of the damage so claims adjusting staff, restoration companies, and tarping services can be deployed to the right area faster.

It is still too early to suggest what type of damage has occurred right along the coastline, as I have not seen many social media posts from these areas. Due to the already low population, where hopefully most had evacuated, it will be later today before roads are cleared to get visuals of damage to these areas.
https://twitter.com/JeffEhlingABC13/status/1299009136319963137
Addressing the elephant in the room
https://twitter.com/AndrewSiffert/status/1298928721202753537

There are clear signs early this morning that the storm surge was not as bad as predicted for the Lake Charles area. This is a very good thing because this will limit overall water damage, which can add up quickly when saltwater gets inside of buildings. This saltwater can be corrosive to the electrical and HVAC systems leading to even more costly repairs.
The overall reason why the storm surge likely never came to fruition in Lake Charles is because Laura likely shifted just to the east of the strongest winds swath as shown in the BMS iVision plot above. This shifted the storm surge to mostly uninhabited low lying marsh areas, which lack places to get high watermark observations that are so critical in determining the extent of damage in real-time. It might also be difficult to ever know just how high the storm surge was along the shoreline since the winds took out most of the objects that could measure water levels. However, I am sure some objects can be found to get these observations eventually.
https://twitter.com/NHC_Surge/status/1298996628980809731
Furthermore, although it is still too early to conclude, large area of wetlands and marsh are critically important storm surge buffers. These ecological habitats have so many benefits and are becoming less common along the coastline of the U.S. Laura might show that we need much stronger legal protection for wetland habitats that can help limit the deadly destruction of storm damage in the future.
We Need to Learn from These Events
Laura is the 6th Category 4 or 5 hurricane in the last three years to hit U.S soil since Hurricane Harvey in 2017 broke the 12-year a major hurricane drought. The 12 years without major hurricane impact in the U.S. was a very long time for science to stand still and not understand the impacts major hurricanes can have on the insurance industry. Teams of scientists and engineers have been busy all night collecting data from special observational equipment to better understand Laura's impacts. As an example, the University of Florida T1 Wind Tower at Chennault Airport in Lake Charles recorded just over an hour and a half of max wind gusts exceeding 100 mph, with a peak maximum of 133 mph.
https://twitter.com/DaveNolan305/status/1298663274402271233
These array of sensors can then be used by the insurance industry and catastrophe modeling companies to better understand how these very strong winds impact a building in terms of damage. Also, number of claims and overall losses can be gathered from insurance companies and used against the BMS Storm Reporter product to help develop a ratio that will better inform early loss estimate of future land falling hurricane events. If the industry can better understand the impacts of events like Laura and the engineering improvements that can be made to homes and businesses they will become more resilient. This will ultimately lower the overall risk of damage and loss for the insurance industry and should make it much cheaper for all policyholders to insure property risks.
Final Thoughts
Parts of the insurance industry have dodged a bullet here and surely this will have an impact on the livelihoods of many. However, the industry needs to reflect on the past few years. Since 2016 there have been several storms that have come very close to major metro areas of the U.S., such as Dorian last year that stalled 110 miles away from the very populated Florida coastline. The overall hazard along the U.S. coastline is fairly well known, but the heavy pockets of exposure are very random. Thus far there has been a bit of luck that a major loss has not occurred in a very long time now.
We are still in the heat of the season and the NHC has a 20% chance of a tropical system developing in the main development region of the Atlantic Ocean. The overall long-range models suggest this should track toward the East Coast of the U.S, but currently there is very little support for a named development. Let us hope the bit of luck that has already occurred for the other parts of the U.S. coastline continues as we approach the peak of the season.