By Andrew Siffert – Vice President / Senior Meteorologist
Laura Track and Intensity Update

This morning Laura is now a hurricane and over the warm open water away from terrain influences and getting better organized. The storm's strongest convection is now wrapping around the center of circulation instead of being displaced disproportionately to the south. It also appears to be venting so Laura is well on its way to becoming a major hurricane as it tracks towards the Texas Louisiana border area.
In my tropical update yesterday I talk about the overall uncertainty in the track. Today we have a better idea that the target is the Texas Louisiana border area, but this still puts the metro area of Houston in the cone of uncertainty but on the left side of the storm which will be the weaker side.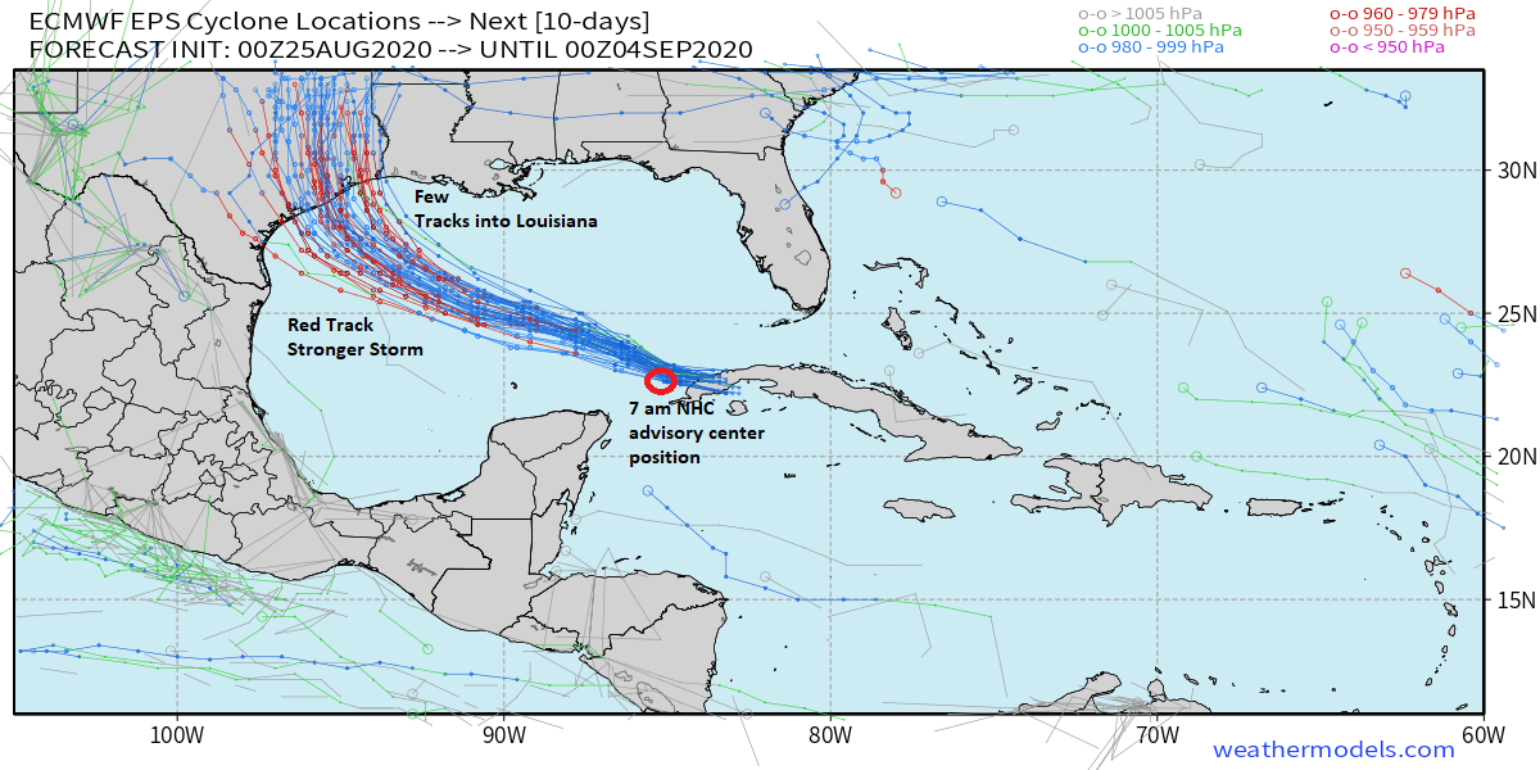 Above is the overnight model guidance from the ECMWF ensembles which show Laura is actually still tracking on the southwest side of the edge of the ensemble track envelope. This would lead to the general idea that the model guidance is still too far north and east when the storm tracks across the Gulf of Mexico, so there is still a landfall risk that seems to be increasing along the upper-central Texas Coast from Galveston to Freeport, Texas. Even the NHC OFCL forecast has been to the north of the model guidance.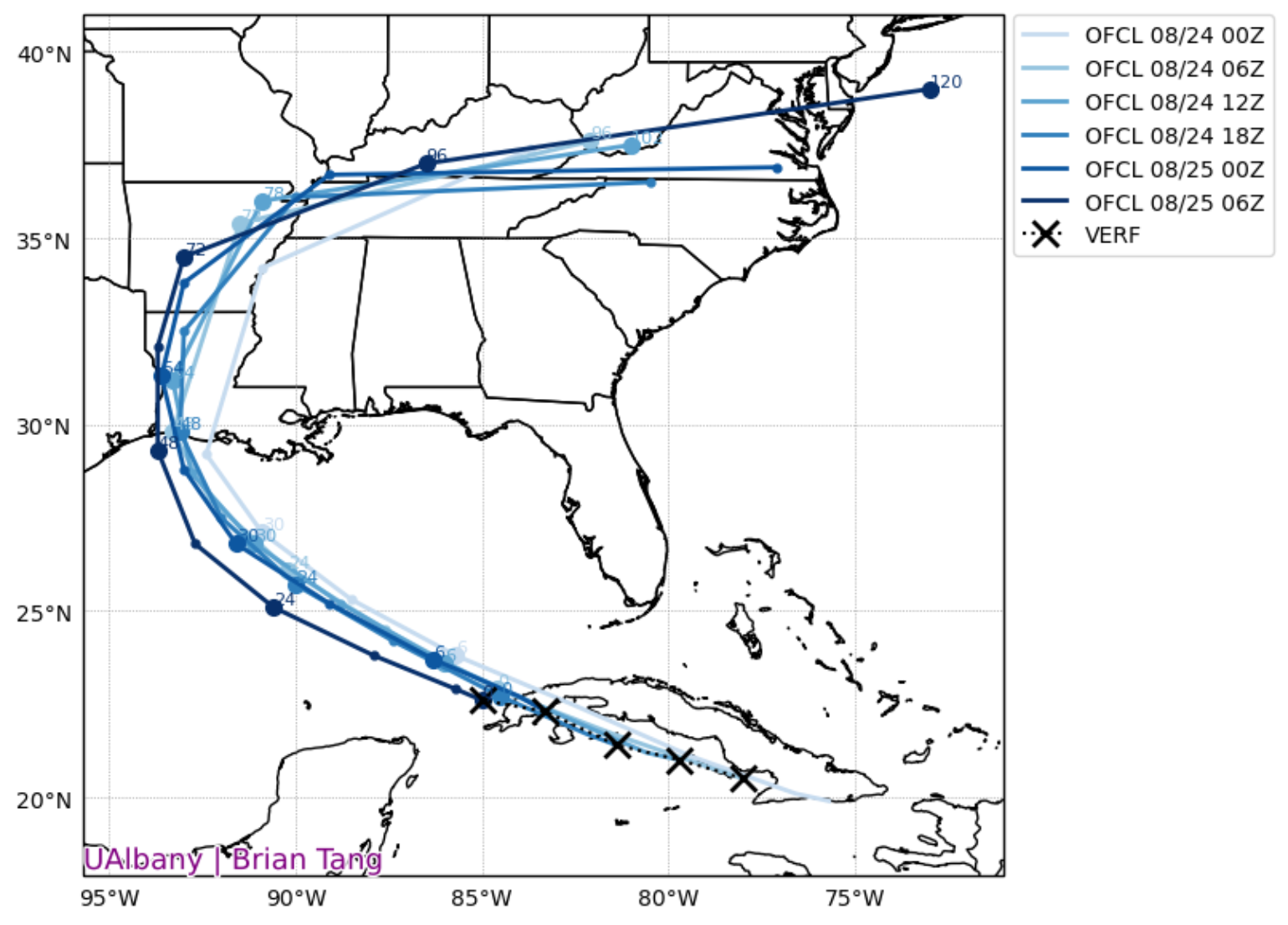 This means there could be some shift in the overall NHC track guidance. In the 4 am CDT NHC Forecast Discussion they mentioned that "[t]he majority of the guidance has shifted a notable distance to the west on this run, perhaps due to a weaker trough over Texas and a more westward initial position of Laura (possibly due to persistent northerly mid-level shear). The new NHC prediction is at the eastern edge of the new guidance envelope since I don't want to bite off on such a large change on just one set of model runs. But since the storm has been tracking west of forecast expectations for quite some time, future westward track adjustments could be required later today. "
In terms of intensity one just has to look at the overall fact that Laura is moving into an ideal environment for rapid intensification along its track. Unlike Marco there is very little wind shear now and the Sea Surface Temperatures (SST) are very warm (82F – 87F degrees). This is plenty warm for the development of a major hurricane. The only wild card that could come into play is that Laura becomes so strong and powerful that it churns up the water ahead of its track causing some weakening similar to hurricane Ike's landfall in 2008. But, at this time, there is little forecast model support for this idea to occur with most of the model guidance having Laura continue to strengthen right up until landfall.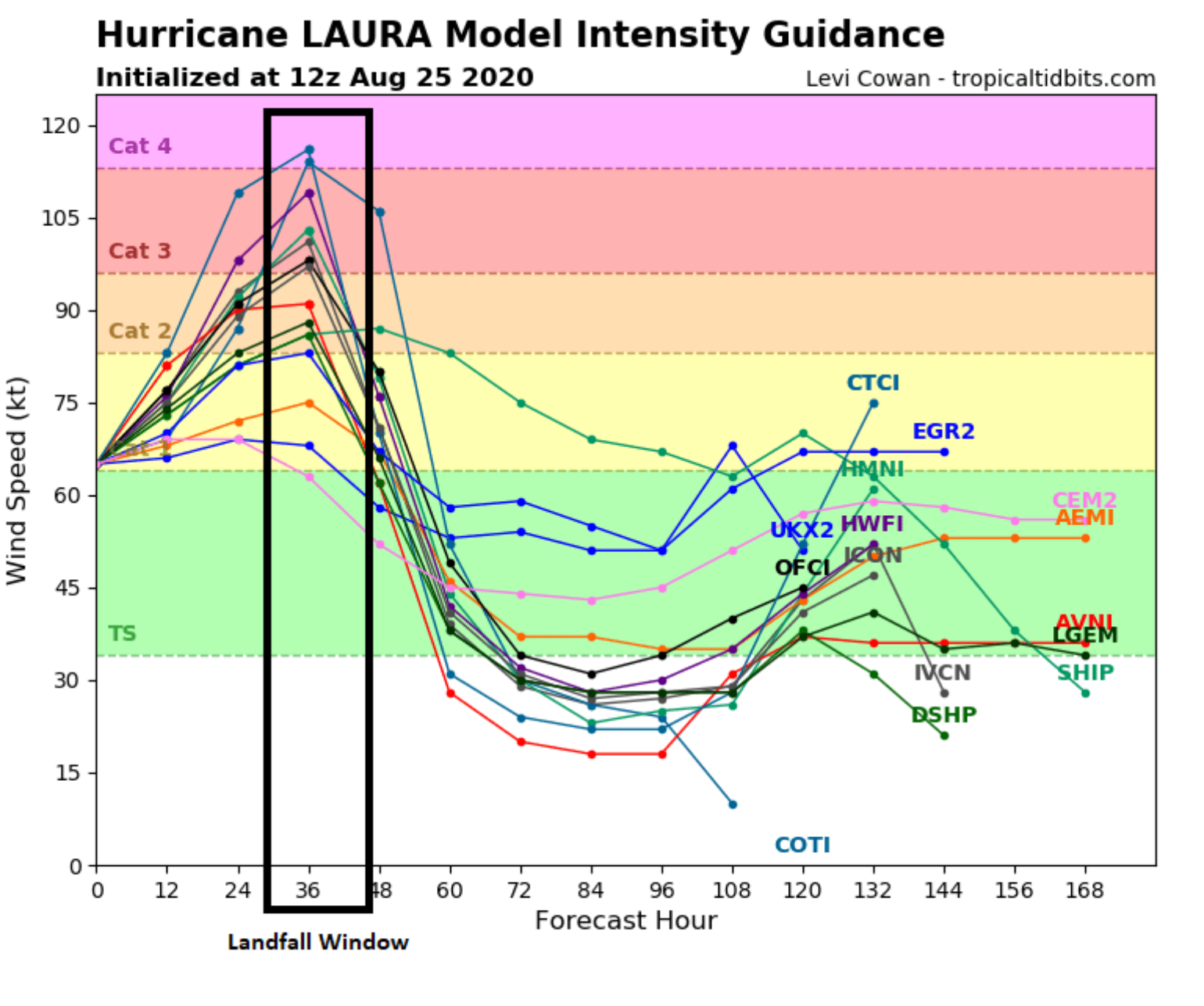 Wind Impacts
National Weather Service peak wind gusts for Laura, if the current forecast track and intensity holds, clearly indicate structural damage and power outages will be widespread in southwest Louisiana and the northern Texas coastline. Power outages will extend well inland away from the landfall location. Most model guidance, including the NHC, is suggesting Laura will make landfall as a Category 3 hurricane with winds of 115 mph and wind gusts up to 140 mph. There is model support that suggests Laura could be even stronger at landfall, but regardless, a major hurricane making landfall near one of the biggest metro areas in the U.S. is a big concern. It is too early to say if the strongest winds will impact Houston, but with the metro area still within the cone of uncertainty, there is still a possibility.
Below is the Verisk Respond 3-second wind gust that is in BMS iVision. The 3-second wind gust is used in design codes, as all it takes is a 3 second gust of wind to cause damage to a structure as indicated by the design codes in the area.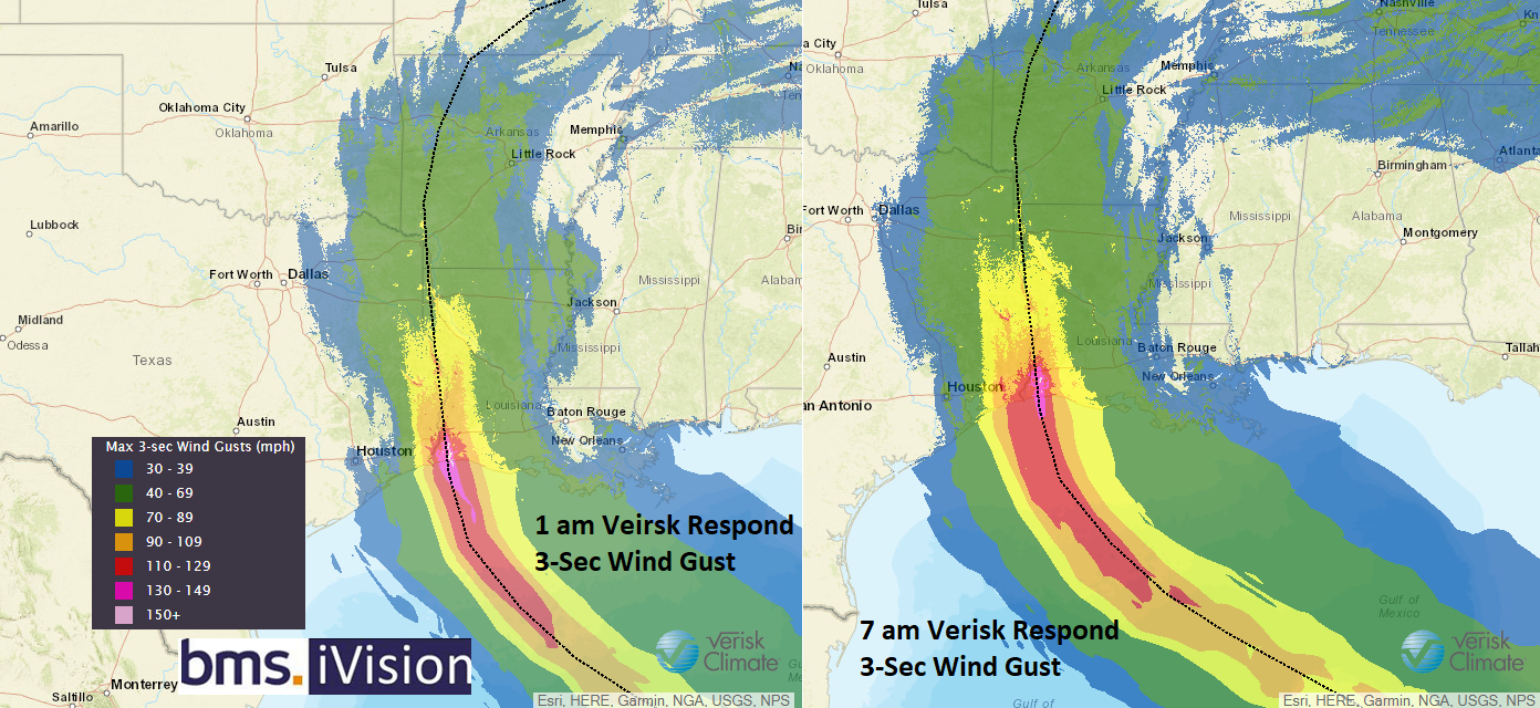 Other wind-related losses could result from tornadoes, which are typically observed to the Northeast of the path of the eye of the storm. Louisiana has the biggest risk of seeing this type of damage inland.
Storm Surge Impacts
Most named storm-related deaths are due to flooding, and we know that Louisiana and the north coast of Texas are no stranger to flooding from rain and storm surge. There are early indicaitons that Laura could become large in size similar to Hurricane Ike in 2008. And if you look at the various storm surge forecasts by the NHC the impacts of storm surge will be widespread. The NHC is showing Lake Pontchartrain near New Orleans having one to two feet, which is roughly 200 miles away from the forecast center of the storm. Near the landfall location, nine to twelve feet or maybe more of storm surge is currently forecasted.

Several comments have already been made about the similarities of Hurricane Ike in 2008. In fact, the post on August 23rd referred to how Laura's track was already similar. Now ironically, the overall structure of hurricane Laura on infrared satellite bears some respectable similarities to what Hurricane Ike looked like on Septempter 5th, 2008. I am not saying Laura will be exactly like Ike but I think Ike can surely provide some ideas of what a category 3 or even 4 hurricane might look like impacting the Texas Louisiana Border area. As you may remember, Ike's storm surge was not typical of a category 2 at landfall, instead it was more typical of a category 3 or 4 hurricane. Here are some pictures of Ike to give you an idea of the type of damage created by the storm surge.
Evacuations
There is good reason that several communities in Louisana and Texas have told residents to leave. The insurance industry should also know which risks they might have under each zone, as it can provide a general idea of the damage that is expected. Risks in the zones closest to the coast are likely to see more direct damage and insurance loss. These evacuation zones could also point to areas that will see higher business interruption claims.
http://h-gac.com/hurricane-evacuation-planning/default.aspx
Evacuation orders are currently in force for the following area which will likely expand today and tomorrow:
Texas

Orange County
Jefferson County

Louisiana


Cameron Parish
Jefferson Parish
Lafourche Parish
Plaquemines Parish
And with evacuation comes the concerns that were highlighted at the start of the hurricane season as to how COVID-19 will play a role in any major hurricane landfall. BMS has been continuously updating a COVID-19 impact analysis for the insurance industry which has useful links and resources. Tomer Burg a PHD student at the University of Oklahoma has also provided some useful resources that combine the COVID-19 daily cases per capita and 1-week trends by county from data provided by Johns Hopkins University with the National Hurricane Center. In his latest analysis, it shows an overall drop in case count along the Louisiana and Texas coastal counties. It sure will be interesting to see how this map changes as evacuations take place and a large amount of the population moves to other counties that might also currently be experiencing higher case counts.
Laura will have an impact on the insurance industry and the impacts on loss will depend on track. More info and certainty tomorrow so stay tuned as we start to dive into the details of impacts.