By Andrew Siffert – Vice President / Senior Meteorologist
Today there is likely many who are trying to figure out how they work from home without electricity. Poweroutage.US reported nearly 4 million customers without power yesterday evening as outages stretched right up the Interstate 95 corridor from South Carolina to Maine. Some of the pictures coming out of the major population centers of Washington DC, Philadelphia, New York City and the entire state of Connecticut and New Jersey are impressive. Based on power outages, Isaias impacts are third only to 2011 Hurricane Irene and Super Storm Sandy in 2012 according to ConEd. As far as I know however Manhattan had very few power outages as the power lines are buried on much of the island.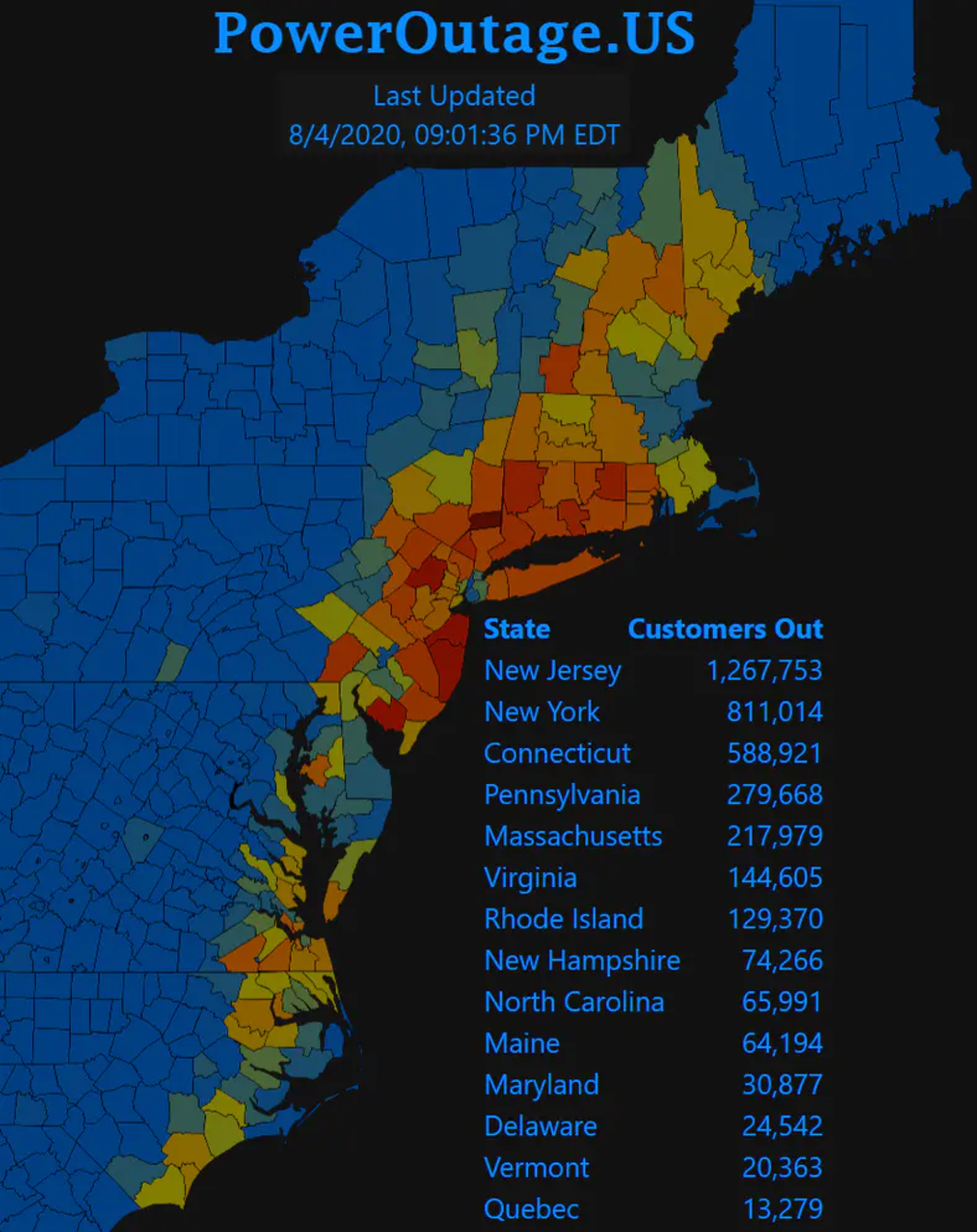 Possible Sting Jet Development
Isaias is once again a case for why the insurance industry needs to focus on impacts and not the storm category. Isaias was technically a standard tropical storm as it passed New York City; however its impacts were more like a hurricane. So why was Isaias so powerful as it tracked into the Northeast states? And could a sting jet be the culprit?
A sting jet is high-level winds from aloft rapidly descending from the middle of the atmosphere to near the surface. When you combine the sting jet with the normal thunderstorm activity of a tropical storm and the turbulent downdrafts that can occur near the surface it can lead to some impressive wind gusts. Sting jets are more often associated with extreme extratropical cyclones, like the ones that cause large insurance losses with European winter storms. To see one in a tropical cyclone is unusual; however around the time of landfall, Isaias was starting to interact with a mid-latitude cyclone dropping down from Canada so the process of extratropical transition could have helped this process. In fact, this is likely what caused large losses from Hurricane Michael in 2018 that were observed well inland.
The other reason for the higher possible damage in the Northeast might be due to the fact that, besides the hit or miss thunderstorm, the Northeast has not had a large wind event since Super Storm Sandy in 2012, whereas North Carolina has had its fair share of named storms recently with Matthew and Florence, and Dorian just last year. This has allowed for what might be called "building darwinizm" to occur, as the number of storms has offered plenty of opportunities for weak buildings to be damaged with the hope that the rebuilding efforts would be to a stronger standard than before. Therefore, the building stock in the area impacted should be more resilient to a weaker Category 1 winds. Overall damage seems to be limited in North Carolina to some minor roof damage, with soffits and gutters looking to be the worst of the damage. There is also a surprising number of autos that were flooded, which is unfortunate given that these could have been easily moved to an area less prone to storm surge.
Lastly, trees are causing a general issue in the insurance industry when it comes to wind events whether it be a thunderstorm or named storm. One of the theories to higher and higher insurance losses over time goes along with more and more housing stock over time. With that in mind, what is one of the first things someone does when they build a new house? They plant a beautiful shade tree. Fast forward 60+ years, and that tree is now a huge beautiful shade tree overhanging the yard. However, the tree rarely gets trimmed in its older age and it could have a disease or parts could be rotten. When the wind blows hard it could fall on a structure which causes loss. Finally, it gets replanted and the insurance loss cycle continues. This also compounds the problem of power outages as the trees grow over power lines. Utility companies do trim; however it is usually on limited cycles and inevitably during a big wind storm they fall on the line resulting in power outages.
Overall this is a major problem for catastrophe model vendors and insurance companies that try to capture such important information. In some catastrophe model sensitivity studies BMS has done the percent increases and decreases in the modeling results suggest that insurance companies could improve the understanding of risk by collecting tree-density information and better aligning rates to reflect the overall risk. By being more selective in the types of exposures they underwrite, insurers could offer credits or debits depending on a homeowner's willingness to take extra steps to protect their property from tree fall.
Tornadoes from Isaias
One of the items the tropical updates failed to mention, which is common in any landfall named storms, was the tornado threat which was high as Isaias tracked up into the Northeast. There were 109 tornado warnings issued with at least a dozen tornadoes reported. However, given the scale of wind-related damage, some of these tornadoes might go unaccounted for. One of the highest wind gusts observed from Isaias was a result of a waterspout coming onshore near Long Beach Island, NJ, which recorded a wind gust of 109 mph. Currently there is a bit of a debate if this should be included as part of Isaias' official wind gust report, but regardless there was plenty of tornado activity with Isaias.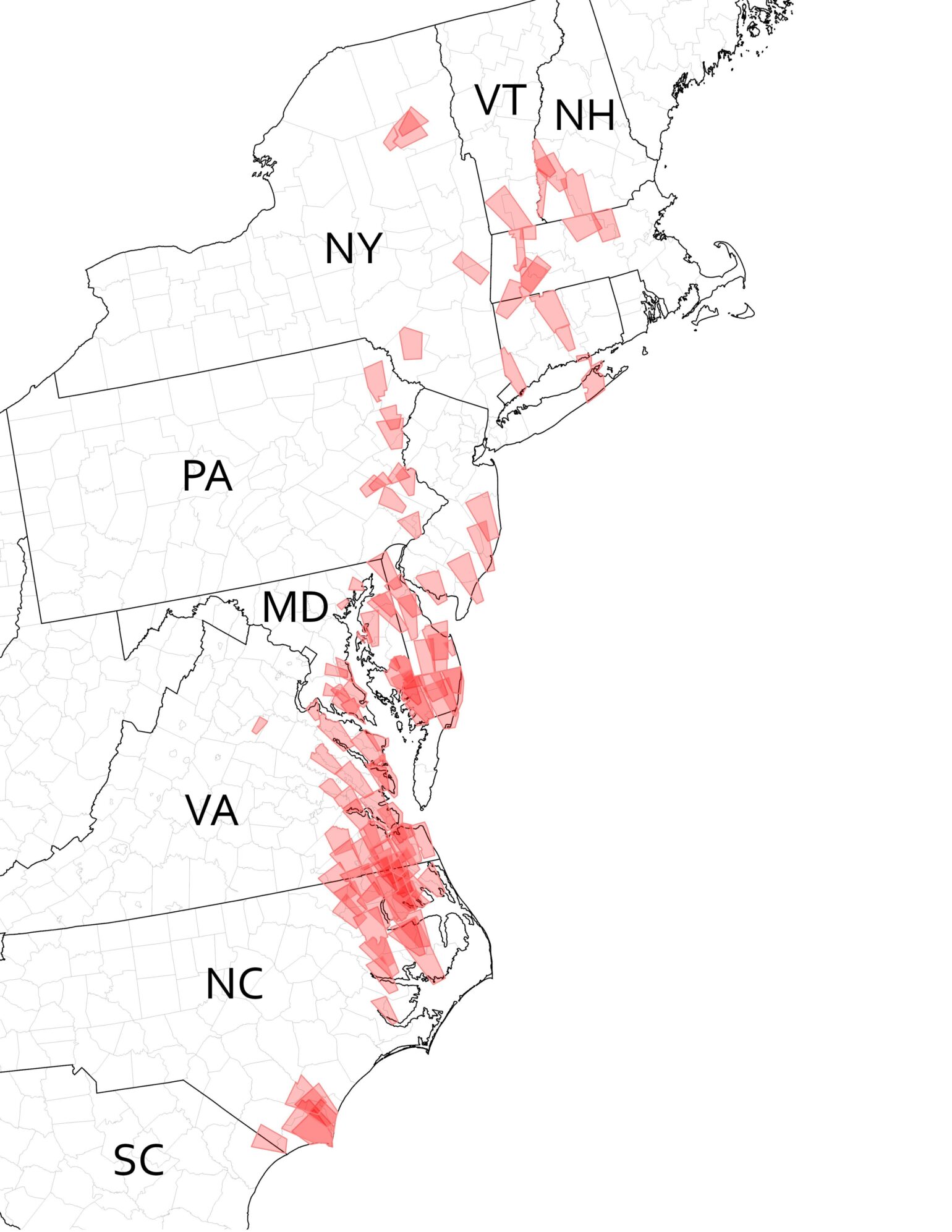 Wind Gusts
One of the more impressive wind gusts from Isaias was recorded at Mount Washington which reported a peak wind gust of 147 mph . This is the highest wind gust reported there in the month of August, breaking the record from Hurricane Carol in 1954. However, this is elevated on a mountain top. Closer to sea level the reported wind gusts along the track are still very impressive which also helps explain the sting jet that likely occurred and the large amount of treefall.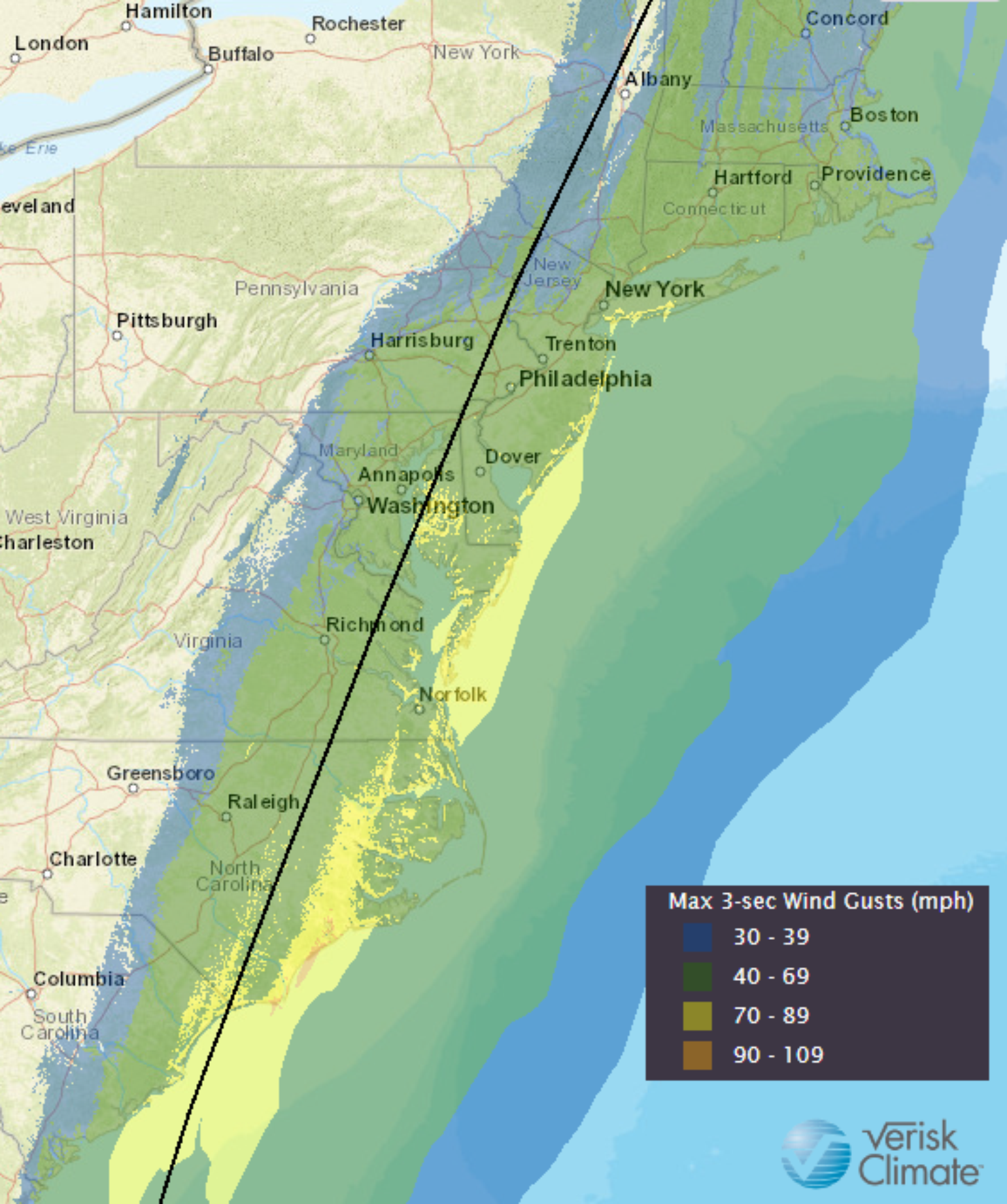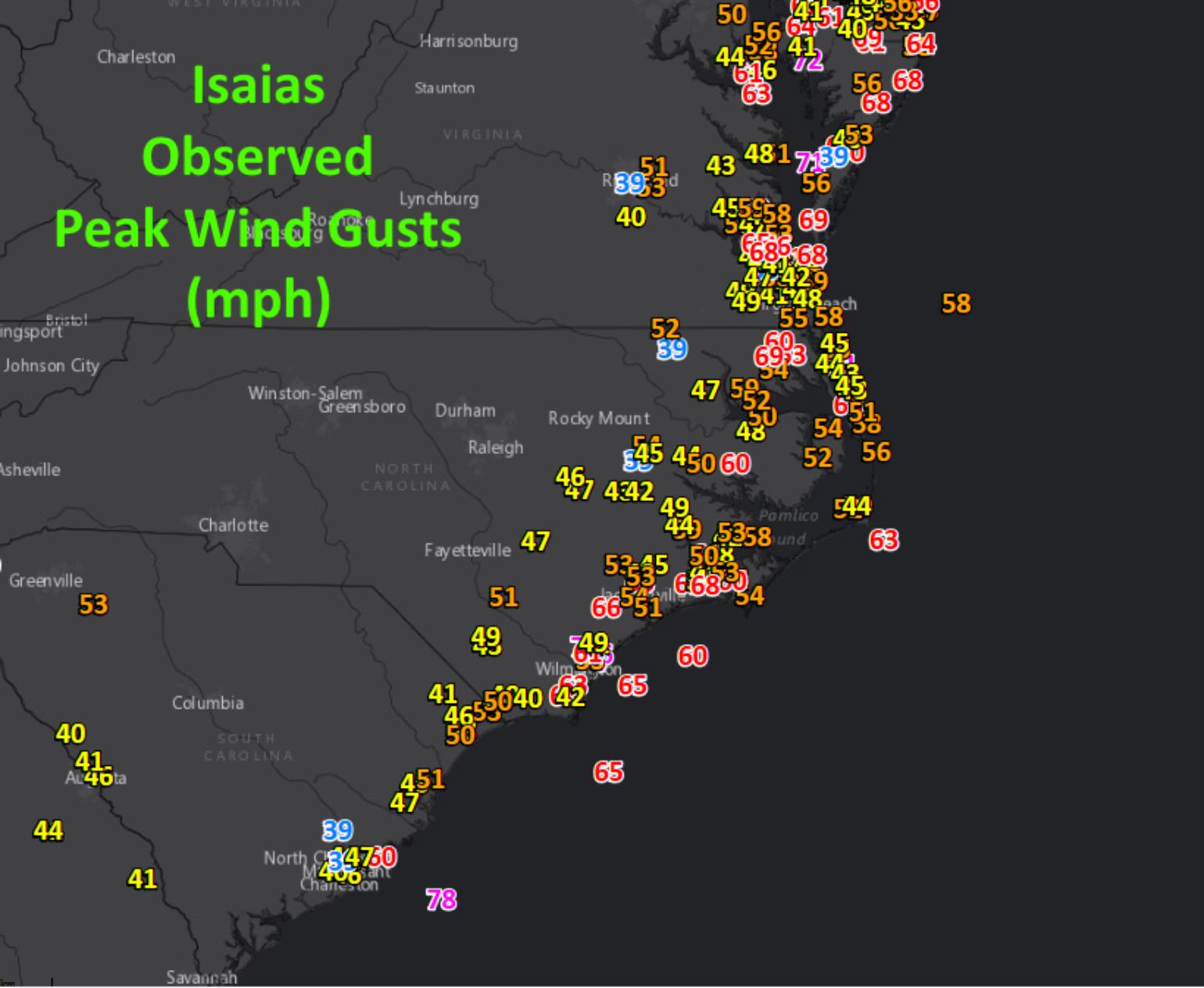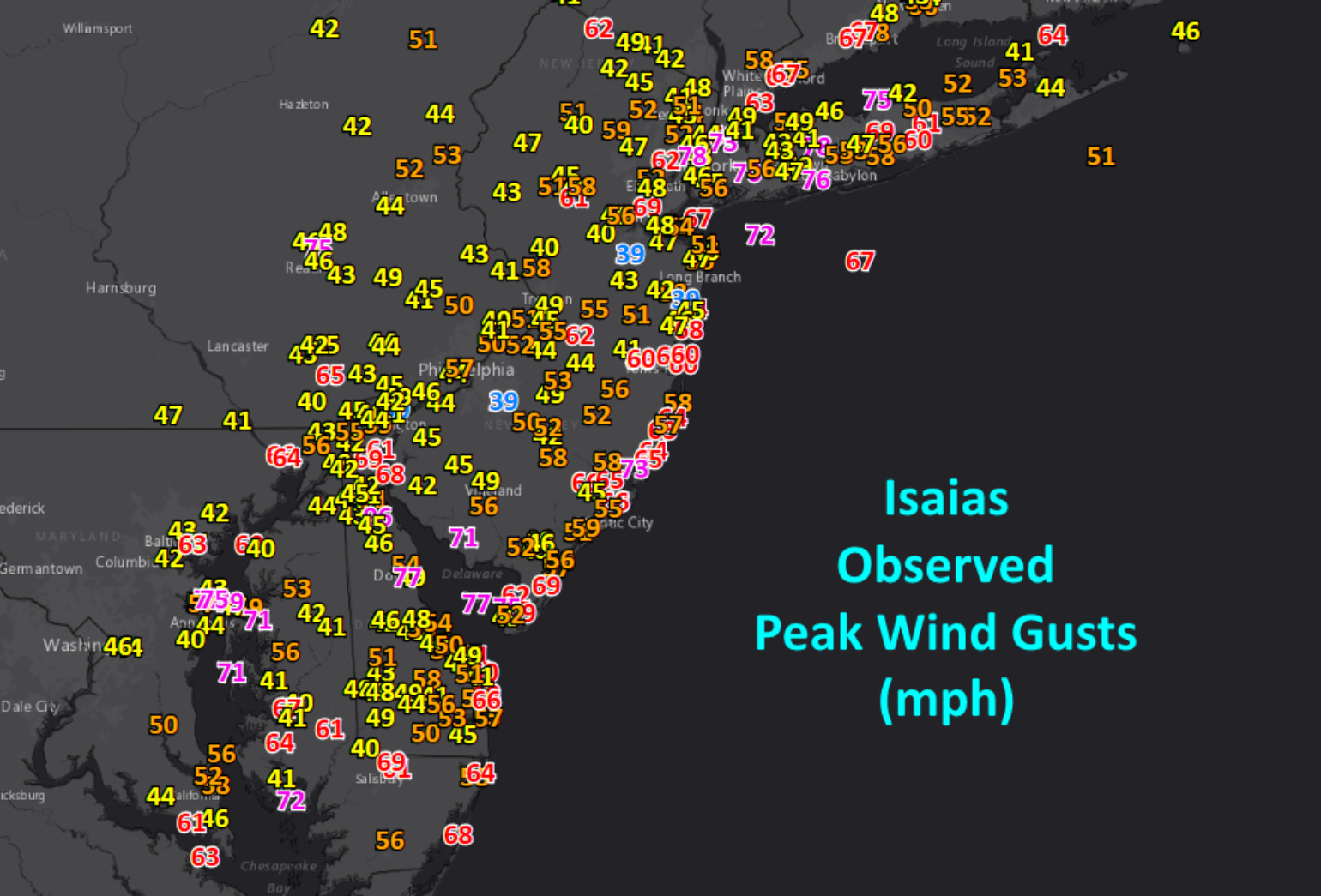 Rain and Flood and Storm Surge
Another issue that likely compounded the treefall into the Northeast was the large amount of rain that fell in association with a pattern known as a Predecessor Rain Event or PRE. This likely saturated the ground by the time the strong winds moved into the area. This saturated soil could have weakened the earth around trees causing them to fall in the strong winds.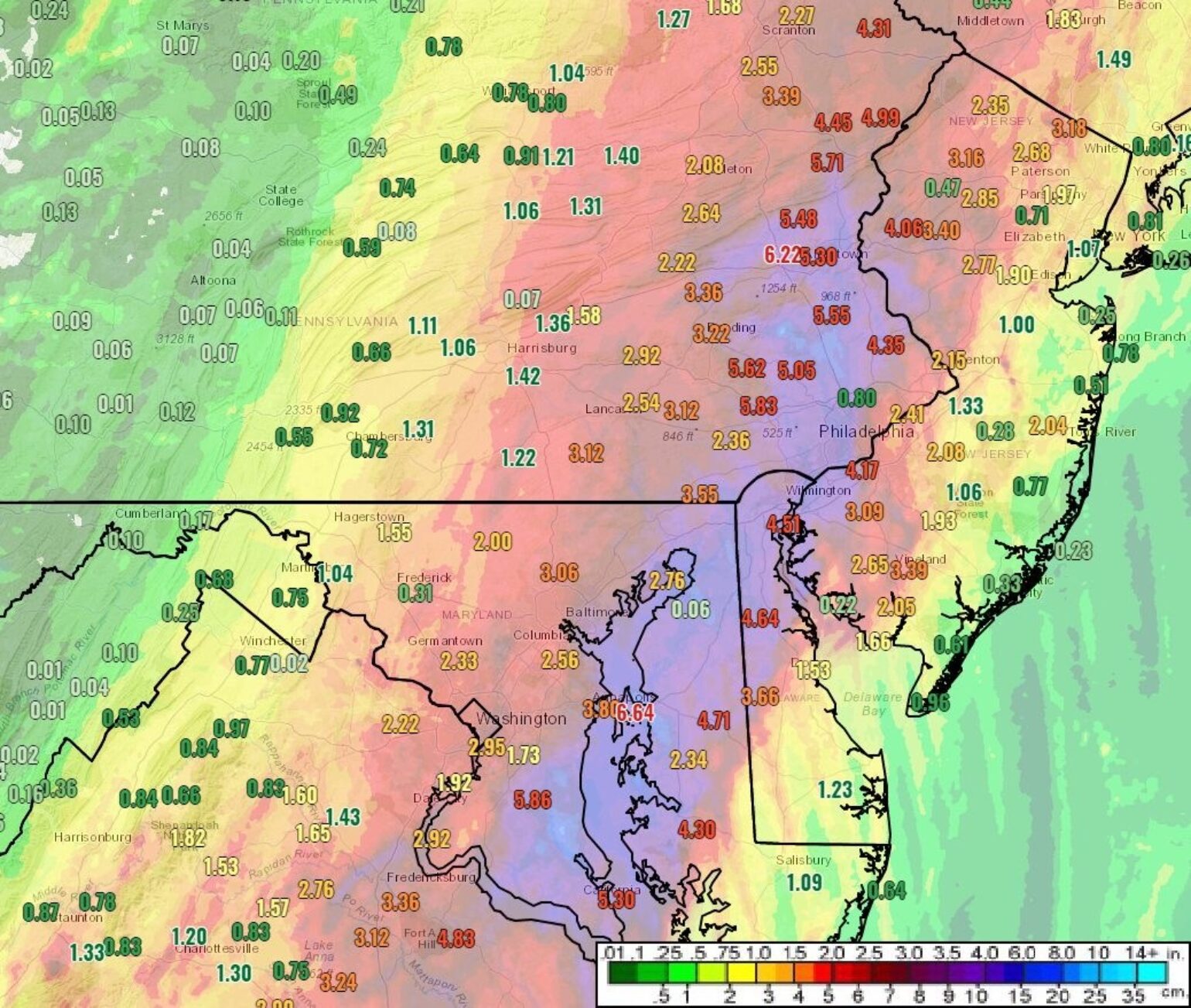 The heavy rainfall has resulted in some record-breaking flooding to occur along some rivers in the Northeast, which also shows the historical significant Isaias will have on the area - raising the case for retirement. One of the luckier or unlucky aspects of Isaias' rapid forward motion was the timing that occurred as it related to storm surge. Water levels at the NOAA tide station in Wilmington, NC reached 4.19 ft over normal tide, breaking the record set during Hurricane Florence in 2018, but also this occurred along with the high tided and nearly full moon that was occurring making the surge worse. This is unlucky. To the north, Battery Park, NY was luckier as the surge was 5.96 ft, but it was also occurring at low tides so overall it was lucky the tide was going out otherwise coastal flooding could have been worse in the area.
What is Next
Today Colorado State updated their seasonal forecast and it continues to call for an active hurricane season. Isaias was a good test run for the industry. The season has barely started and looking at the long-range weather pattern the next tropical troubles could favor Gulf of Mexico activity more than the East Coast, but generally, the busiest part of the season for New England is September and October so with more activity forecasted it seems like the insurance industry can not rest yet, as everyone might get a taste of tropical troubles at this rate.