By Andrew Siffert Vice President / Senior Meteorologist
This afternoon Isaias is 180 miles South Southwest of Myrtle Beach, SC with winds just below category 1 hurricane status at 70 mph. It is moving N at 13 mph with a central pressure of 993 mb.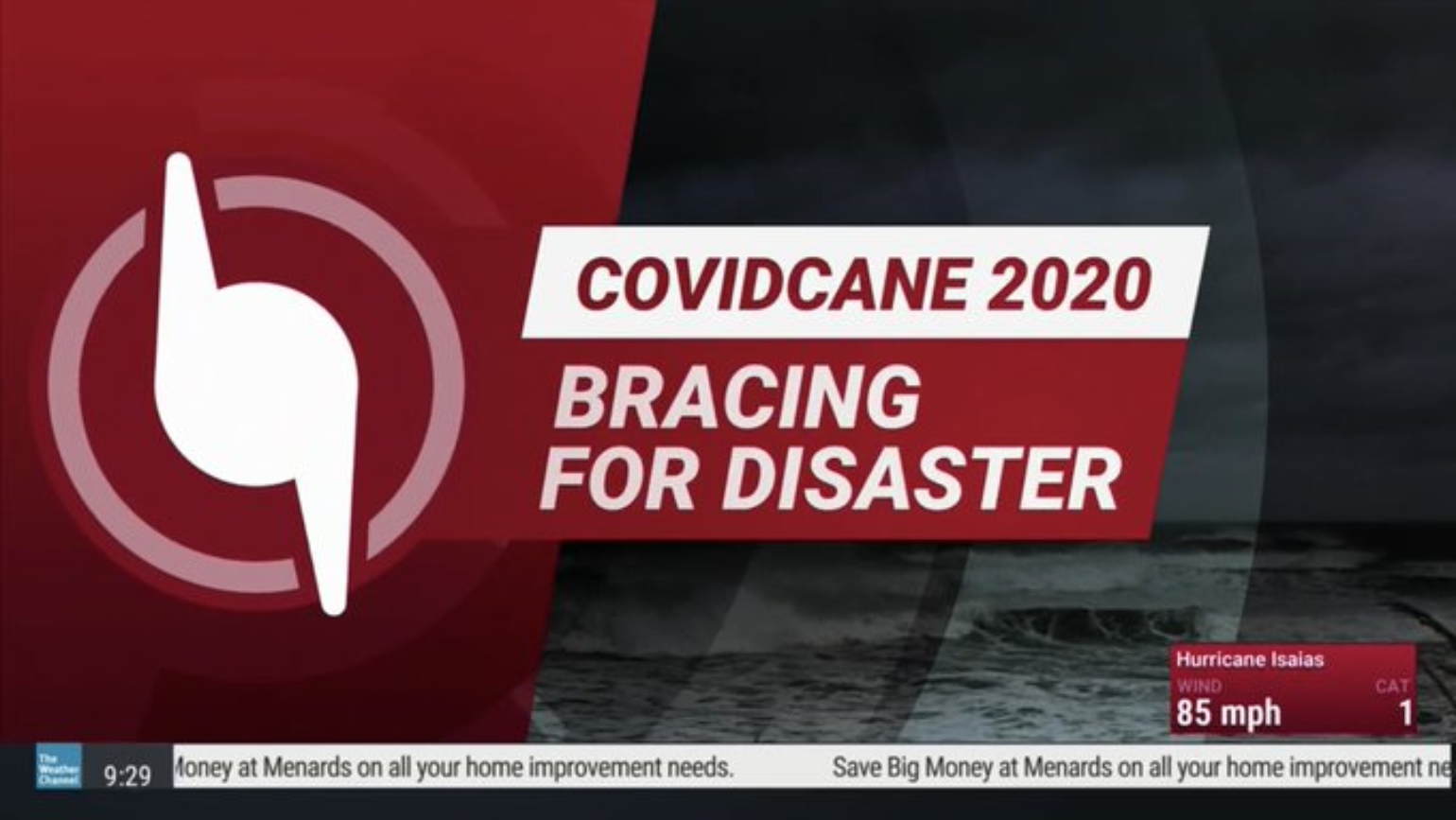 Thankfully Isaias never made a Florida landfall and will never be the Covidcane "2020 Bracing for Disaster" hurricane some media outlets are hyping. Some might say the deep convection and strongest winds were social distancing itself from the Florida Peninsula as Isaias tracked around 30 to 55 miles from the East Coast of Florida over the past 36 hours.
The highest wind gust I have seen was recorded at Palm Beach International Airport and Lake Worth Pier at 53 mph. Overall as Isaias tracked along the Florida East Coast the strongest winds were inside the deep convection to the East of the storm center so the Bahamas Islands experienced higher wind and rainfall totals as a result of Isaias. In fact, very little rain fell over Florida as Isaias passed, which won't be the case for parts of the Northeast over the next two days.
I have found very little damage reports along the Florida coastline with the biggest impacts being beach erosion with only 3,000 power outages being reported across the state of Florida which tells me this is a very minimal event for the state.
Isaias' on-again off-again intensity and deep convection to the East side of its low-level circulation is a result of dry air and shear impacting the West side of the overall system. This makes the intensity forecast rather difficult and this afternoon Tropical Storm Isaias still isn't super well organized regarding an eyewall which is still open to the Southwest side as a result of dry air and upper-level wind shear. Until we get convection around the center of circulation Isaias will have a hard time intensifying into a category 1 hurricane, but it won't take much since it is already a top-end tropical storm.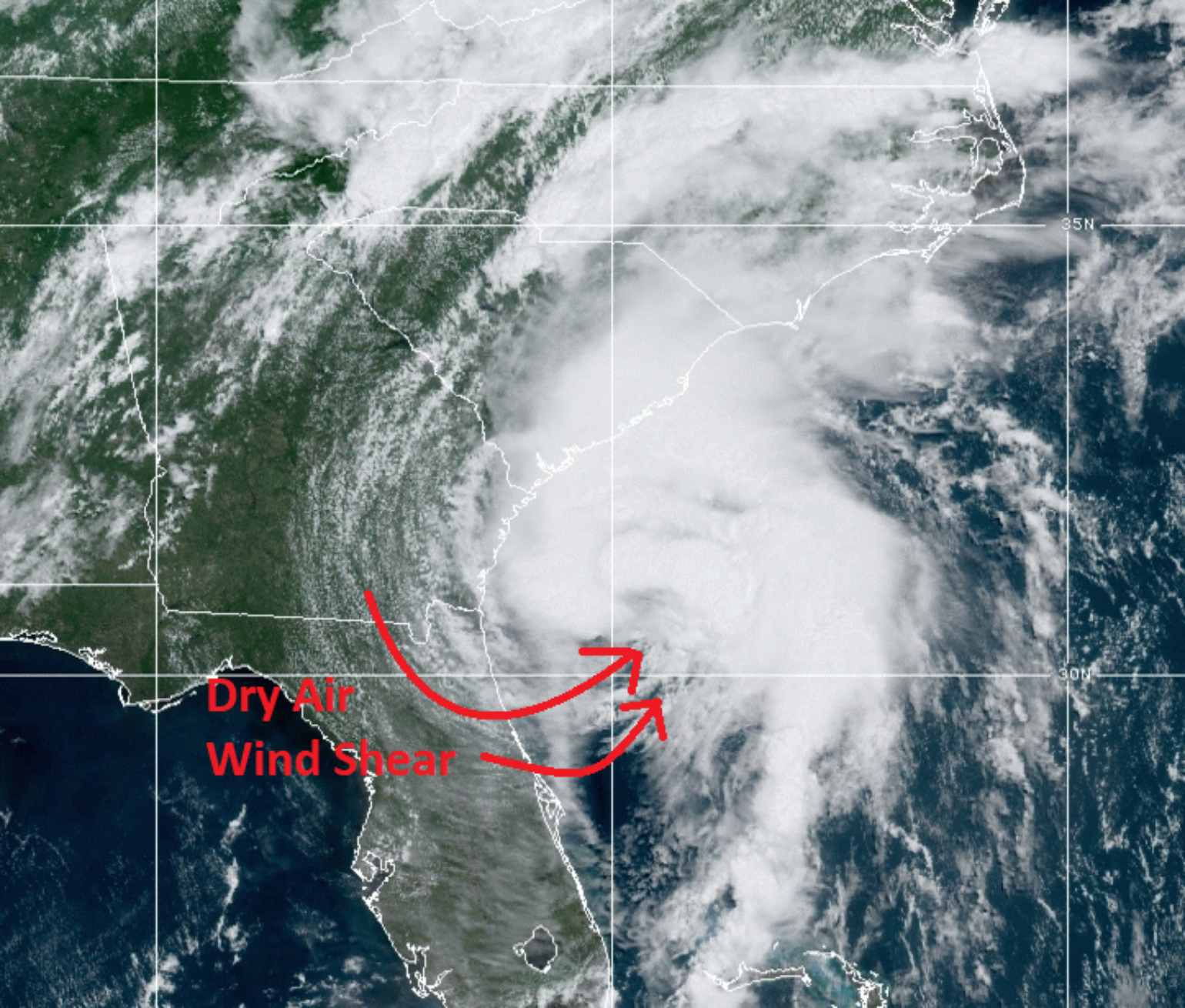 Now, with that being said, the storm is now tracking over some of the warmest water in the Atlantic Ocean and as it starts to move to the Northeast the southwest shear that has been impacting the storm over the last few days will be better aligned with the direction of the storm travel as Isaias looks to make an official landfall as a weak hurricane between Myrtle Beach, SC and Wilmington with Charleston, SC likely seeing limited impacts and the less populated areas of Bird Island to Oak Island, NC taking the worse of the impacts. These impacts could see wind gusts of 60 – 70 mph and a storm surge of 1 – 3 feet with areas of isolated 3-4 feet. Provided the relatively small size of the circulation I don't expect much impact on parts of the Outer Banks of NC as the strongest winds should occur just to the West of these locations.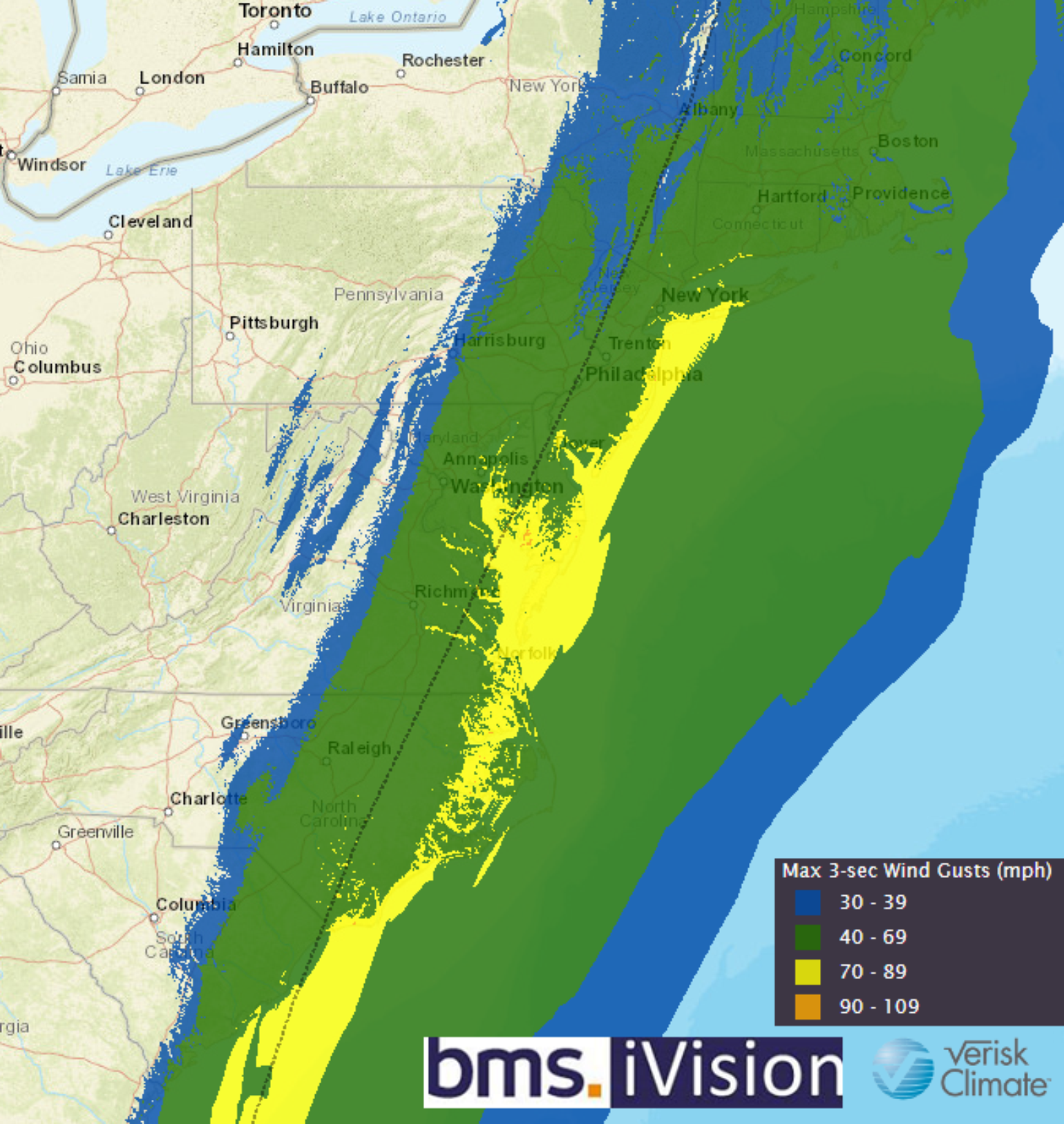 Remember, this general area was just hit by hurricane Florence in 2018 which was a much larger, more powerful storm that caused 4 billion dollars of loss to North Carolina. This has allowed any weak building to be damaged and hopefully, they have been rebuilt to better standards allowing them to withstand weaker tropical-storm-force wind gusts. It should be noted at this time the loss level should not be even close to the level of loss from Florence. In fact, the impacts might be similar to Tropical Storm Hanna of 2008 which today would cause around $100 million in insurance industry loss. There are a lot of similarities between Tropical Storm Hanna 2008 and Isaias. They both have similar intensity and track at landfall and the inland impacts could also be similar.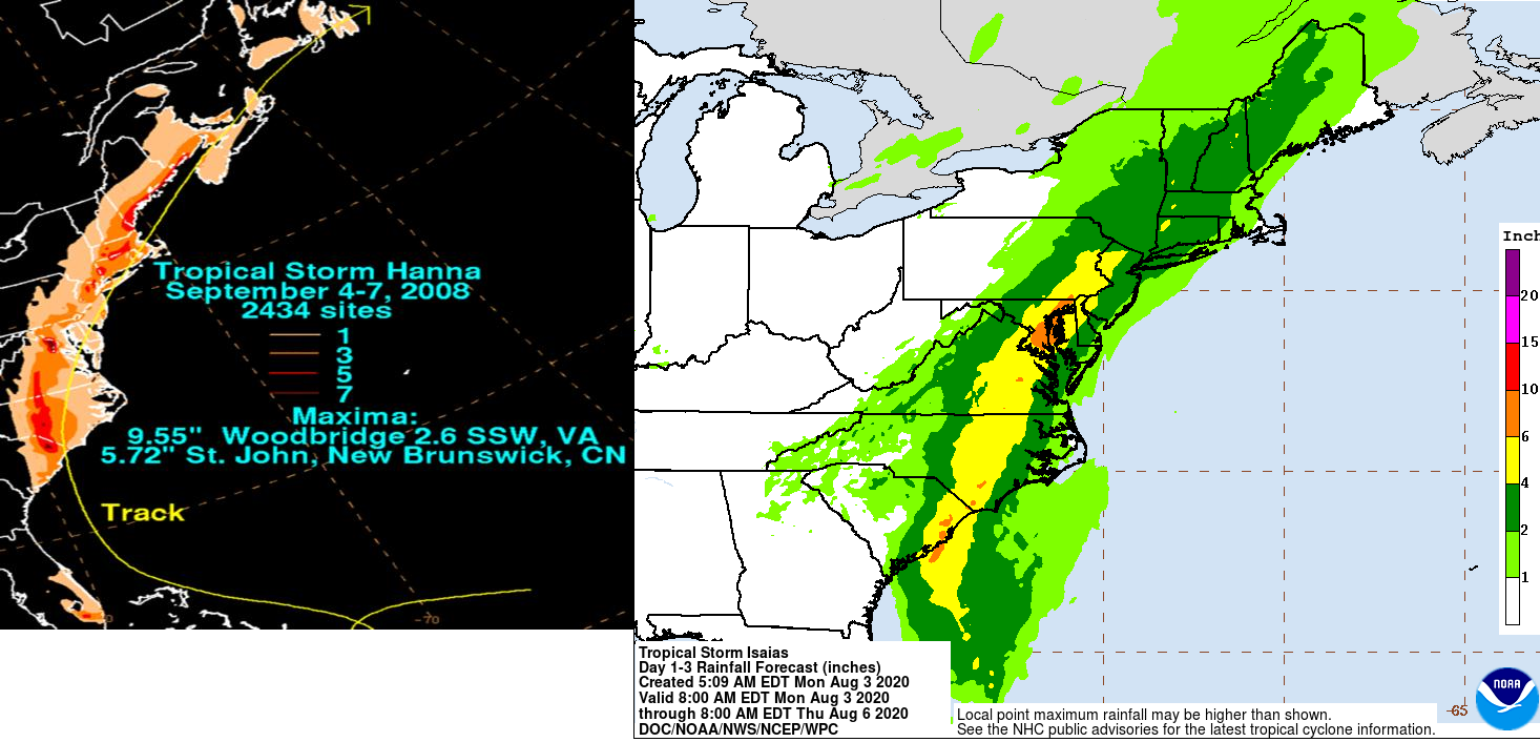 As Isaias tracks inland it will be racing to the northeast which should limit wind impacts but expect insurance losses to add up in the northeast as localized power outages and tree falls add to claims. Similar to Hanna in 2008, Isaias will also produce up to 6 inches of rain in parts of Maryland into New Jersey which will surely cause issues with localized flooding and sewer backups.
Lastly, there are other tropical troubles brewing, but overall a large area of upper air suppression is moving into the Atlantic basin which should bring an unfavorable environment for developing tropical cyclones from west to east across the tropical Atlantic for the next 1-2 weeks; so time to rest before the activity starts again after mid-August.