There have been several big hail losses to the insurance industry over the last several years in fairly predictable locations. In 2016, three separate large loss hail events in the span of 10 days impacted several communities in Texas. The front range of the Rockies, including the Denver area, has had several billon-dollar hail events over the last few years as well. However, perhaps surprisingly, Phoenix holds the record for the costliest hail event, which is clearly in an area one might not expect large hail to occur.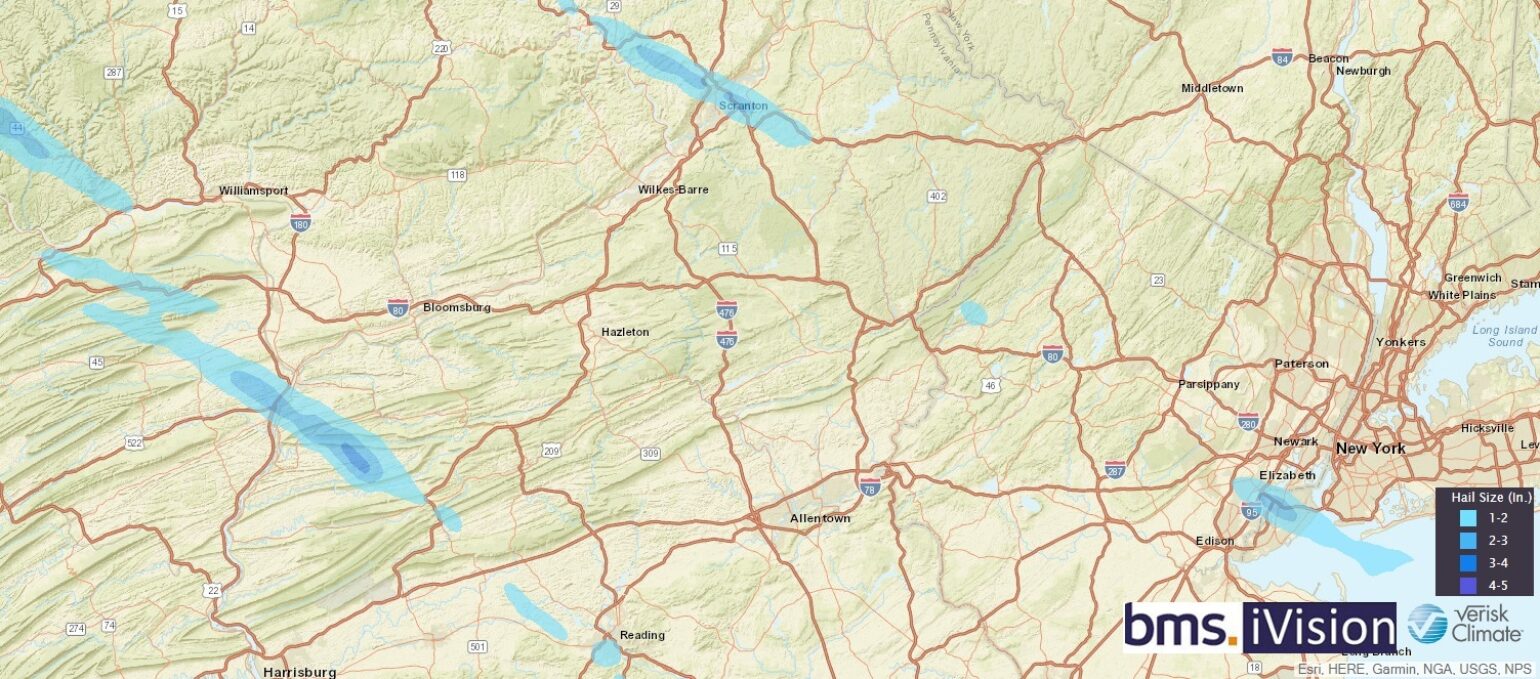 While sizeable hail losses across the Central Plains typically grab media headlines and much of the insurance industry's attention, it is not uncommon for other metropolitan areas, such as Minneapolis, Chicago, and even large cities on the East Coast, to be at risk for considerable hail events. In fact, if you look at the various state record hail sizes across the Northeast, many are four inches in diameter. A hailstone of this size would rival some of the large hail observed in the Central Plains in any given year.
Property Claims Services (PCS) reports there is also a steady increase in severe thunderstorm insured losses. According to the Insurance Institute for Business & Home Safety (IBHS), hail accounts for nearly 70% of all property damage from severe thunderstorms. One of the major reasons for the increase in insured loss amounts from hail events is that there have been demographic changes over time, with more people now living in hail-prone areas in the Central Plains. The already compact populations in many U.S. cities are becoming denser, with some of the biggest cities continuing to grow.
Another factor that needs to be considered is that, as the population increases, the size of newly constructed homes has been growing with it. A recent report published by the U.S. Census Bureau found that the average new house is getting larger, even as the average size of families in the U.S. shrinks. Over the years, the size of newly constructed homes has increased more than 1,000 square feet, ballooning from an average of 1,660 square feet in 1973 to 2,641 square feet in 2018. This means that rooftop targets are larger and easier to hit, which adds to the overall exposure of this already expensive peril. Despite all of the new construction, many homes are aging and are more likely to have older roofing materials, such as asphalt shingles, that don't get replaced as often as necessary. The exposure of these outdated materials to extreme cold and heat can make them more vulnerable to falling hailstones, thereby increasing the overall susceptibility to hail loss across the region.
There also seems to be a prolific problem of roofing contractors who chase storms. Following the housing downturn in 2008, contractors have increased the practice of trailing damage after hail storms, which aligns with the general uptick in hail-related claims after that year.
Hail Research
I was lucky to join a group of leading researchers at the National Center for Atmospheric Research (NCAR) for the North American Hail Workshop this past summer. This first-of-its-kind workshop was an opportunity for many industry professionals impacted by hail to learn more about this complex peril that is, currently, not well understood. After all, the more knowledge and facts we can gather as an insurance industry, the better the chances are that we can manage risk and reduce premiums for consumers.
From the workshop, it became clear that the IBHS is doing much of the heavy lifting when it comes to understanding hail impacts to the insurance industry. They have conducted extensive research in the observation of hail over the last few years, including the first-ever 3D scans of hailstones, along with density and kinetic energy measurements - very important components of understanding the potential damage hail can cause to structures. The IBHS is also conducting a roof aging study to better understand the impact that roof age has on the resilience of roofing materials to hail damage, among other perils. The initial results from samples that have been aged five years are expected sometime in 2019.
The workshop also went into great detail on weather forecasting models and their reliability to predict hail events in both the near term (day-to-day weather forecasting) and long term. As with any extreme weather peril, the question of what role climate change is playing was discussed. It's difficult to answer because researchers still don't fully understand the process of how hail forms and the factors that contribute to different hail size. There is an imperfect understanding of the microphysics and how storm-scale processes interplay. However, in its simplest form, climate change research suggests that a warmer climate would allow for an increased amount of moisture in the air, which would increase the Convective Available Potential Energy (CAPE). In warmer climates, the Convective Inhibition (CIN) also increases with a warmer atmosphere. A warmer climate allows for the build-up of buoyancy for longer periods of time, and when storms break the Inhibition, they could be more severe and intense than in the current climate. The climate modeling presented at the workshop generally shows that climate change may produce an increase in large hail sizes and frequencies, especially in mid-latitudes. The modeling suggests that there may be a decrease in frequency in the lower latitudes, where there are higher temperatures and moistures.
One thing that is helping the insurance industry is the new dual polarization radar data from the National Weather Service. These new radars are providing more precise information on hail size and location for hail swaths, allowing insurance companies to better estimate expected losses from hail events and to mobilize resources to more effectively serve customers that may be filing claims. Having the ability to plan and respond efficiently and accurately is key to managing losses from such large events. BMS Re US clients have access to historical hail swath events to run "what if" scenarios using Verisk Weather Solutions Respond hail data. Using this data, we have built a historical frequency of hail occurrences across the U.S., providing a view of the highest risk zones for hail that are not subject to the various errors that may appear from human-based storm reports. Below is a look at the Verisk Weather Solutions Respond Hail Swath data converted into a Hail Swath Relativity.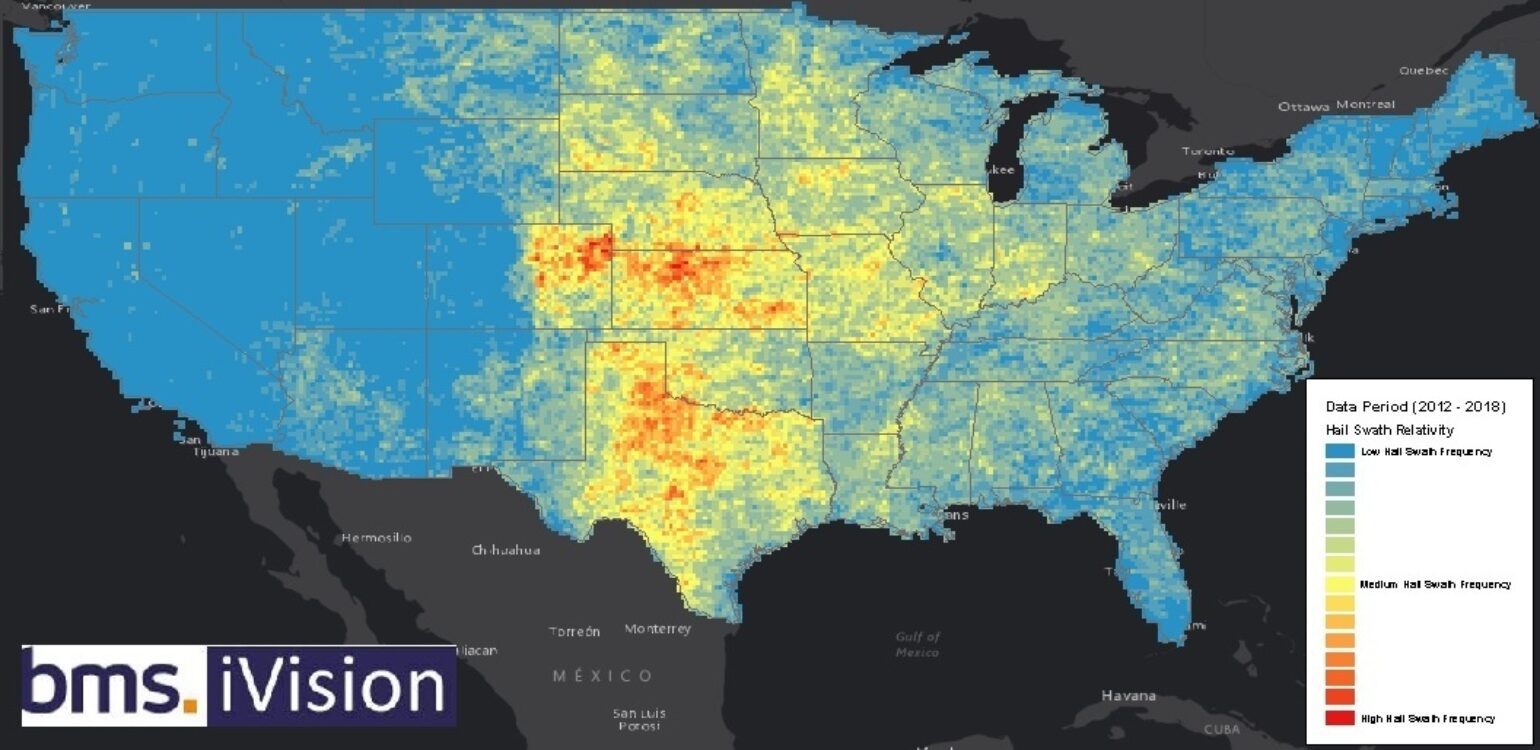 Parts of this BMS Insight are set to be published in the spring addition of the New York Insurance Association NY Connection Magazine.