Severe weather can strike quickly. This is precisely what happened March 2 and into the early morning hours of March 3rd. Although much of the attention has been on the EF-3 long-track tornado that moved across Nashville, TN, and communities to the East, several supercell thunderstorms spawned numerous tornadoes across the region. In total, 10 tornadoes have been recorded, including the first EF-4 tornado of the season in Cookeville, TN. Additionally, large baseball hail was reported in Charlotte, TN and a few dozen reports of wind damage were also reported. This event will likely result in hundreds of millions in insured loss across the region, if not a billion when it is all tallied.
The insurance industry is already on edge after an active 2019 season, which accounted for a record number (48) Property Claims Service severe weather bulletins and the costliest year since the 2011 severe weather season, and it would appear that 2020 is already off to an active and costly start for the insurance industry and the season is just getting started.
However, climatologically speaking, this is the time of year when Dixie Alley is most likely to experience severe weather risk. The risk of severe weather starts to shift westward into Tornado Alley in mid-April and May when tornado and hail reports generally peak across the continental U.S. In fact, since 2008 the U.S. insurance industry averages about $1.7 Billion or 11% of the yearly insured loss during the month of March across what is usually three industry events.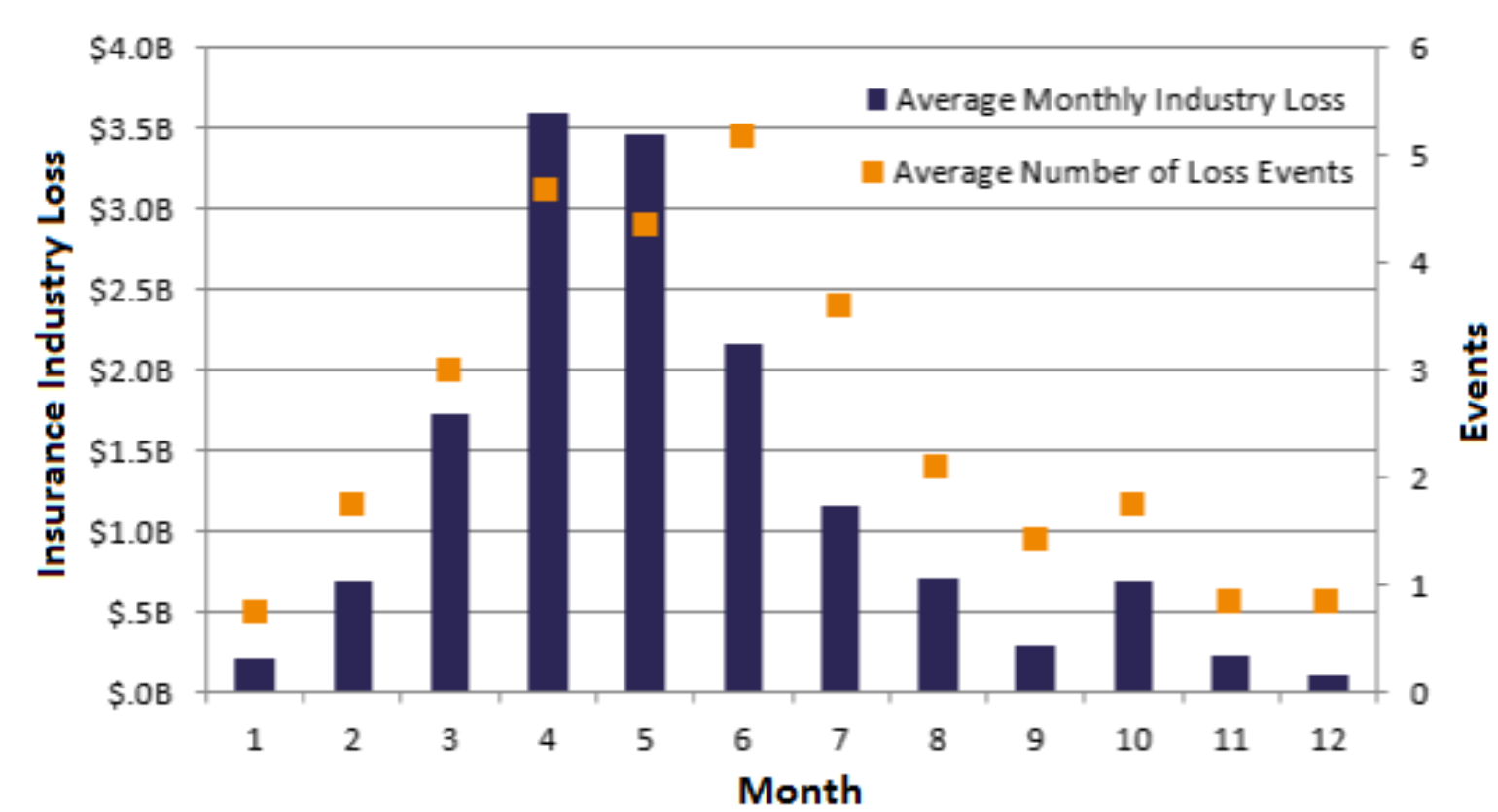 What To Expect
What does this all mean for the approaching heart of the severe weather season? Will 2020 be as active as 2019? And what are some of the tools that can be used to understand severe weather risk?
It is simply too early to know. Looking at the severe weather reports so far for January and February 2020 an active start does not always mean the heart of the severe weather season will be active. For example, the start of 2017 had roughly 1,800 reports of severe weather, but that season turned out to be about average and the costly 2011 season really don't get going until April and May.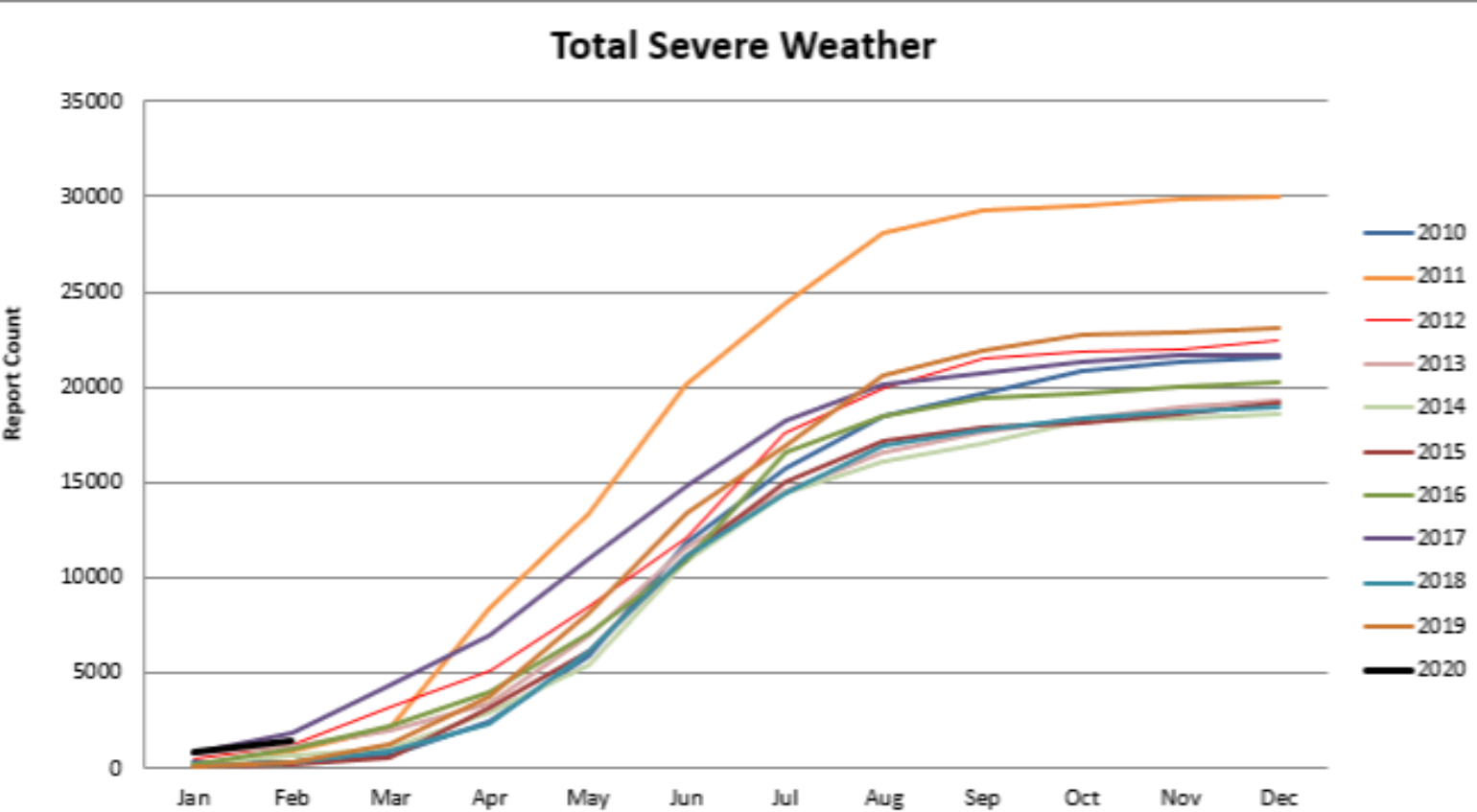 There are a number of climate forcers that can drive an active U.S. severe weather season across the Central Plains. One of the more closely followed climate forcers is the state of the El-Niño Southern Oscillation (ENSO). Currently it is in a similar state as to last year at this time, but, this year instead of a weak El Niño conditions developing the climate model guidance are forecasting a cooling of the Central Pacific waters to an ENSO neutral state into the heart of the severe weather season. Therefore, ENSO should not be a factor this season given its neutral state.
Another one of the fundamental catalysts for severe weather is the difference between cold air and warm moist air. Unlike last year, this difference is not as great. The Gulf of Mexico sea surface temperature was anomaly warmer last year than this year, and when you combine that with the overall lower snow cover extent and depth of snow across the Northern Plains and the Rocky Mountains this year verse last year, it might indicate less overall severe weather.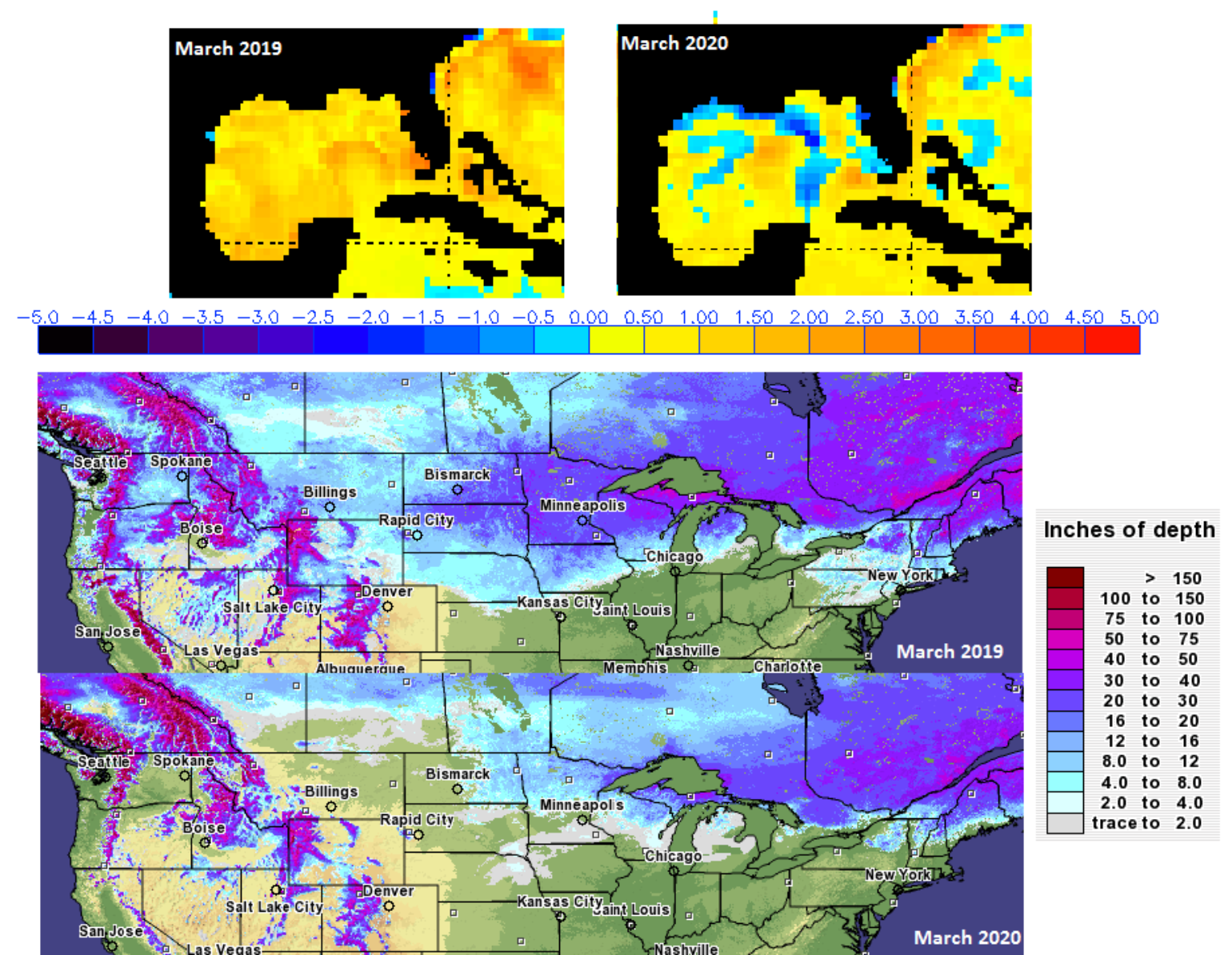 The overall North American weather pattern has been fairly constant over the winter of 2019-2020, which has resulted in largely warmer than normal temperatures across the vast majority of the country. This means the majority of the cold air has been kept up in the Arctic, largely due to a strongly positive Arctic Oscillation (AO) and positive North Atlantic Oscillation (NAO). If this general weather pattern continues, the climate forcers would suggest continued warmth across the U.S. with a ridge of high pressure across the Southeast. This might help bring Gulf of Mexico moisture into the central plains and keep much of the country with above-normal temperatures this spring, and could subsequently limit periods of instability.
Lastly, like last year, the Pacific Decadal Oscillation (PDO) is in a negative state. This tends to provide an upper atmospheric pattern that might be more conducive to severe weather outbreaks, and highlights the concern for active periods of severe weather when they occur - as upper atmosphere dynamics provide a more idealized environment.
In fact, one of these active periods is forecasted to occur from mid to late March with an above-average risk of severe thunderstorms capable of producing damage winds, large hail, and more tornadoes. According to NOAA Climate Prediction Center, a stormy pattern is possible over a large portion of Dixie Alley. This will also increase the flooding concerns that have been occurring over this region for the last two months, as flooding along major rivers across the southeast and lower Mississippi River Valley are expected to continue.
Another forecast product to watch is Dr. Victor Gensini of Northern Illinois University. He has developed some predictive skill in forecasting tornado outbreaks several weeks in advance. This ERTAF (Extended Range Tornado Activity Forecast) product looks at a four week period and currently calls for a slightly elevated tornado activity from March 15th through March 21st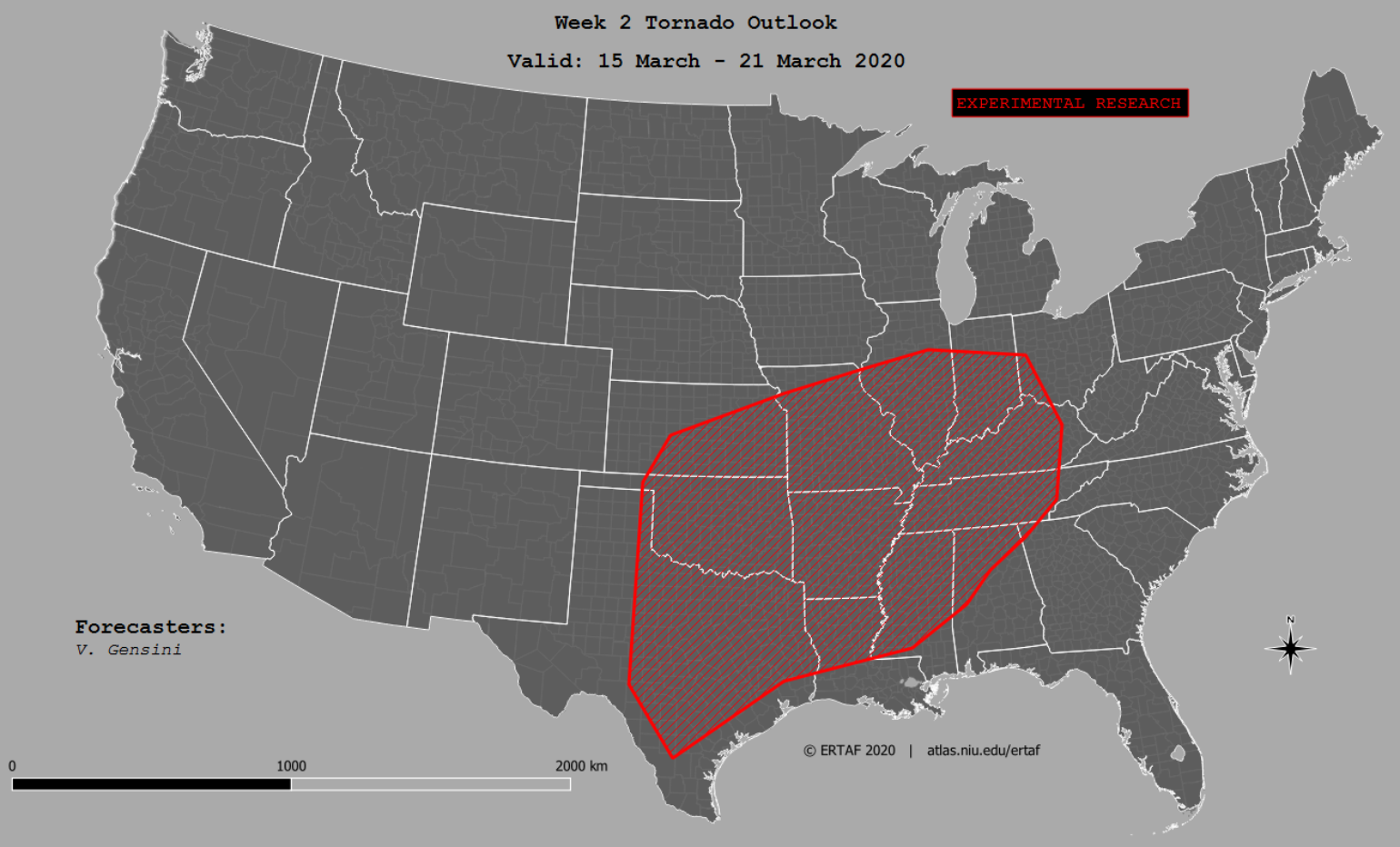 Overall the climate forcers indicate both positive and negative signals for severe weather, but at this time they would not point to a severe weather season to be more extreme than 2019. However, severe weather is forecasted and it only takes one event to impacted a populated area, as just experienced in Nashville, TN, to make it costly for the insurance industry. We need to remember that the overall severe weather conditions for March 2nd and 3rd were not calling for a historic tornado outbreak, so even the mildest of severe weather conditition can be costly if a storm impacts the right area.