For someone who spent four years of my life living on a rented house on Schuylkill River in Philadelphia along River Road in the Roxborough area, my jaw just dropped this morning as I see that the Schuylkill River is now at the second-highest level on record and could likely exceed the record set back in 1869 at 17 feet. The river level is less than a foot away from that mark now. Yes, highest since 1869 or at least highest in 150 years.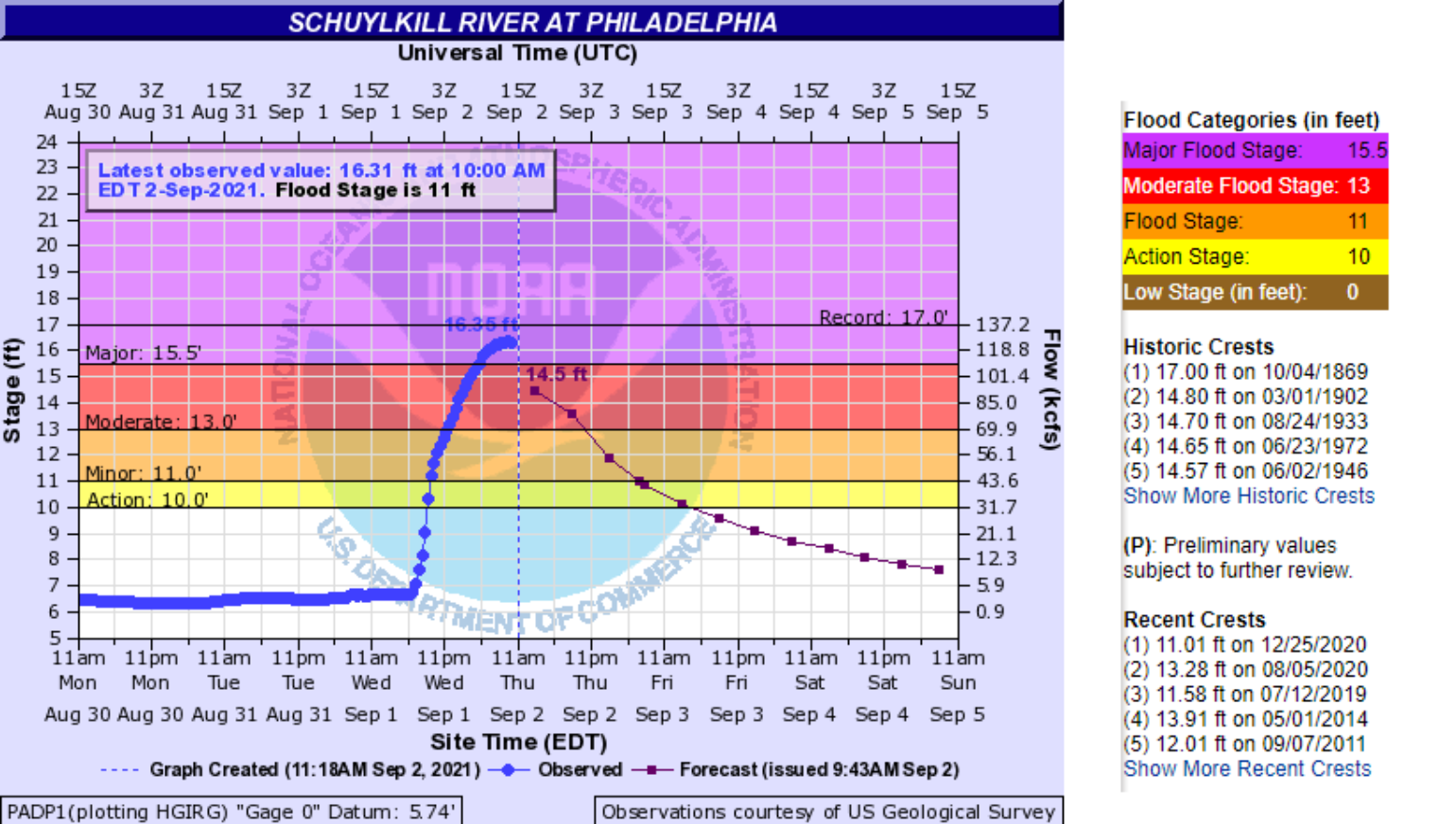 This just goes to show you how historic of an event the flooding and rainfall is as a result of Ida's violent departure across the Northeast U.S. The magnitude of the rainfall and flooding is almost incomprehensible; because, even with some of the longest weather records in the U.S., the amount of rain that fell in this short period is likely the most rain that has happened since the settlers first arrived in the area.
There is very clear data that a good part of the megalopolis that travels along with U.S. Interstate 95, with a population of 50 million, experienced at least a 200 year to a 500-year rainfall event, and in some cases the recurrence interval exceeded a 1000-year event.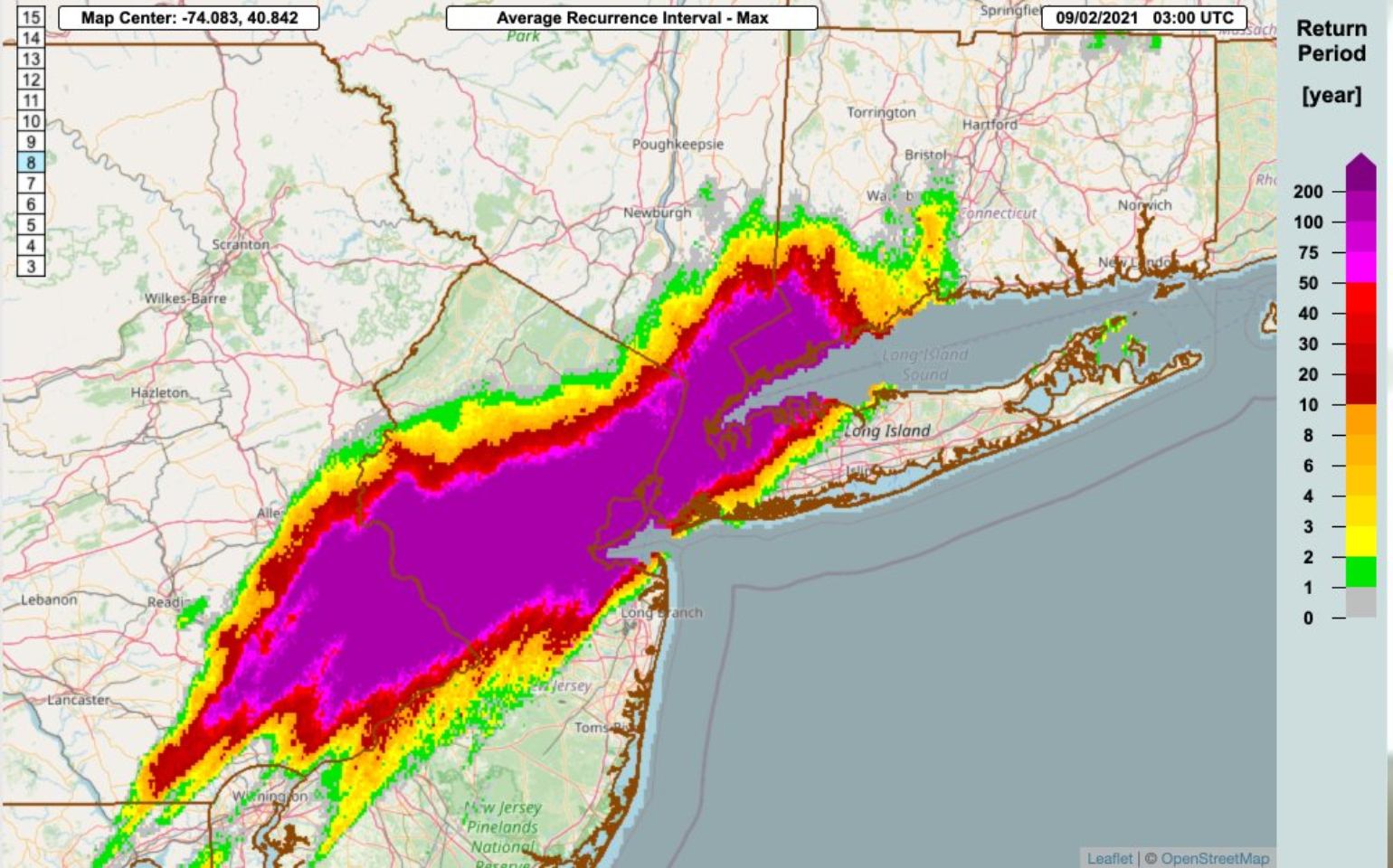 Although, on August 30th BMS Tropical Update, it was mentioned at the end of the blog that massive amounts of moisture would be carried north leading to flooding rain with as much as 10 inches of rain forecasted, events like this are incredibly unique and difficult to convey just what the impacts might be. There was clearly a lot of forecast data saying this would be a major flooding event for the region. The National Weather Service Prediction Center (NWSWPC) issued a rare high excessive rainfall outlook that covered 20 million people plus an additional 32 million in the surrounding area with moderate excessive rainfall. In fact, NWSWPC Warning Coordination Meteorologist, Alex Lamers, shared on Twitter why this was a big deal. He mentioned the data they have for when high risks are valid are about 16 days per year on those days about 2 out of every 5 U.S. flood fatalities occur. About 86% of U.S. flood damages (based on 2010-2018 data) occur on days when high risk flooding is expected.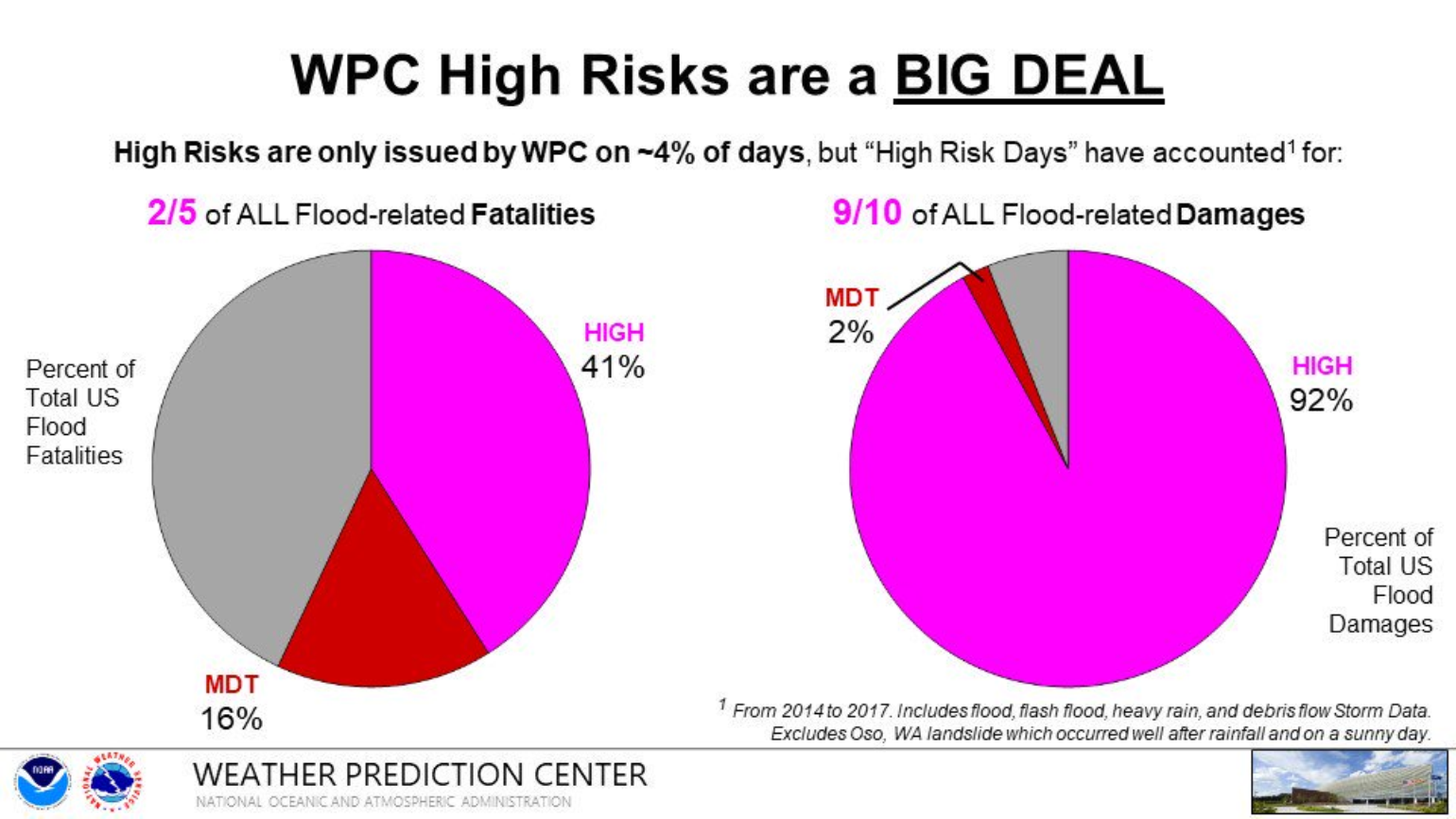 Although this is a historical event and catastrophe risk models are improving, there continues to be several areas that lack guidance for named storm events. Clearly, the ongoing electrical outages are leading to larger insurance loss implications that are ongoing in the New Orleans area. These are often considered part of the nonmodeled loss. The flooding rains are also not likely accounted for within the catastrophe risk models, and, if they are they are inexplicably accounted for, often real-world uncertainty around nonmodeled aspects of loss such as power outages and surface flooding still trumps even the best models. Therefore, loss estimates are not easy and clearly water is becoming the new wind when it comes to named storm impacts.
Not only are there catastrophic risk modeling challenges, but there will also be questions as to what is covered and to what degree. Many homeowners never read their insurance policies. Unfortunately, flood is not often covered under a person's homeowners or renters policy. After Sandy the take-up rate of flood coverage in the Northeast likely increased, however, over time, weather memories are short and this coverage is decreased or cut. The National Flood Insurance Program in many areas of the Northeast tends to be extremely low - less than 5%. But often it is less than 1% inland away from the coastline. Private flood insurance coverage is increasing, but take-up rate is still low or in some cases private flood insurance might not be offered in areas that flood more often.
There will be big questions as to how the flooding occurred. Was the flooding a result of a water backup and sump discharge, overflow, or was it coming in a window or door into the basement? Often sewer and drain backup cover is sublimited on some policies - but this is state-dependent. In Maryland, for example, policy issuing companies are required to offer full limits for sewer and drain coverage if the insured asks for it. Otherwise, the insured can opt for a sublimit only. Other states might only be required to offer sublimited sewer and drain coverage via an endorsement coverage option policyholders would have to pay extra for. In some cases, carriers just add on a small sublimit at no cost and offer policyholders the option to purchase additional coverage if needed. The bottom line is for everyone to make sure you know what your policy covers. There will be lots of questions as to if it was water coming in via other means or if it was it a true sewer or drain backup.
Like with Hurricane Sandy, commercial flood losses could be large. The coverage here is spread wide and far across most commercial programs, as a lot of lessons were learned about the flood potential from Hurricane Sandy. Like in Hurricane Sandy, auto losses here will be high given what has been shown across social media. In Hurricane Sandy, auto losses top almost $3 billion alone - most of which came from flooded vehicles.
Another aspect that will complicate the event is how the event will be defined. Will the hours clause come into play for larger national programs? Catastrophe reinsurance is also often excluded as part of a risk program, but this is program-dependent. The other insurance impacts will be far-reaching as a program there is likely a hand full of CAT Bonds that could be impacted now, along with the NFIP traditional reinsurance program need to be watched closely.
Although our BMS iVision Verisk Respond Product suite does cover extreme rainfall, the overall magnitude is overwhelming.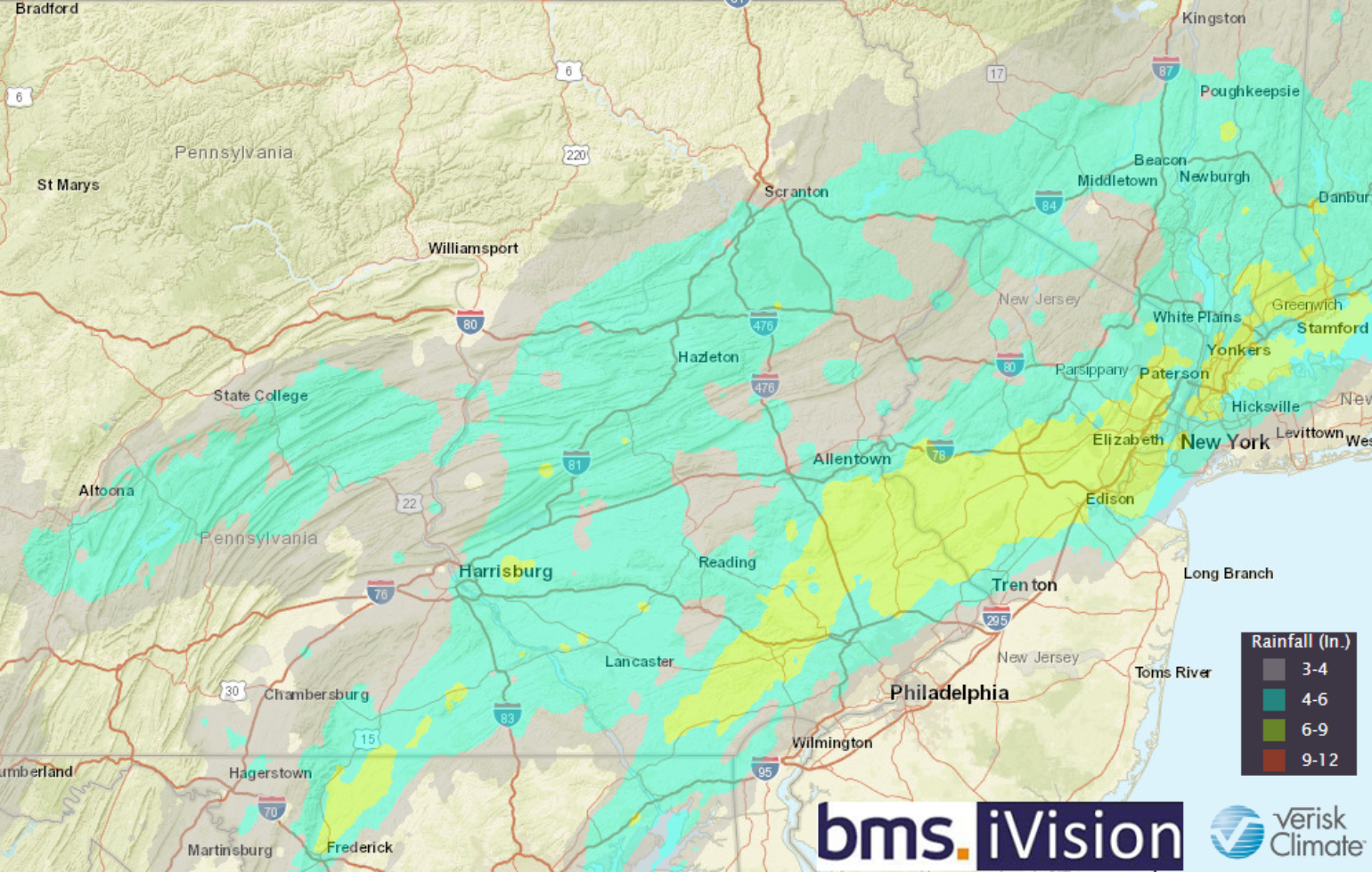 Below is a list of resources that can help understand the flooding aspect of loss.
FEMA Flood Maps - Great source to understand what areas are prone to flooding
FM Global Food Maps – Easy to use tool that make it simple to understand flood prone areas.
National Weather Service River Gauge Data -Provides an idea who severe the flooding is along a river
USGS Water Data - Provides an idea who severe the flooding is along a river
National Weather Service Precipitation Frequency Data Server – A precipitation frequency estimate tool
Surprise Tornado Impacts
Many might have been caught off guard by the tornado risk that developed along with Ida's flooding rains. It is not uncommon for tornadoes to occur with landfall hurricanes or the remnants of them; but, for them to occur so far away from the landfall location is highly unusual. The other unusual aspect will be the overall intensity of these tornadoes. Some of the damage suggests at least an EF3 tornado. There has never been an EF4 or stronger tornado in New Jersey, so the damage report from Mullica Hill, NJ needs to be watched. The weather service looks to be investigating at least 8 areas of expected tornado occurrence.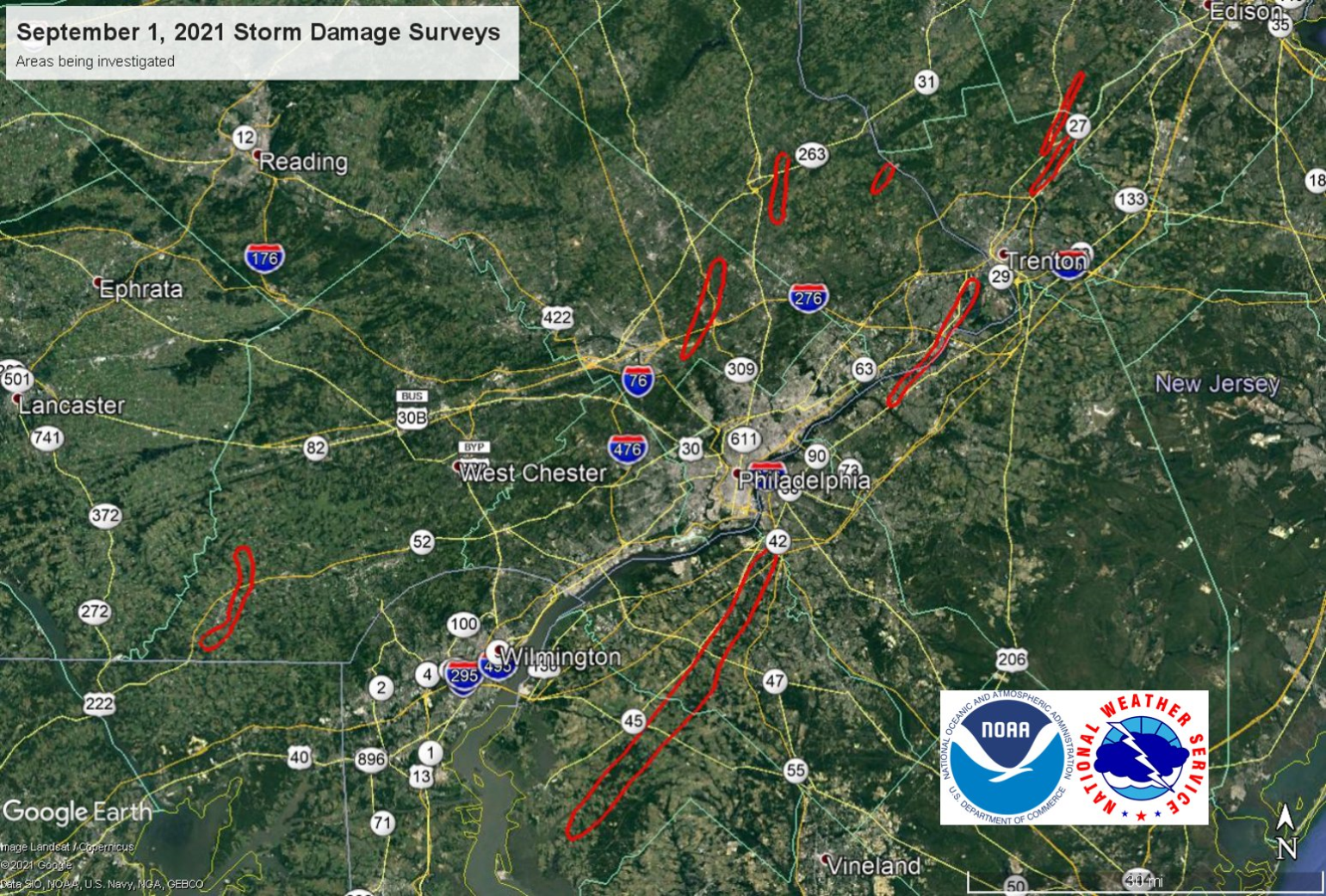 If this is true, it surely would put PA and NJ into extreme territory in terms of tornado occurrence for the year. In fact, the two states combined have had more tornadoes than the states of Oklahoma and Kansas have recorded this year, due to the lack of overall tornadoes in the Central Plains this year.
Although the tornado impacts will be severe, they are localized. The images show how one building can be heavily damaged and the other building across the street be left untouched. The tornado damage will add up given how populated the area is; however, overall the flooding and the issues that follow will likely be more severe for the insurance industry even if it is not a widely covered peril.