This BMS Insight will summarize the status of severe weather across the country so far this year and what can be expected as we move into the peak of the season. Typically, Local Storm Reports for tornadoes peak in the middle of May, which is a bit early in the season compared to Hail and Wind reports. Hail reports tend to reach the maximum level around the beginning of June and wind reports peak toward the end of June. The halfway point of large insured loss events, according to Property Claims Services (PCS), tends to also peak around June 6.There have already been some notable severe weather outbreaks this year, with the highest tornado count occurring since 2012. What makes this season interesting, however, is that, up until the last few weeks, parts of the East Coast had experienced more tornadoes than states in the Central Plains.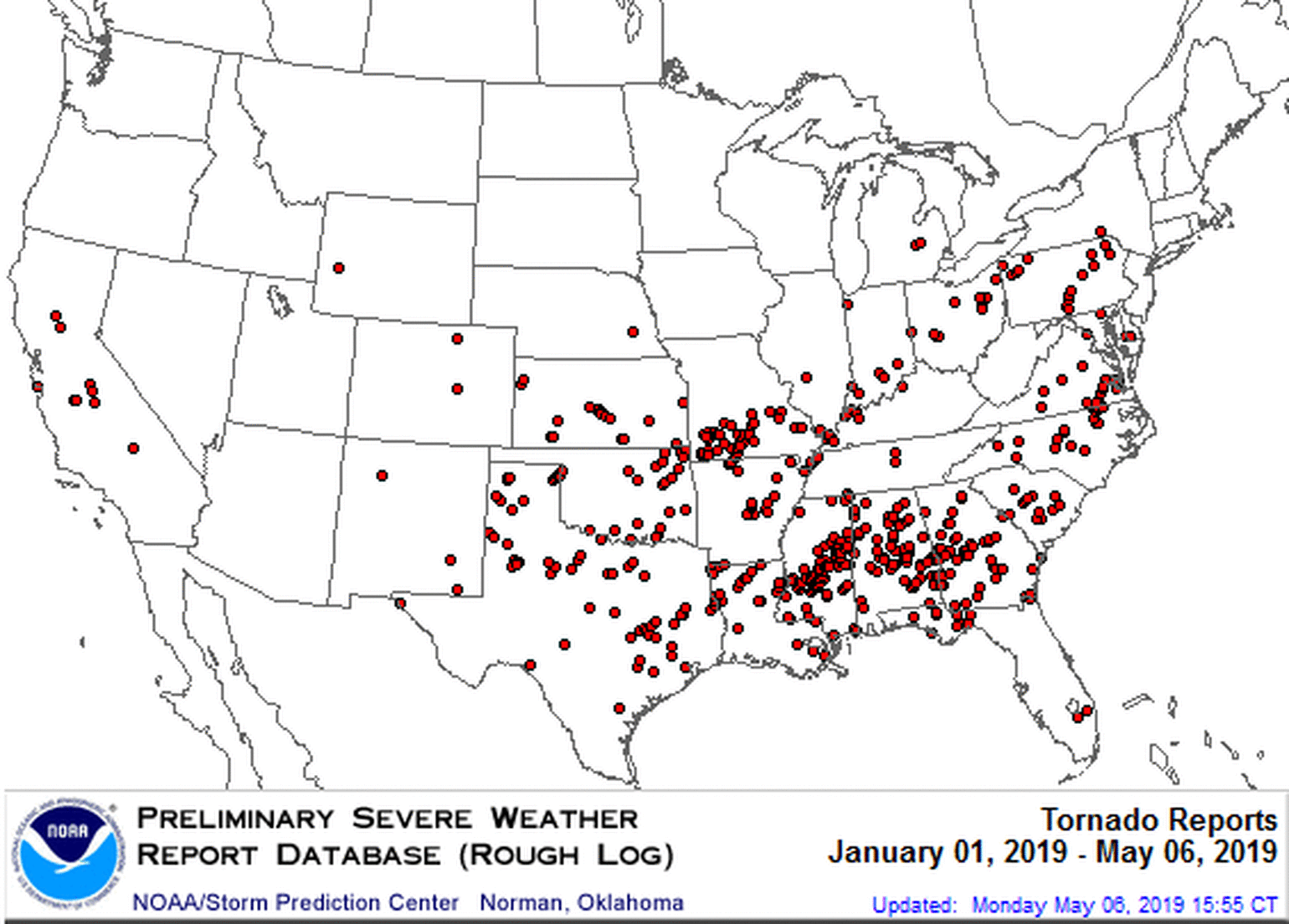 In fact, some states like North Carolina and Virginia have recorded just as many tornadoes as Oklahoma. With much of the severe weather focused along the more populated East Coast, which has a higher concentration of exposure, one might expect that insured losses would be running above normal. Although it is still early, the data suggests that insured losses are, surprisingly, running 45% below the 2008 - 2018 mean across 11 PCS events year-to-date, which is what the insurance industry would expect. Although there will likely be some loss development, the 489 tornadoes that have occurred this year have, fortunately, missed large cities, which would have increased the insured loss values. As highlighted in my March 3 Insight, tornadoes have occurred, but primarily across the southeast where there is a large concentration of lower valued properties, such as mobile homes.
With the overall count of tornadoes for the year running right at average, and wind reports running slightly above average, it is interesting to note that reports of hail, which have been grabbing a lot of the insurance industry's attention over the last few years, are down by a significant 57%. This could contribute to the overall decrease in insured loss for severe weather. I reached out to a few hail researchers to ask what might be driving the lower-than-average hail counts this season. The response was that many storms have been centered across the Southeast, which generally doesn't experience a lot of occurrences of hail. The storms have had relatively anemic lapse rates and less of a deep-layer sheared environment, both of which are needed for larger hail events. John Allen a Assistant Professor of Meteorology at Central Michigan University made mention that lower hail frequency over the Plains is one of the expectations in El Niño years, currently in place in the South Pacific. There also could be a simple lack of reporting of hail events this year which is puzzling in itself.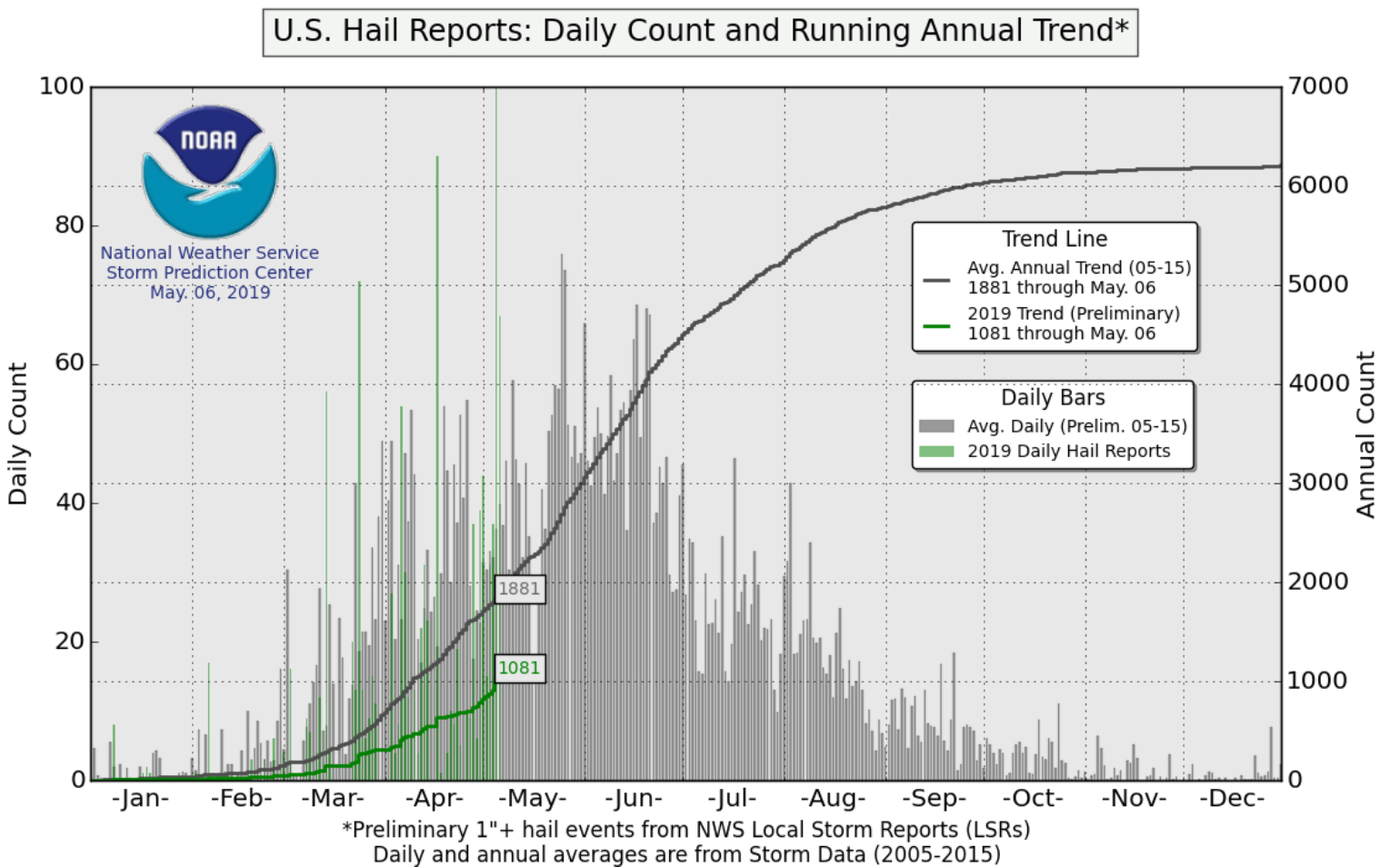 As the insurance industry is well aware, it only takes one destructive tornado or large hail event to impact a populated area, and some of those destructive events often occur in May and June, such as the infamous Joplin, Missouri tornado and hail event of May 22, 2011. So what does the overall threat look like going forward for the next month and a half? Ian Livingston, an author and contributor for the blog site, U.S. Tornado, recently summarized the number of days through the end of June from 2009-2018 that correlate with the various Storm Prediction Center (SPC) outlook categories.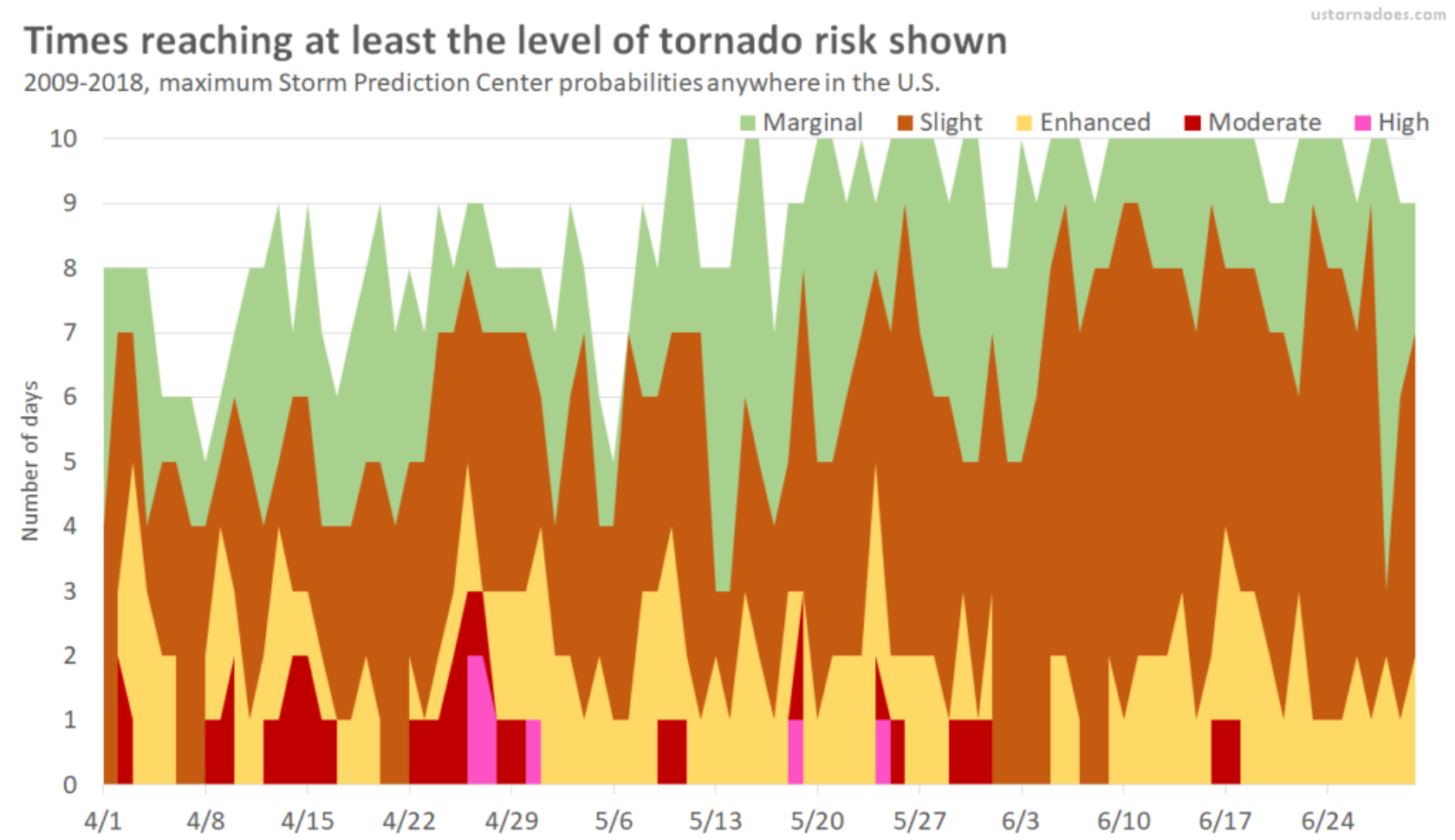 The plot Livingston created above demonstrates that in May and June there is a consistent probability of Slight and Marginal risk, which makes sense, given this is the overall peak of the severe weather season. He also looked at the percentage of total days with at least some type of severe weather risk and, in June, an impressive 96% of days have at least a low-level tornado threat somewhere in the country.
The forecast models suggest a decent chance of severe weather on Wednesday in Tornado Alley and the Ohio River Valley on Thursday, which could bring more severe weather into parts of the East Coast on Friday. Regardless, severe weather should push its way into the Northern Plains as summer starts to take hold and the jet stream shifts northward.
I recently reviewed the spatial areas of the SPC convective outlook to create a unique view of Severe Storm Relativity-based conditions that could produce severe weather. Although the Southeast and parts of the East Coast have had their share of severe weather already this year, the overall climatology and longer term weather forecasts suggests a shift will likely occur into the Central Plains and further into the Upper Midwest as summer progresses.